The Best Thing About School Holidays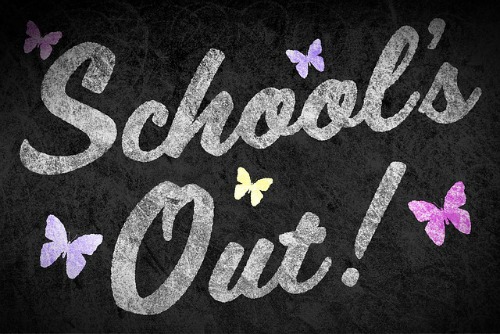 It's again the time of year when life is care-free as you contemplate the many days you have off school. Days to be spent having fun with friends or at home embracing the warmth of your bed covers. There are many aspects of the school holiday that makes it so exciting, but I am going to share with you what I most enjoy about the school holidays.
The Best Thing About School Holidays for Me!

Personally, the best thing about the school holidays is that Sunday evenings are transformed into the most relaxed time of the week. Normally on Sunday evenings I experience a fear and dread of .. Monday. On the last day of the weekend I often become overwhelmed with apprehension about how busy and potentially stressful the coming week might be.
But when the holidays arrive, I enjoy Sunday evenings with much joy and assurance that I will not have to respond to a 6:30 am alarm.

Its wonderful.. then there's the spare time to spend trying out new hobbies or starting that novel that I've been postponing.  Nothing tops spending time with my siblings and visiting friends.
Then there's also the fact that I can stay up as long as I want, mind you I try to go to sleep at the normal time,  so when school starts again I have no problem readjusting.
Opportunities in the Holidays, whatever the weather
It's also interesting to experience different school systems where the holidays are set up differently. In the UK, breaks are more frequent, whereas in Canada, breaks are less frequent but are longer to make up for it. To be honest, I don't have a preference, I just love the opportunity to have some time off. 
I think an ideal way to spend the school holidays would be to have a nice balance of work and play.
Obviously, you're not doing any actual homework that's due next week, but you can still take up exciting projects and teach yourself new things. School holidays are a great time to devote to learning an instrument for example, or perfecting your skills if you already play one. 
But then we also mix in play, by doing things you don't normally get to do, like in the summer holidays-  enjoying picnics in the park and basking in the glorious weather.
So many people look forward to summer, and it seems that there is generally lots more going on and more chances to hang out with friends and family.
Even the winter holidays are great - staying cosy at home, drinking hot chocolate, or going outside and building snowmen, talking walks in the snow etc. Boxing day shopping is also quite fun!
The school holidays are definitely an advantage of being in school and one of the best things about them is having more time and the freedom to decide how you're going to use all that extra time. 
For You...

Like this article?

Get more interesting reads and blog updates to your inbox twice a month:
Apr 21, 18 01:25 AM

Let's talk about great ways to see the world without buying a plane ticket. I call it "Getting to Travel without Getting on a Plane".

Apr 08, 18 12:40 AM

5 seconds to name a quote about money! What'ya got? Let's look at interesting things people have said about money through quotes about money.

Mar 24, 18 04:28 PM

This week, I visited Abraham's Well in Be'er Sheva, Israel. Let me share with you my fascinating experience including interesting facts I learned and photos I took!
If you can see this,  please share this post with the buttons below :)