My Speedy Chicken Pasta Recipe

Let's make a delicious pasta with chicken and some veggies. This is a new recipe I put together that went well.
Here's a speedy chicken pasta recipe that will taste great and not take much time!

Essentially this recipe is a simple chicken pasta recipe, with vegetables. I love it because it is tasty yet quick and reasonably light.
This Recipe will feed 2 !

Ingredients for this Delicious Dinner

250g Spaghetti
1 Head of Broccoli, Cut into Small Florets
3 Tablespoons Olive Oil
1 Green Pepper (Diced)
2 Garlic Cloves (cut finely)
4 Mushrooms (sliced)
2 Large Chicken Breasts
1 Medium sized Tomato (Diced)
Salt and Pepper to Taste
Steps To Prepare : Chicken Pasta Recipe

1. Boil the Pasta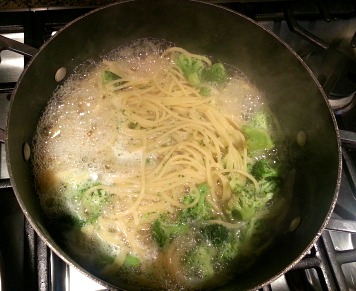 Bring a large saucepan of water to boil. Add the pasta, cook for 5 minutes, stirring occasionally.
Add the Broccoli and Cook For 5 more minutes.
Drain and set aside.
2. Sauté the Vegetables

In a wok, heat 1 tablespoon of olive oil over at medium heat.
Sauté the Onion and Green Pepper, Garlic, Mushrooms and for 7 minutes.
Chicken!

Preheat a skillet over medium-high heat until hot. Add 2 tablespoons of olive oil.
Place the Chicken Breasts in the Skillet, then keep the heat at medium.
Cook for 12 minutes until the juices run clear and the meat browns evenly.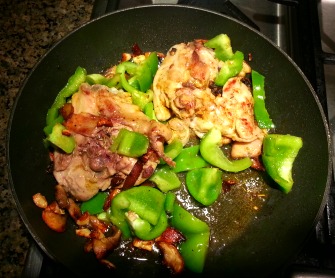 Add Veggies

Add the Sautéed vegetables and the diced tomato to Chicken and cook for 5 more minutes.

Turn off the heat. Add the spaghetti and broccoli to the Sauté pan and toss to combine. Season to taste with salt and pepper!
Enjoy!

This one went quickly!
For You...

Oct 10, 17 09:52 PM

How do you spend your Sunday evenings? Here are 7 Sunday night habits to make you more successful and set you up for a great week ahead!

Sep 29, 17 10:52 PM

Yes, it's true that your job influences you and the way you approach certain things in life. But your job doesn't define you completely. Here are good reasons why.

Sep 15, 17 09:27 PM

What thoughts enter your mind during the day? The stories we tell ourselves and allow ourselves to believe matter, and they affect everything we do.
Like this article?

Join the newsletter for more interesting reads, blog updates and weekly inspiration for free. 
If you can see this,  please share this post with the buttons below :)