Wear Your Smile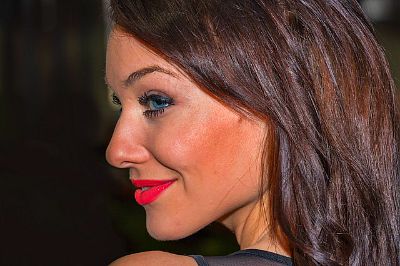 Wear your smile, it means a lot

One of the most beautiful things you can add to your appearance is your smile.

'But I don't like my smile,' or ' I don't look good when I smile'. False. Smiling brightens up your face. And it doesn't matter whether you think you are good looking or not. It doesn't matter if you have crooked teeth or a flawless face. Smiling reveals your inner happiness and contentment, or even the fact that you keep going and have the right outlook.
Remember all those times someone, even a complete strange gave you a proper heart-felt smile, and you felt all warm and fuzzy inside. You felt happy, seeing someone else's happiness. When someone smiles it can be so encouraging. It can make you feel that, you know, there are kind people out there . Smiling can make all the difference.
But smiling is not something that you may feel like doing. Sometimes you may not even be sad, but you may feel like there is no point in being happy.
But there is. I often find that if I try to loosen up and smile a bit, my whole day is transformed. I can complete tasks with a brighter energy.
Smiling like laughing is contagious. Try and associate with people who you can have a good time with. Savor the funny/blissful moments with a smile.

And yes, smiling can have wonderful effects on your health. It can:
Reduce Stress
Lessen or eliminate pain
Lower heart rate

Create a look of youthfulness
Boost your immune system
Break the ice, allowing you to relax
Put you in a better frame of mind

These are just some of the effects of smiling. There are many more..

Humans are just made with the need and desire to smile, that's why babies are always bubbling with smile and laughter, a sight which also makes us want to smile.
Smiling is healthy, and really good for you. So practice smiling. No it isn't weird. Haha ok, maybe a little. But it is a good thing to do.
The other day I was looking at some old photos, and wondering how different they would have been without the smiles. The smiles are so special, they capture the joy of occasions and help you to relive those special times.

A smile can help you just chill a bit when  you feel tense, or can help you build stronger relationships with those around you.
When you wear your smile, it livens up your surroundings. You appreciate that life is wonderful privilege.

So that's just a little thought that I wanted  to share with you.
Have a good day, and don't forget to wear your smile :)

Like this article?

Get more interesting reads and blog updates to your inbox twice a month:
Apr 21, 18 01:25 AM

Let's talk about great ways to see the world without buying a plane ticket. I call it "Getting to Travel without Getting on a Plane".

Apr 08, 18 12:40 AM

5 seconds to name a quote about money! What'ya got? Let's look at interesting things people have said about money through quotes about money.

Mar 24, 18 04:28 PM

This week, I visited Abraham's Well in Be'er Sheva, Israel. Let me share with you my fascinating experience including interesting facts I learned and photos I took!
If you can see this,  please share this post with the buttons below :)