Winter Wonderland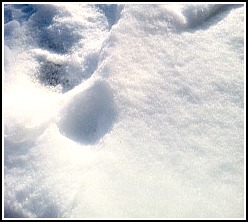 Winter Wonderland is a poem written by me, inspired by my first winter in the UK. growing up in Africa and coming to the UK as a child, winter was alien to me. I can still remember the first winter we had and my dad, mom and sister, as well as aunty, all came out into the chilling cold to snap pictures.
I finally stringed the thoughts together when I was asked to write a poem for my homework at school. We had to write a poem about a couple of seasons.

Is there anyone out there that can relate to this experience of mine? You can share your experience here.

Winter Wonderland

I woke this morning and looking out of the window
I saw
An all-encompassing soft white blanket on the earths surface
It was
Hiding all evidence of the world I know, gone!
I was
Captivated.
I threw my clothes on and rushed outside.
I felt
The crunch of the snow beneath my feet
It was
Addictive. Cool! A new discovery.
I was
Overwhelmed.
I sat excitedly in the car on my way to the town.
I saw
Ice skaters jumping, twirling, other kids playing, laughing, hot cocoa…
It was
My 1st Winter
I was
In Winter Wonderland.
Submit Your Poems Here
Do you have some amazing poems you want published? Post it here and get it published to the whole world with your very own name on it!
Dec 05, 17 03:21 PM

What's the definition of emotional intelligence and how do the principles of emotional intelligence actually affect a person's actions/reactions? That's the topic for discussion today.

Nov 28, 17 03:44 PM

Stuck on ideas of what to do when it's cold outside? Here are 4 indoor winter hobbies to get you through the colder months.

Nov 21, 17 03:11 PM

There are many situations in daily life that could cause you to harbor negativity. Let's look at good ways to protect yourself from negativity so as to maintain a positive outlook on life.
Like this article?

Join the newsletter for more interesting reads, blog updates and weekly inspiration for free. 
If you can see this,  please share this post with the buttons below :)