How to Survive and Get Success in High School - Useful Tips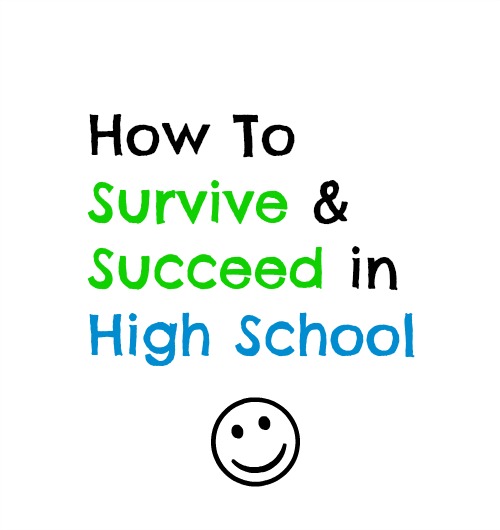 How can I find success in High School? Will I Survive it?
School starts again soon and for some it will mean moving up to the next level-  high school. What can you do to make the most of your High School or Secondary School experience? Here are tips to help you get on brilliantly!

1. Keep Your Supplies Organized
The first tip I would give for new high school students is to do your best to keep organised. You've probably  already taken care of your back to school shopping in the weeks leading up to school and that's great.
If you haven't already - make sure that you are well equipped with notebooks and binders that you will need for school, as well as stationery including pens, pencils, rulers etc. Start the new school term prepared with all the necessary items you will need for classwork.
You don't want to have to start borrowing writing equipment on the  first week, do you?
Being prepared will help you feel a lot more confident to handle any new tasks that come your way on your first week. 
Also, I recommend getting into a good habit of putting your things away as soon as you've finished with them. This is the best way of keeping your assignments and important documents safe.
For instance, when you've finishing filling out a worksheet, it is a good idea to put it back into your binder and then into your school bag.
This way, you will not have to start worrying the next day or wonder where all your work disappeared to. You will reduce a lot of stress this way!
Some Supplies you will need >>


2. Write down Important Dates & Information
When you start High School or Secondary School, your teachers will likely give you some new information that you need to remember or maybe even pass on to your parents. Information such as the deadlines for projects, dates for parent-teacher meetings and so forth.
Make sure that you never miss important events by always jotting them down in your notepad so you do not forget.
Your school may give you a planner or agenda to store all this useful information, so if you get one make good use of it!
If your school doesn't provide one, you could purchase one from a stationery store or check out the links below for an agenda.
An agenda is a good way to keep all the dates and times you need in one place, rather than writing different details on separate pieces of paper. 
Agenda/Planner
3. Be Friendly and Reach Out to your New Classmates
To have a great first day at school, reach out to your classmates and try to make friends. Remember that everyone in your class is basically in the same situation as you.
This is also their first day, and it is a new environment for them too.
Be friendly and talk to the people who sit around you in your classes.
Be willing to help each other. This will really be useful, especially if you make friends with those who have more than one class in common with you. With a joint effort, you can assist each other in finding your way around the school, so you don't have to wander the school alone or get lost.
Tip: If it feels as though no one is coming to speak to you - then make the effort and go and meet others.
You may already know some people if they went to the same junior high or primary school as you and that could make it easier.
But even if you start off not knowing anyone, you will be rewarded if you make the effort to talk to new people.
It can be quite simple to get into a conversation with your peers, you can ask them questions such as what classes they have, what school they previously went to or even what their likes and dislikes are. 
4. Work hard & Fight the Urge to Procrastinate
This is a very important thing to keep in mind if you want be successful in school long term. As you know, homework is going to arrive sooner or later.
To get on top of your workload, plan a good study schedule.
Work hard with your school assignments and show your teachers you care about them - and then you will get good grades. 
You will also need to fight the urge to procrastinate. Maybe when you get back from school, opening a textbook and doing assignments is the last thing on your mind. Yet they need to be done! So with the guidance of your parents figure out a time that works for you, and focus.
When you set aside that time for homework, make sure that you are working productively and not getting distracted.
Turn the TV off and choose a peaceful and well-lit room to complete your homework in. Read this article for more tips on good study habits.
If you plan to do your homework at 6:30 pm, make sure you are ready for that time. Do not push it forward to 7 or 7:30 as tempting as it may be. When you procrastinate you really just end up wasting your own time. If you begin the assignment early or on time, then you will have plenty of time later on to relax and get on with other activities. 
5. Be on Time
To find success in high school, be on time. On the first day of school, get there on time. During the middle of the term, still be punctual. You get the point. This was something I struggled with sometimes, but it can make such a difference. Not only will you get a good reputation, but you will find that you are under less pressure when you get to school.
Set your alarm so you wake up at a regular time every morning. Give yourself enough time to get ready, prepare for school and travel there. It is also useful to go to bed at a reasonable time every night, so waking up will be easier.
If you get to school on time, you may have some spare time to talk to your teachers for help, to complete an assignment, or even to do some extra revision for an exam. It's a good habit to get into. 
Being on time to school also helps your teacher to educate you properly, because if you are consistently late, you may miss vital information and a huge chunk of class time. As well as being punctual, try your best not to miss any days off school in general. By coming to school each day, you will get a good attendance record and will avoid having to catch up on things you missed during your absence. 
Are you starting high school? Use these tips to get a brilliant start and have success throughout your high school experience. Thanks for reading; if you enjoyed the above tips on how to survive high school, give this page a like on Facebook!
Starting High School/Secondary School this year? How are you feeling? Or can you share any tips for our new High School Students? Please comment below.
For You...

Sign Up for our Free Weekly Newsletter for motivation and the latest updates from the blog...
Feb 25, 21 02:04 PM

Sometimes forgiving yourself is harder than forgiving others who have wronged you. Let's talk about how to forgive yourself and leave shameful memories behind.

Feb 24, 21 05:09 PM

Self-rejection is one of the worst types of rejection because it starts in your mind. Let's discuss what self-rejection is and how to overcome it for good.

Feb 23, 21 12:22 PM

We've all been exposed to various myths about creativity at one point or another. Let's discuss these myths, to discover what's really true and false.
If you can see this,  please share this post with the buttons below :)