How Long Does it Take For ESTA to Be Approved? | Our Experience
Yesterday we were travelling but forgot to apply for our ESTA, so we had to submit a last minute application. How long does it take for an ESTA to be approved?
The following was written on April 24th 2019, on the day we submitted our ESTA application: 

Today was a crazy day. 
We had a 7:55 am flight to catch from the Calgary International Airport (YYC) to Newark Liberty International Airport (EWR), but we completely forgot about having to apply for an ESTA. 
ESTA stands for Electronic System for Travel Authorization, and it determines the eligibility of visitors to travel to the United States under the Visa Waiver Program (U.S. Department of Homeland Security, Electronic System for Travel Authorization, para. 1).  
We were travelling from Canada. Those who travel from Canada with a Canadian passport do not need to apply for an ESTA, but we were travelling with British passports, and therefore needed to apply for an ESTA beforehand. 
It was about 1.5 hours before our flight when we realised our mistake, and that we needed to apply ASAP. 
So we hurriedly began to complete the ESTA application, right there in the airport. We had to take photos of our passports as part of the application, and of course fill in personal information to supplement what was retrieved from the passport photos. 
The Race to Get Our ESTA Application Approved
Picture it: A group of 6 people (including kids), anxiously racing against time, taking pictures of our passports, typing away on our laptops; aiming for speed and accuracy. 
We started the application on a mobile phone but soon realised that it was going to get complex so we switched to our MacBook. 
Sadly, we didn't get our ESTAs filled out and sent off before the flight (as you can imagine!), so we missed our flight. 
However, we stayed at the airport and didn't leave until we got the applications filled out, paid for, and eventually approved. 
So when we realised with much despair that we would not be catching our flight, we got back into focus and finished the rest of the applications. Obviously the last few applications were much quicker to fill out than the first couple.
It took a while to get the hang of it, and I think it was mainly due to the fact that we switched devices and were trying to figure out how to continue the application. In the end we just started from scratch. But we got there. 
The real moment of apprehension came as we waited in the airport for our ESTA to be reviewed and approved. We kept checking the website for the status of our application.
To reassure myself I kept googling things like: "average ESTA processing time" and "how long does it take for an esta approval?"
We were desperate to know and to get a quick approval so we could reschedule our flight. We didn't know if we would be able to catch a flight on the same day or if we would have to fly the next day. 
During this waiting period, I found out from my research that the maximum response time for an ESTA application is 72 hours. Once an ESTA application is approved, the user will be notified via their email or web browser. 
How Long Does an ESTA Last?
As well as wondering how long our ESTA approval would take we also wondered about how long does an ESTA last?  
An ESTA is generally valid for multiple trips over a period of two years. If your ESTA expires while in the U.S. it will not affect your departure. As long as you received an ESTA authorization to travel, you do not have to re-apply during the validity period (U.S. Department of Homeland Security, ESTA - Length of Approval, para. 1).  
Earlier we also mentioned how the ESTA allows you to travel to the U.S. under the terms of the Visa Waiver Program (VWP).
This program allows you to stay in the U.S. for 90 days or less, for each time within that two year period. If you plan to stay in the U.S. for over 90 days, then you would need to obtain a VISA. 
How do I check the status of my ESTA application? How we got a response:

You can apply for, and check the status of your application on the official ESTA website, here.
Once you've applied for your ESTA, you can go to that website, choose "Check existing application" and then "Check Individual Status" or "Check Group Status". Your application number, passport number, and birth date will be required to check the status of your application. 
Anyway, back to our personal experience with applying for an ESTA last minute. Our flight scheduled for was 7:55 am, but we ended up finishing our ESTA applications and paying for them by 8:15 am. Three hours later, at about 11:15 am, we found out that all our ESTA applications had been approved. 

Here's what the message on the website looked like: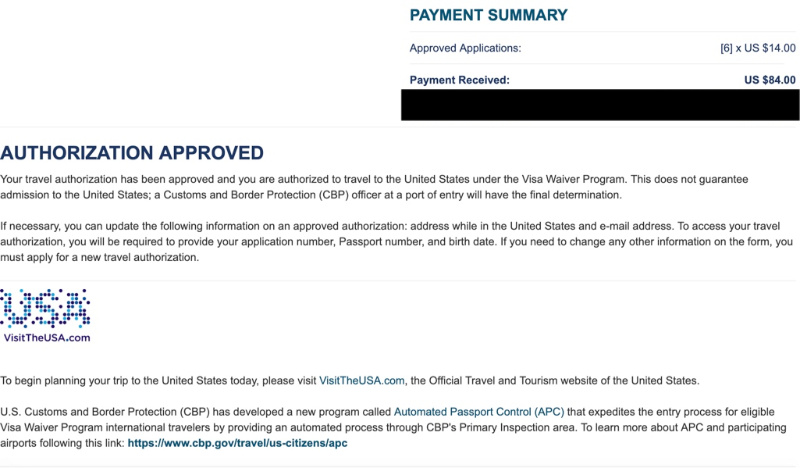 Our Approved ESTA application, 3 Hours Later
There are three possible responses to an ESTA application:
Authorization Approved (as seen above)
Travel Not Authorized 
Authorization Pending 
Authorization Approved - this means that you are authorized to travel to the United States under the Visa Waiver Program. The system displays confirmation of the application approval and a payment receipt notice showing the amount of your payment. 
Travel Not Authorized - this means that you are not authorized to travel to the United States under the Visa Waiver Program. This response does not deny entry into the United States.
You may apply for a visa from the Department of State for your travel. The system displays a payment receipt notice showing the processing fee paid (if your application was not authorized, you will pay only the processing fee which is about $4, not the $10 authorization fee). 
Authorization Pending - this means that your travel authorizaton is still under review. This does not indicate negative findings. A determination will usually be available within 72 hours. 
We didn't have to wait too long for our ESTA application, which was a relief. Of course, each application is different, and the amount of time for an application to be processed varies.
Also, many websites we read as we waited said that the U.S. has lengthened ESTA processing times, meaning that there are no more instant approvals. So it will usually take somewhere between 1-72 hours, rather than approval within 60 seconds. 
So don't bank on an instant, real-time approval. We learned the lesson. The best way to experience a hassle-free ESTA application process is to apply way ahead of time, not right before your flight. Thankfully we were able to get the ESTA approval on the same day we applied, afterwards we just scheduled a flight for the next morning. 
Thanks for reading! I hope this post helped give an idea of what to expect for anyone who is applying.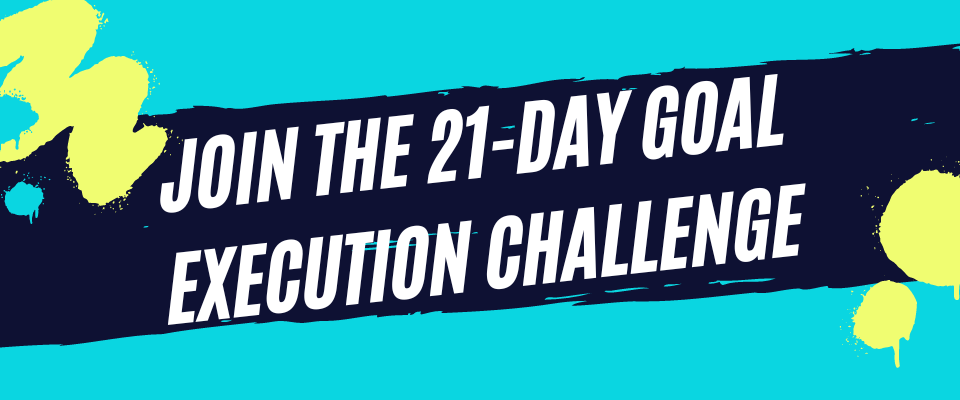 May 26, 23 08:35 PM

Need help configuring and optimizing Zendesk? Here are the best Zendesk consultants and specialists to work with online.

May 24, 23 07:08 PM

Need help creating effective and appealing packaging for your product? Here are the best packaging design consultants and experts to work with online.

May 19, 23 06:41 PM

Looking for a linkedin expert to help you optimize your profile or LinkedIn marketing strategy? Here are the best LinkedIn coaches to work with online.
If you can see this,  please share this post with the buttons below :)