My Happiness is My Choice Poem
I wrote this poem called "My Happiness is My Choice", it touches on the ways our actions could imply that we think others control our happiness. Happiness is a choice we each have to make despite how others might treat us.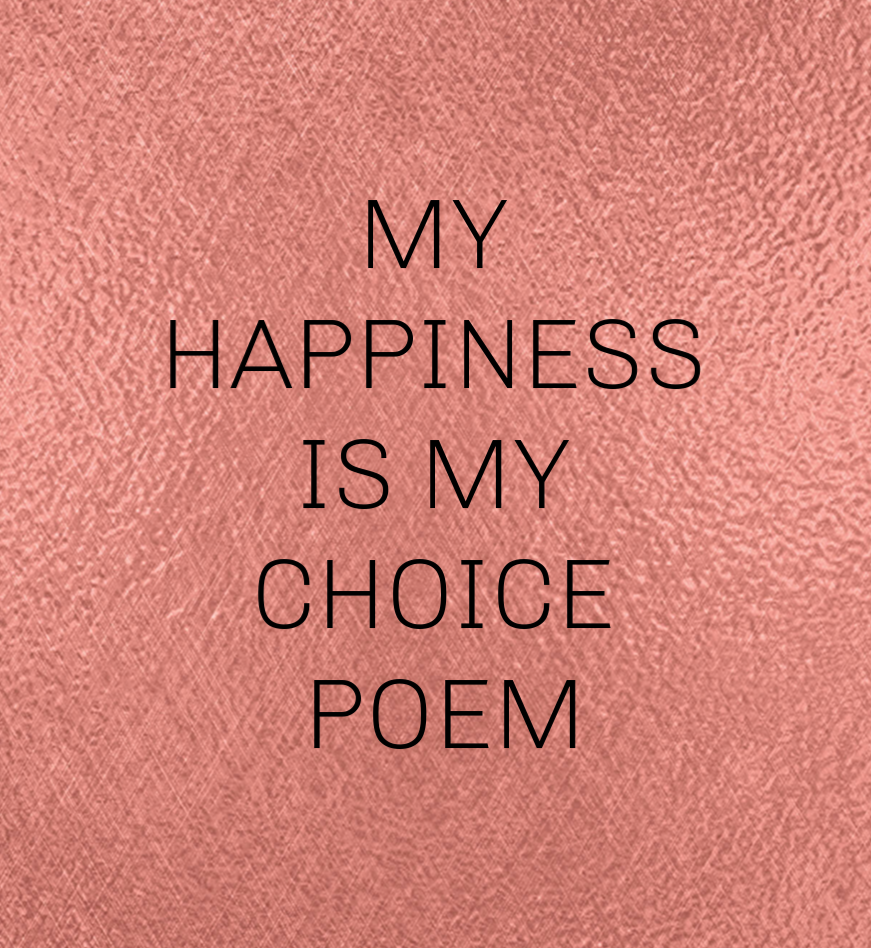 If I held back my smile 
If I tried to shade the sparkle in my eyes 
If I insisted it is black or white
Then my happiness would not be given a voice.
If I held a grudge 
If I refused to budge 
If I created enemies that didn't exist 
Then my happiness would be locked up with you, not me.
If I emptied a half-full glass
If I told the sun to stop shinning 
If I drew the thick drapes and called the day dismal
I would be placing my happiness in the hands of a few.
If I built virtual walls 
If I didn't embrace the powerful reminder
If I didn't bring a peace offering and leave it with grace
My happiness would be trapped in jail.
If I didn't give myself a chance
If I replaced youthful years with heavy tears
If I wore out my heart by rushing time
I would be saying my happiness isn't worth a dime.
If I broke the silence with wasteful words
If I told the stories that didn't need to be heard
If I kept holding on like a game of tug of war 
Then my happiness would be your victory prize.
If I sunk into the jet black
If you became the balance, my measuring scales
If I was forcing what wouldn't stay
I would be saying my happiness is lost, and that it's OK.
If I cried seven times when once could suffice
If I told myself I couldn't recover 
If I allowed cold sweats to become my shower
I would be saying my happiness is yours to keep.
If I couldn't walk to you and shake your hand
If I break down every time I stand
If I refuse to ever leave my house 
I would be throwing my happiness to the pigs.
If I ever caught a glimpse and sighed
If I could not look at you my dear in the eyes
If I put them on a pedestal
I would be implying that my happiness is your choice.
Get a bi-weekly surprise on personal development...
May 21, 19 04:47 PM

Can you take an entrepreneurship class at some point? Taking an entrepreneurship class as an elective in college is a very smart idea - here's why.

May 16, 19 04:12 PM

If you don't know where you are going, any road will get you there. Let's talk about clarity, goals, and why that quote is extremely accurate.

May 09, 19 07:14 PM

Here are welsh male names and their meanings. Including traditional welsh boy names that you might be familiar with, as well as some more unusual ones.
If you can see this,  please share this post with the buttons below :)