Traditional Indian Food

Hi! This is my page on Traditional Indian Food. Find out the most popular Indian Dishes and food combinations that make Indian food so popular and Internationally celebrated.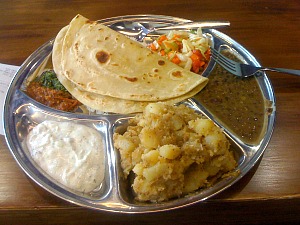 With its exotic aromas and unique flavors, Indian cuisine is one of the most loved. What is traditional Indian food like? That is the topic for this page! This topic will be updated as I try out more Indian dishes and experience a wider range of traditional Indian food.

I will take you through some of the most famous Indian staples step by step. Here they are:

Traditional Indian Food  - Rice

Rice is almost the universal basis of meals in the East and South of India, while wheat is more popular in the West and Northern parts of India. There are many types of Indian rice including Basmati rice (a long grain variety of rice that is traditionally from North India and Pakistan), brown rice, red rice, white rice and jasmine rice. For more about information about rice, see my page 'The different Types of Rice'.
Traditional Indian Curry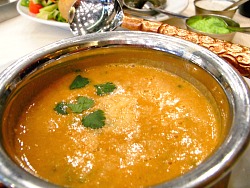 Who doesn't love a good curry? It is a favorite dish for countless people worldwide. There are many many types of curry  to be explored, featuring meats such as chicken, fish, lamb and goat, and also vegetarian curries. I find that not only is chicken curry irresistibly flavorful, it's one great way to use and enjoy boneless chicken.
Authentic Indian Curry has a consistency similar to soup. It is made up of different spices, clarified butter (ghee), chickpea flour as well as yoghurt. In Thailand, the word curry means meat, fish or vegetables cooked in a spicy sauce.
Here are the names of some of the most popular traditional Indian curries: Korma - (slow cooked creamy curry where the meat is often marinated in yoghurt), Rogan Josh, (highly spiced lamb curry known for its deep red color.), Saag ( a classic curry traditionally made with spinach and lamb). Tikka masala -(very famous creamy chicken curry that usually has a hint of coconut). Then there is a curry for the brave - the Vindaloo, a very hot curry that often features potato pieces, vinegar and garlic. Very tasty.
To make a really delicious Indian curry, don't just go  for commercially available curry powder or paste, try and use authentic spices. The ingredients for a great curry are relatively easy to find, you just need to look at the isles of huge grocery stores or Asian supermarkets.
Have fun experimenting with various blends. After all, curry is generally recognized as the most experimented spice fusion in history. So you would need to become familiar with the different spices to get the best use of them.
Curry dishes are normally served with rice but to make your experience authentically Indian, you can serve it together with naan bread or roti, or you can top off your dish with Indian-spiced potatoes for an yummy change.
Dhal
Dhal refers to a wide range of pulse dishes, commonly made from lentils but also from certain beans as well as chickpeas. The pulses are boiled or simmered, mixed with spices and vegetables. For most vegetarians, Dhal is one of the main protein sources. Dhal is the backbone of the Indian diet and has many benefits, including the fact that it is delicious and adds a great accompaniment to most meals.
Traditional Indian Breads

Roti is the generic term for Indian style bread and it used interchangeably with the term chapati to describe unleavened round bread made with whole wheat flour and cooked on a flat hotplate. Puri is a deep-fried dough puffed up like a crispy balloon. Flaky, unleavened Paratha can be eatened as is or combined with fillings such as Paneer (soft, unfermented cheese). The thick, teardrop shaped naan is cooked in a Tandoor (clay oven). It tastes so good when flavored with garlic.
Traditional Indian Food - Vegetables

There is a tremendous variety of vegetable dishes to be found in Indian cooking. A visit to any Indian market will reveal a vast, colourful assortment of fresh fruit and vegetables, overflowing from large baskets or arranged in neat pyramids. Potatoes, cauliflower, eggplant, spinach, okra and carrots are some of the most commonly used vegetables  and you will see them served in a various inventive ways, not just boiled up. They can be fried, roasted, curried, baked, mashed and stuffed into dosas or wrapped in batter to make fritters.
Dosa
A Dosa is a crepe-like mixture of fermented rice flour (or lentil flour) and dhal cooked on a gridle. It is traditionally served with  a bowl of hot, orange sambar and another bowl of mild coconut chatni (chutney). They are quite like crispy savoury pancakes. Dosas are very healthy, they are usually high in carbohydrates and low in calories and fat. So they often appeal to vegetarian and those with wheat intolerance or gluten intolerance.
Samosas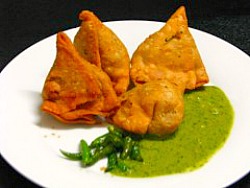 Samosas are a highly popular Indian snack which I personally love. They are essentially stuffed savory pastries. They can be filled with meat or vegetables. Often you will see samosas where lamb meat and spices are cooked together to create a mouth watering filling for the easy-to-make dough. I personally love vegetable and potato samosas, they are my favorite!
Idli
Idli is a steamed cake made from rice and black lentils originating in Southern India. Idlis are a popular Indian breakfast and made in a specialized mold. They can be eaten with chutney or other flavorful toppings as a tasty snack. They are quite convenient for those on the go.
Thanks for Reading my article on Traditional Indian Food. I hoped it helped to show you a glimpse of the variety of food in the Indian Diet.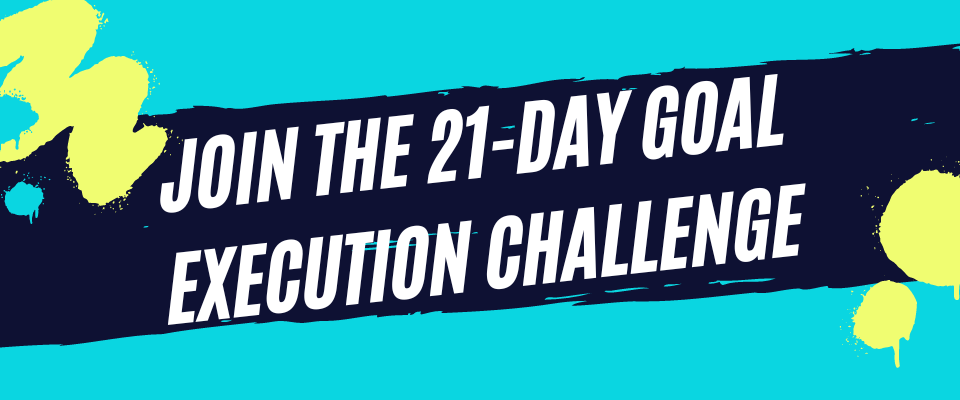 Thanks for reading! If you liked this content, please share below:
Sep 19, 23 07:31 PM

Would you like a stronger mind? Life can be confusing and intense, and that's why training your mind to be stronger than your feelings is crucial.

Sep 18, 23 06:05 PM

Looking for the perfect psychology-themed present for a college student? Here is a roundup of the best gifts for psychology majors.

Sep 16, 23 05:54 PM

Looking for the perfect period table of elements gift? Here are the best periodic table gifts that will spark a reaction from chemistry enthusiasts.