Wacky Household Items
You Need
but never knew about!
Ok... Get excited. In a few seconds you will discover some totally awesome tools that are extremely helpful to have around your house.
Yes, they may look unusual, but you will never run out of fun using them.

You may or may not know that this is my personal development and lifestyle blog. So I thought why not share with you a few products that will make your life easier besides being extremely cool!

1. Pizza Scissors!

Everyone loves Pizza right?! Well did you know that you could be making the task of dividing and sharing pizza a whole lot easier with this pretty awesome tool!
This kitchen gadget makes pizza slicing an absolute breeze. For pies, just slide the spatula tip under the pie, and cut away.
It won't scratch your cookware because it is non-stick and you can put it in the dishwasher.
Why haven't we met before?
Get the Pizza Scissor/Slicer Here:
Kitchen Maestro Pizza Scissors, (1)
2. Toothpaste Squeezer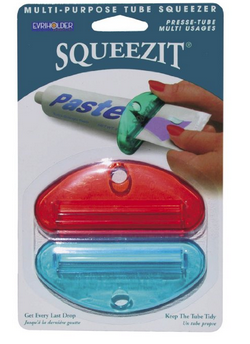 Do you ever find it difficult to get enough toothpaste out of the tube, especially when it's nearly used up?
Never have that problem again with this super cool gadget. Never worry  about wasting toothpaste again, either.
This household tool helps squeeze the last drop from each tube of toothpaste, and you can get them in different colours!

Get Your Own Toothpaste Squeezer Here:
Evriholder SqueezeIt Toothpaste / Multi-Purpose Tube Squeezer (2 pack)(Colors may vary)
3. Ice Cream Lock Protector!

Sometimes we do get very protective over our Ice Cream.
Sometimes we need it all to ourselves, locked up in the cupboard, safe from intruders.
I'm not sure if this one is pure genius or pure evil, but this is one of my favourities.
Want to find a way to control Ice Cream Consumption in your home?
As always, the link's below.

Get Your Ice Cream Protector!
Ben & Jerry's Euphori-Lock Ice Cream Pint Combination Lock Protector
4. The Portable USB Room Humidifier

This amazing humidifier with a soft blue light can help you relax and go to sleep better.
It's useful anywhere and can secure onto bottles to prevent spills.
It can also provide relief to cold and flu symptoms, and adds moisture to air in the immediate area.
You can use it with cold water as a mister during hot days.

Get Me a Portable Humidifier :
Satechi USB Portable Humidifier v.2.5 (Regular)
5. Obsessive Chef Bamboo Cutting Board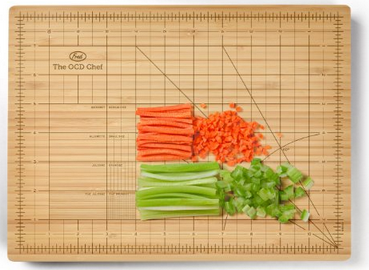 Do you get OCD about your slicing?
This Wacky Board has a multitude of guide lines in different grid sizes to ensure your cuts are precise.
Guess What? An super awesome thing to know is the lines are burnished in - not printed, so they won't wear off.
Get your cutting and chopping on point with this cool tool that's easy to clean too.

I Want an Obsessive Chef Bamboo Board! :
Fred & Friends THE OBSESSIVE CHEF Bamboo Cutting Board, 9-inch by 12-inch
6. Bathroom Mirror Wiper

Do foggy mirrors let you down?
Never have that problem again with this handy product, that wipes everything up nicely.
One of those cool items that you never regret, and always need.

Get me a Bathroom Mirror Wiper
Mudder Magic Defog Glass Mirror Squeegee Blade Wiper with Sucker Hanger, Suitable for Attaching to the Smooth Mirror in Bathroom, Window Glass in House, Windshield of Your Car (Grey)
7. Broom Groomer

Don't you just hate it when you sweep and then you get lots of extra dirt stuck in the brush, and you wonder how on earth you can get it out?
Dah-Dah.
The Broom Groomer is a really cool compact broom and dustpan duo. It features grooming teeth for removing and lingering dust and dirt on your broom, and a smooth rubber lip for keeping flush with your surface.
It's a 'sweeping improvement' in dustpans.

Get the Broom Groomer:
OXO Small Upright Sweep Set
8. Food Huggers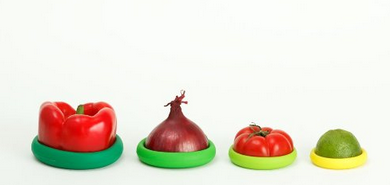 Food Huggers are perfect for half-used fruits and veggies, they create a tight seal to store them hygienically.
They are better than storage bags because they are easy to wash and reuse. Just pop your fruit or veg in the closest sized food Hugger and save it for later.
These tools are also great for covering open cans and jars to keep contents fresh.

Keep your food from spoiling in a really cool, quirky way.
Get a Food Hugger here:
Food Huggers Silicone Storage Cover 4pk
9. Fold-Away Dish Rack

This is a cool convertible dish rack that drains away water from your dishes, and when you are done, you fold it up.
This is a really neat idea, especially if you don't like things lying around on your kitchen tabletop.
This dish drainer can fit in all your dishes, utensils cup etc. amazingly.
To drain directly into the sink, simply fold out the feet and snap open the pour spout. When you are finished, everything folds for compact storage.
Get me a Fold-Away Dish Drainer
OXO Foldaway Dish Rack
Thanks for reading. Share this post with your friends to see their ideas on  these wacky household items! 
For You...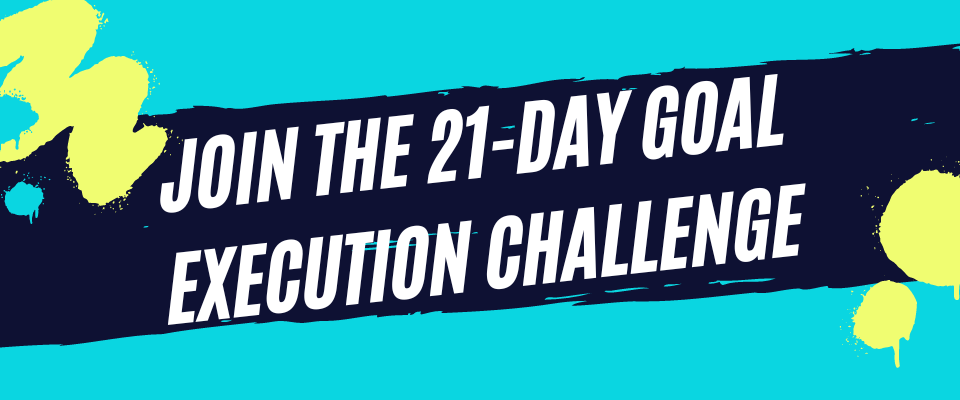 Mar 28, 23 09:41 AM

Looking to get a loved one a gift based on their Myers Briggs/16 personalities result? Here are the best gifts by personality type.

Mar 24, 23 09:37 AM

Need help setting up and growing your podcast? Here are the best podcast coaches online to guide you through the entire process.

Mar 22, 23 10:27 PM

Struggling to stay committed to your goals? Here are the best accountability coaches online to provide you with the support you need to reach success.
If you can see this,  please share this post with the buttons below :)