12 Best Gifts for High Maintenance Women and Self-Care Queens
What do you buy a lady who is already accustomed to a lavish lifestyle? Here are ideal gifts for high maintenance women who never settle for less than the best.

"I want it all, and I would like it delivered…"
High maintenance women don't need a special occasion to make sure they look and feel good.
Every single day is self-care day. 
As a result, it can be difficult to know what to give them as a gift. But look no further: Here is a list of the best gifts for high maintenance women who love the finer things in life and seem to already have everything.
These gifts will make your girl feel blessed and boujee, no matter the size of your budget.
On this list, you won't find fad items - such as the latest designer handbag or shoes - which may be out of fashion by next month. Rather, you'll find an array of timeless and high-quality gift ideas that you can mix and match as you please to create the ultimate ensemble. 
This post may contain affiliate links. Please read my disclosure for more information.
What are the Best Gifts for High Maintenance Women?
Here are the best gifts for high maintenance women who love to live in luxury:
What's better than enjoying a relaxing bath with your favourite book and a glass of crisp, refreshing Chardonnay?
This Bamboo Bathtub Caddy Tray by Royal Craft Wood offers high maintenance ladies an unparalleled experience of luxury and serenity.
The tray is fully adjustable to fit any bathtub and features a versatile design, heavy-duty construction, and convenient holders. 
It's perfect for storing your smartphone, wine glass, aromatherapy candles, bath salts, e-reader, and any other bathtime necessity. And it comes with a complementary soap dish! 
=> Find the Royal Craft Wood Luxury Bamboo Bathtub Caddy Tray here.
What do high maintenance women need when they come out from a rejuvenating bath? 
A cozy bathrobe, of course. 
Made from absorbent, fast-drying premium fabric, this cute cover-up is essentially a thick, thirsty towel that you wear like a dress. 
The soft, wide straps liberate you from the old wrap-and-tuck towel, while the hidden snaps and elasticized back prevent unintended peep shows. 
Don't be alarmed if she ends up spending the whole day in this plush number. It's possibly the most irresistibly comfortable garment a lady could ever wear. 
=> Find this Spa Towel Dress in a range of sizes on Amazon here.
This clever collapsible table is designed to hold all the elements of a classic picnic: two glasses, a wine bottle, and a plate full of your favourite pairings. 
The rustic style table is made from wood and incorporates two convenient handles and a leg stand that lets you plant the table securely in grass or sand. 
Talk about classy and functional.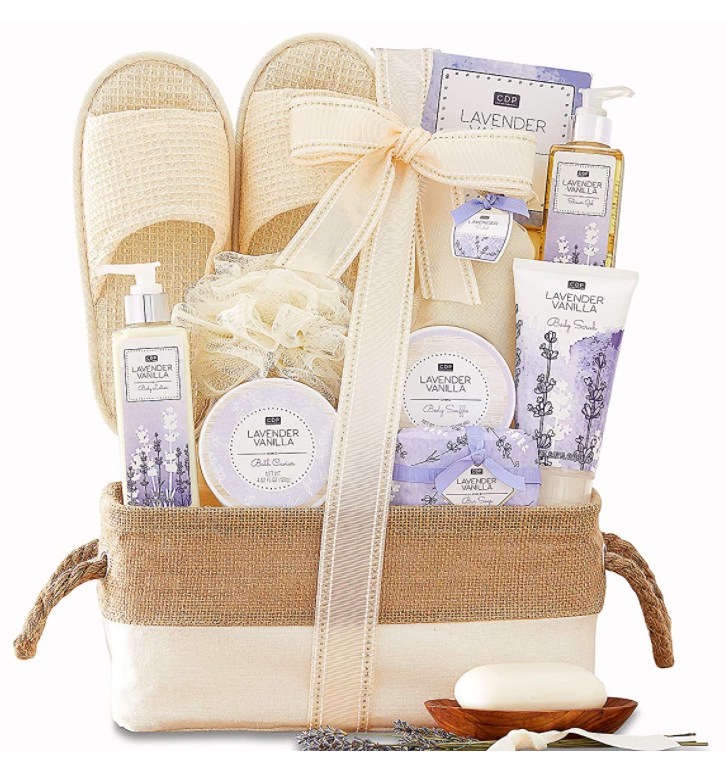 Here's an expertly curated basket of wholesome, all-natural, organic, dye-free bath and body essentials that's perfect for every high maintenance chic. 
This assortment of Cru de Provence lavender vanilla scented spa products includes: 
Shower Gel (7.24oz)
Body Lotion (7.24oz)
Body Scrub (6.02oz)
Bath Caviar (4.52oz)
Foot Soak (8.82oz)
Body Souffle (4.06oz)
Bar Soap (4.09oz)
Lavender Canvas Sachet Bag
Slippers & Mesh Sponge
Even after the products are finished, the elegant keepsake basket can continue to be used for organizing the office or home.

=> Find the Wine Country Spa Gift Basket on Amazon here.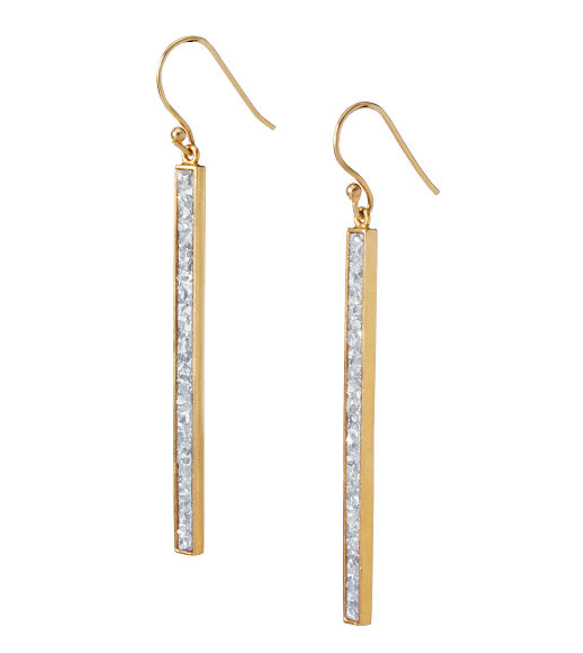 This statement piece by jewelry designer Shana Gulati is a gift that blends sleek modernism with subtly edgy elegance. 
Inspired by traditional Indian Polki jewelry, these earrings feature uncut diamond slices that are hand-set in silver resin inside long, minimalist, 18k gold vermeil frames.
Whether they're paired with a casual outfit or added to a dressy one, these sparklers are sure to make any woman feel like a million bucks. 
=> Find these Sliced Raw Diamond Drop Earrings here.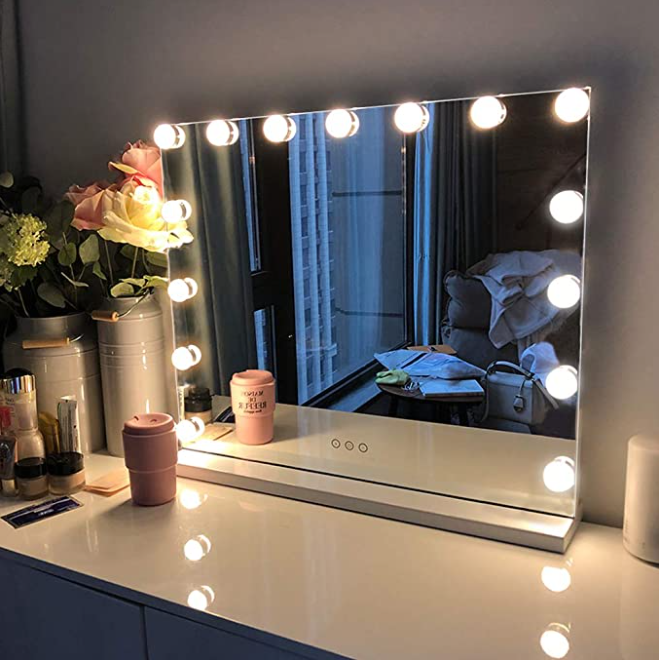 This hollywood-style vanity mirror is designed for makeup mavens who want to be able complete their beauty routine perfectly, regardless of the time of day.
The mirror has 15 LED light bulbs with adjustable brightness and three different colour options (daylight, cool white, and warm yellow) that can be configured to produce flawless, professional results. 
Featuring smart touch control and a detachable design, the mirror provides superb flexibility and is large enough to serve as the centerpiece of a desk, dresser or vanity table.
=> Find the Fenchilin Vanity Mirror on Amazon here.
"I'm a woman
Phenomenally.
Phenomenal woman,
That's me."
Those lines are found in a famous poem by Maya Angelou called Phenomenal Woman.
This pair of stemless wine glasses features the complete text of the poem, with the verses and the gold-lettered title flowing continuously from one piece to the next. 
Celebrating feminine beauty, strength, and spirit, Angelou's joyful words are an encouraging reminder that will brighten up every woman's day. 
=> Find the Phenomenal Woman Classes on Uncommon Goods here.
Drinks or dessert?
Why choose, when you can have both...
These special dessert sauces don't actually contain alcohol, but they do add a subtle, fruity wine flavor to your food, in those moments when you're feeling adventurous.
Made of spices, whole fruits, and zinfandel or merlot, these sauces will add a tasty twist to all your favourite treats, from your morning yoghurt to your after-dinner cheesecake. Bon Appetit!
=> Find the Wine-Infused Dessert Sauce on Uncommon Goods here.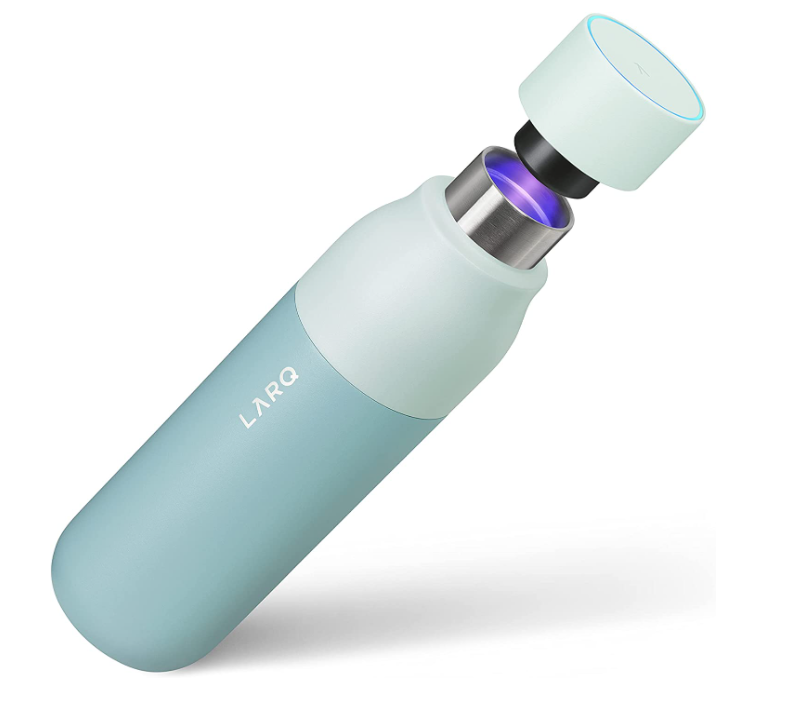 The LARQ Self-Cleaning Insulated Water Bottle is a handy gift for busy women.
Its award winning design uses advanced UV-C technology to sanitize your water and bottle at the touch of a button. The UV-C light neutralizes biological contaminants by breaking down their DNA.
The LARQ Bottle gives you the power to take fresh water with you everywhere you go. All you have to do is: 
Press the cap to sanitize.
Give the bottle a gentle shake to spread the UV light evenly. 
And voila - Enjoy fresh water from a clean bottle. It's that simple.
Best of all, the bottle intelligently turns on every 2 hours to sanitize your water, so you don't even have to think about it.
=> Find the LARQ Self-Cleaning Stainless Steel Water Bottle here.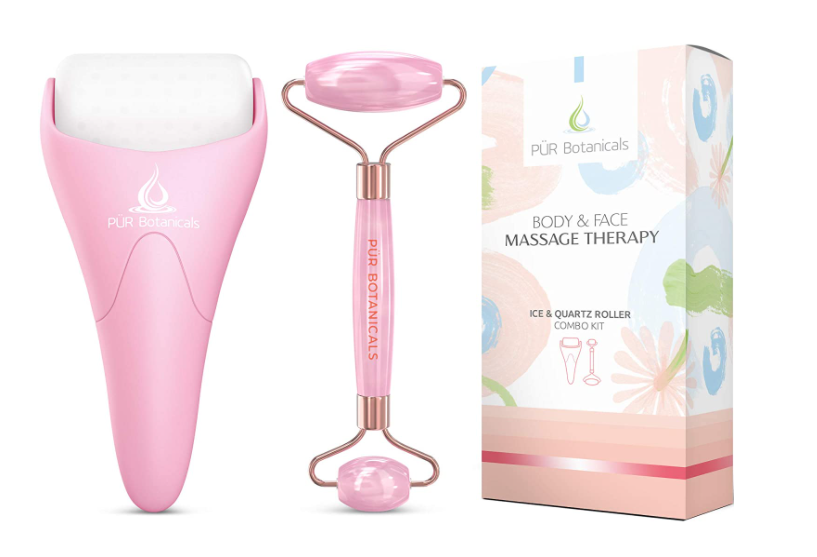 For jetsetters who want spa-quality treatment on the go, the PUR Botanicals ice roller was made to uncover your skin's natural radiance.
By harnessing the rejuvenating effects that cold temperatures can have on your skin, the ice roller becomes a powerful beauty tool that is also:
A refreshing facial massager
An effective pore reducer
An under eye roller/puffy eyes treatment
A complexion-improving face ice roller
A face massager for wrinkles and crow's feet
An eye roller for natural headache relief
A tension-relieving neck roller
A face ice pack for sunburns and bug bites
Use the roller to apply your favorite oil or serum and enjoy a deeper absorption that gives the impression of a natural facelift.
You'll need approximately five minutes of treatment, but the ice roller can stay cool for up to several hours when fully frozen. This particular set comes with two rollers, an ice roller and a rose quartz roller.
=> Find the PUR Botanicals Facial and Ice Roller Combo Kit here.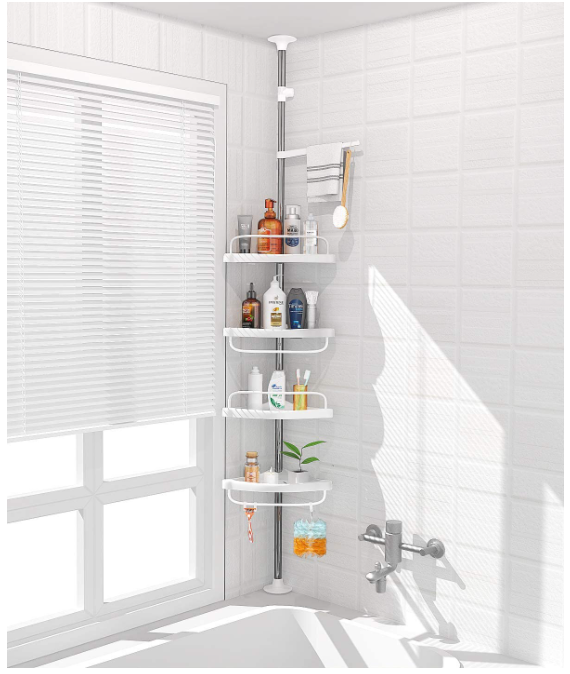 The Adovel 4-Layer Shower Caddy is one of the best gifts for high maintenance women who need extra storage space for all their favourite shower products. 
The caddy contains two poles and four removable trays that can each carry 5KG (equivalent to 10 bottles of 500ml water). 
It's a great way to make better use of your bathroom space and keep things nice and tidy with very little effort.
=> Find the Adovel 4-Layer Corner Shower Caddy on amazon here.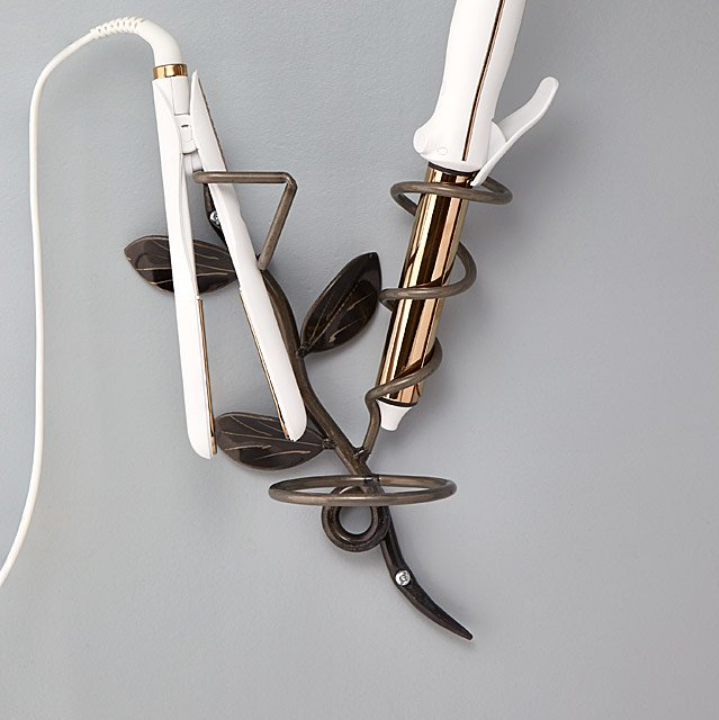 Finally, we move from the bathroom back to the bedroom - where she'll also need a storage unit to organize her hair styling tools. 
This Hair Care Holder on Uncommon Goods is designed for those days when your hair's dripping wet, you're running late, and the last thing you have time for is rummaging through a drawer to untangle the knotted cord that is your blow dryer. 
Time to wave those days buh-bye.
This charming piece of metal art mounts to the wall, keeps the vanity clear, and puts your dryer, curling iron, and flat iron elegantly on display, to ultimate the morning mayhem.
=> Find Michael McNeil's Hair Care Holder on Uncommon Goods here.
Conclusion
So, there we have it, a roundup of the best gifts for high maintenance women who love to do well, live well, and dress well.
Hopefully you've found a few ideas that would work perfectly for the self-care queen in your life. 
Any gift that makes life more organized, relaxed, or aesthetically-pleasing is sure to be appreciated, even by the woman who's usually hard to shop for. 
A high maintenance woman's standards are usually as high as her heels, but you'll find that when you pick out a gift that captures her core needs and desires, even a little can go a long way!
Related: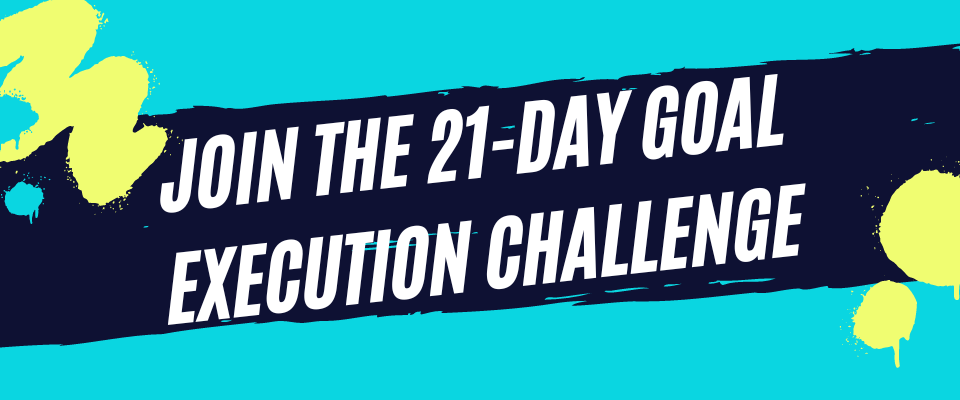 Thanks for reading! If you liked this content, please share below:
Sep 19, 23 07:31 PM

Would you like a stronger mind? Life can be confusing and intense, and that's why training your mind to be stronger than your feelings is crucial.

Sep 18, 23 06:05 PM

Looking for the perfect psychology-themed present for a college student? Here is a roundup of the best gifts for psychology majors.

Sep 16, 23 05:54 PM

Looking for the perfect period table of elements gift? Here are the best periodic table gifts that will spark a reaction from chemistry enthusiasts.