How to Make The Best Hot Chocolate Ever

Hot chocolate is the ultimate comfort drink. Wondering How to Make the Best Hot Chocolate? This is your guide on how to make real chocolate that you will love (and want to save the recipe to) forever.
I personally think that Hot Chocolate is a phenomenon.  Once sip of a well-made hot chocolate, and you are falling into a world of intense flavour, a rich and satisfying texture- that's the beauty of melted fine chocolate in warm milk.
Don't try and engage me in a discussion when I'm drinking the best hot chocolate ever.
And all this can be made in your kitchen. It always seems like the best hot chocolates can only be found when we are out and about visiting various coffee shops or what not.  But you can actually make your own super tasty homemade hot chocolate, and it's pretty simple too.
Be-warned though! This hot chocolate concoction is pretty intense, so if you don't like the ultimate chocolateness, leave now.
So let's go…
How to Make the Best Hot Chocolate
Ingredients:




- 25 grams of your favourite chocolate bar




- 300 ml Low Fat Milk




- Sprinkles




- 5/6 Marshmallows




- Spoon Full of Nutella




- Whipped Cream



Step 1: Warm up your milk.
The first step to make hot chocolate that's really, really good is to warm up some milk. (300 ml). I like using low-fat milk- I find it works perfectly – but it's up to you. Warm up the milk in a saucepan, on low to medium heat.
Step 2: Get some

Real

Chocolate

Now the awesome thing about making your very own homemade hot chocolate, is that you can go by your taste in chocolate bars to know what you want. What's your favourite type of chocolate to snack on? The best hot chocolate drinks are made with broken up pieces of chocolate bar, and then soaked in milk and other goodies.

Do you like Cadbury, Aero bubbles or Twirls? (Top choices by the way). Break about 5 squares off the chocolate bar or 25 grams.



Step 3: Mix the Milk and chocolate
Now you milk should be warming up well and getting bubbly, (and it should have been heating for about 3 minutes).
Next it's time to combine your chocolate pieces and the warm milk. Mix them together in the saucepan till for a thicker and even consistency.
4: Did someone say Nutella?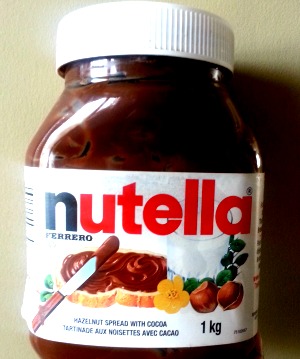 A jar of Nutella is one of those things that can make everyone happy. So it's time to harness the power and yumminess of a spoon of Nutella. Add it to the chocolate milk that you have warmed up. One spoon will do wonders and you won't miss it when you take your first sip, trust me.  
Just put in a bit of that heavenly hazelnut flavour.
Perfect, that will add even more texture and thickness.
Now for the part We Love To Look At....

So the steps you've just followed have made the base of our hot chocolate. The warm gooey bit you don't normal see straight away. The bottom layer that you sip one and really savour.
Now its time to take care of the top coat. Yep – the beautiful extravagant layer that you AWW, OOH, AHH at when you see them making it at your favourite coffee shop.
Crème Da La Crème – How To Make the Best Hot Chocolate Ever
When you are making hot chocolate by yourself, from scratch it's great. It gives you the chance to go over the top and Maximise the flavour. Wondering how to make your hot chocolate just gorgeous?
Step 5: Whip It Really Well
Next, add the whipped cream. Completely smoother the whole hot chocolate with it. Literally, give it a nice, soft and layered white hat. The cream sinks in quite quickly, so it is your job to make sure your delightful drink is well layered in the first place. Don't be shy.
Step 6: Pop the Marshmallows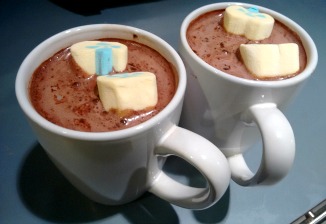 If ever there was a cherry on the cake in terms on hot chocolate, it would be the marshmallows.
Who doesn't love those spongy, cylindrical pieces that float gently on the top of your hot chocolate? Vanilla Marshmallows add a great touch. Take a handful of Marshmallows, and decorate them all over your warm drink. The Bigger the marshmallows, the better.
Step 7: Sprinkle Up Your Life
Now I've seen this missed in Hot Chocolate Recipes many times, but I really think it is a must if you desire to create the best hot chocolate ever. Go ahead, add sprinkles and make your hot chocolate colourful <3 <3. This will really make your hot chocolate look top notch, and if the other people in the room hadn't noticed how awesome it looks (I don't know, it's possible) , they will now.
Step 8: Finish off With the Basics
No you cannot have too much chocolate in a drink. Time to head back to the basics to finish of everything. Get a few chocolate chips, about 5 or 6. Warm them ever so slightly, till they are soft and tender (but not terribly gooey )and add them to your hot chocolate. That's a tiny bit more chocolate to top off your AMAZINGLY DELICIOUS hot chocolate concoction.
…..AND YOU ARE DONE.
All you have to do now is take a picture while it lasts. I guarantee you it will not last very long once you take your first sip ;)
A good hot chocolate should be making you feel like this: (Watch Bart's Reaction) http://i.imgur.com/um1wE.gif
That my friends, is how to make the best hot chocolate ever. You did it, or by the time you read this you will me getting ready to make it for yourself.
ENJOY!!
Note: For even more tastiness, enjoy your hot chocolate with a digestive biscuit or a wafer on the side.
Supplementary information, on why you would want to make hot chocolate from scratch:
Hot chocolate made from scratch , your way, is a gift. Hot chocolate is both extravagant and familiar. Not only does it lift your spirits, it makes you feel warm and safe. Each cup of hot chocolate that you make gives you a content moment, a nice break from the stresses of modern life.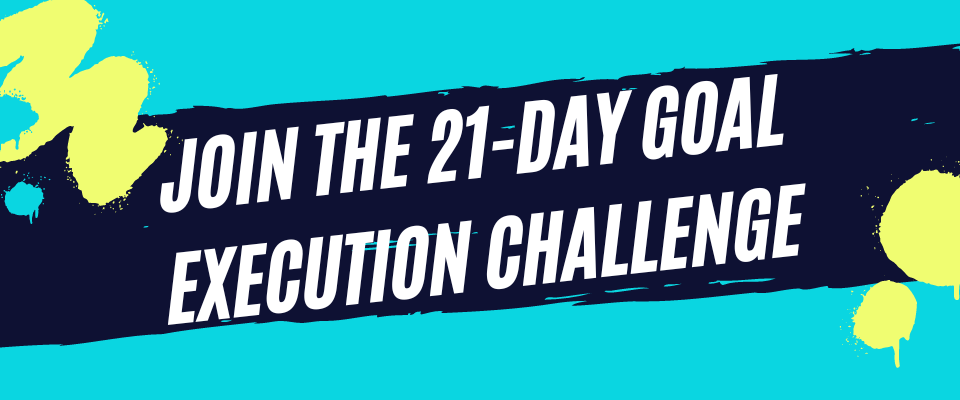 Thanks for reading! If you liked this content, share with a friend:
Dec 09, 23 08:34 PM

Below is a quote from Jhené Aiko's Poetry Book, 2Fish, that is both moving and beautiful. Here's a moment of reflection on the words in the excerpt and the meaning they convey.

Dec 08, 23 08:08 PM

It's an amazing thing to hear a person's life story, read aloud. Here are the best biography audiobooks to give you a peek into different iconic perspectives.

Nov 30, 23 09:41 PM

Would you like to improve your ability to read people? Here are the best body language books that will boost your social intelligence.