Best Public Speaking Courses
8 Best Public Speaking Courses Online to Enhance Your Speaking Skills

There are few things quite as captivating as a powerful stage presence. Here is a breakdown of the best public speaking courses for speakers at all levels.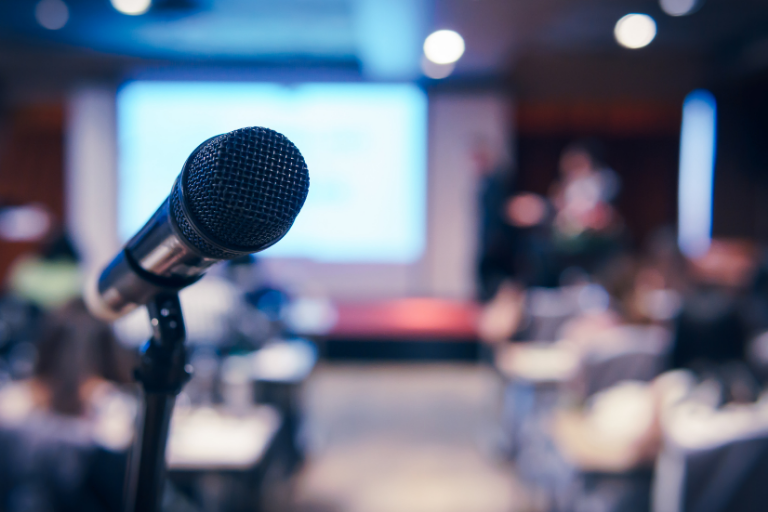 Like most things in life, public speaking is a skill that is mastered through deliberate effort and patience.
Here is a list of the best public speaking courses online to help you become a more confident speaker.
These public speaking classes will show you how to effectively channel your nervous energy, so you can deliver your speech with passion and charisma.
You'll learn the secrets behind famous and iconic public speakers - people like Winston Churchill, Martin Luther King Jr., Tony Robbins -  and even your favourite Ted Talk presenters. 
Even if you feel that you're just not as naturally gifted at public speaking as other people you know, don't give up.
These courses will teach you how to harness your personal style and unique strengths, so you can speak in a way that provides immense value.
This post may contain affiliate links. Please read my disclosure for more information.
What are the Best Public Speaking Courses Online?

Here are the best public speaking courses to enroll in online this year:

If you are nervous about public speaking, but regularly have to do it as part of your job, this four-part program by the University of Washington is for you. 
In this course, you will receive the instruction, experience, and practice to develop and deliver compelling presentations.
Based on knowledge in communication, rhetoric and linguistics, the course slowly works up specific skills that you can practice multiple times before putting together a longer speech.
You will learn how to: 
Substantially increase your confidence and presence as a dynamic speaker.
Develop delivery techniques for voice, movement, and gesture that engage audiences.
Prepare effective speeches for various purposes, occasions, and audiences.
 Master speech writing techniques for storytelling, argument, style, topic framing, and discussing evidence.
Program Syllabus: 
Course 1: Introduction to Public Speaking
Course 2: Speaking to inform: Discussing complex ideas with clear explanations and dynamic slides
Course 3: Speaking to persuade: Motivating audiences with solid arguments and moving language
Course 4: Speaking to Inspire: Ceremonial and Motivational Speeches
Key course features: 

Shareable Certificate
Earn a Certificate upon completion.
100% online
Start instantly and learn at your own schedule.
Flexible Schedule
Set and maintain flexible deadlines.
Approx. 5 months to complete
As you complete this specialization, you will gain experience creating a portfolio of polished speeches that will increase your skills and confidence as a public speaker.​
 => Enroll in the Dynamic Public Speaking online course here.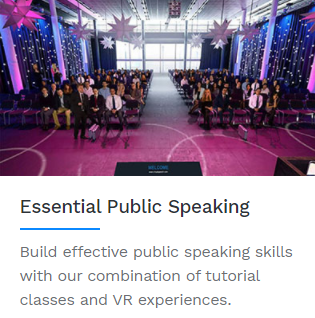 Essential Public Speaking is a course offered on Virtual Speech, an online platform that specializes in virtual reality training for organizations and individuals. 
A unique feature of this public speaking course is that it enables you to practice everything you learn right away, through a series of eight immersive VR training scenarios.
In these practice scenarios, you'll receive instant feedback on your pace, volume, confidence, use of hesitation words, and more.
Course outcomes: 
Overcome a fear of public speaking and feel comfortable speaking in front of audiences of various sizes
Know key theory and techniques to deliver effective and memorable speeches
Easily design your presentation to engage and persuade your audience
Manage nerves and become a confident public speaker
Engage and connect with your audience through storytelling
Enhance your message with body language, eye contact and gestures
There is also an option to enroll in the course without virtual reality, which you can find here.
Key course features:
58 online lessons
6 case studies
8 VR training scenarios
All VR features
Quizzes and assessment in VR
Earn a digital course certificate
Flexible, self-led format
Access to updated content
=> Enroll in the Virtual Speech Essential Public Speaking Course here.

This bestelling public speaking class on Udemy is by award winning professor, TEDx Talk speaker, and author Chris Haroun. 
Based on his 25 years of experience in various public speaking contexts, Chris teaches you everything you need to know about giving a great speech for business and personal presentations.
The course contains 12 parts (called "Acts") with useful exercises and examples to help you work smarter and not harder when crafting your speech.
You will learn how to: 
Begin with the end goal in mind of your speech
Decide what to include in your speech and how to structure it
Create effective slides for your speech
Deliver your speech confidently, using body language tips 
Ace the Q&A session of your speech 

Choose what to eat before your presentation, and what to wear 
Ensure that your speech goals are met at the end 
Key course features: 
16 hours on-demand video
29 articles
307 downloadable resources
Full lifetime access
Access on mobile and TV
Certificate of completion
This course also comes with presentation templates and other supporting materials that are designed to help you adapt to the requirements of different types of speeches.
=> Enroll in the Complete Presentation / Public Speaking course here.

This highly-rated course on Coursera shows you how to improve your communication skills in different situational and cultural contexts, so you can become a highly influential leader. 
Good leaders develop the ability to cut through the noise and ambiguity that often distracts people.
In addition, they learn how to reach the hearts of their listeners by imparting a clear and meaningful vision for the future.
As a public speaker, these skills are critical. 
In this course, you will learn how to:
Critically evaluate a range of theories to decode the components of persuasive communications
Apply a range of different strategies to a variety of contexts to build rapport, overcome resistance, and find acceptance
Develop skills to interpret the motivation of your audience and influence the way they think and feel to support your ideas
Program Syllabus: 
Week 1: The necessary art of persuasion: Understanding what matters to your audience
Week 2: Telling your story: Developing a dramatic narrative
Week 3: Connecting with people: Developing authenticity and building rapport
Week 4: Talk the talk: Creating impressions and guiding influential conversations
Week 5: Painful truth: Dealing with objections and overcoming resistance
Week 6: Winning over hearts and minds: How to pitch a brilliant idea


Through a range of structured learning activities - including video lectures, discussion prompts, and quizzes - this course will help you develop the key leadership skills that set you apart as a public speaker.
Key course features:
Shareable Certificate
Earn a Certificate upon completion.
100% online
Start instantly and learn at your own schedule.
Flexible deadlines
Reset deadlines in accordance with your schedule.
Approx. 18 hours to complete
=> Enroll in the Storytelling and Influencing online course here.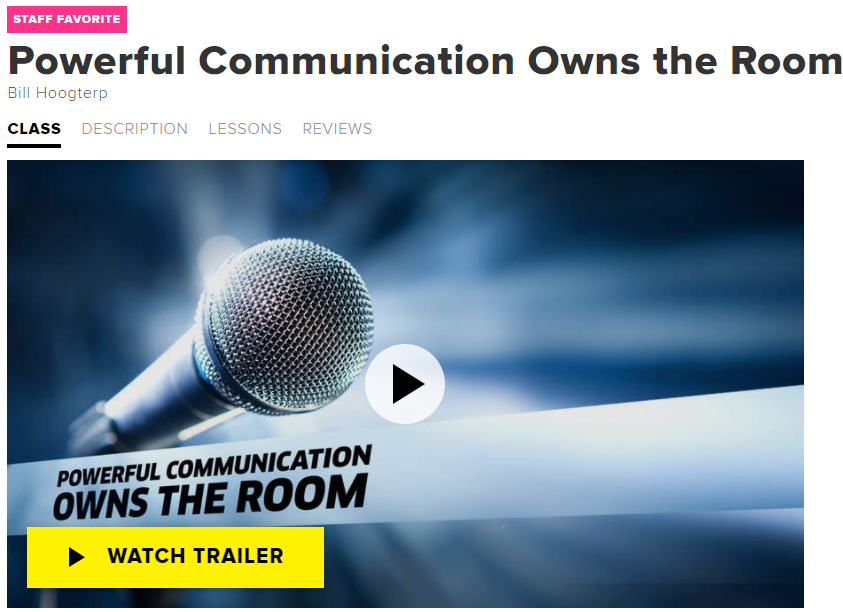 In this course, CreativeLive Instructor Bill Hoogterp takes you through a three-day workshop that will transform you into a powerful, dynamic public speaker. 
After decades of working as a public speaking coach, Bill has developed a clear, step-by-step system that will help you own the room each time you speak.
What you will learn:
How to read your audience and keep them engaged
The importance of being memorable
How to paint pictures and evoke emotions as you speak
The role of humor and audience involvement
How to handle distracted audiences
The keys to developing a strong opening and conclusion

Overall, this course presents both the art and science of delivering an impactful speech.
As you progress through the material, you'll get to practice your new skills in a wide variety of situations, so you can be prepared to speak clearly and confidently in front of any audience. 
Key course features:
31 Video lessons in HD
15h 6m of class content
Exclusive bonus content
Lifetime access, anywhere, anytime
Streaming and offline access on desktop and mobile
Offline sync with iPhone & iPad apps
100% satisfaction guarantee
=> Enroll in the Powerful Communication Owns the Room course here.
No matter what industry you're in, you need to speak clearly and confidently to move your team and your career forward.

If you get nervous about giving presentations or leading meetings at work, this Udemy course will help you speak up powerfully when it matters most. 
In Speak Like a Pro, executive presentation coach Jennifer Hennings show you how to get your message across and influence others with presentations that make people want to listen.
You'll be guided through all the steps involved in planning your next presentation, from analyzing your audience and discovering your bottom line, to organizing your thoughts and improving your delivery.
More specifically, this public speaking course will show you how to: 
Connect with any audience and make them care about your message
Get your point across without rambling
Master the art of sounding natural and conversational (while secretly being well-prepared)
Organize your ideas into easy-to-remember frameworks
Think and speak on your feet, even in stressful situations
Influence listeners with powerful stories
Make your body and voice work for you rather than against you
Manage your anxiety when the pressure's on
Key course features:
1 hour on-demand video
17 downloadable resources
1 practice test
Full lifetime access
Access on mobile and TV
Certificate of completion
NASBA CPE credits: 2.2
In this course, Jennifer places a laser-focus on the essentials. No fluff, no filler - just the most transformative exercises she's developed to help thousands of clients worldwide overcome anxiety and deliver powerful presentations.
=> Enroll in the Speak Like a Pro online course here.

This advanced public speaking class is designed to take your speaking skills to the next level. If you're a beginner, perhaps go for one of the other courses on this list first!
While many thought leaders have great ideas to share, they often miss their audience. 
According to a national survey, four out of 10 top executives admit to nodding off in boring presentations. 
How can you speak in a way that captivates your audience, builds your credibility, and elevates you as a subject matter expert?
In Public Speaking and Presentations Pro, you'll discover how to deliver a professional, polished presentation that appeals to your listeners. 
The course includes 13 modules:
1-4: You'll learn how to hook your audience, show confidence, overcome nervousness, and tailor your approach to any audience. 
5-8: You'll learn how to speak well, present with your body, keep their attention and maximize media impact.
9-13: You'll learn how to manage pace, answer questions, make it enjoyable, handle distractions and close well.
Key course features:
4.5 hours on-demand video
13 downloadable resources
Full lifetime access
Access on mobile and TV
Certificate of completion


With this step-by-step training plan, you'll implement a system of 117 new skills to help you scale down complicated content, present anything in a polished and dynamic way, and increase your reach and impact as a thought leader.  
=> Enroll in the Public Speaking and Presentation Pro course here. 
This CreativeLive course uses improvisational thinking to give you the tools to not only be a great speaker, but also a better leader, team player, listener, and storyteller.
The course is taught by Kimberly MacLean and Sammy Wegent of Speechless, a startup based in San Francisco that helps companies use improvisation techniques to make public speaking more fun and less scary.
Both Kimberly and Sammy have extensive experience as actors, comedians, instructors and presenters, and are eager to share practical tips to help you feel more confident on stage.
In this class, you'll learn how to:
Use improvisational thinking and methodology in your public speaking.
Get over your fear of public speaking and build confidence.
Do physical and linguistic exercises to loosen you up.
Take creative risks.
Create structure for your presentations.
Utilize improvisational best practices.
Add fun and comedy to your speeches and presentations.
Key course features:
6 Video lessons in HD
56m of class content
Exclusive bonus content
Lifetime access, anywhere, anytime
Streaming and offline access on desktop and mobile
Offline sync with our iPhone & iPad apps
100% satisfaction guarantee
By the end of the course, you'll have discovered useful techniques to infuse your public speaking with humor, fun, and confidence!
=> Enroll in the Improv Thinking and Presentations course here.
Final Thoughts
Thanks for reading this post on the best public speaking courses and classes to enroll in online. 
These courses will provide you with various exercises and challenges that will gradually push you out of your comfort zone and help you face your fears, until you build up confidence as a public speaker.  
Online courses on public speaking are popular because they show you how to transform the theoretical knowledge (that you may already have) into action, through live examples of presentations and speeches. 
Hopefully you've found a course on this list that you can get started with right away. Happy learning!
Related: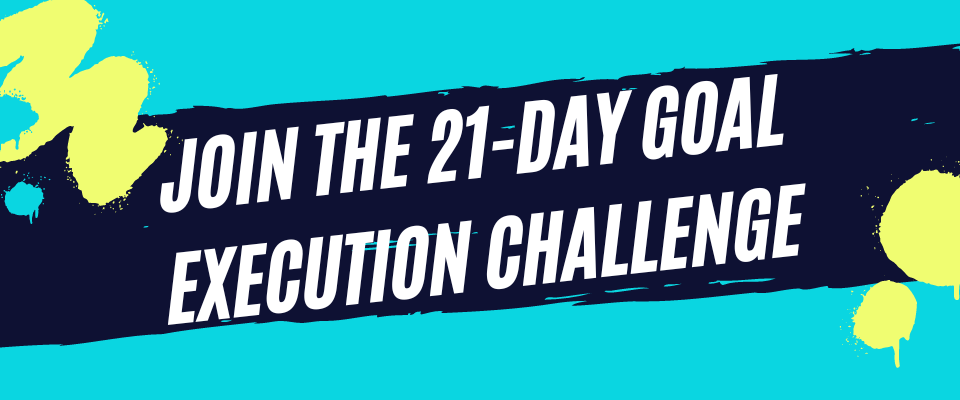 Thanks for reading! If you liked this content, share with a friend:
Dec 09, 23 08:34 PM

Below is a quote from Jhené Aiko's Poetry Book, 2Fish, that is both moving and beautiful. Here's a moment of reflection on the words in the excerpt and the meaning they convey.

Dec 08, 23 08:08 PM

It's an amazing thing to hear a person's life story, read aloud. Here are the best biography audiobooks to give you a peek into different iconic perspectives.

Nov 30, 23 09:41 PM

Would you like to improve your ability to read people? Here are the best body language books that will boost your social intelligence.