Calgary Stampede Children's Day 
We recently attended the Calgary Stampede on Children's Day. Here are some cool things to look out for regarding the fun activities, shows and rides available for families to enjoy.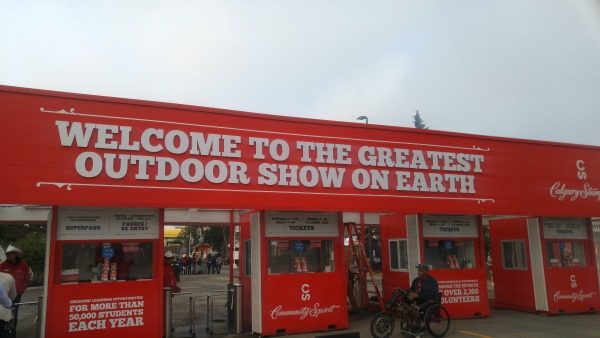 The Calgary Stampede is a fun-packed ten days of cowboy fun for friends and families. It all takes place at Stampede Park, a venue in downtown Calgary near the Scotiabank Saddledome. The Stampede children's day is one of a few of the value days offered, where visitors to the Stampede can enjoy the activities at a lower price. 
Children's day - known officially as BMO kid's day is hosted by the Bank of Montreal. From 7am-9am, there is free entry for kids age 12 and under, as well as accompanying adults. This is a great deal, as normally tickets are priced at $18 for visitors aged 13-64 and $9 for seniors and children, with only children under age 7 going free. 
When I arrived at the Stampede grounds on Children's Day, I was warmly welcomed by enthusiastic staff and volunteers and also had the opportunity of having a free breakfast in the Grandstand Courtyard. Breakfast is usually open from about 8am - 9:30am on children's day and you can get pancakes, sausages and juice for free.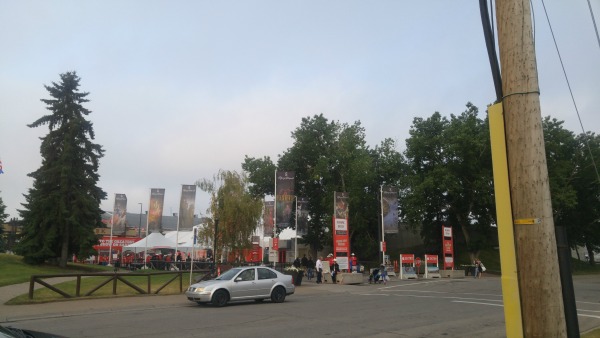 Entering the Stampede Grounds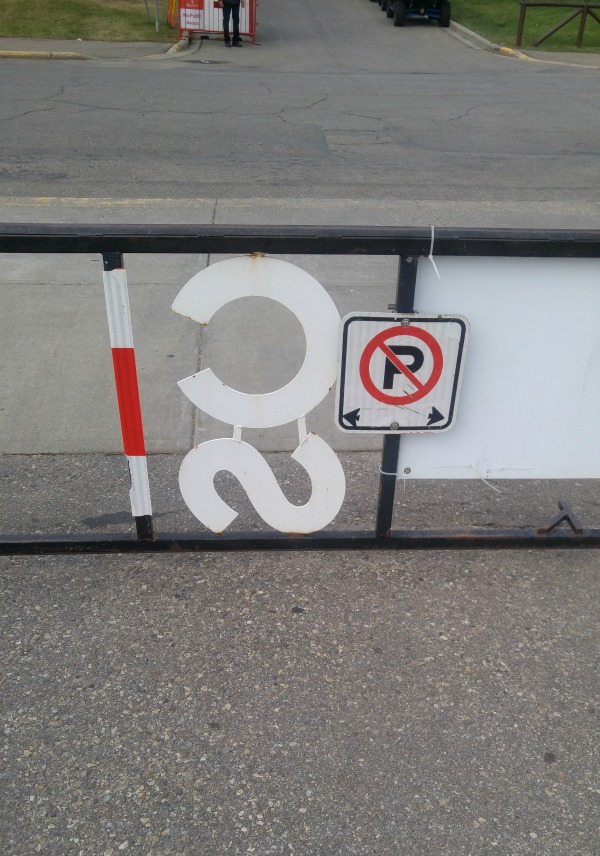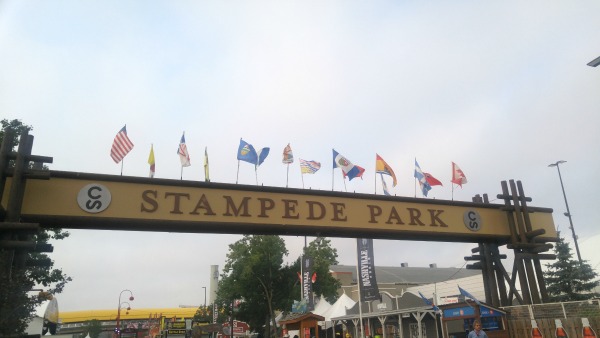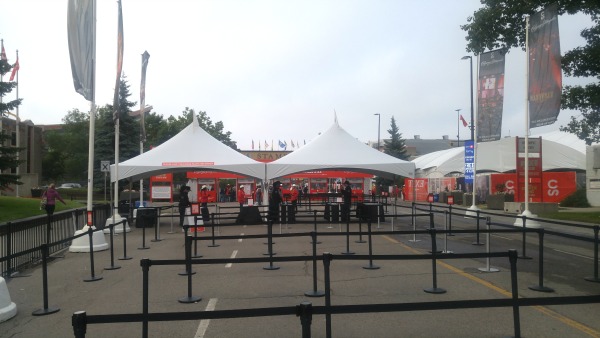 Line up area - except there aren't a lot of people lining up at 7:30 am!
The Grandstand stage hosts a free variety show from 8am-10am which is fun to watch, especially if it is your first time at the Stampede. It serves as a little introduction to the event, explaining what the Stampede means for Calgary and giving you a little taste of the interesting shows and activities that will be featured that day. 
Entrance into Stampede Park after 9am is only $2 on Children's Day and there are free prize draws throughout the morning.
At the BMO variety show there will be local music and performances and often a chance to see chuck wagon racing. There's always something interesting to look forward to. You might even get the chance for a photo opportunity with Harry the Horse - the official mascot of the Calgary Stampede - along with other popular life-sized children's characters.
The Children's day deals continue with specially priced coupons for rides. The BMO kids' day Midway coupons can be bought at a cheaper rate of 30 coupons for $22.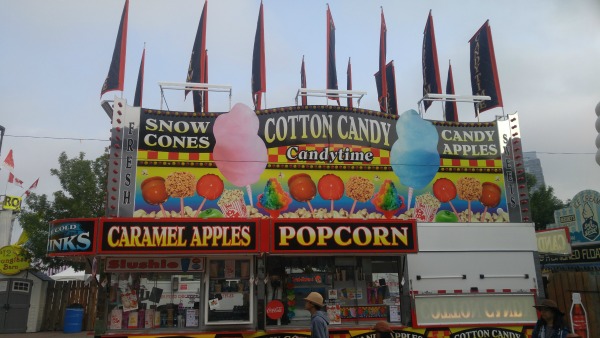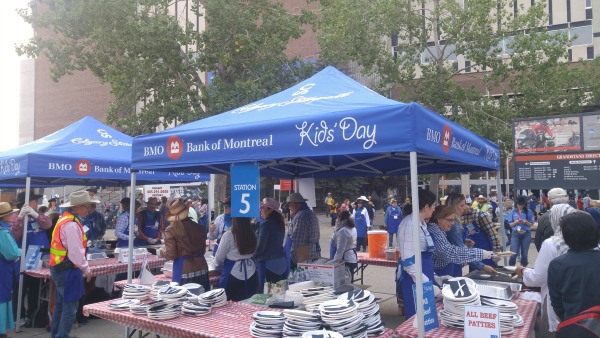 BMO Kid's Day Breakfast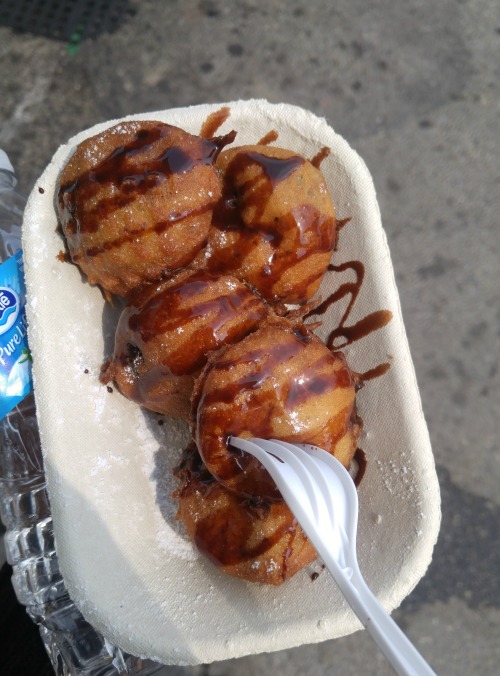 The BMO kid's zone is also available daily during the Stampede period from 11 a.m. - 8 p.m. Be sure to look out for their feature events and stop by for complimentary face painting and a chance to colour in the daily wall mural. 
Overall I enjoyed my experience of the BMO kid's day and I was also pleased with the chance to check out some of the snacks at the food trucks. There are many sweet treats to try out, from your typical mini donuts to more unusual food options such as crispy chicken feet on a stick and The Cookie Dough-ne (raw cookie dough in a waffle cone wrapped around cotton candy and topped with sprinkles). New food and drink is featured every year so that's exciting...
 I tried out deep fried oreos, and they were pretty tasty, though I wouldn't have them too often for obvious reasons...
Overall, I would recommend visiting the Calgary Stampede on Children's day - it offers fun and appealing attractions for both children and accompanying older ones. 
Have you been to the Calgary Stampede's Children's Day before? Comment below!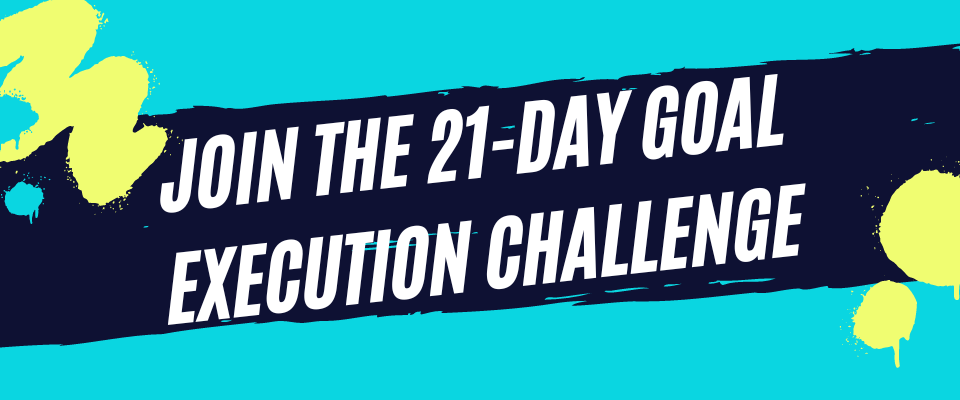 Thanks for reading! If you liked this content, share with a friend:
Dec 09, 23 08:34 PM

Below is a quote from Jhené Aiko's Poetry Book, 2Fish, that is both moving and beautiful. Here's a moment of reflection on the words in the excerpt and the meaning they convey.

Dec 08, 23 08:08 PM

It's an amazing thing to hear a person's life story, read aloud. Here are the best biography audiobooks to give you a peek into different iconic perspectives.

Nov 30, 23 09:41 PM

Would you like to improve your ability to read people? Here are the best body language books that will boost your social intelligence.