5 Best Documentary Filmmaking Courses to Bring Your Story to Life 
Love filmmaking? Here are the best online documentary filmmaking courses to help you refine your skills and turn your passion for films into a career.
Looking to learn the secrets behind creating a compelling documentary? 
Here are the best documentary filmmaking courses online for professional and aspiring creatives. 
These courses will walk you through every stage of creating your documentary, from preproduction and production, to post production and distribution.
Whether you've had little experience working with videos, or you're in the middle of an exciting project, you'll receive guidance on the technical and stylistic techniques you need to make your documentary a success. 
This post may contain affiliate links. Please read my disclosure for more information.
What are the Best Documentary Filmmaking Courses?

Here are 5 of the most popular documentary filmmaking courses online: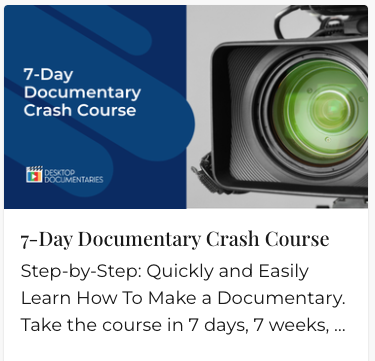 This 7-Day Crash Course by Desktop Documentaries is one of the most comprehensive documentary filmmaking courses for beginners that you'll find online. 
Making a documentary can be a daunting endeavour with many many moving parts, but the creators of this course have gone to great lengths to break down everything you need to know in a straightforward blueprint. 

Through bite-sized, multimedia lessons, you'll experience about 4-years worth of film school condensed into 7 days. 
Key topics covered include fundraising, idea development, writing a script, choosing gear, figuring out how to sell your film, talent releases, and legal considerations.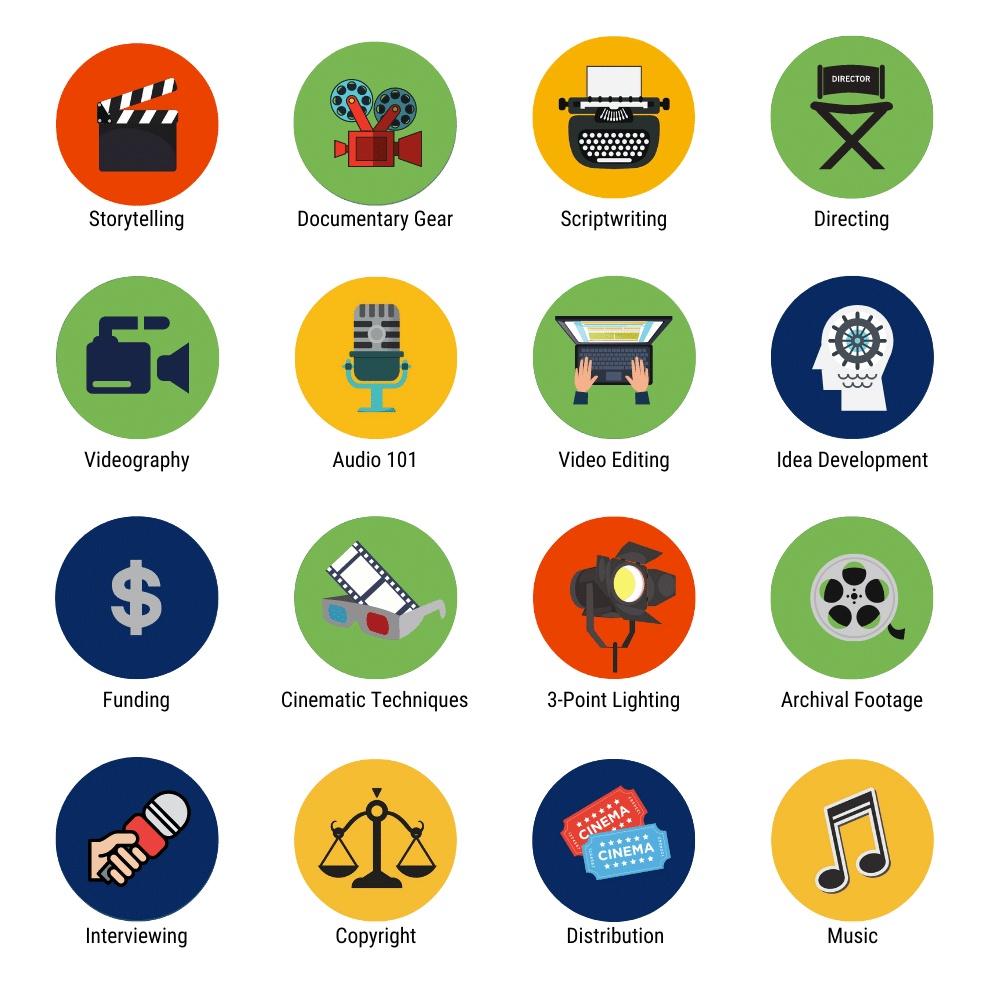 Each day's lesson comes with an assignment and handy worksheet to help you work through all the important aspects of your documentary.
You'll also gain access to downloadable resources and forms including script writing & production templates, a storyboard sketch sheet, a full documentary script sample, and an equipment checklist.
Ultimately, the goal of this course is to help you avoid common pitfalls involved in making a documentary and give you the best information possible to help you make a successful film.
The best part is that you get two-years access to the course, so you can take the course as often as you like during the next 24-months. The most important thing is getting started!
=> Enroll in the 7-Day Documentary Crash Course here.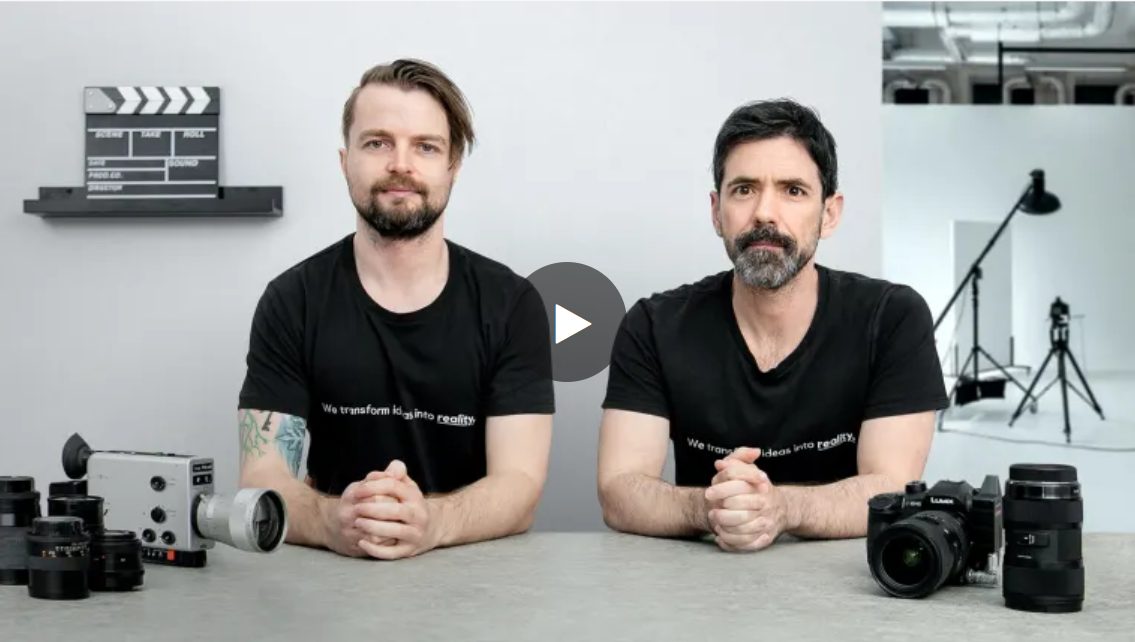 This course by filmmakers Jose Prada and Rene Strgar gives you a closer look at the audiovisual industry and shows you how to explore an idea, materialize it through film, and finalize it though post-production.
First, you'll hear Jose and Rene's unique stories about how they each began working in the film industry. 
Then you'll get an overview of filmmaking, including how filmmaking has evolved in the age of the internet, the narrative units of a film, and the different cinematographic elements that set documentaries apart from other types of films.
Next, you'll explore the creative process behind choosing and exploring the subject of your film.
You'll discover what to consider when location scouting in terms of lighting, sound, logistics, and other technical aspects. Then,you'll put everything on paper and start defining the film you want to make.
Then you'll dive into the post-production phase and bring everything together with your footage, sound, and color. Once you've finalized your documentary, you'll learn how to export your work into different formats and share it with the world.
Course Syllabus: 
Introduction
Introduction to Filmmaking
Before the Shooting
The Shooting
Post-production: Putting It All Together
Final project
Required materials:
Camera or smartphone
A computer with video editing software like Adobe Premiere and DaVinci Resolve
Jose and Rene give you a list of other (inexpensive but efficient) equipment they work with like tripods, microphones, light stands, and more.
Key course features: 
18 lessons (2h 5m)
14 additional resources (3 files)
Online and at your own pace
Available on the app
Audio: English
Subtitles: English, Spanish, Portuguese, German, French, Italian, Polish, Dutch
Level: Beginner
Unlimited Access Forever
Certificate upon completion of the course
=> Enroll in the Documentary Filmmaking From Scratch course here.

Documentary Filmmaking with Soul is a bestselling Udemy course that teaches you how to make modern, cinematic, and story-driven character documentaries that engage viewers both visually and emotionally.
In a format that's part travelogue, part course, Emmy award-winning filmmaker Dandan Liu brings you along on her journey of making The Japanese Million Dollar Baby, a beautiful short documentary about a female boxer in Tokyo. 
This documentary filmmaking class differs from others in that it emphasizes an artisanal approach, using minimal, lightweight equipment to craft high quality, resonant films.
In the course, you will learn how to: 
Conduct powerful, story-driven interviews
Develop an eye for location scouting
Compose and light for cinematic images 
Develop the "Shooting for the Edit" mindset

Use audio recording equipment to get high quality sound
Use Adobe Premiere pro to edit and refine your footage
Cultivate your ability to see, listen, and feel your way into your stories, so every decision is intentional

By the end of this course, you will have the knowledge and confidence needed to navigate the documentary filmmaking lifecycle and create your first documentary short.
Note: A DSLR camera, Adobe Premiere Pro free trial, tripod, and basic audio recording equipment are required for this course. 
Key course features: 
2 hours on-demand video
3 downloadable resources
Full lifetime access
Access on mobile and TV
Certificate of completion
=> Enroll in the Documentary Filmmaking with Soul online course here.
Since its 2017 debut, Ken Burns's docuseries The Vietnam War has captivated the attention of millions of viewers by painting an intimate and revealing portrait of history. 
In this Masterclass, the 5-time Emmy Award winner explains how he uses audio and visual storytelling methods to distill vast research and complex truths into compelling narratives.
Using the episode board from The Vietnam War, Ken teaches you his strategies for visualizing the structure of your film.
He also shows you how to conduct interviews for your documentary by walking you through one of his most difficult interviews, and sharing how four simple words transformed it into some of the most powerful moments in the film.
You'll learn how to identify character arcs, leverage conflict, and set aside judgment to portray memorable nonfiction characters that capture the complexity of real life.
In addition, you'll discover how to reach your audience and the importance of opening your film up to interpretation and conversation.
Ken concludes the class with a motivational message that encourages you to let go of any lingering doubt and take the leap toward making your documentary film.
Class Length: 24 video lessons (4 hrs 56 min)
=> Sign up for MasterClass and gain access to Ken Burn's class here.

Documentary Filmmaking Secrets is a Udemy course by 17-time Emmy Award winning producer and director Shawn Vela. 
Over the course of his career, Shawn has worked on projects for companies such Amazon, SAP, Legoland California (and Florida) Resort, New Balance, University of Central Florida, and more.
In this course, he shares some of the secrets he wishes he knew about documentary filmmaking when he was first getting started.
What you'll learn: 
How to find story themes and the message of your film
Tips for capturing more authentic interviews, un-staged b-roll scenes, and editing faster
Insight into what thought processes professional TV documentary makers use to shoot, gather content and edit award winning video stories
A glimpse into the creative process of putting together a documentary film, from conception to completion and beyond
This course is great for filmmakers who want to make better, more compelling and engaging videos, with an emphasis on storytelling.
However, if you're looking for more in-depth instruction on cameras, lenses or editing software, I recommend taking one of the other documentary filmmaking classes on this list, because that is not the focus of this short class.
Key course features: 
1.5 hours on-demand video
1 downloadable resource
Full lifetime access
Access on mobile and TV
Certificate of completion
=> Enroll in the Documentary Filmmaking Secrets class on Udemy here.
Final Thoughts
Thanks for checking out this post on the best documentary filmmaking courses and classes online. Hopefully you've found some sources of inspiration and guidance for your project. 
If you're a first-time independent filmmaker and you feel like the main issue is knowing where to start and how to progress, then the course I most recommend is the 7 Day Documentary Filmmaking Crash Course, since it's designed for complete beginners and offers daily assignments, quizzes and worksheets to keep you accountable. 
Once you have mastered the groundwork and principles of documentary filmmaking, the process will become easier and a lot more fun. 
And who knows...you may be on to creating your second documentary before you know it...
Happy learning!
Related: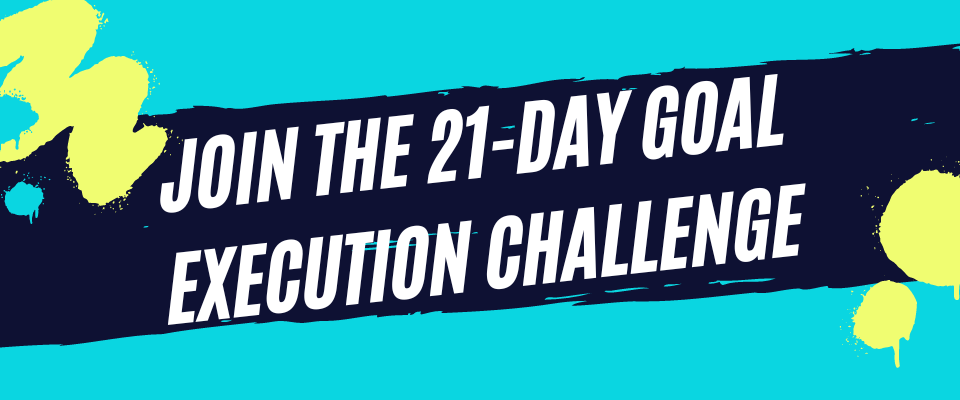 Mar 28, 23 09:41 AM

Looking to get a loved one a gift based on their Myers Briggs/16 personalities result? Here are the best gifts by personality type.

Mar 24, 23 09:37 AM

Need help setting up and growing your podcast? Here are the best podcast coaches online to guide you through the entire process.

Mar 22, 23 10:27 PM

Struggling to stay committed to your goals? Here are the best accountability coaches online to provide you with the support you need to reach success.
If you can see this,  please share this post with the buttons below :)