edX MicroMasters Review - Are MicroMasters Worth it?
Looking to enroll in an edX MicroMasters program? Here are reviews from past students to help you decide if completing a MicroMasters will be worth it for you.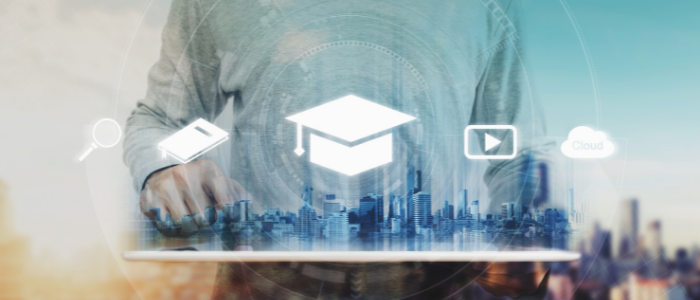 For almost a decade, edX has opened the classroom through online learning and made high-quality education more accessible for millions of learners around the world.
In this review, we'll take a look at everything you need to know about edX MicroMasters programs, so you can determine if they're the right fit for you.
Just like you'd take the time to explore a physical campus, it makes sense to fully research online certificates and degrees before enrolling in them. So well done for taking this step, it means you're organized and thorough!
This post may contain affiliate links. Please read my disclosure for more information.
What are edX MicroMasters?

EdX MicroMasters programs are a series of graduate level courses from top universities that train learners in a specific career field. 
MicroMasters are recognized by industry leaders and offered by world-renowned institutions such as Havard, MIT, Australian National University, The Hong Kong Polytechnic University, and many others.
With 60 MicroMasters programs currently available, learners can explore a wide variety of topics ranging from Instructional Design and Technology to MBA Core Curriculum, Corporate Innovation, and Cloud Computing.

Overall, the programs are mainly targeted to individuals who have a Bachelor's or Associate's degree and would like to work towards a Master's degree.
=> See the full list of MicroMasters programs available on edX.
Are MicroMasters Worth It? Breaking Down the Cost:
The biggest advantages of MicroMasters programs are the flexibility and affordability they provide. 
While the programs might initially seem pricey (most of them run between $1000 and $1600 USD), they are actually a fast track to a Master's Degree and can save you thousands of dollars in the long run. 
How so? 
Well, most MicroMasters take between 6-12 months to complete and represent 25% to 50% of a full master's degree.
Students who successfully complete a MicroMasters program may apply to the university offering credit for that program and, if accepted, pursue an accelerated and less expensive Master's Degree.
Consider an example. If your end goal is to earn Master's degree like MIT's MS in Supply Chain Management, here's what you could do:
When you do the math, it's evident that this would bring you savings of almost $30,000!
So...is it worth it? I think so!
It's also important to note that for many of the MicroMasters programs, you don't ever need to transfer to a physical university, since Edx offers 100% online Master's degrees.

Now that you've got an idea of the cost associated with MicroMasters, let's examine what past students have said about their experience in various MicroMasters programs.
Edx MicroMasters Reviews
Leveraging Her MicroMasters Program for Career Advancement: Meet Mia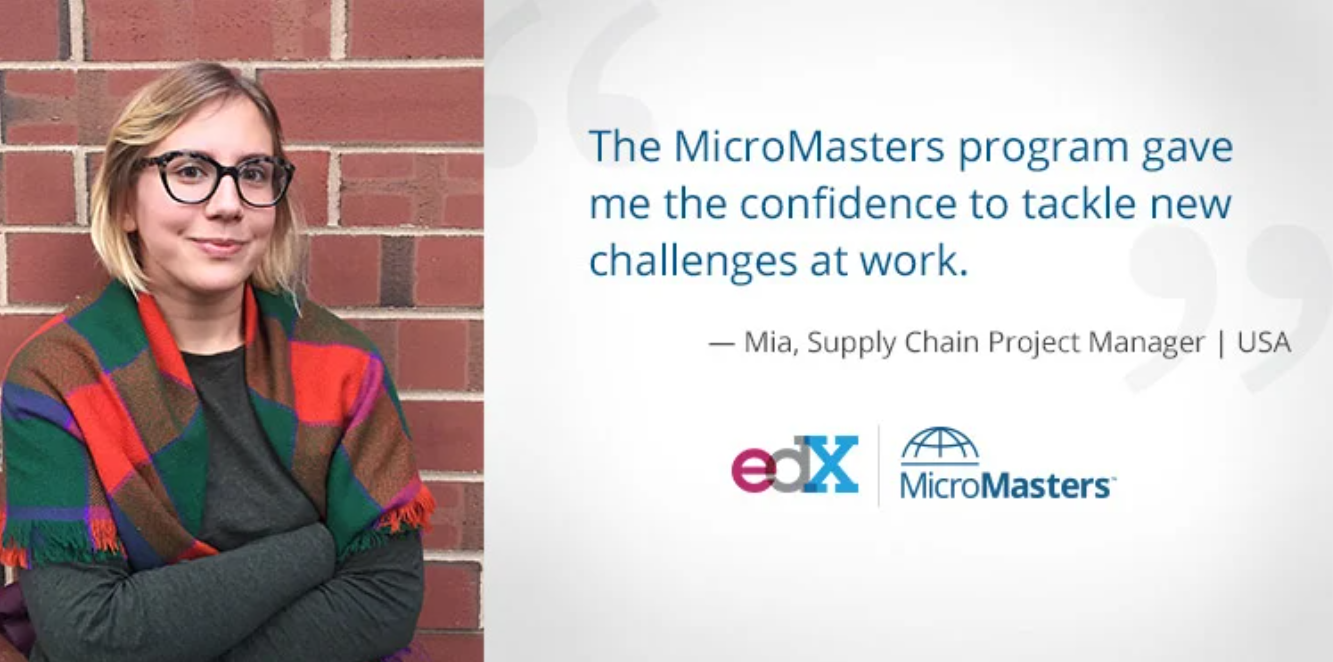 Topic: MITx MicroMasters program in Supply Chain Management
Reason for enrolling in MicroMaster: 
"I first heard about the MITx MicroMasters program in Supply Chain Management from a coworker, and it piqued my interest. I had been working at a biotech company as a logistic technician and then moved into a supply chain role focused on improving efficiency.
I loved the challenges of my new role, but with a background in behavioral neuroscience, I felt I didn't have the necessary business and supply chain skills to advance within my team."
Overall thoughts on program: 
"I thought the MicroMasters program sounded interesting, so when the first course was available, I decided to try it out. I hadn't originally intended to complete the whole program, but as I dove deeper into the content, I realized it was exactly what I was looking for.
Everything I learned was immediately applicable in my job, giving me tools and background that I didn't even realize I was missing. It was a great way to fill the gap between my professional and academic experiences, and gave me the confidence to tackle new challenges at work."
Results after completing the program: 
Around this same time, I got a call from a recruiter at a large local tech company. My MicroMasters credential was invaluable throughout the interview process, showing that I had mastered the knowledge necessary to succeed on the job.
A month after completing the MicroMasters, I started my new role with increased responsibility and a significant pay bump. It was everything that I could've hoped for, I just didn't imagine it happening so quickly!
Taking a MicroMasters Program to Better Position Himself for Job Interviews: Meet Mike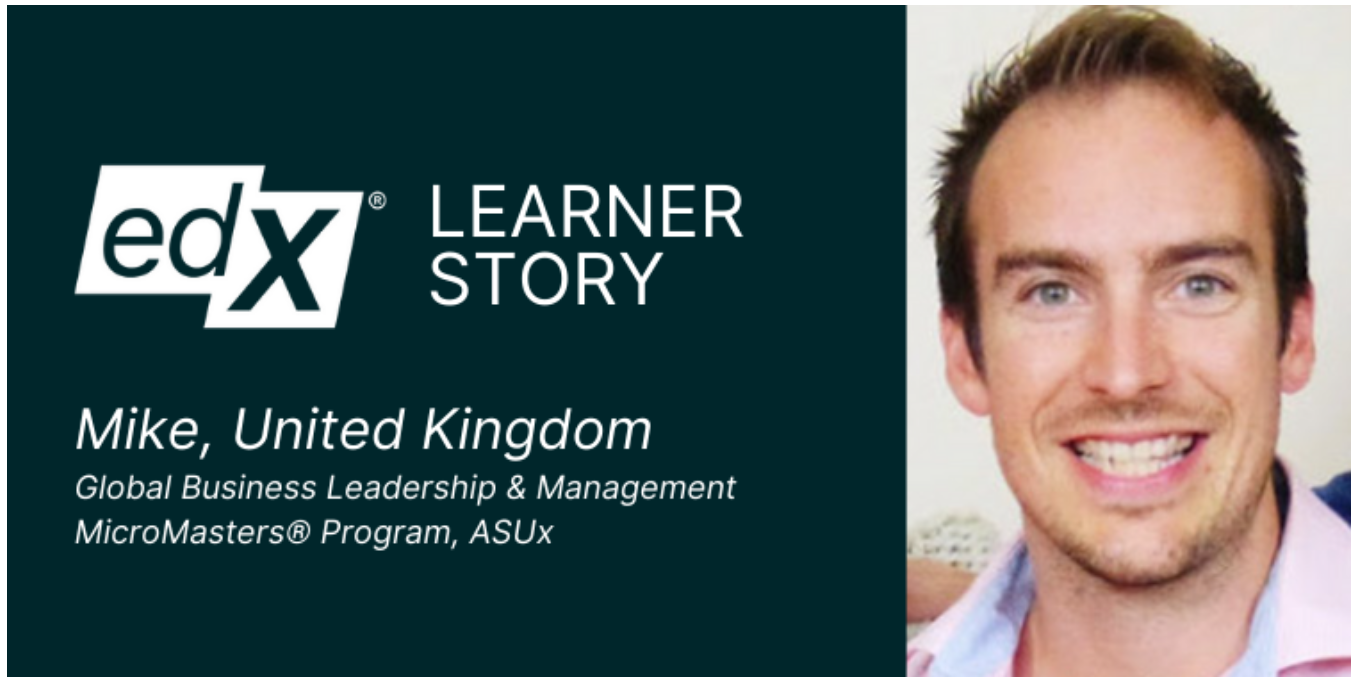 Topic: ASUx MicroMasters program in Global Business Leadership and Management
Reason for enrolling in MicroMaster:  
"I migrated from the UK to Sweden at the end of 2016. I had never had difficulty finding work before, however with the cultural differences, language barrier and a work environment that reaps the benefits of free higher education, I quickly understood that I would have to up-skill fast to meet the Swedish job market requirements."

Overall thoughts on program: 
For me, studying online was the only way to achieve my education goals. Migrating to another country is challenging and I was having to juggle two part-time jobs, language lessons and be a full-time Dad and husband.
Studying online allowed me to maximize my 'dead time' moments. Listening to the lectures on my commutes or while I was training at the gym allowed me to consume the content in a way that suited my learning style and busy schedule.
Results after completing the program:
My edX courses, hands down, directly impacted me getting my current job. The lucrative salary has had a huge impact on our quality of life, but it has also opened the door for me to complete my full masters degree with the prestigious ESCP European Business School.
Advice for prospective students:
If you have completed a couple of modules and committed to completing the course, add it to your CV and state the predicted completion date. None of my interviewers were concerned that I was still a few months away from completion, they were much more interested in learning about the content of the course and how I felt I could apply that knowledge.
Learning From My MicroMasters Program While On-The-Go And On-The-Job: Meet Andrew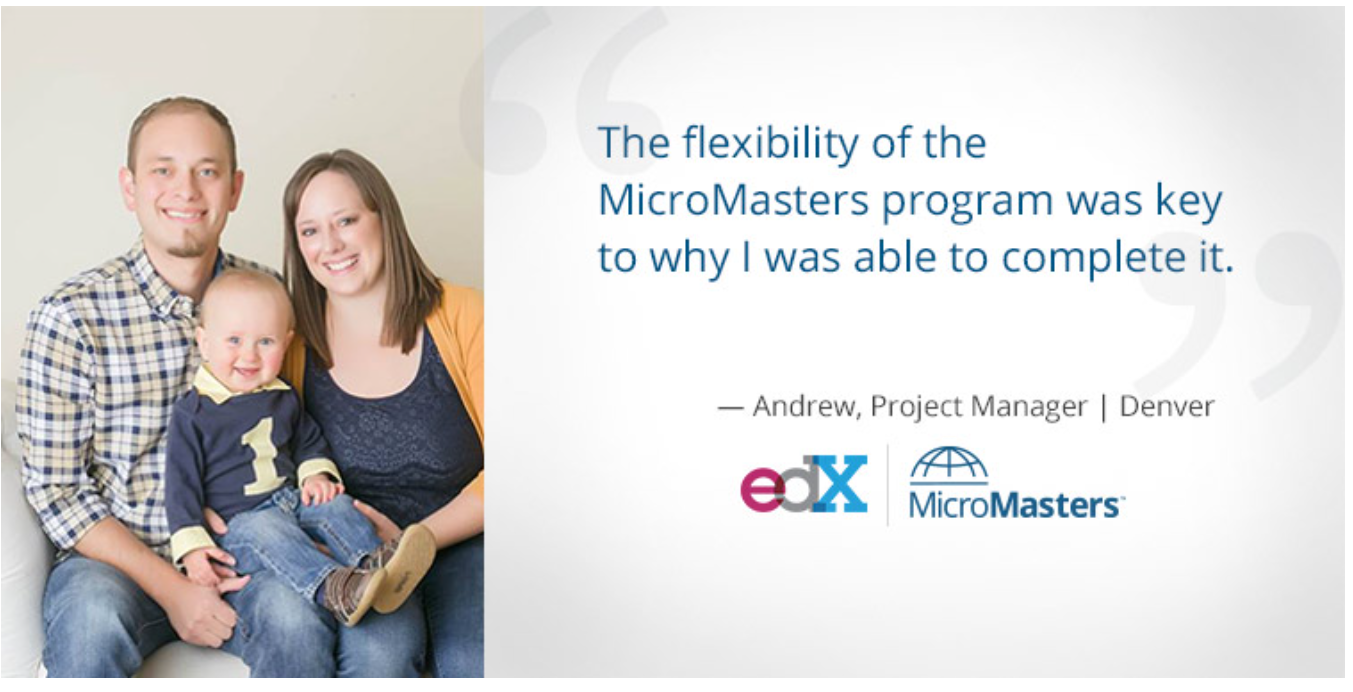 Topic: RITx MicroMasters program in Project Management
Reason for enrolling in MicroMaster: 
I learned about edX a few years ago after graduating from college. Even though I had my combined BBA/MBA, I was eager to keep learning, but needed a cost effective and flexible option.
MOOCs were just becoming popular around this time, but I didn't seriously consider pursuing a certificate until I began my career at United Airlines. I quickly learned that most of the business was project-based, and I needed to boost my skill set in that area in order to be successful.
When I saw that RITx offered a MicroMasters program in Project Management, I was all in. It was the perfect opportunity to advance my career.
Overall thoughts on program: 
Not only did the MicroMasters program give me a solid foundation in project management skills and expertise, but it also showed my co-workers and manager that I was serious about my job and willing to learn, gaining their confidence and support.
The flexibility of the MicroMasters program was key to why I was able to complete it. My life was hectic – my son was two months old, my wife and I were relocating to Denver from Chicago, and I was moving into a new role.
It helped that I could complete my coursework when I found time to do it, whether it was while waiting in line at the DMV for a license, or after a long day of work while lounging on the couch.
Advice for prospective students:
My advice for edX learners is that if it crosses your mind that taking an offering or program is worth doing, chances are it is. Don't let your hesitations get in the way of bettering yourself.
To read more student reviews in full length, visit the Edx blog. 
Final Thoughts
In conclusion, Edx MicroMasters are a faster, flexible education option that thousands of prospective Master's students have been thrilled to discover, as you'll see from various reviews across the internet. 

It seems that these programs are particularly helpful in providing learners with a low-risk way to determine if a Master's program they're interested in is the right fit, before making a commitment to the full degree.
In fact, all of the master's degrees on Edx come with a MicroMasters program, so you can always "dip your toes in the water" first.
Please also note: 
The number of credits offered varies across MicroMasters programs. Each university determines the number of credits the MicroMasters program certificate will count as towards the full Master's degree, so be sure to check this before you sign up for a program.
Finally, here's what edX's founder and CEO and Anant Agarwal has to say about MicroMasters programs:
"Successfully completing a MicroMasters demonstrates an applicant's ability to tackle rigorous, master's-level content and thus succeed in the master's program. 
In other words, the time and effort you put into completing a MicroMaster's program will set you up for success, even sooner than you might have imagined!
=> Choose your MicroMasters program here.

Happy learning! 
Related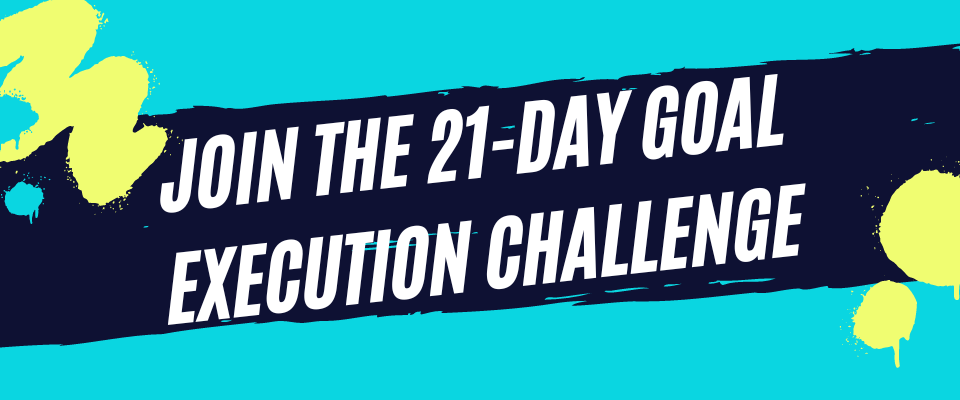 Feb 07, 23 11:16 AM

Metacognition - or thinking about the way you think - can transform the way you learn. Let's explore key metacognitive strategies and how we can apply them.

Jan 31, 23 09:08 AM

Looking to merge your interests in art and technology? Here are the best creative coding courses online to teach you this exciting, in-demand skill.

Jan 23, 23 04:40 PM

What can science teach us about promoting wellbeing? Here are the best positive psychology courses online with practical applications for everyday scenarios.
If you can see this,  please share this post with the buttons below :)