Funny Town Names That Actually Exist 
There are some towns in North America with interesting and unusual names that would make you ask twice to check you heard it right. Here are 16 funny town names you're probably not used to - unless you are.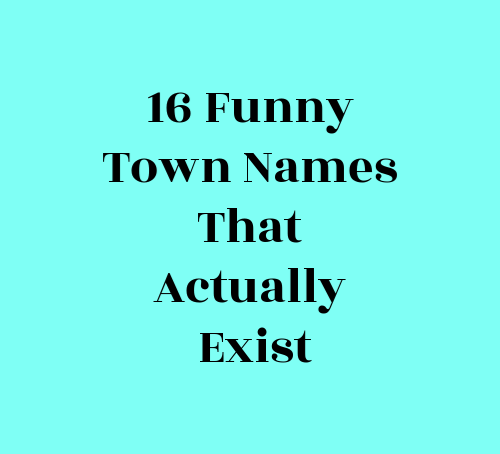 1. Waterproof, Louisiana
Waterproof is a village in Tensas Parish in northeastern Louisiana, U.S. The community was named for the hill to which the population moved to escape flooding.
2. Eyebrow, Saskatchewan 
Eyebrow is a village in the Canadian province of Saskatchewan. The community was formed from the previous inhabitants of the abandoned village of Eskbank several kilometres south.
3. Unalaska, Alaska
The Unangan, the first people to inhabit the island of Unalaska, named it Ounalashka, meaning "near the peninsuala". Unalaska is a simplification of the city's original name, but there's nothing anti-Alaskan about this place.
4. Embarrass, Minnesota
Embarrass is a township located on the Mesabi Iron Range in Minnesota, U.S. The name Embarrass was derived from the french word embarras (one s) which means "to hinder with obstacles or difficulties". It was given this name by French fur traders who arrived in the area and found the narrow, shallow river hard to navigate and named the river Embaras. Embarrass is notable as the coldest place in Minnesota.
5. Salmon Arm, British Columbia
Salmon Arm is a city in the Shuswap Country, in the interior of the Canadian province of British Columbia. The city of Salmon Arm takes its name from its location along the Salmon Arm of Shuswap Lake. The lake has four "arms":  Shuswap Arm in the west, Seymour Arm in the north, Anstey Arm in the northeast, and Salmon Arm in the south. Salmon arm is also named after the large runs of Salmon that used to run up the creeks that empty into the lake.
6. Burnt Store, Florida
Burnt Store Marina is a census-designated place in Lee Country, Florida, United States. The town gets its name from a trading house on the Peace River that was burned down in 1849.
7. Heart's Desire, Newfoundland
Heart's Desire is a town in the Canadian province of Newfoundland and Labrador. The town had a population of 226 in the Canada 2006 census. According to one story, the town was named after a notorious pirate ship that was eventually captured by a Newfoundland skipper and brought back to Newfoundland as a prize.
8. Hell, Michigan
Hell is a township in the U.S state of Michigan. One theory behind the name claims that a pair of German travellers stepped out of a stagecoach one sunny afternoon in the 1830's and one said to the other, "So schön hell!", which translates into English as "So beautifully bright!". Apparently this comment was overhead by locals and the name stuck. The name became official in 1841 when George Reeves opened a distillery there. 
Interestingly, there's also a village in Norway named Hell.
9. Why, Arizona
Why is it called that?
Why is a town in Pima County, Arizona, United States. The town derives its name from the fact that the two major highways, State Routes 85 and 86, originally intersected in a Y-intersection. At the time the town was named, Arizona law required all city names to have at least three letters, so the town's founders named the town "Why" rather than just calling it "Y".
10. Head-Smashed-In Buffalo Jump, Alberta
Head-Smashed-In Buffalo Jump is located in southern Alberta, Canada. The buffalo jump was used for 5,500 years by the indigenous peoples of the plains to kill buffalo by driving them off the 36 foot high cliff. The carcasses were used for a variety of purposes, including as material to make tools, dwellings and clothing.
11. Okay, Oklahoma
Okay is a town along the east bank of the Verdigris River in Wagoner Country, Oklahoma, United States. The settlement had various names before 1919, such as Coretta, Falls City, Rex and North Muskogee. The name Okay was later adopted after the "O. K.  Trucks" brand of oil tankers made at a factory built there in 1915.
12. Money, Mississippi 
Money is a small town in Mississippi, United States that has fewer than 100 residents. It was named after Hernando Money, a senator from Mississippi.
13. Cereal, Alberta
Cereal is a village in central Alberta, east of Drumheller. It was named after the post office that was established there in 1910, and the name alludes to grain fields that can be found in the area.
14. Toast, North Carolina
Toast is a census-designated place in Surry Country, North Carolina, United States. The name "Toast" was supplied by the Post Office Department.
15. Accident, Maryland
Accident is a town in Garrett Country, Maryland, United States. The name originates about the time of the 1786 land survey in Maryland. One popular story says that two friends, Beall and Deakins, were conducting separate surveys in the area at the time and "by accident" Deakins claimed land already surveyed by Beall. According to the book Labels for Locals by Paul Dickson, a person from Accident is called an "Accidental".
16. Happy Adventure, Newfoundland
Happy Adventure is an outport village on the Eastport Peninsula in the Canadian province of Newfoundland and Labrador. There's a lot of controversy on the origin of the name.  Some say that it was derived based on the joyful experience of the first settlers in finding such a welcoming environment. Others say that the name commemorates a 17th-century pirate ship. Still others suggest the community was named by George Holbrook, a British Admiralty hydrographer who found shelter in a cove there during a storm.
Thanks for reading! Which of these funny town names have you heard of before?
Get this month's personal development tip:
Oct 31, 19 11:36 PM

There's a piece of advice that proves relevant for many aspects of life and it is: Don't Settle. Don't Ever Settle For Less. Here's why it's so important:

Oct 13, 19 12:33 AM

Here are important things you can do in your life while you're waiting for calmness and clarity on an issue that may be causing you pain or distress...

Sep 22, 19 12:02 AM

Often we see things that really make us wonder, why do people pretend to be something so different from what they are? Let's talk about this.
If you can see this,  please share this post with the buttons below :)