Google IT Support Professional Certificate
Google IT Support Professional Certificate Review - My Thoughts (2023)
I recently enrolled in the Google IT Support Professional Certificate on Coursera. Here is my review of the program, with full details on what to expect.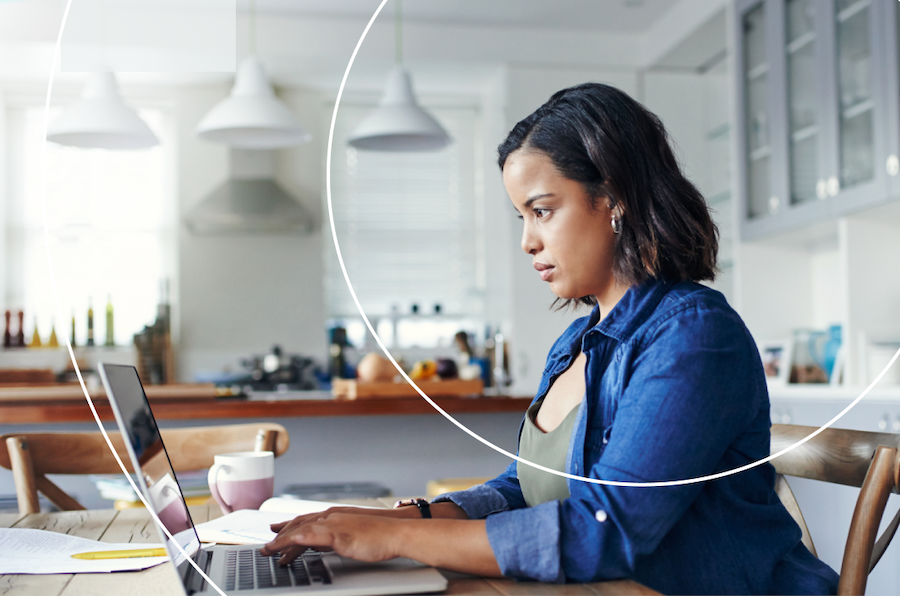 Looking to begin a career in IT?
Here is my review of the popular Google IT Support Professional Certificate that's offered on Coursera.

I'll be sharing everything you need to know about the program and how it works, so you can decide if it's right for you. 
This post may contain affiliate links. Please read my disclosure for more information.

A Career in IT Support - There's No Time Like the Present
At this very moment, there are hundreds of thousands of IT support jobs just waiting for skilled candidates to fill them. 
In fact, according to Google, there were over 86,500 open entry-level IT support roles in the U.S. alone during 2020, and jobs in this field are projected to grow 8% between 2019 and 2029. 
This is faster than the average of all other occupations.
Moreover, the need for IT professionals isn't limited to just one sector. Businesses, nonprofits, school systems, and government organizations all rely on technology.
As you can imagine, this creates a major demand.
Basically every company whose employees use computers has a need for IT support. 
IT support keeps employees doing what they're paid to do - growing the business - rather than fiddling with faulty hardware or spending hours dealing with a software failure. 
As a result of this demand, even entry-level IT jobs tend to fetch an average salary of $50,800 per year, with high potential for growth. 
When we put all the facts together, it becomes quite evident: If you're looking to start a career in IT, you're looking in a promising direction. 
What is the Google IT Support Professional Certificate?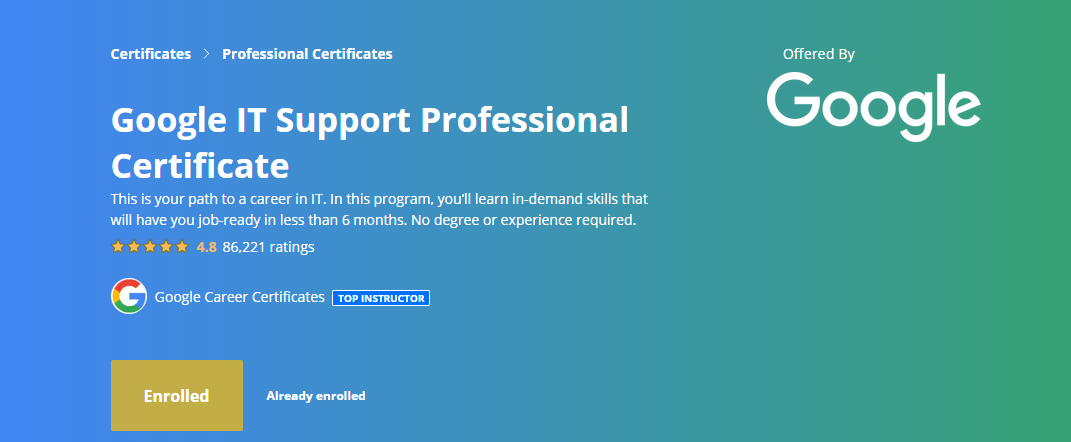 The Google IT Support Professional Certificate is an online certificate program that's designed to help individuals develop the essential skills needed to launch a career in IT. 
The certificate is part of Grow with Google - an initiative through which Google partners with libraries, schools, and other organizations to provide flexible and affordable online career training. 
The certificate includes the following 5 courses: 
Technical Support Fundamentals 
The Bits and Bytes of Computer Networking
Operating Systems and You: Becoming a Power User 
System Administration and IT Infrastructure Services 
IT Security: Defense Against the Digital Dark Arts 
With less than 10 hours of effort invested per week, the certificate is estimated to take less than 6 months to complete (you'll see my personal experience below). 
Why was the program created? 
Google itself had long faced an issue that many other companies relate to: a shortage of skilled workers available to fill IT roles.
So they created a program - 100% designed and built by subject-matter experts and senior practitioners at Google - to provide pathways to jobs in technical support for people with no college degree or experience.  
Here's what's interesting: 
Google has announced that in it's own hiring practices, it will consider the certificate as equivalent to a four-year degree for related roles. 
In addition, upon program completion, you'll have the opportunity to share your information with Google, Bank of America, and other top employers looking to hire entry level IT support professionals.
=> See what's included in the Google IT Support Professional Certificate.
My Thoughts on the Program
Before we get deeper into this review, please note that I enrolled in the course as a refresher, having already obtained a four-year university degree in Computer Information Systems.
This background certainly gave me some perspective as I explored the course and assessed its usefulness for beginners to IT.
Overall, I can say that the Google IT Support Professional Certificate is a comprehensive program that lays a strong foundation across a range of in-demand knowledge areas, and the best part is how affordable it is.
Rather than spending thousands of dollars for a degree, the certificate only costs $39 USD per month, and you only pay for the amount of time it takes you to complete the program. 
If you take 6 months (the maximum expected length) you pay $234
If you take just 2 months, you pay $78
The course is completely online, but you still gain a lot of hands-on experience through a dynamic mix of labs and other interactive exercises that simulate what you'd encounter in a help desk role.

I'll go further into specific details below, but first here are some reviews that provide additional insights: 
Google IT Support Professional Certificate Reviews
Here is what other students have said about the Google IT Support Professional Certificate: 
"Learning with Coursera gave me the flexibility to take courses on my own time. Without the flexibility to get up at 4 am to complete a few hours of studying while my daughters sleep, I'd have never been able to earn my certificate in such a short amount of time."
- Chelsea, Data Center Technician
"The Google IT Support Professional Certificate helped give me the confidence to apply for IT roles. I don't have the traditional instructional background in the field but my hands-on learning and what I've gained from the Google program propelled me forward."
- Stevenson, IT Support Specialist
"As a single working mom, I'm incredibly proud to have been able to complete this program. It's enabled me to take on additional responsibilities, work on exciting and impactful projects, and even get a raise."
- Danielle, IT Asset Tracking Coordinator
Let's Dig Deeper: What to Expect 
So, how long did it take me to complete the certificate? 
With a fairly intense effort I was able to complete the course within a month, but I think 2-3 months is easily achievable for most learners on a part-time schedule. 
Once you enroll in the certificate, you'll automatically be enrolled in the first course (Technical Support Fundamentals). You'll be able to keep track of your courses on a screen that looks like this: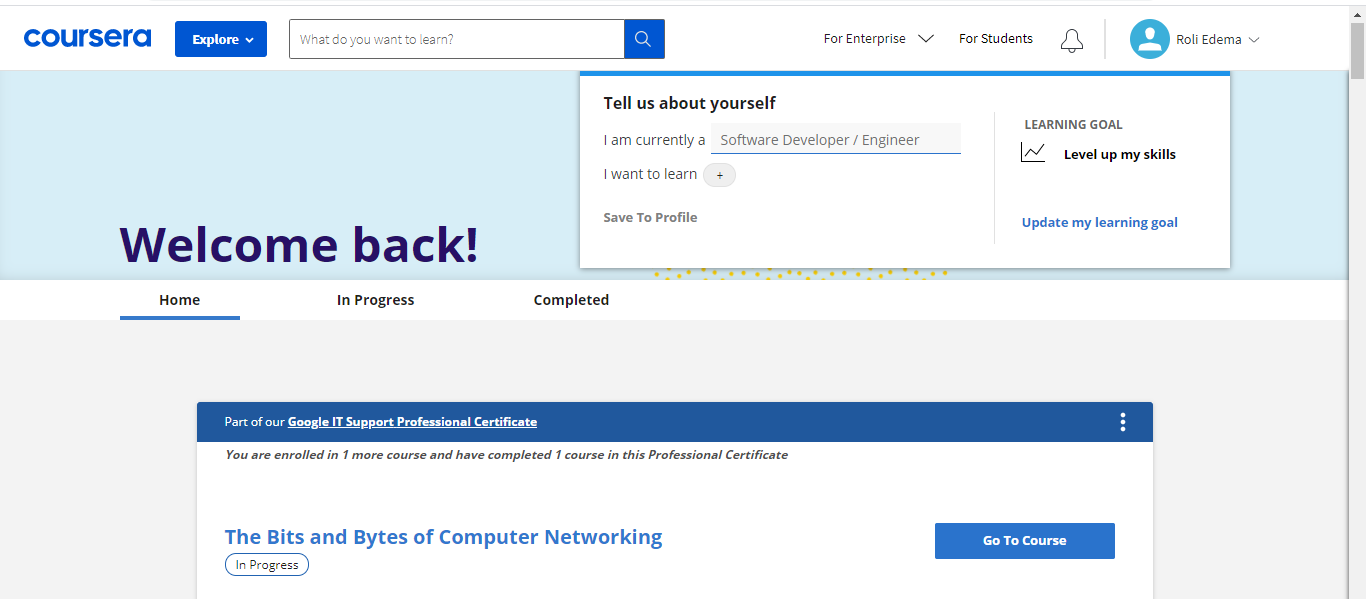 To get there, navigate to the icon on the top right side of the page where your name is and click "My Courses". 
The course site is well-designed and easy to use. You'll be able to see what percentage you've completed of each course, the estimated time left, and your grades. 
You'll also be able to join in discussion forums and connect with other students, but this is completely optional. 
Interestingly, the course includes practice questions that pop up during the videos, just the way a professor might spontaneously ask you questions during an in-person class - not for marks of course.
Oh, and note-taking is a breeze in this course. The course site has a cool feature where you can screenshot the transcript at any point of a video (without even pausing) and add extra comments if you want.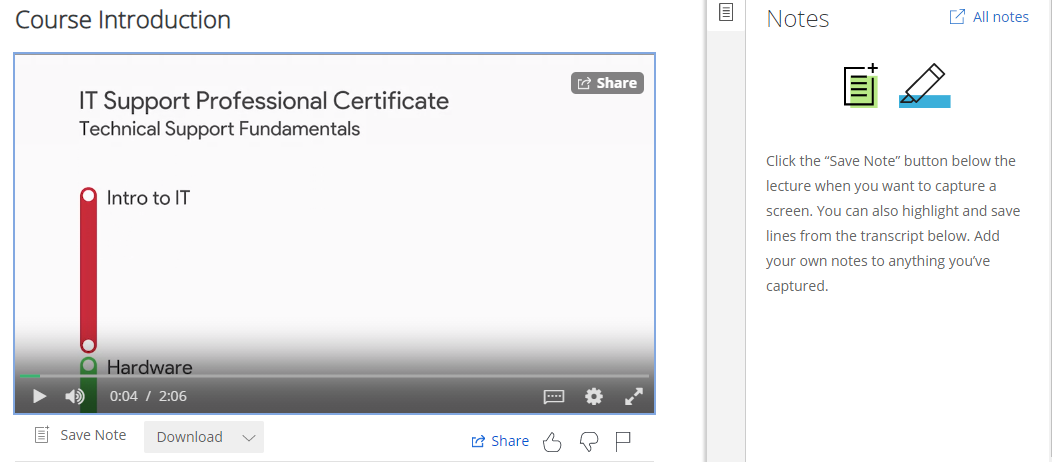 After you complete the Technical Fundamentals course, you can enroll in each of the other courses included in the certificate.

I'd recommend doing them in order, since each course builds on knowledge from the previous course.
Coursera actually allows you to enroll in the IT Support Professional certificate for free for 7 days. 
This enables you to explore the course, see if you like it, and even get a head start on the material if you want.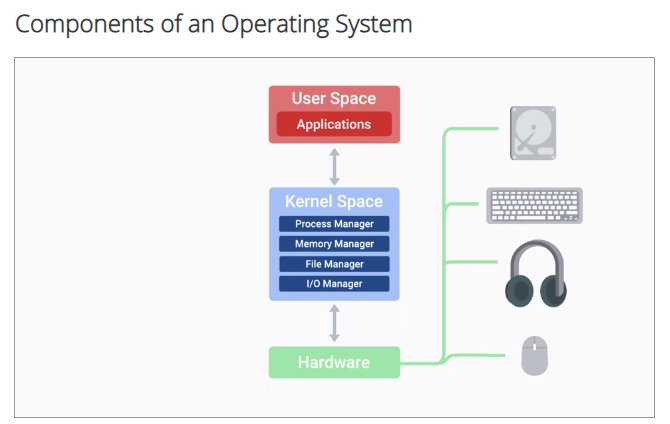 Expect lots of diagrams that break down complex concepts.
Did you know? The Google IT Support Professional Certificate prepares you for the industry-standard CompTIA A+ Certification.

If you successfully complete the Google certificate and pass the CompTIA A+ certification exams, you'll be awarded a dual Google/CompTIA badge that demonstrates your accomplishment.
Related: Best Professional Certificates Online
Curriculum Breakdown
Course One - Technical Support Fundamentals
The first course in the Google IT Support Professional Certificate covers the building blocks of IT and how computers work.
You'll learn the basics of how computer hardware performs calculations and how to build a computer from the ground up.
You'll also look at how operating systems control and interact with hardware, while examining the Internet to get a better understanding of how computers talk to each other.
Finally, you'll discover important lessons on problem-solving with computers and learn about the communication skills that are so critical when interacting with others in IT.

Course Two - The Bits and Bytes of Computer Networking
Humans follow a series of rules when they communicate. 
For example, in every language, there's usually a greeting and a way to close a conversation, and two people need to speak the same language and be able to hear each other and communicate effectively.
Computers communicate with each other in a similar way.
Computer networking is the name given to the full scope of how computers communicate with each other.
There are lots of models used to describe the different layers at play with computer networking.
In this course, you'll explore the TCP/IP five-layer model, and touch on the other primary network model, the OSI Model, which has seven layers.
By the end of this course, you'll be able to describe how computers determine where to send their messages and how network services like DNS and DHCP work.
You'll also be able to use powerful tools to help you troubleshoot network issues.
Course Three - Operating Systems and You: Becoming a Power User

While this course has some conceptual learning, it focuses more on the practical aspects of the operating system. 
Not only will you learn how to use the Windows and Linux OSs, you'll also get to interact with these operating systems through the command line.
If this is your first time using a command line for any OS, you may find this a little intimidating at first.
That's totally normal, but by the end of this course, you'll have become a real OS power user and a command line pro!
You'll also learn about file systems, process management, how to assign different user permissions and roles, and how to install operating systems on a lot of machines at once.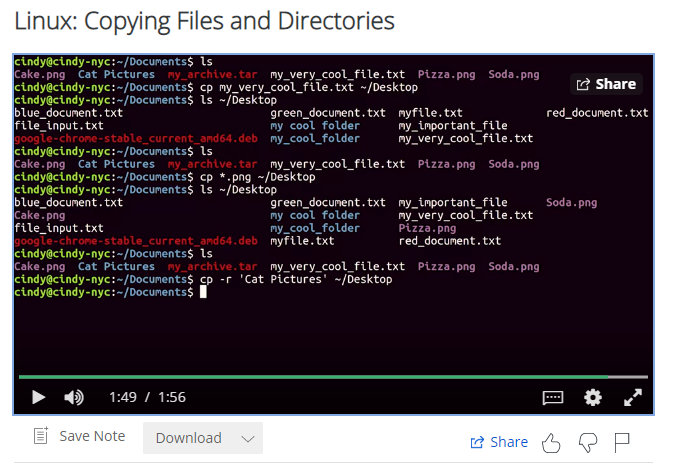 You'll learn how to do a lot of cool stuff in the command line!
Course Four - System Administration and IT Infrastructure Services

In the next course, you'll dive into system administration.
At a high level, system administration is the field in IT that is responsible for maintaining reliable computer systems in a multi-user environment.

By the end of this course, you'll learn what services are used in IT infrastructure.
You'll also learn about essential user software for your organization, and how to manage an entire organization's users and computers, using directory services.
Finally, you'll learn the skills you need to backup your organization's data and recover in the case of a disaster.
Course Five - IT Security: Defense against the digital dark arts

The last course in the Google IT Support Professional Certificate (my favourite, by the way) is one that will round out your functional knowledge. 
In this course, you'll learn all about security, how people attack it and how we defend against these attacks.
By the end of the course, you'll understand the various security protocols and mechanisms that we use on our machines, in the web, and on our networks.
You'll also learn more about cryptography, authentication, and access mechanisms, which are important skills for any IT support specialist.
You'll then be given the necessary tools to assess the security of an organization and decide on the best security preventative measures.
Basically, in this course, you'll learn how to put yourself in the mindset of an attacker so you can always be one step ahead!
FAQ: Do I need any specialized equipment or software to take this course?
Nope! No special equipment or background knowledge is necessary. As long as you have your laptop or computer for taking the course, you're good to go. 
Some course exercises will take place in an online learning environment called Qwiklabs.

By using Qwiklabs, you won't have to purchase or install software yourself, and you can use Linux and Windows operating systems as if they were installed on your local machine. This is quite convenient!
The course includes interviews and career advice from Googlers of various backgrounds.
Conclusion: Is the Google IT Support Professional Certificate Worth it? 

If you are completely new to IT, I think that enrolling in the Google IT Support Professional certificate is definitely worth it.

The course gives you exposure to a wide range of different areas in IT, so you can get a sense of what type of job you might enjoy later on down the line - whether it's working in support, network engineering, systems administration, and so on. 
However, If you already have IT experience you might find the course redundant, because it teaches somewhat basic skills.
Unless you're like me and you love learning the same things again ;) 
One message that is emphasized during the course is how accessible a career in IT is, regardless of whether or not you have a traditional IT background. 
Ultimately, what will help you succeed in IT is a love for problem solving, an eagerness to learn, and the desire to connect with people. 
When you have these three components, the opportunities are endless!
=> Enroll in the Google IT Support Professional Certificate here. 
Happy learning!
Related: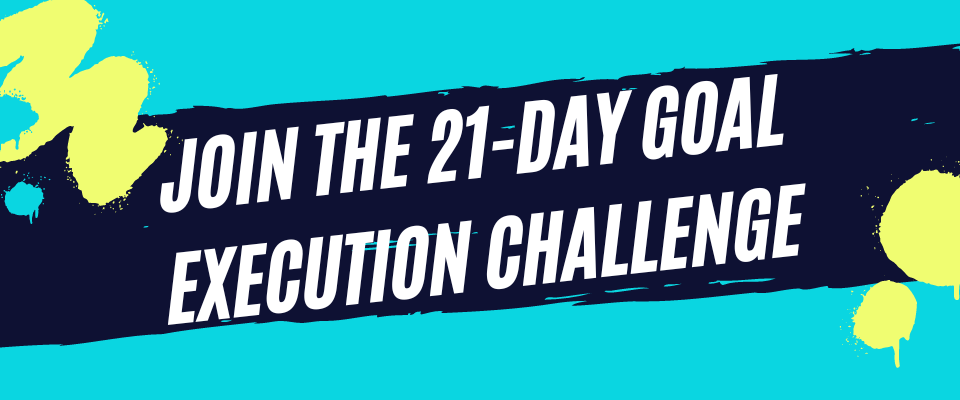 Thanks for reading! If you liked this content, share with a friend:
Dec 09, 23 08:34 PM

Below is a quote from Jhené Aiko's Poetry Book, 2Fish, that is both moving and beautiful. Here's a moment of reflection on the words in the excerpt and the meaning they convey.

Dec 08, 23 08:08 PM

It's an amazing thing to hear a person's life story, read aloud. Here are the best biography audiobooks to give you a peek into different iconic perspectives.

Nov 30, 23 09:41 PM

Would you like to improve your ability to read people? Here are the best body language books that will boost your social intelligence.