10 Best Periodic Table Gifts To Spark a Reaction from Chemistry Lovers
Looking for the perfect period table of elements gift? Here are the best periodic table gifts that will spark a reaction from chemistry enthusiasts.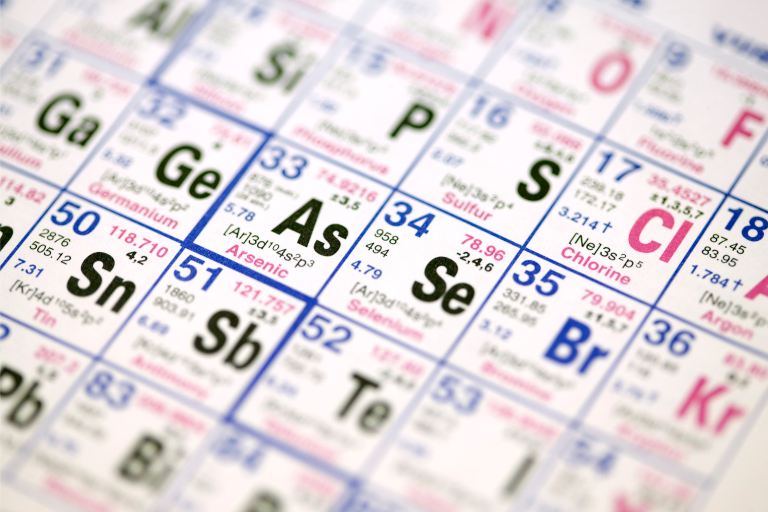 Know a friend or family member who is just obsessed with chemistry? 
A periodic table of elements gift is the perfect present for such a person.
In fact, you'll likely produce an exothermic reaction, since they'll have a warm, fuzzy feeling towards you...
Here is a list of fun and quirky periodic table gifts that will appeal to chemistry nerds of all ages.
If you have a lot of intellectual friends, be sure to also check out my roundup of the best gifts for smart people for even more ideas!
This post may contain affiliate links. Please read my disclosure for more information.
10 Awesome Periodic Table Gift Ideas
Noble gases. 
Odorless, colorless, monatomic gases with very low chemical reactivity.
All chemistry nerds love them...
That's why this funny noble gases T-Shirt makes a fantastic gift for anyone who loves the periodic table of elements. 
The T-Shirt is made from ringspun cotton, so it has a comfortable vintage fit and feel.
This is a fitted men's shirt, but the style is slim fit so be sure to order a larger shirt if you're between sizes!
=> Get the Noble Gases T-Shirt on Amazon here.
Yes, this is the dad joke themed gift you were expecting...
The funniest periodic table gifts are usually the ones that use elements to spell out words, like this "I only use Sarcasm periodically" mug on Amazon. 
This white ceramic mug has a large, easy-grip handle and is safe for microwave and dishwasher use. 
It's a cute and affordable novelty that the recipient will appreciate for years! 
=> Get the "I Only Use Sarcasm Periodically" Mug on Amazon here.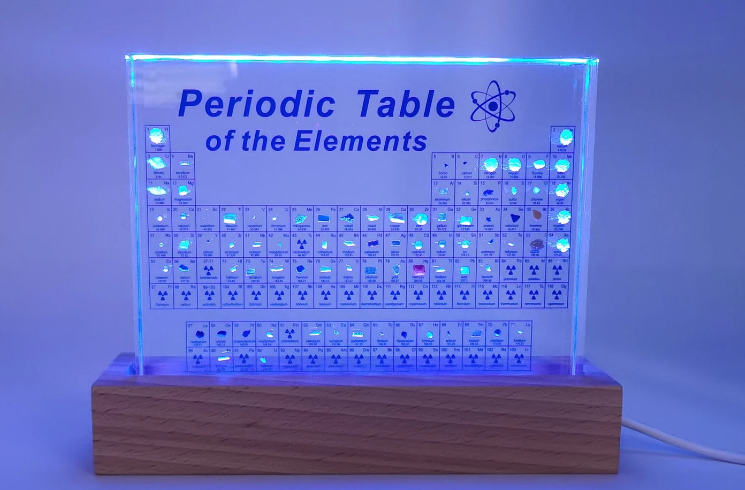 What about gifting the periodic table of elements?
But like actually, with the elements in a LED table lamp...
That's exactly what we have here.
This handmade lamp contains 83 pure elements embedded in crystal clear acrylic, enabling you to observe each element in 3D.
This acrylic element set makes learning about the periodic table super fun for kids and adults alike, and is much easier than using a periodic table book. 
You can proudly display this periodic table of elements in your home or at your desk.
It's easy to clean, robust, won't shatter if dropped, and is the perfect tool for aiding your science knowledge!
=> Get this LED Periodic Table Lamp with Real Elements on Etsy here.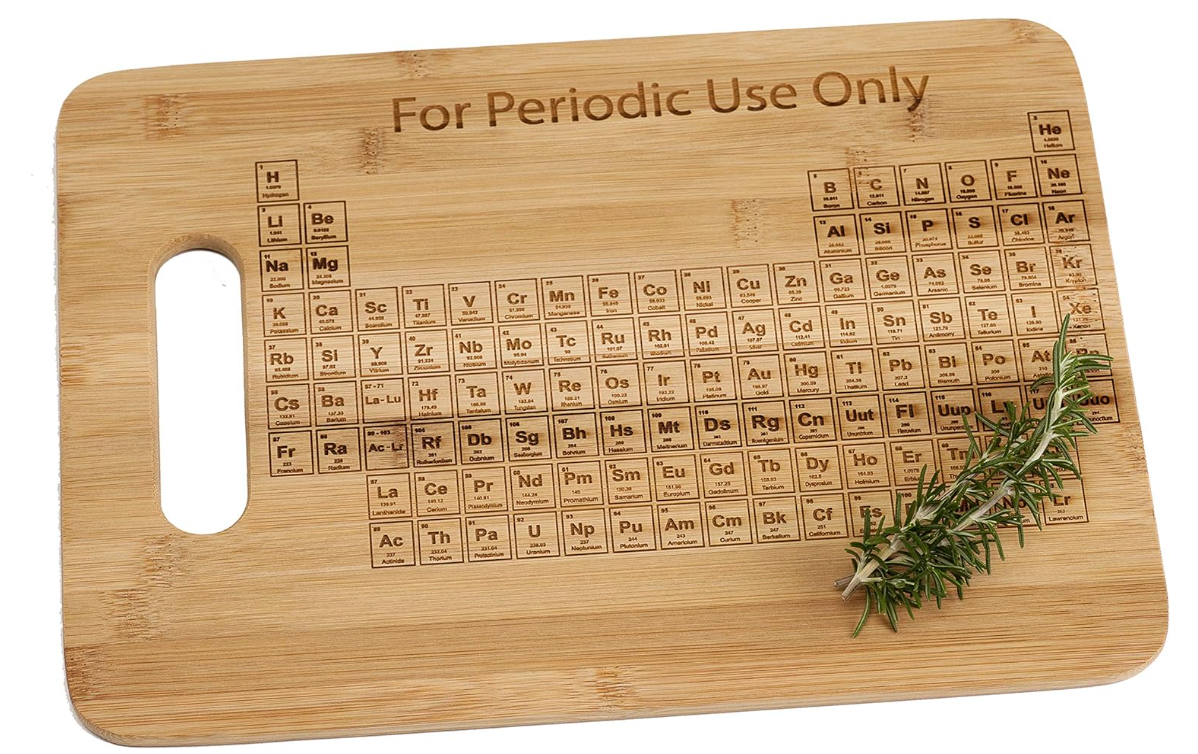 Know someone who loves creating chemical reactions in the kitchen?
This Periodic Table Engraved Cutting Board is an awesome chemistry gift for the periodic table fan in your life. 
It's a thoughtful gift for someone who loves cooking, even if they only do it periodically!
The board is utra light, yet super strong and easy on knives. 
The front engraved side is designed for display and serving, while the back side is used for cutting.
=> Get the Periodic Table Engraved Cutting Board on Amazon here. 
5. Periodic Table of Elements Shower Curtain
Now a regular periodic table shower curtain is cool...
But how about a periodic table shower curtain with picture descriptions of the elements? 
Now that's rad.
This shower curtain is a chemistry lover's delight. 
The curtain is high quality and features bold, vibrant graphics. It also comes with 12 hooks.
It's the perfect way to brighten up your bathroom and is sure to start conversations when you have guests over. 
One Amazon reviewer commented: "Everybody in our house enjoys sitting on the toilet and staring at this shower curtain."
=> Get this Periodic Table shower curtain on Amazon here.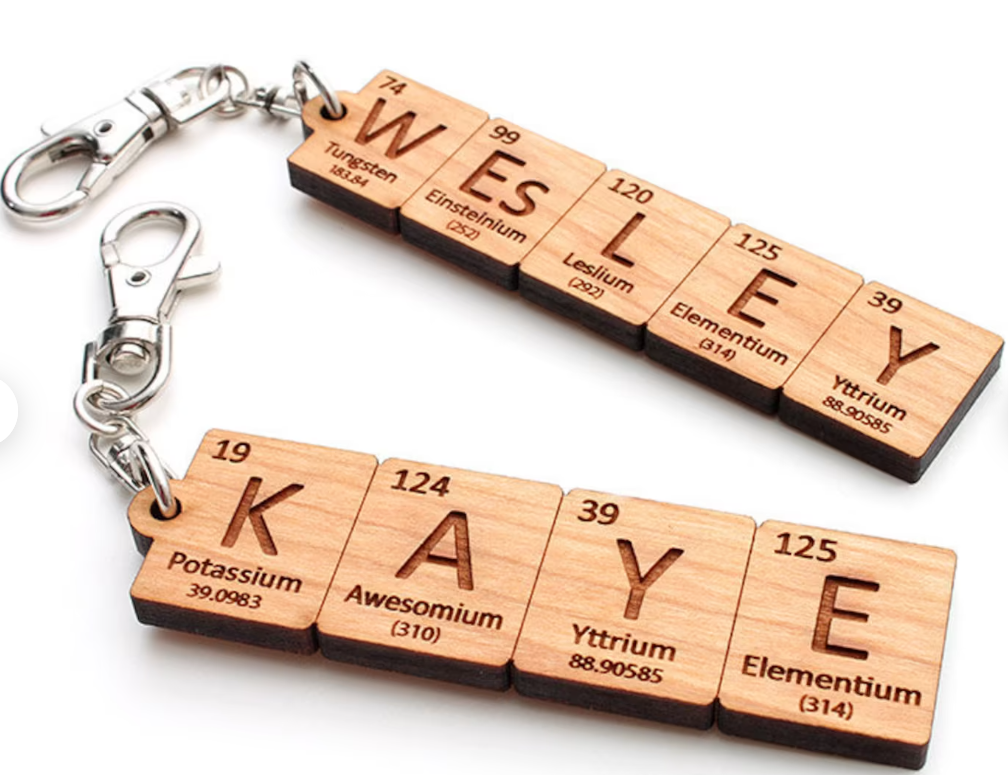 Nothing says "I picked this specially out for you" like a personalized periodic table name key chain. 
This key chain is made from American Black Cherry wood and is crafted in the Nestled Pines Workshop in Lone Rock, Wisconsin.
The key chain is available as a key clip (shown in picture above) or as a split-ring key chain.
All you have to do is select the type of keychain and provide a name when you order and you're set!
=> Get a Personalized Periodic Table Key Chain on Etsy here.
This set of laminated flash cards is one of the best periodic table gifts for kids. 
It's essentially a set of 118 educational cards that show details about every element on the periodic table.
The front of the card features each element's atomic number, state of matter, symbol, atomic mass, and category.
The back of the card shows colorful illustrations of where each element is most commonly used and its pronunciation.
It's the perfect tool for teaching kids and getting them interested in science.
=> Get these Periodic Table Flash Cards on Amazon here.
This Tervis the Periodic Table of Elements Tumbler is a practical gift ideas for chemistry enthusiasts. 
It features a double-wall insulated construction to keep your favourite drinks hot or cold longer.
The design also prevents the tumbler from sweating, so there's no worrying about getting rings on your furniture.
=> Get the Tervis the Periodic Table Tumbler on Amazon here.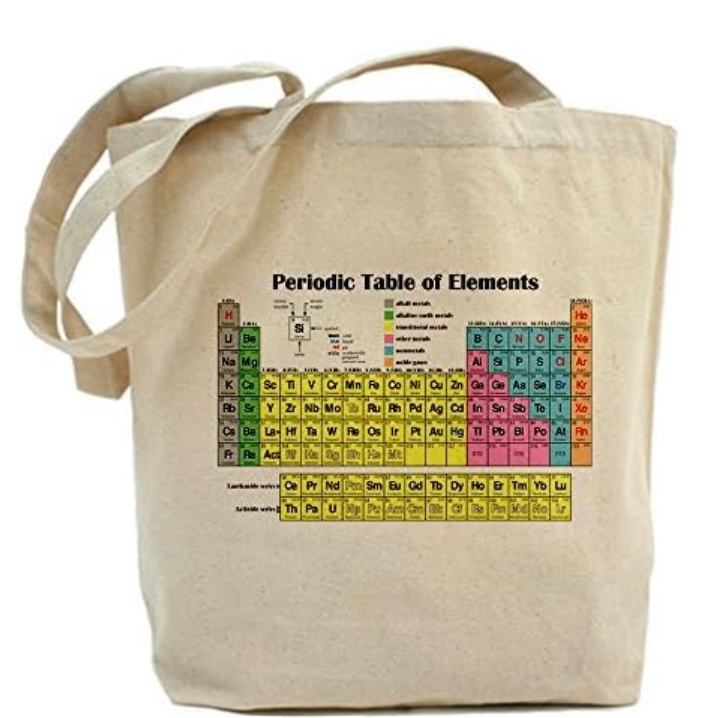 This tote is another awesome periodic table of elements gift. 
It's a versatile, multipurpose classic bag that is perfect for shopping, work, or vacation.
With the periodic table professional printed on the front, it's built to last in terms of construction, design and graphic design placement.
Best of all, when these cotton canvas bags become soiled, you can simply spot clean them or put them in the washing machine on a cold setting. 
=> Get this Periodic Table of the Elements Tote Bag on Amazon here.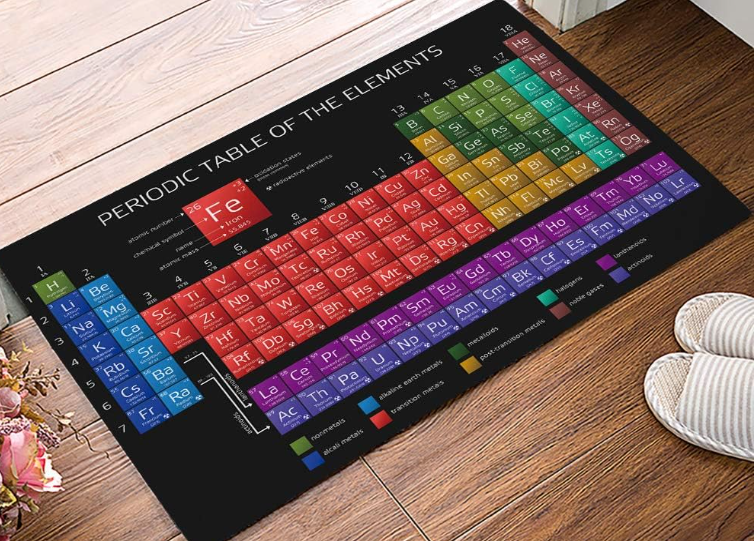 Do you know a family of science nerds?
This periodic table doormat makes the perfect gift for such a household. 
The mat is made of soft and eco-friendly non-woven fabric, and features a low threshold design that means the doors won't get stuck.
With its vivid patterns and bright colors, it will certainly add style to the recipient's entrance. 
It's great for use on a front porch, back door, entrance, kitchen, bedrooms, balconies, farmhouse or any location you would like to place it.  Even a chemistry lab! 
=> Get this Periodic Table of Elements Doormat on Amazon here.
Final Thoughts
Hopefully this list of unique periodic table gifts has given you some ideas that will delight your friends and family.
It's always nice when you can put that extra thought into a gift, by giving someone something that appeals to their particular interests. 
Whether it's a doormat, shower curtain, or LED lamp, when you give a chemistry enthusiast a quirky gift they can use to enliven their space and show off their personality, they'll surely appreciate it!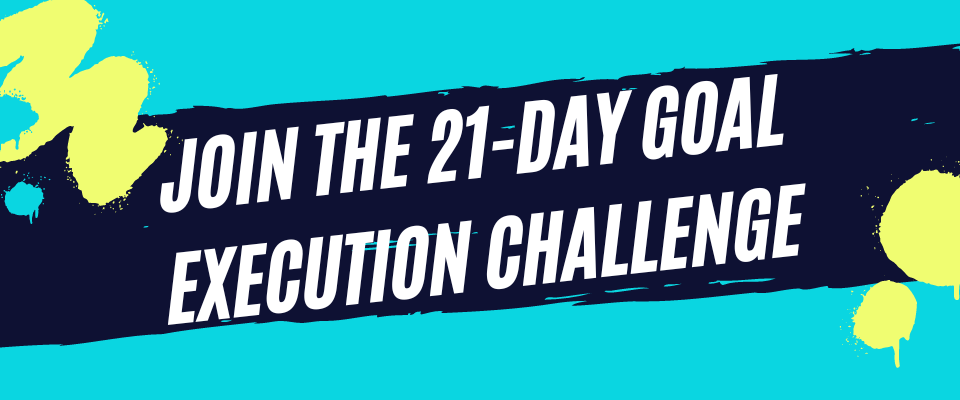 Thanks for reading! If you liked this content, please share below:
Sep 19, 23 07:31 PM

Would you like a stronger mind? Life can be confusing and intense, and that's why training your mind to be stronger than your feelings is crucial.

Sep 18, 23 06:05 PM

Looking for the perfect psychology-themed present for a college student? Here is a roundup of the best gifts for psychology majors.

Sep 16, 23 05:54 PM

Looking for the perfect period table of elements gift? Here are the best periodic table gifts that will spark a reaction from chemistry enthusiasts.