31 Positive Reasons Why Someone Might Be Staring at You
Don't be so quick to assume there's a negative reason behind someone looking at you. Here are 31 Positive Reasons Why Someone Might Be Staring at You...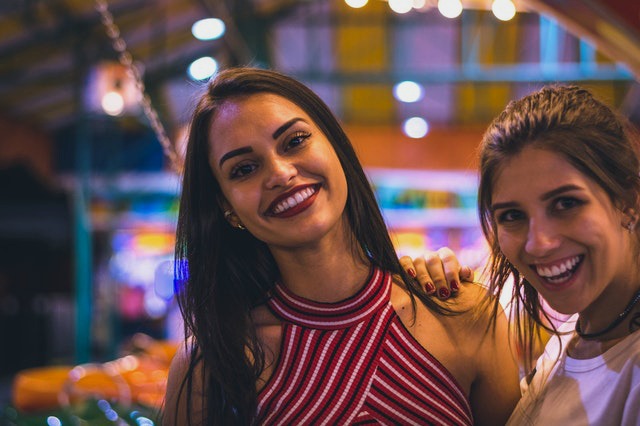 Note: This post is an abbreviated version of my e-book on the topic.  You can get the full version (with all 31 reasons) here. 
The Backstory Behind this Post 
Our first reaction when someone stares at us is normally to attribute it to something negative or awkward.
Like we assume we've got spinach in our teeth or have done something careless that breaks social convention.
These feelings are multiplied by like a hundred if you're normally a shy person.
Getting stared at can send you down a tunnel of nervousness both while you're in that person's presence and then when you contemplate it all afterwards.
But Roli, 'Why have you written a whole article about 31 positive reasons someone might be staring at you?' you may ask.
Well, I believe in replacing negative thoughts with positive ones. If you face social anxiety or feel extremely uncomfortable when attention is on you, it's likely because you're assuming the worst.
You are assuming that someone's staring because they're "judging you" or because you're awkward, or because you stand out like a sore thumb.

You assume there's something wrong with you. As a result, your self-confidence drops, your stomach shrivels up and you just might be calling for the ground to swallow you up. Maybe that's an exaggeration, maybe that's not. 
Basically I want you to think back to this post the next time this happens and instead think of all the positive things people could be thinking about you.
In fact, as you read this post I hope you'll quickly feel encouraged because you yourself have felt a lot of these thoughts and feelings while staring at others.
See, it's not all as bad as you thought. Man, someone may just be secretly admiring you. 
31 Positive Reasons Someone Why Might Be Staring At You - to Put You at Ease 
Here are some positive (and hopefully non-alarming) reasons why someone might stare at you:
1. You remind them of someone else.
It takes a couple of seconds to figure out if you know this stranger or not, you know.

2. You just said something really intelligent.
Someone's listening to your intellectually stimulating conversation, and they're curious about the source of all this wisdom. 

3. They think you're good looking.
Nuff said.
4. They looove your accent.
We just can't help but look up when we hear a beautiful, rare, and invigorating accent. 

5. Your smile makes them want to smile.
6. They hoping to come and say hi to you.
When you're planning to get up and talk to someone, it generally involves a bit of staring as you try and figure out a) where exactly they are and, b) what they're doing now and if it's a good time to come over.

 7. They love your outfit/sense of style.
When I'm out and about, I find I'm constantly staring because of this.
8. They heard you say something pretty interesting.
Again, this stranger is intrigued by your conversation, whatever it may be. They're not staring at you. They're staring at your interesting words. That's a bit better...
9. You're laughing and they just can't help but share in your joy.
10. They're trying to figure out what you're reading.
Maybe you're reading on public transportation and your fellow passenger just wants to know the title of that amazingly illustrated front-cover. 
11. They just discovered that they have something in common with you...
You go to the same school as me? You know Johnny Smithey too?
12. They are amazed that you speak their language.
This stranger is excited that you are from their homeland! Your phone call gave it away. This is especially true if you're speaking a language that's not so common where you live. 
13. They are going to miss you. 
14. They can tell that people like you. 
It's obvious that you're popular or well-liked and someone's trynna figure out why. 
Discover the full 31 reasons below:
That's not all...
Only a sneak peek. To learn about some more interesting reasons why someone might stare, feel free to get a copy of my fun little e-book below: 

Download: 31 Positive Reasons Why Someone Might Be Staring at You (E-Book)
Enjoy!
Related:
Apr 17, 21 11:53 PM

With the sleek and intuitive tools available today, there's never been a better time to get into digital art. Here are the best digital painting courses online.

Apr 15, 21 06:20 PM

Here is a compilation of A Series of Unfortunate Events audiobooks by Lemony Snicket that you can listen to for free and download online.

Apr 13, 21 01:40 PM

Here are the best personal development books for kids that will help them become thoughtful, industrious, and responsible adults.
If you can see this,  please share this post with the buttons below :)