Chris Voss MasterClass Review - Did It Meet the Mark?
Looking to sharpen your negotiation skills? Here is my review of the popular Chris Voss MasterClass on the art of negotiation.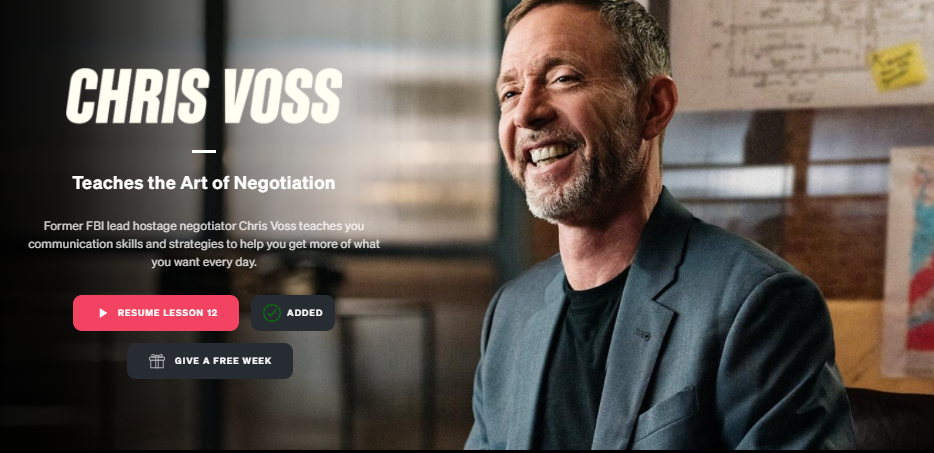 If you're thinking of taking a course to improve your negotiation skills, you've come to the right place. 
After all, who else would be more qualified to teach you about negotiation than a former FBI hostage negotiator...like Chris Voss?
In this post, I'll be reviewing the Chris Voss MasterClass, so you can know exactly what to expect should enroll in the course yourself. 
This post may contain affiliate links. Please read my disclosure for more information.
Who is Chris Voss?
Chris Voss is one of the top practitioners and professors of negotiation skills in the world.
He is the CEO of the Black Swan Group, a consulting firm that trains Fortune 500 companies through complex negotiations, using the same strategies he developed during his career as a hostage negotiator. 
You likely already know him as the co-author of one of the most popular books on negotiation, Never Split the Difference.
I first discovered him via that book, and I was very excited when I stumbled upon his MasterClass on the art of negotiation. 
From policing the rough streets of Kansas City, to becoming the FBI's lead international kidnapping negotiator, to teaching negotiation at prestigious business schools, Voss has fully tried and tested all of the techniques he talks about, and as you'll see - he really knows his stuff. 
Chris Voss Teaches The Art of Negotiation - Everything You Need to Know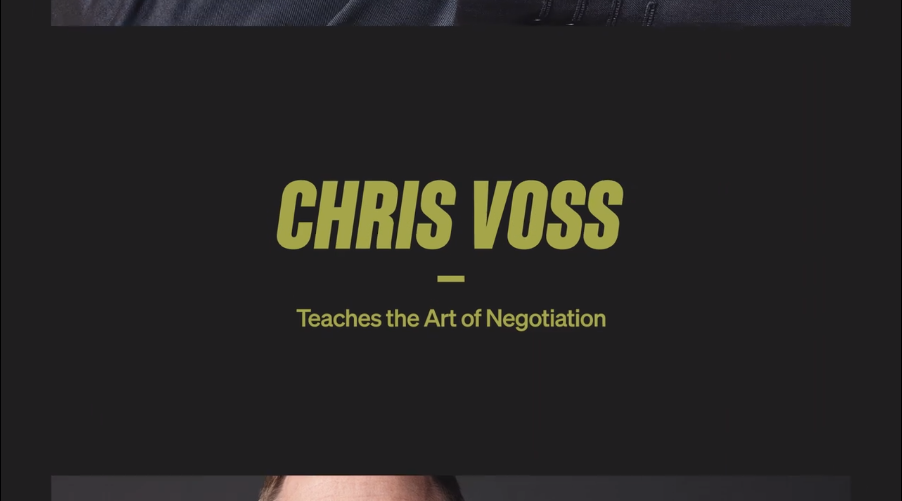 Who is this MasterClass designed for?
Before we dive deeper into this review, it's important to understand if the class would even suit your needs in the first place. 
Regardless of your background or profession, I can confidently say that there is something that everyone can take away from the Chris Voss MasterClass. 
Just look at what the class has to offer.
In this comprehensive class, Voss presents a range of strategies that are applicable to pretty much every sort of negotiation that you would ever be presented with. This is something you start to realize as soon as you watch the first minute or so. 
As Chris Voss explains:
"Life is a negotiation. There are human nature rules that apply to everyone, it doesn't matter if you're a businessman or a terrorist."
What you will learn (Class Syllabus)
In this MasterClass, Chris Voss will teach you useful negotiation communication skills and strategies to help you get more of what you want every day.
It will increase your understanding of the aforementioned human nature rules and how to navigate them, so you can turn the wrestling match of negotiation into a beautiful dance.
The class is 3 hours 4 minutes long, and it includes 18 video lessons:
Lesson 1: Tactical Empathy 
Lesson 4: Exercise: Mirroring and Labeling 
Lesson 5: Mastering Delivery
Lesson 6: Case Study: Chase Manhattan Bank Robbery
Lesson 7: Body Language & Speech Patterns
Lesson 8: Creating the Illusion of Control 
Lesson 9: Mock Negotiation: Teenager 
Lesson 10: The Accusations Audit
Lesson 11: The Value of "No"
Lesson 12: Mock Negotiation: Rival
Lesson 13: Bending Reality
Lesson 15: Mock Negotiation: Salary
Lesson 17: Mock Negotiation: "60 Seconds or She Dies"
Lesson 18: The Power of Negotiation
As with every masterclass, this class includes high-definition videos, a downloadable workbook (so you can keep track of all the negotiation techniques that you'll learn), and unlimited access to 100+ classes taught by other top instructors. 
=> Watch a section of the Chris Voss MasterClass here. 
Chris Voss MasterClass Review - My Overall Experience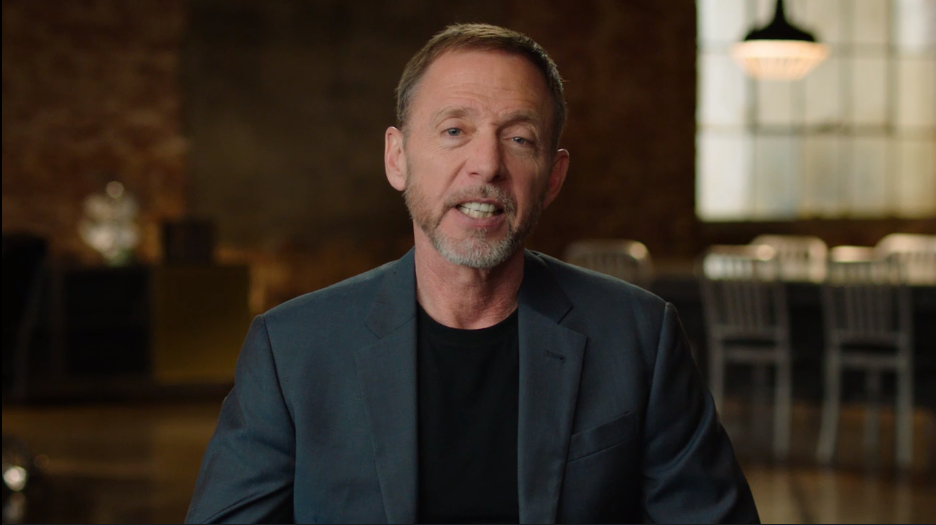 At first, I wasn't sure how much I would get out of Chris Voss' Masterclass because I had already read Never Split the Difference.
However, now that I've completed it I can honestly say that I enjoyed every single minute of this MasterClass. 
There's something about Voss' delivery that is so powerful and engaging.
He guides you through each negotiation strategy, explaining why you would use it, how to use it, and important reminders to keep in mind depending on the type of situation you find yourself in. 
In addition, he has a great sense of humour and the class is injected with various moments that will either leave you with a Eureka! realization or make you silently chuckle to yourself because you totally relate to the scenario he's describing. 
Even if you've already read his book, I would still recommend taking this class. In my experience, it brought the material to life in a refreshingly dynamic way. 
Also let me say this - if you were expecting to only hear him lecturing for the whole class, then you're in for a treat.
This masterclass includes audio clips that present dialogues from Voss' previous high-stakes hostage negotiations. You'll also get to watch roleplay exercises where Voss negotiates in real time with an actor. 
It's the perfect mix of learning formats to make sure that you understand the class concepts and are confident enough to actually apply them in the situations that matter in your own life!
4 Key Takeaways from the Chris Voss MasterClass
Next, I'm going to be sharing some of my favourite aspects of the Chris Voss MasterClass without giving too much away...
1. The Illusion of Control
One of the greatest lessons I learned from the class is this:
The secret to gaining the upper hand in a negotiation is giving the other side the illusion of control. 
Many people fail to negotiate effectively because they use tactics that are based on force, assertiveness, and coercion. 
However, in this masterclass Voss shows you how to reach out to your counterpart in a way that upholds their dignity and respect, to achieve collaboration and make sure that you're both on the same page. 
One technique you'll learn is using calibrated questions that begin with "what" or "how", rather than "why".
Questions that start with "why" usually trigger defensiveness, because people feel like they are being accused, whereas calibrated questions make people feel like they're in charge of the situation. 
Sometimes it just requires tweaking the exact same question so that it starts with "what" instead of "why", but it makes all the difference, as you'll see Voss demonstrate.  
2. The Power of Labeling 
Have you ever experienced that awkward moment during a negotiation, where you sense that the other person is upset or anxious, but you don't know how to respond?
That's where the power of labeling comes in. 
Labels are essentially verbal observations of people's emotions.
The idea is that labeling a negative emotion defuses it, whereas labelling a positive emotion reinforces it. Here are two examples:
"It seems like you're worried about telling me what happened..."
"It feels like you're being generous with your time..."
Both kinds of labels are highly effective because they cause your counterpart to slown and contemplate the observation you've just made.
It's incredibly disarming, and you're able to gather a lot of valuable information when the person eventually replies. 
I was quite blown away when I learned about the way labels work (I previously thought they were counterintuitive), and I've been using them in negotiation situations ever since, with much success. 
Most of the time, it's actually better to acknowledge the elephant in the room, than to just ignore it. 
Who would've thought?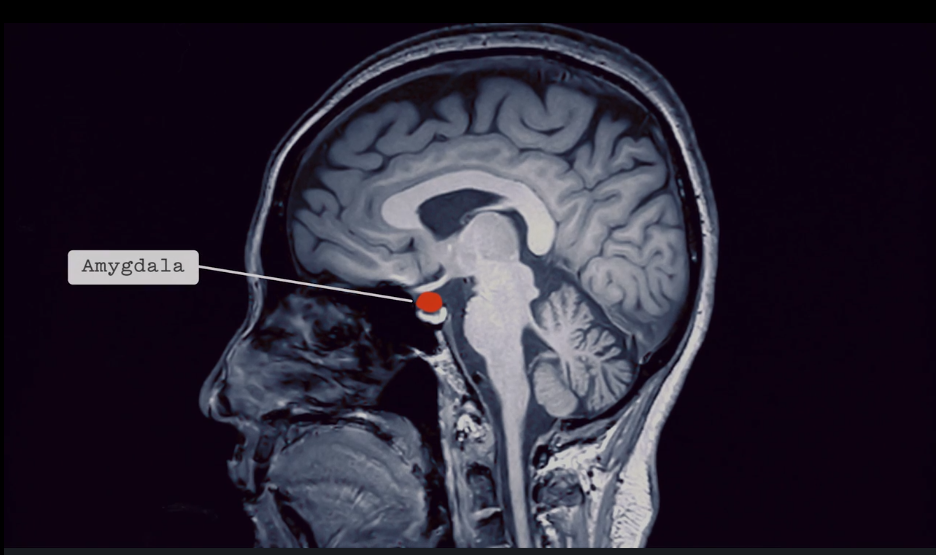 In the class, Chris Voss explains the role of the amygdala in labeling.

3. The Way Lie Detection Works
During negotiations, knowing when someone is telling the truth is often more important than knowing when they're lying. 
Sound surprising? 
Well, that's exactly how a polygraph (lie detector test) works.
A good polygrapher starts with asking you some control questions where it's obvious that you're telling the truth, e.g.,"What day is it?", "What's your name?" 
Because they've studied how you behave when you're telling the truth, it becomes really obvious when you're lying - you simply step out of your usual patterns.
Note: There are many different ways a person may lie, but only one way they tell the truth. 

In this masterclass, you will learn how to identify when someone is being genuine by assessing if their delivery and body language is in harmony with what they say. 
4. The Value of "No"
The key to negotiation is getting your counterpart to say yes, right?
Yes, but not immediately...
Ideally you want to get them to say no, first.
Why?
Because the ability to say "no" makes people feel comfortable.
People feel safe and protected when they say no, because they aren't committing to anything. 
That is why pushing hard for yes doesn't get a negotiator any closer to a win; it just angers the other side. 

For good negotiators, "no" is pure gold.  Once you hear "no", it provides a great opportunity for you and the other party to clarify what you really want, by eliminating what you don't want. 
In this masterclass, Voss walks you through the three kinds of "yesses" that negotiators commonly encounter, and shows you how to use "no" as a pivotal word that gets you to your desired outcome.
Final Thoughts: Is the Chris Voss MasterClass Worth it?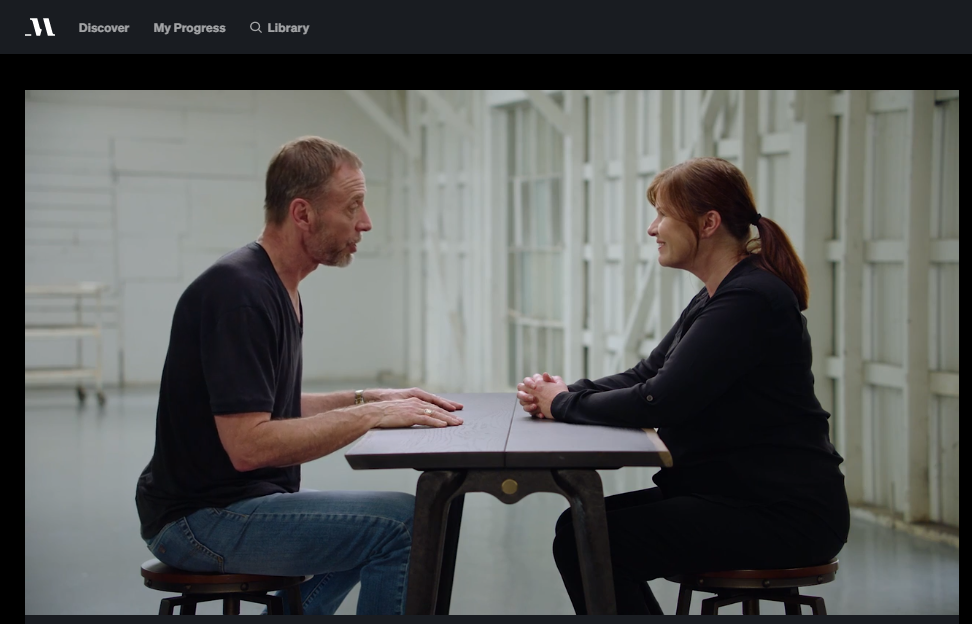 Absolutely.
The Chris Voss MasterClass is worth experiencing, not just because it's interesting, but because it teaches you practical skills that you can go out and implement today.
It's actually my favourite masterclass that I've watched so far.
After taking the class, I feel that I thoroughly understand the negotiation techniques that Voss teaches, as well as the reasoning behind them. 
Overall, what you'll learn in this class will prove to you that you actually have a lot of power in those situations that might seem out of your control, and that the art of negotiation is not as difficult as you might have imagined.
It's an art that can be mastered with patience, observation, and adequate practice in low-stake environments. 
If you feel you've learned anything from this review, then know that we've only just scratched the surface. There's so much more to discover.
I also particularly appreciated the poignant, impactful way that Chris Voss ended the masterclass...but you'll have to see what I mean for yourself!
Happy watching!
=> See the newest classes on MasterClass here.
Related: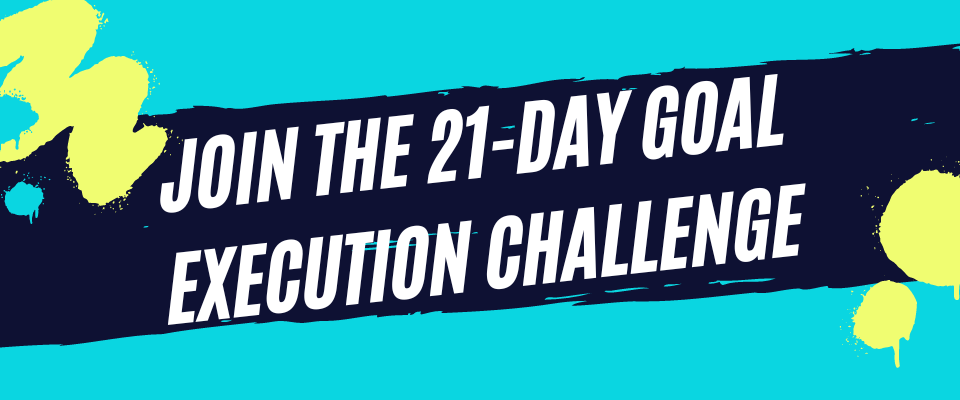 Thanks for reading! If you liked this content, please share below:
Sep 19, 23 07:31 PM

Would you like a stronger mind? Life can be confusing and intense, and that's why training your mind to be stronger than your feelings is crucial.

Sep 18, 23 06:05 PM

Looking for the perfect psychology-themed present for a college student? Here is a roundup of the best gifts for psychology majors.

Sep 16, 23 05:54 PM

Looking for the perfect period table of elements gift? Here are the best periodic table gifts that will spark a reaction from chemistry enthusiasts.