Cybersecurity Leadership Courses
5 Best Cybersecurity Leadership Courses Online for Business Leaders
Looking to learn how to keep your organization secure and mitigate cyber risk? Here are the best cybersecurity leadership courses online for business leaders.
Effective cybersecurity goes beyond implementing technical solutions.
It requires the establishment of a strong cybersecurity culture within the organization. 
That's where cybersecurity leaders play a significant role.
They pave the way to ultimate accountability and responsibility for the organization's cybersecurity activities and personnel.
Here is a list of the top cybersecurity leadership courses online to help business leaders successfully accomplish this mission.
These courses will provide training on the skills and knowledge that cybersecurity leaders need to ensure that security efforts are aligned with organizational priorities.
This post may contain affiliate links. Please read my disclosure for more information.
What are the Best Cybersecurity Leadership Courses?
Here are the best cybersecurity leadership courses online that every business leader should enroll in:
Udacity's Cybersecurity for Business Leaders program is designed to equip future C-suites and senior managers with practical knowledge, skills, and tools to prepare for most likely cyber threats to their digital ecosystem.
This course gives business leaders the foundation they need to initiate discussions around cybersecurity.
You will explore the current landscape of threats and look at ways to defend against attacks by investing in technology and culture, but also by being proactive in your risk management planning.
Course Syllabus: 
Lesson 1: Cyber Challenges We Face Today
Lesson 2: Effective Detection and Response 
Lesson 3: Cybersecurity Culture
Lesson 4: Making Investments
Lesson 5: (Elective) Threat Analysis by Industry
Lesson 6: Your Cybersecurity Plan

In the final course project, you'll think about the major components of cybersecurity at your organization and consider how to make resource decisions to increase your organizational preparedness for the future.
Key course features: 
Prerequisites: No experience required

=> Enroll in the Cybersecurity for Business Leaders course here.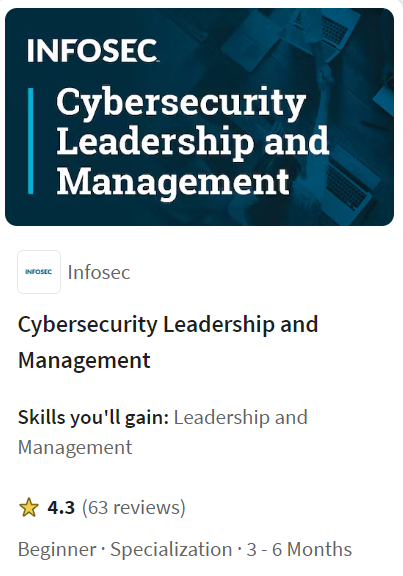 Cybersecurity leadership and management are two high-level competences required to successfully administer a cybersecurity division.
This 3-course series on Coursera introduces you to cybersecurity leadership and management.
Drawing on industry standards, frameworks and models, you will explore the key objective elements of cybersecurity leadership.
Program Syllabus:
Course 1: Leadership
Course 2: Management
Course 3: Governance and Strategy
In this specialization, you will learn why it's important that senior management integrate information security into overall organizational governance at the highest levels.
You'll also learn basic concepts, methodology and terminology for leadership and management skills.
Key course features: 
Beginner level
This course is great for a novice student who would like to gain insight into the basic principles of cybersecurity leadership and management.

1 months at 10 hours a week
Flexible schedule
Earn a Shareable Certificate Upon Completion
=> Enroll in this Cybersecurity Leadership and Management course.
The Chief Information Security Officer (CISO) in any given organization serves a leadership position, protecting the data and digital systems that a company's employees and customers depend upon.
This edX course by the University of Washington delves into the role that the CISO plays in cybersecurity operations.
Throughout the lessons, learners will explore answers to the following questions:
How does cybersecurity work across industries?
What is the professionals' point of view?
How do we keep information secure?
By the end of this course, you will be able to:
Identify the four domains of cybersecurity and the differences between their rules, regulations, and desired outcomes
Explain the role of the CISO across all domains, and the differences between CISO roles among the domains
Identify cybersecurity specific tools for their appropriate domains and situations.
The coursework in this cybersecurity leadership course fully explores the CISO's view from the top and topics such as policy, procedures and practices, technologies, awareness training, and audit.
It also dives into the approaches taken in private industry, government, academia, and the military.
Key course features: 
Effort: 2-5 hours per week
Prerequisites: Curiosity and interest in cybersecurity
Course Type: Self-paced, progress at your own speed
Shareable certificate available upon completion
=> Enroll in "Cybersecurity: The CISO's View" on edX here.

Assessing your organization's security is a long process consisting of many moving parts.
In this course, you will gain the ability to complete an end-to-end security evaluation to provide a "map" of your company's security posture.
First, you will learn about the practices of security evaluation.
Next, you will discover the many tools and techniques available.
Finally, you will explore how to effectively juggle the amount of work, evidence, and data collection required of an assessment.
Course Syllabus: 
The Case for Evaluating Your Organization's Security
Planning and Organizing the Evaluation
Collecting Data and Conducting Interviews
Evaluating Your Organization's Physical Security
Evaluating the External Footprint
Evaluating the Internal IT Security Posture
Evaluating the Weakest Link - Social Engineering
Setting the Benchmark and the Concept of Iterative Evaluations
Wrapping the Security Evaluation
When you're finished with this course, you will have the skills and knowledge of auditing, governance, and critical thinking needed to evaluate your organization's security.
Key course features: 
Level: Intermediate
Duration: 3h 22m

=> Enroll in "Evaluating Your Organization's Security Posture" here.
For-profit companies, government agencies, and not-for-profit organizations all need business-savvy information technology security professionals.
In this four-course specialization, you will learn about a variety of processes for protecting business assets through policy, education and training, and technology best practices.
You'll also develop an awareness of the risks and cyber threats or attacks associated with modern information usage, and explore key technical and managerial topics required for a balanced approach to information protection. 
Program Syllabus: 
Course 1: Cybersecurity and Mobility
Course 2: Cybersecurity and the Internet of Things
Course 3: Cybersecurity and the X-Factor
When you have finished with this course you will know more about:
Governance: including the mission, roles and responsibilities of the InfoSec governance function
The various types of InfoSec policies and how effective information security policy is created and used
Risk management and the risk management process
Certain laws and ethical issues impacting information security in the organization
Common information security management practices such as benchmarking and performance measures
Key course features: 
Beginner level

No previous experience necessary

1 months at 10 hours a week
Flexible schedule
Earn a Shareable Certificate Upon Completion
=> Enroll in the Cybersecurity for Business Specialization here.
Final Thoughts
By fostering awareness and accountability across the organization, cybersecurity leaders play a crucial role in protecting the organization's digital assets and maintaining trust.
The cybersecurity leadership courses above are designed to help you learn in-demand skills from university and industry experts, so you can succeed in your role.
Happy learning!
Related: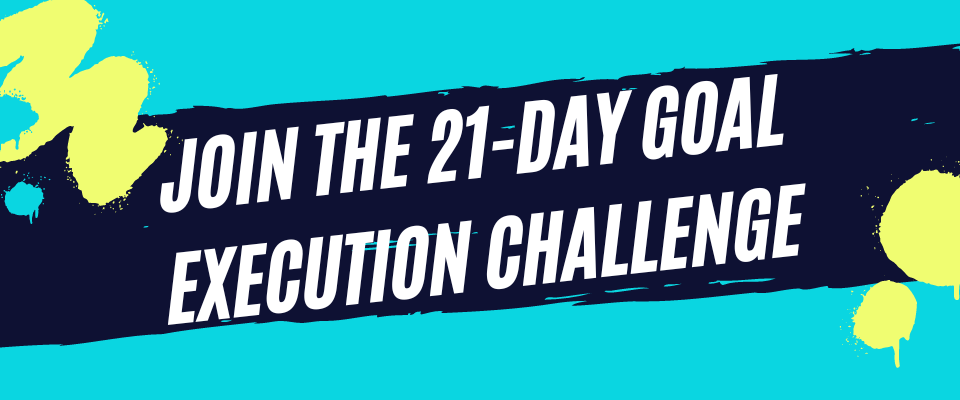 Thanks for reading! If you liked this content, share with a friend:
Dec 09, 23 08:34 PM

Below is a quote from Jhené Aiko's Poetry Book, 2Fish, that is both moving and beautiful. Here's a moment of reflection on the words in the excerpt and the meaning they convey.

Dec 08, 23 08:08 PM

It's an amazing thing to hear a person's life story, read aloud. Here are the best biography audiobooks to give you a peek into different iconic perspectives.

Nov 30, 23 09:41 PM

Would you like to improve your ability to read people? Here are the best body language books that will boost your social intelligence.