5 Best AI For Business Courses to Enroll in Online This Year (2023)
Looking to learn how to leverage the capabilities of AI in a business context? Here are the best AI for business courses online.
AI has applications within nearly every business strategy. 
Here are the best AI for business courses online for learners who are curious to discover the ways that AI is transforming the world of business. 
These courses will provide you with a foundational understanding of AI and its role in emerging developments in the areas of customer service, cybersecurity and fraud management, inventory management, customer segmentation, and much more. 
Through real-life examples and case studies, you'll discover common misconceptions about AI and learn how to embrace AI as part of a transformative toolkit.
This post may contain affiliate links. Please read my disclosure for more information.
What are the Best AI for Business Courses?
Here are 5 of the best AI for business courses to enroll in online: 

The AI for Business nanodegree program on Udacity is designed for those looking to deepen their understanding of AI and the innovations in the field of machine learning that have driven its recent progress.
The program provides students with a deep but approachable knowledge of how these systems work and what it takes to put them into practice. 
Throughout the program, you'll follow a fictitious retailer in order to gain practice in identifying what AI use cases might be best for a given business at a given point in time.
Program Syllabus: 
Lesson 1: The Paradigm Shift
You'll begin studying machine learning and artificial intelligence. You'll develop an understanding of their potential and the language to talk about AI and ML with your team, and build your first model!
Lesson 2: The Math Behind the Magic
This lesson will take a deeper dive into AI and ML techniques using a data-first perspective. You'll also explore the mathematical underpinnings of how ML models learn.
Lesson 3: Architectures of AI Systems
This lesson focuses on capabilities and architectures commonly used in ML/AI systems, and develops student skills with building these architectures, including the data, capabilities, and user layers.
Lesson 4: Working with Data
Machine Learning is a data-hungry process. In this lesson, you'll learn about some of the more operational elements of building ML and AI systems, namely data labeling and infrastructure management.
Lesson 5: Accuracy, Bias, and Ethics
What does it mean for a model to be useful? In this lesson, you'll explore topics like accuracy and precision as well as model overfit and underfit, to figure out ways to assess a model's usefulness.
Lesson 6: Gathering Feedback
Building support for an AI/Machine Learning project is an important part of the journey. You'll discover best practices for clearly understanding the priorities of your business and communicating how AI/ML can help to advance them.
Lesson 7: Thinking Bigger
Many times, progress with ML/AI requires a business to execute several projects in parallel. In this lesson, you'll learn about how to bring use cases together to form a greater whole.

Lesson 8: Delivering an ML/AI Strategy
In this project, you will apply all the skills you've learned in the lessons to develop a strategic ML/AI roadmap. You may choose to work on your own business, or in a fictitious context that is provided.
Key course features: 
Skill Level: Intermediate
Recommended Prerequisites: Basic probability, Basic descriptive statistics
=> Enroll in the AI for Business Leaders program on Udacity here.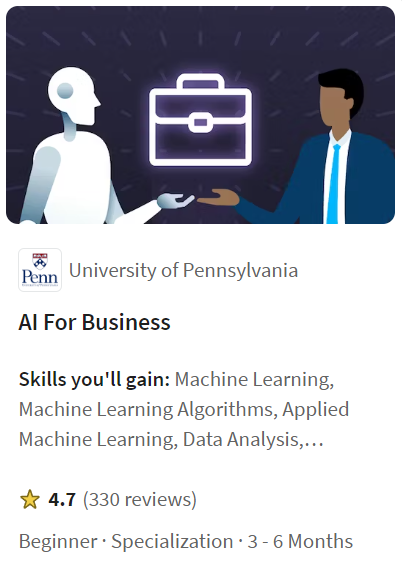 If you're looking for a beginner level AI For Business course, I'd recommend enrolling in this online specialization by Wharton School of Business.
This specialization explores the fundamentals of using Big Data, Artificial Intelligence, and Machine Learning and the various areas in which you can deploy them to support your business.
You'll cover the ethics and risks of AI, designing governance frameworks to fairly apply AI, AI applications in people management, and implementing marketing strategies using data analytics.
Finally, you will hear from industry leaders who will provide you with insights into how AI and Big Data are revolutionizing the way we do business.
Program Syllabus: 
Course 1: AI Fundamentals for Non-Data Scientists
Course 2: AI Applications in Marketing and Finance
Course 3: AI Applications in People Management 
Course 4: AI Strategy and Governance 
By the end of this specialization, you will be able to implement ethical AI strategies for people management and have a better understanding of the relationship between data analytics, artificial intelligence, and machine learning.
Key course features: 
Beginner level
No previous experience necessary
1 months at 10 hours a week
Flexible schedule
Earn a Shareable Certificate Upon Completion
=> Enroll in the AI for Business Course by Wharton on Coursera here.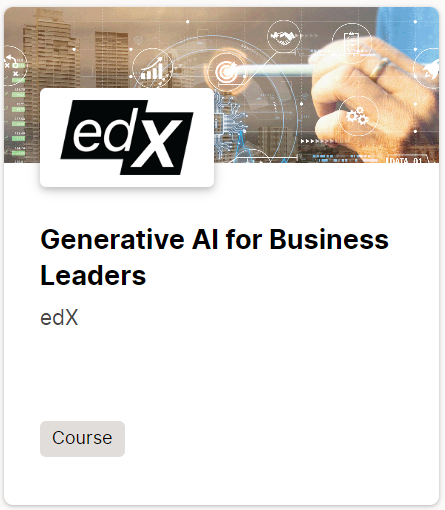 This condensed course on edX is designed to introduce business leaders to the fast-changing world of generative artificial intelligence. 
As well as gaining an understanding of generative AI, you'll also discover tools to help your organization adapt to this transformative new technology.
You will learn to: 
Describe what generative artificial intelligence is
Identify likely impacts of generative AI on your industry or corporate function
Develop internal policies or tools to guide strategic decision-making around generative AI within your organization 
By the end of this course, you'll have a deeper understanding of how generative AI can revolutionize your business operations and be armed with the skills and knowledge needed to implement it successfully!
Key course features: 
Length: 2 Weeks
Effort: 1-2 hours per week
Level: Intermediate

Course Type: Self-paced, progress at your own speed
Shareable certificate available upon completion

=> Enroll in the Generative AI for Business Leaders course here.
Artificial intelligence in business involves the use of software and algorithms with the capabilities to boost revenue, increase productivity, and improve customer experiences.
In this AI for business course on Pluralsight, you will learn everything from what AI actually is to how it is being used by businesses the world over.
First, you will be taken through the "whats" and "whys" of AI, followed by the different kinds of AI.
Next, you'll discover the different kinds of technologies that are currently being used in the industry, including machine learning, deep learning, and reinforcement learning.
Finally, you'll explore monetary and strategic advantages of using AI in business and explore both the ethical and the practical challenges of using AI in your business.
When you're finished with this course, you'll have a firm grasp on AI and its possibilities in a business.
Course Syllabus: 
What is Artifical Intelligence (AI)?
What Does Modern AI Comprise?
AI in the World of Business
Key course features: 
Level: Beginner
Updated: Feb 6, 2023
Duration: 59m
=> Enroll in the Artificial Intelligence for Business course on Pluralsight.
This 3-course specialization by IBM dives into the key areas of focus for business leaders considering AI-based solutions for business challenges.
The first course provides a business-oriented summary of technologies and basic concepts in AI.
The second introduces technologies and concepts in data science.
The third introduces the AI Ladder, which is a framework for understanding the work and processes that are necessary for the successful deployment of AI-based solutions.
Program Syllabus: 
Course 1: Introduction to Artificial Intelligence (AI)
Course 2: What is Data Science?
Course 3: The AI Ladder: A Framework for Deploying AI in your Enterprise
After completing this specialization you will be able to explain and describe each of the steps required to ensure success when you build and deploy AI solutions in your business enterprise.
Key course features: 
Beginner level
No previous experience necessary
1 months at 10 hours a week
Flexible schedule
Earn a Shareable Certificate Upon Completion
=> Enroll in the IBM AI Foundations for Business course here.
Final Thoughts
Hopefully this list has helped you discover AI for business courses that match your interests and learning objectives. 
The brilliant thing about the courses above is that they balance the organizational and managerial implications of AI technologies with the technical aspects.
Therefore you'll be able to complete these courses armed with the knowledge and confidence you need to pioneer the successful integration of AI in business. 
Happy learning!
Related: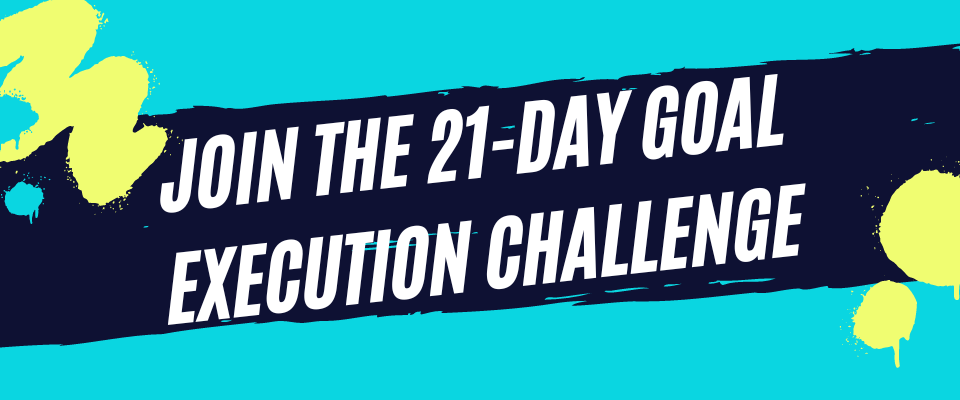 Thanks for reading! If you liked this content, share with a friend:
Dec 09, 23 08:34 PM

Below is a quote from Jhené Aiko's Poetry Book, 2Fish, that is both moving and beautiful. Here's a moment of reflection on the words in the excerpt and the meaning they convey.

Dec 08, 23 08:08 PM

It's an amazing thing to hear a person's life story, read aloud. Here are the best biography audiobooks to give you a peek into different iconic perspectives.

Nov 30, 23 09:41 PM

Would you like to improve your ability to read people? Here are the best body language books that will boost your social intelligence.