5 Best Prompt Engineering Courses for Building Powerful Applications
Want to learn prompt engineering? Here are the best prompt engineering courses for learners who want to leverage the power of generative AI.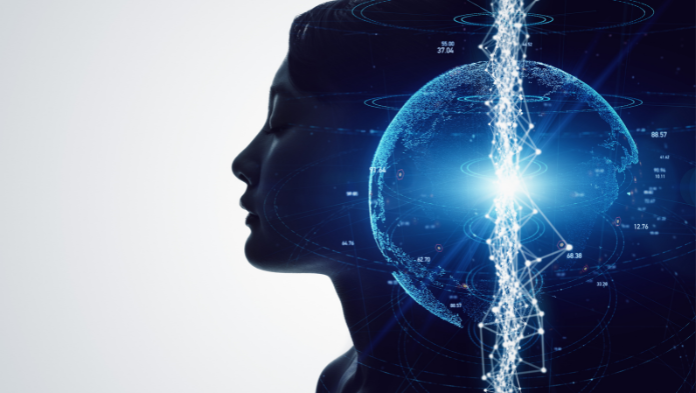 Prompt engineering is a relatively new discipline that allows us to develop and optimize prompts to build powerful applications using large language models (LLMs). 
Here are the best prompt engineering courses online that teach a wide range of skills and techniques that are useful for interacting and developing with LLMs. 
These courses will also show you how to harness the full potential of AI systems like GPT-4, by crafting prompts that are clear, context-rich, specific, and concise.  
This post may contain affiliate links. Please read my disclosure for more information.
What are the Best Prompt Engineering Courses?
Here are 5 of the best prompt engineering courses to enroll in online this year: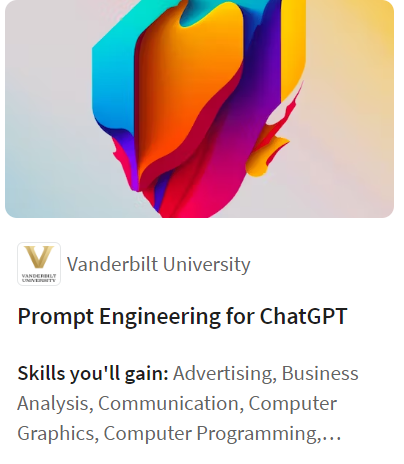 ChatGPT and other large language models are set to completely change the way we do many daily activities. 
ChatGPT can tutor your child in math, generate a meal plan, write software applications, help you improve your personal cybersecurity - and that is just in the first hour that you use it.
This popular prompt engineering course by Vanderbilt University introduces students to the patterns and approaches for writing effective prompts for large language models.
The course shows amazing examples of how you can tap into generative AI tools' emergent intelligence and reasoning, how you can use them to be more productive day to day, and gives you insight into how they work.
You will learn how to: 
Apply prompt engineering to effectively work with large language models, like ChatGPT
Use prompt patterns to tap into powerful capabilities within large language models
Create complex prompt-based applications for your life, business, or education
Course Syllabus: 
Module 1: Course Introduction 
Module 2: Introduction to Prompts
Module 3: Prompt Patterns I
Module 4: Few-Shot Examples
Module 5: Prompt Patterns II 
Module 6: Prompt Patterns III 
Anyone can take this course and the only required knowledge is basic computer usage skills, such as using a browser and accessing ChatGPT. 
By the end of the course, you will have strong prompt engineering skills and be capable of using large language models for a wide range of tasks such as writing, summarization, game play, planning, simulation, and programming.
Key course features: 
Shareable Certificate

Earn a Certificate upon completion.
100% online courses
Start instantly and learn at your own schedule.
Flexible Schedule
Set and maintain flexible deadlines.
Beginner Level
Approximately 18 hours to complete
Suggested pace: 3 weeks at 6 hours a week.

English
=> Enroll in the Prompt Engineering for ChatGPT course here. 

As a content creator, Nizamuddin Siddiqui has spent long hours testing and creating new prompts that he believes are super useful for everyone. 
In this skillshare class, Nizamuddin teaches important prompting techniques and shares answers to common questions you might have about prompt engineering.
In this course, you will get a list of 1200+ ChatGPT prompts that you can easily copy and paste.
However, you will also learn about the structure needed to create a perfect prompt, and you'll receive a project file that will help you recall all the prompting techniques discussed in the course. 
Here is a brief overview of the prompts list: 
25 ChatGPT Prompts to prepare for interview preparation
64 ChatGPT Prompts to do Copywriting
55 ChatGPT Prompts to do Email Copywriting
41 ChatGPT Prompts to do Email Marketing
75 ChatGPT Prompts to Translate, improve vocabulary, and check English grammar
49 ChatGPT Prompts to write SEO-optimized content
45 ChatGPT Prompts to Manage Social Media
18 ChatGPT Prompts to ease your job as a Teacher/Professor
43 ChatGPT Prompts to make your educational life easy as a Student
25 ChatGPT Prompts to assist you in Programming
40 ChatGPT Prompts for Marketers
21 ChatGPT Prompts to get LinkedIn Followers
29 ChatGPT Prompts to do better on YouTube
17 ChatGPT Prompts to create Courses
16 ChatGPT Prompts to help in Career Guidance
23 ChatGPT Prompts to work smoothly as an HR Consultant
16 ChatGPT Prompts to get Financial Advice
13 ChatGPT Prompts to write Resume and Cover Letters
40 ChatGPT Prompts to get Home Remedies for common ailments
30 ChatGPT Prompts to create Websites as a Web Developer
10 ChatGPT Prompts to become a Twitter Influencer
13 ChatGPT Prompts to become an Instagram Influencer
20 Prompts to become an Excel Expert
36 ChatGPT Prompts for Parenting
202 ChatGPT Prompts for Advertising
181 ChatGPT Prompts for Digital Product Creation
82 ChatGPT Prompts for SaaS Product Development
65 Prompts for Product Managers
63 Prompts for Customer Service Managers
60 Prompts for Content Strategists
115 Prompts for English Language Proofreaders
61 Prompts for Sports and Fitness Instructors
58 Prompts for Sports Nutritionists
39 Prompts for Fundraisers
34 Prompts for Special Education Teachers
40 Prompts for School Principals
77 Prompts for Entrepreneurs
62 Prompts for Copy Editors
38 Prompts for Researchers
100+ Prompts for Game Designers
100+ Prompts for Poets
Comment from previous student: 
"I listened to this class 4 times and on the 4th, I realized how valuable this course is. If you don't get it the first time, go through it again until it makes sense. You will appreciate the immense value, knowledge and skills you obtain from this class."
=> Enroll in "ChatGPT Prompt Engineering with 2100+ Prompts" here.
Have you been hearing about the amazing things people are doing with AI but you don't know where to start?

ChatGPT Complete Guide: Learn Midjourney, ChatGPT 4 & More is Udemy's bestselling ChatGPT course. 
In this course, you'll develop your skills with ChatGPT 3.5, GPT-4, ChatGPT Plugins, Bard, Bing, Midjourney, DALL-E 2, Zapier, Notion AI, and 25 other extremely useful AI tools. 
Course Syllabus: 
1. ChatGPT: Fundamentals and 150+ Prompting Ideas for ChatGPT
Getting started with ChatGPT

Understand the world of prompt engineering

Collaborate with your new AI assistant
2. ChatGPT: Simplify Complex Information, Prompt Engineering, and 17 Page Prompting PDF
Synthesize, summarize, and personalize text for your specific audiences

Transcribe and summarize entire videos in seconds

Generate specific prompts for your own use cases
3. ChatGPT: Content Creation, Social Media, Copywriting, Video Scripts, and Automations with Zapier
Create unique and engaging content in a heartbeat
Perfect your copy for your specific needs with prompt engineering
Learn to generate in bulk so you can be more productive than ever
4. ChatGPT Plugins: Quickly Learn, Research, Prepare for Job Opportunities, and More
Leap into the future of learning at lightning speed using ChatGPT Plugins
Personal and market research re-defined
Solve equations, run realistic mock interviews, and use AI to put your best foot forward
5. ChatGPT: Code Generations, Algorithms, Debugging, and Documentation
Explore and own the world of AI coding
10x your productivity by delegating to ChatGPT
Embrace the incredible speed of working with AI
6. Midjourney: Setup, Settings, Workflow, Commands, Prompting, and Stylization
Bring your imagination to life with simple text

Remix existing images with your wildest ideas

Create new and exciting art with generative art prompts
7. Midjourney: Reiterating, Upscaling, Aspect Ratios, and Remixing
Customize your artwork using advanced prompt modifiers
Iterate to perfection getting your pieces just right
Explore the endless avenues generative art can take you down
8. DALL-E 2: Website Interface, Layout, Prompting, Creating Variations
Learn how to use DALL-E 2's powerful prompting feature and create stunning visual variations.
Navigate DALL-E 2's interface like a pro and discover the secrets of the prompt marketplace while exploring a wealth of inspirational resources.
Discover the cutting-edge AI technology that's changing the game and gain valuable insights into the parameters and keyboard shortcuts that will take your creativity to the next level.
9. DALL-E 2: Inpainting, Outpainting, and Blending Multiple Images Together
Master the art of creating unique and visually stunning art pieces with DALL-E 2's powerful features
Take your artistic creations to new heights by exploring the limitless possibilities of DALL-E 2
Dive into Dall-E 2's functions, allowing your creativity to soar the skies
10. Generative AI for Gigs, Side Hustles, Freelance, Selling Items Online, and Notion AI
Discover a wealth of

side hustle ideas

, and explore how to monetize your new AI skills
Put your new knowledge into practice with a learning activity that will guide you in ideating, planning, and launching a new venture.
11. Generative AI for Business, Marketing Emails, Ideation, and Productivity
Use prompt engineering to leverage the game-changing impact of AI in your favor
Unlock a range of essential business skills, from crafting unique business ventures and optimizing communication strategies.
Use the power of cutting-edge technology to gain valuable insights into the latest trends and best practices for success.
12. AI Video: Create a Talking AI Avatar, Bulk Create TikToks, Reels, and Shorts
13. AI Photo: Make Your Photo Speak, AI Photoshop Replacement, and Remove Watermarks
Enhance, edit, and transform your photos in ways never thought possible
Learn how to use the unique features of API tools to create personalized images that capture your vision and style
Get inspired by a wealth of resources
14. AI Writing and Copy: Google Sheets, Automate Messaging, and Data Extraction
Supercharge your writing by combining various AI tools to get the perfect tone, grammar, syntax, style, and voice
Master the art of effective communication and use AI to capture your audience's attention.
Explore the different parameters and settings within these tools that can be customized to meet your specific needs.
15. AI Music and Voice: AI Tool Integrations for Music Production, Text to Voice, and Voice Cloning
Clone your voice with AI
Compose like never before
Get a glimpse of the amazing tools on the horizon
Key course features: 
15.5 hours on-demand video
22 articles
13 downloadable resources
Access on mobile and TV
Closed captions
Audio description in existing audio
Certificate of completion
=> Enroll in "ChatGPT Complete Guide: Learn Midjourney, ChatGPT 4 & More" here.
This prompt engineering course on edX delves into the advanced techniques that can be used to prompt ChatGPT, allowing it to generate responses that are even more accurate, relevant, and engaging.
You will explore the different applications of ChatGPT across various industries, including healthcare, finance, education, and customer service, among others.
The course also covers how to integrate ChatGPT with other tools, such as natural language processing (NLP) and machine learning (ML), to further enhance its capabilities.
By the end of this course, you will gain a deep understanding of how to leverage the power of ChatGPT and build intelligent chatbots that can deliver superior customer experiences.
You will also develop an understanding of the limitations of ChatGPT and how to work around them to build robust and effective chatbot applications.
Key course features: 
Length: 1 Week
Effort: 1-2 hours per week
Course Type: Self-paced, progress at your own speed
Professional Certificate Available
=> Enroll in "Prompt Engineering and Advanced ChatGPT" here.
What if you could make ChatGPT and generative artificial intelligence even more amazing than it already is?
Generative artificial intelligence is powerful and exciting, but its output is only as good as its input.
In this Pluralsight course, you'll get a foundational understanding of prompt engineering - the art and science of crafting clever prompts to unleash the full potential of generative AI models.
First, you'll explore what prompt engineering is, the different types of prompts, and how to evaluate their effectiveness.
Next, you'll discover more advanced techniques, taking your prompt engineering to the next level.
Finally, you'll learn about different ethical considerations around this emerging technology, and how to apply best practices to mitigate potential issues.
Key course features: 
Level: Beginner
Updated: Aug 28, 2023
Duration: 1h 13m
=> Enroll in "Getting Started on Prompt Engineering" here. 
Final Thoughts
Prompt engineering is essential for generative AI models because it helps them create accurate and relevant content.
By using the right prompts, we can guide AI models to create the content we want, exactly how we want it! 
Hopefully you've found a prompt engineering course above that appeals to your interests and learning objectives. 

Happy learning! 
Related: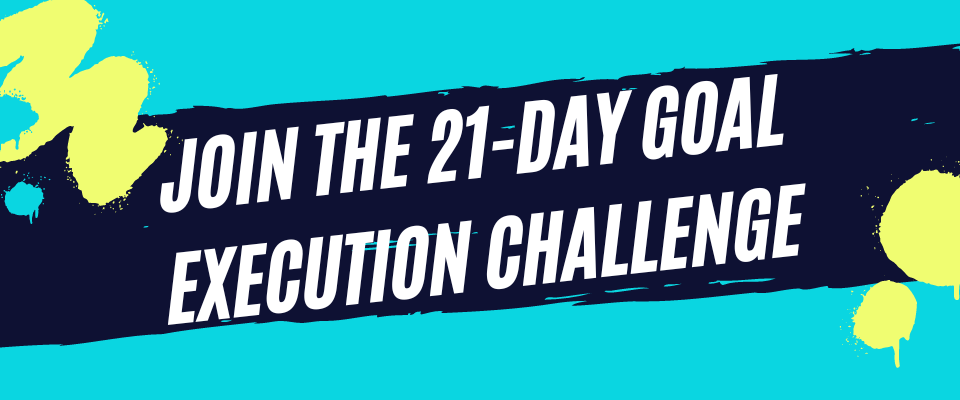 Thanks for reading! If you liked this content, please share below:
Sep 19, 23 07:31 PM

Would you like a stronger mind? Life can be confusing and intense, and that's why training your mind to be stronger than your feelings is crucial.

Sep 18, 23 06:05 PM

Looking for the perfect psychology-themed present for a college student? Here is a roundup of the best gifts for psychology majors.

Sep 16, 23 05:54 PM

Looking for the perfect period table of elements gift? Here are the best periodic table gifts that will spark a reaction from chemistry enthusiasts.
Your second block of text...