6 Best Audiobooks for Learning Spanish On the Go (Updated 2021)
Listening to audiobooks is a great way to accelerate your progress as you learn a new language. Here are the best audiobooks for learning spanish.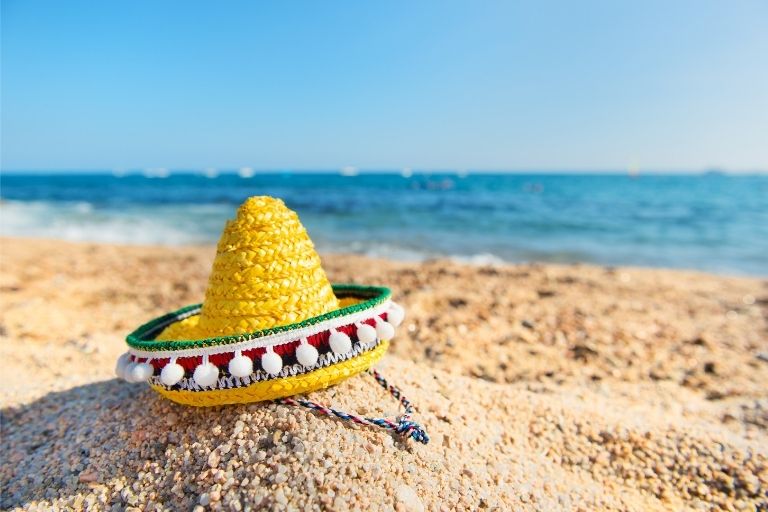 Are you ready to take your knowledge of Spanish to the next level? Below is a list of the best audiobooks for learning spanish, to help you absorb new information in a fun and engaging format. 
From experience, I've found that listening to material in a new language is a completely different experience than reading it.
When you're able to hear the way native speakers pronounce certain words, it enables you to identify and fix any mistakes you might currently be making.
Moreover, in many cases, supplementing textbook knowledge with spanish audiobooks may be just you need to improve your overall confidence in the language.
This post may contain affiliate links. Please read my disclosure for more information.
What Are the Best Audiobooks for Learning Spanish?
Special Note: You can get a free audiobook for learning Spanish here.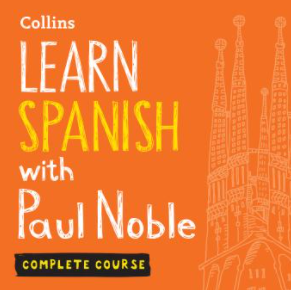 This is one of the most comprehensive audiobooks for learning spanish, with lessons taught by native-speaking Spanish expert, Paul Noble. 
Unlike more traditional language learning courses, Paul Noble's unique method has no grammar tests or memory drills.
Instead it uses a tried and tested language learning method that has been used by almost a million people to speak fluently and confidently within a short period of time.
This audiobook contains the entire course:
Part one: language ground rules; the use of the past tense; numbers; essential vocabulary to use when booking into a hotel, taking a taxi, and eating out
Part two: asking for directions, verb revision, travelling by bus and train, introducing and talking about yourself
Part three: useful phrases when shopping, vocabulary for conversing with a pharmacist or doctor, practice and revision, the future tense
Course review: an opportunity to revise the full course and practice what you have learnt
In this audiobook, Paul will introduce you to the basics of the Spanish language and guide you through over 6,000 words and 12 hours of everyday scenarios that will build your confidence.
=> Listen to "Learn Spanish with Paul Noble": get the free audiobook here.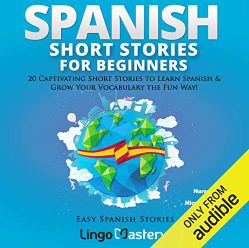 Listening to Spanish stories told by natives allows you to enjoy an enriching cultural experience as you improve your language skills. 

This audiobook by Lingo Mastery contains a collection of short, easy-to-read stories that are designed to expand your vocabulary and improve your grasp of the Spanish tongue.
As you listen, you will:
Learn more vocabulary that you can use immediately, every day
Increase your ability to understand Spanish reading and maximize your reading time
Learn how to pronounce Spanish words correctly by comparing the written word with audio recordings
Become familiar with a wide variety of grammatical structures 
Apply your knowledge with practice questions that are based on the stories
Each story features a synopsis in both Spanish and English, which is super helpful in case you get stuck. In addition, the stories use realistic dialogues and are based on the kind of day-to-day situations that you're actually likely to encounter.
=> Listen to "Spanish Short Stories for Beginners": get the free audiobook here.
Language experts agree that the best way to learn a new language is by surrounding yourself with native speakers.
The Passport to Spanish audio learning system takes advantage of one of the most widely used methods in professional language learning to help you learn fast.
With Passport to Spanish, you can:
Learn on the go and at your own pace
Perfect your pronunciation
Master essential vocabulary - from beginning to advanced
Immerse yourself in dialogue spoken by native speakers
This audiobook for learning spanish contains over eight hours of immersive learning, including:
Letters of the alphabet and common sounds
Greetings, introductions, and subject pronouns
Gender agreement, physical descriptions, and corresponding verbs
Weather, numbers, irregular verbs, finding and following directions
Days of the week and dates, useful shopping terms
Restaurants, food, and corresponding verbs
Cultural notes on ethnic foods and customs
Time/hours, corresponding verbs, use of object pronouns
This audiobook is designed to help you go from beginner to advanced in just five minutes a day. 
=> Listen to "Passport to Spanish": get the free audiobook here.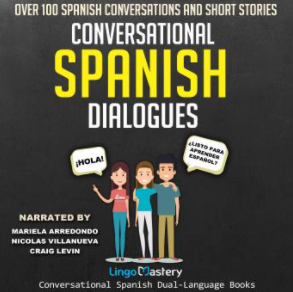 Is conversational Spanish turning a little too tricky for you? Do you have no idea on how to order a meal or book a room at a hotel? 
This audiobook by Lingo Mastery can help you fix that.
It's a compilation of over 100 Spanish stories for beginners along with their translations, allowing new Spanish speakers to have the necessary tools to begin studying how to set a meeting, rent a car, or tell a doctor they don't feel well.
How Conversational Spanish Dialogues works:
Each new chapter will have a fresh, new story between two people who wish to solve a common day-to-day issue.
A Spanish version of the conversation will take place first, followed by an English translation. This ensures that you fully understand what was just said. 
Before and after the main section of the audiobook, there is an introduction and conclusion that will offer you important strategies and tips to help you to get the most out of the learning material.
If you feel like you're stuck on words and phrases - or conversations that don't actually go anywhere - this audiobook will help you organize your thoughts so you can have fluent conversations. 
=> Listen to "Conversational Spanish Dialogues": get the free audiobook here.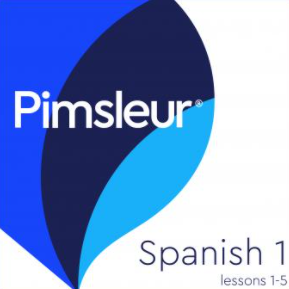 The Pimsleur method is an easy and fast way to learn Spanish.
The program teaches you to become conversational in Spanish -  to understand and be understood - quickly and effectively.
Each lesson provides 30 minutes of spoken language practice, with an introductory conversation and new vocabulary and structures.
Key features of Pimsleur:
Quick and easy audio lessons - Only 30 minutes a day
Portable and flexible learning that can be done anytime, anywhere, and easily fit into your busy life


Individual progress tracking for one main account holder and up to three additional household members
Recommended for ages 13 and above
2.5 hours of audio in total, all featuring native speakers
The program comes with a Digital Reading Booklet
You'll be provided with instructions that will enable you to participate in the conversation, so you can improve your Spanish pronunication and comprehension skills. 
Whether you want to travel, communicate with family or friends, or just understand more of what's going on in the world around you, this audiobook contains a range of resources that will help you get closer to your goal. 
=> Listen to "Pimsleur Spanish": get the free audiobook here.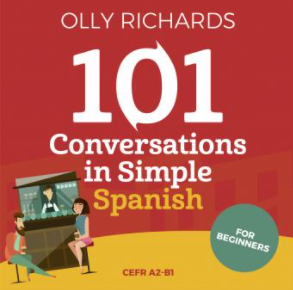 Real Spanish people don't always speak like your textbook… so it's no wonder you feel unprepared when it's your turn to speak! 
In this popular audiobook, you'll learn to speak Spanish in the real world, with 101 authentic conversations in simple, spoken Spanish, so you can become confident in the words and phrases you need to communicate like a local.
What to expect from 101 Conversations in Simple Spanish :
Real, daily spoken Spanish throughout so you can learn the expressions that real people use on the street. 
Situational dialogues from typical daily circumstances, so you'll prepare yourself to survive realistic Spanish encounters, in shops and cafés, and make meeting people and making arrangements second nature.
Each conversation is limited to around 15 lines of dialogue (150 words), so you can get that sense of achievement and motivation that comes from actually understanding what you hear.
Word lists with English definitions in every chapter, so you can get instant translations of any difficult words and focus on listening and enjoying the stories.
You'll be transported into a real-world story that unfolds between six Spanish characters, told by the people themselves in this collection of conversations.
With over 15,000 words included, get ready to immerse yourself in a gripping Spanish drama and get an education in natural Spanish in the process. 
=> Listen to "101 Conversations in Simple Spanish": get the free audiobook here.
Final Thoughts
Thanks for reading this article on the best audiobooks to learn spanish. Of course, the audiobook(s) you choose will depend on your learning goals.
Many students have benefited from listening to a mix of both formal vocabulary lessons and more casual spanish short stories. Both formats can be very educational, and can make your exploration of the Spanish language more enjoyable.
The goal is to listen to an interesting story or lesson for a few minutes each day, to keep your learning interesting earlier than overwhelming.
Once you've downloaded your favourite audiobooks for learning spanish, it makes it easier to listen on the go and make your learning a priority even when you're busy.
Happy listening!

Related: 10 Best Books About Learning
Aug 04, 21 01:26 PM

When it comes to building a successful career, soft skills never go out of style. Here are the best soft skills courses that you can enroll in online.

Jul 26, 21 07:21 PM

I recently enrolled in the Rev it Up Reading course by Abby Marks Beale. Here is my review of the course, to help you decide if it's worth it for you.

Jul 24, 21 06:35 PM

Ever had so much to do that you end up doing nothing at all? I've been there, and I'm sure you have too. Here are the best books about taking action.
If you can see this,  please share this post with the buttons below :)