6 Best Audiobooks for Learning Spanish On the Go (Updated 2023)
Listening to audiobooks is a great way to accelerate your progress as you learn a new language. Here are the best audiobooks for learning spanish.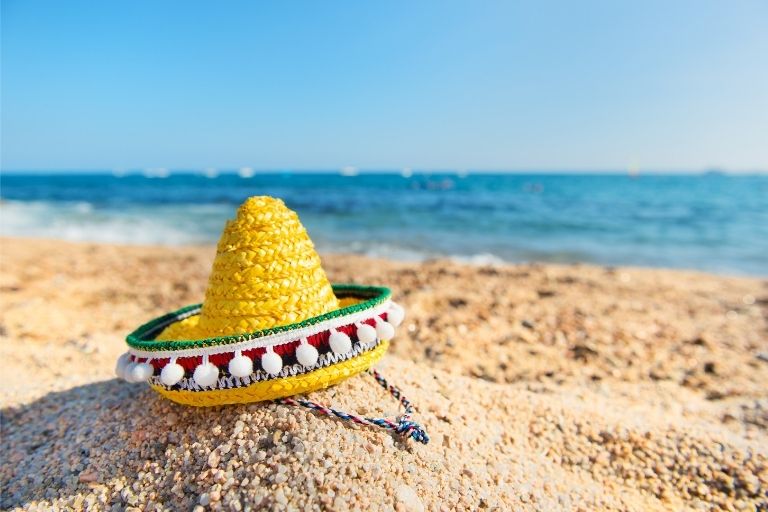 Are you ready to take your knowledge of Spanish to the next level?
Below is a list of the best audiobooks for learning Spanish, to help you absorb new information in a fun and engaging format. 
From experience, I've found that listening to material in a new language is a completely different experience than reading it.
When you're able to hear the way native speakers pronounce certain words, it enables you to identify and fix any mistakes you might currently be making.
Moreover, in many cases, supplementing textbook knowledge with Spanish audiobooks may be just what you need to improve your overall confidence in the language.
This post may contain affiliate links. Please read my disclosure for more information.
What are the Best Audiobooks for Learning Spanish?
Here are 6 of the best audiobooks for learning spanish this year: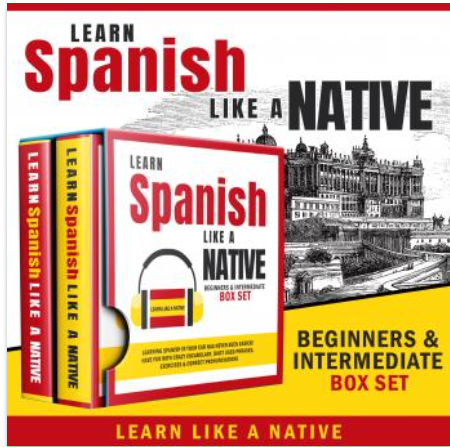 So, it's settled... your next vacation is going to be in Spain!
While planning your trip, you suddenly remember something...
65% of people in Spain don't speak any English at all. And of the remainder, very few speak it well.
You want to make the most of your trip, so you decide to learn Spanish. But you're going to need to learn it fast...
The good news is that with a targeted application, like travel, you can pick up the essentials quickly.
Learn Spanish Like a Native is a beginner to intermediate box set that's designed to quickly get you up to speed in conversational Spanish.  
Rather than bombarding you with tons of confusing grammar, the set focuses on "Just in Time Expertise", encouraging you to pick and choose subject-based chapters based on upcoming situations and needs. 
You'll be educated through dialogue drills that build your conversational muscles and structured exercises that help you to formulate original responses effortlessly.
In addition, the audiobook is narrated by a native Spanish speaker, so the more you listen, the more you'll master the accent. 
=> Listen to "Learn Spanish Like a Native": get the free audiobook here.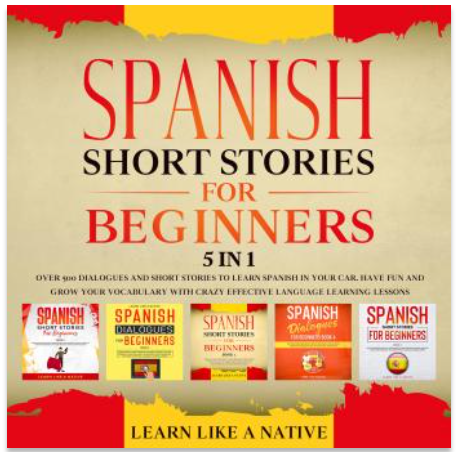 Would you like to harness the power of storytelling as you learn the Spanish language?
This bundle of Spanish-to-English short stories features over 500 simple, easy-to-digest dialogues and daily used phrases that enable you to fast-track the language learning process.

As you listen, you will:

Effortlessly learn basic Spanish with the help of cleverly structured short stories for beginners


Quickly absorb Spanish terms for possessing common everyday objects


Cleverly incorporate prepositions and common present tense verbs for any situation


Easily relay your emotions, questions, likes, and dislikes in Spanish anytime, anywhere
Forget about boring lectures on grammar and endless vocabulary lists. With the help of this audiobook, you'll be able to learn Spanish and immerse yourself in the culture without having to leave the country!
=> Listen to "Spanish Short Stories for Beginners": get the free audiobook here.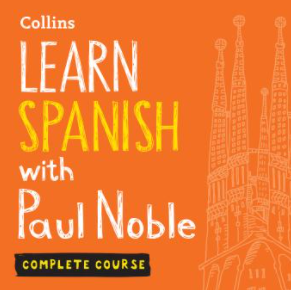 This audiobook by native-speaking Spanish expert Paul Noble is one of the most comprehensive audiobooks for learning Spanish out there.
Unlike more traditional language learning courses, Paul Noble's unique method has no grammar tests or memory drills.
Instead it uses a tried and tested language learning method that has been used by almost a million people to speak fluently and confidently within a short period of time.
This audiobook contains the entire course:
Part one: language ground rules; the use of the past tense; numbers; essential vocabulary to use when booking into a hotel, taking a taxi, and eating out
Part two: asking for directions, verb revision, travelling by bus and train, introducing and talking about yourself
Part three: useful phrases when shopping, vocabulary for conversing with a pharmacist or doctor, practice and revision, the future tense
Course review: an opportunity to revise the full course and practice what you have learnt
All in all, Paul will introduce you to the basics of the Spanish language and guide you through over 6,000 words and 12 hours of everyday scenarios that will build your confidence.
=> Listen to "Learn Spanish with Paul Noble": get the free audiobook here.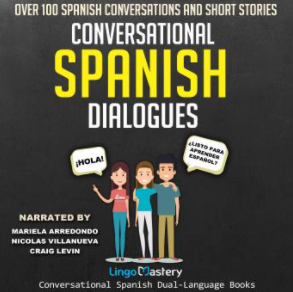 Does conversational Spanish seem a little too tricky for you?
Do you have no idea on how to order a meal or book a room at a hotel? 
This audiobook by Lingo Mastery can help you fix that.
It's a compilation of over 100 basic Spanish stories and their translations that allows new Spanish speakers to learn how to do things like set a meeting, rent a car, or tell a doctor they don't feel well.
Here's how it works:
Each new chapter will have a fresh, new story between two people who wish to solve a common day-to-day issue.
A Spanish version of the conversation will take place first, followed by an English translation. This ensures that you fully understand what was just said. 
Before and after the main section of the audiobook, there is an introduction and conclusion that will offer you important strategies and tips to help you to get the most out of the learning material.
If you feel like you're stuck on words and phrases - or conversations that don't actually go anywhere - this audiobook will help you organize your thoughts so you can have fluent conversations. 
=> Listen to "Conversational Spanish Dialogues": get the free audiobook here.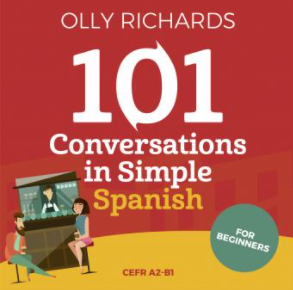 Real Spanish people don't always speak like your textbook… so it's no wonder you feel unprepared when it's your turn to speak! 
In this audiobook, you'll learn to speak Spanish in the real world, with 101 authentic conversations in simple, spoken Spanish.
The goal is to help you become confident in the words and phrases you need to communicate like a local.
In 101 Conversations in Simple Spanish, you can expect:
Real, everyday Spanish throughout to help you learn the expressions that real people use on the street. 
Situational dialogues that prepare you to survive realistic Spanish encounters, such as in shops and cafés, so meeting people and making arrangements will become second nature.
Each conversation is limited to around 15 lines of dialogue (150 words), so you can get that sense of achievement and motivation that comes from actually understanding what you hear.
Word lists with English definitions in every chapter, so you can get instant translations of any difficult words and focus on listening and enjoying the stories.
You'll be transported into a real-world story that unfolds between six Spanish characters, told by the people themselves in this collection of conversations.
With over 15,000 words included, get ready to immerse yourself in a gripping Spanish drama and get an education in natural Spanish in the process. 
=> Listen to "101 Conversations in Simple Spanish": get the free audiobook here.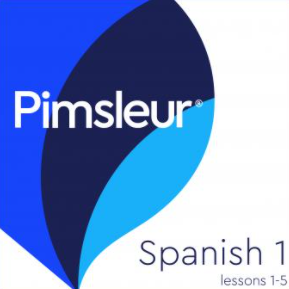 The Pimsleur method is a fast and easy way to learn Spanish.
The program teaches you to become conversational in Spanish -  to understand and be understood - quickly and effectively.
Each lesson provides 30 minutes of spoken language practice, with an introductory conversation and new vocabulary and structures.
Key features of Pimsleur:
Quick and easy audio lessons - Only 30 minutes a day
Portable and flexible learning that can be done anytime, anywhere, and easily fit into your busy life


Individual progress tracking for one main account holder and up to three additional household members
Recommended for ages 13 and above
2.5 hours of audio in total, all featuring native speakers
The program comes with a Digital Reading Booklet
You'll be provided with instructions for participating in practice conversations, so you can improve your Spanish pronunciation and comprehension skills. 
Whether you want to travel, communicate with family or friends, or just understand more of what's going on around you, this scientifically proven program will help you retain more of what you learn, so you can put it into action.
=> Listen to "Pimsleur Spanish": get the free audiobook here.
Final Thoughts
Thanks for reading this article on the best audiobooks for learning spanish. Of course, the audiobook(s) you choose will depend on your learning goals.
Many students have benefited from listening to a mix of both formal vocabulary lessons and casual Spanish short stories.
Both formats can be very educational, and can make your exploration of the Spanish language more enjoyable.
If you can, try to listen to an interesting story or lesson for a few minutes every day, you'll be surprised at how much of a difference it can make!
=> Get a free audiobook for learning Spanish here. 
Happy listening!

Related: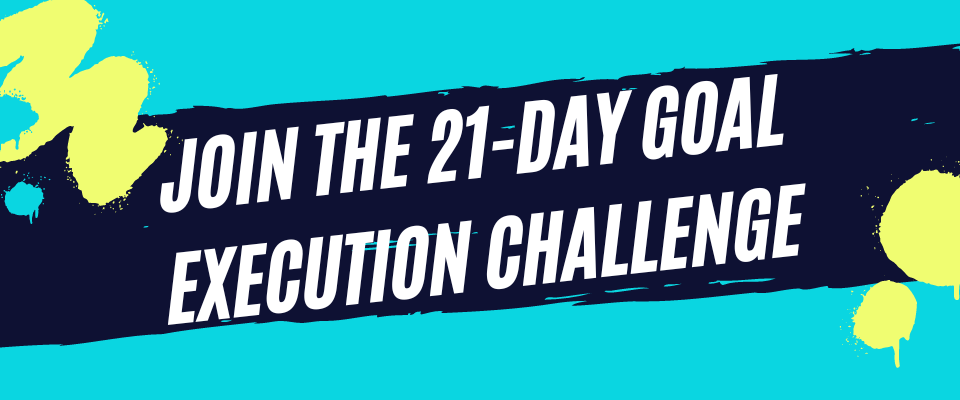 Thanks for reading! If you liked this content, please share below:
Sep 19, 23 07:31 PM

Would you like a stronger mind? Life can be confusing and intense, and that's why training your mind to be stronger than your feelings is crucial.

Sep 18, 23 06:05 PM

Looking for the perfect psychology-themed present for a college student? Here is a roundup of the best gifts for psychology majors.

Sep 16, 23 05:54 PM

Looking for the perfect period table of elements gift? Here are the best periodic table gifts that will spark a reaction from chemistry enthusiasts.