Best Classic Audiobooks for Road Trips
12 Best Classic Audiobooks for Road Trips

Looking for something interesting to listen to while you drive? Here are the best classic audiobooks for road trips.

Perhaps you've always wanted to read the classics - books like The Odyssey, Pride and Prejudice, and Great Expectations - but you just haven't yet found the time. 
That's understandable. Even if you are an avid reader, there are so many classics to explore! 
With this in mind, here is a list of the best classic audiobooks for road trips, to help you make the most of your travel time. 
Listening to these popular classic audiobooks can be a truly relaxing and educational experience to share with friends and family.
This post may contain affiliate links. Please read my disclosure for more information.
What are the Best Classic Audiobooks for Road Trips?
Here are 12 of the best classic audiobooks to enjoy during road trips: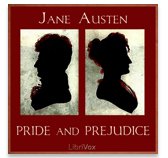 Pride and Prejudice follows the story of the five Bennet sisters' search for the most elusive creature: a single man in possession of a large fortune.
When Elizabeth Bennet first meets eligible bachelor Fitzwilliam Darcy, she thinks him arrogant and conceited; he is indifferent to her good looks and upbeat personality.
Upon discovering that Darcy has involved himself in the troubled relationship between his friend Bingley and her beloved sister Jane, Elizabeth is determined to dislike him more than ever.

In the sparkling comedy and romantic suspense that follows, Jane Austen shines light on the intriguing social dilemmas of provincial middle-class life, and the folly of judging by first impressions. 
=> Listen to Pride and Prejudice: get the free audiobook here.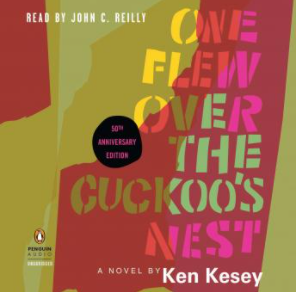 In this classic audiobook, we meet Randle Patrick McMurphy, a boisterous, fun-loving rebel who swaggers into the world of a mental hospital and takes over.
In the novel, McMurphy rallies the other patients around him by challenging the dictatorship of Big Nurse Ratched and openly defying the rules at every turn.
Through its detailed character development, this novel depicts the struggle of the individual against tyrannical institutions and completely redefines conventional notions of sanity and insanity.
=> Listen to One Flew Over the Cuckoo's Nest: get the free audiobook.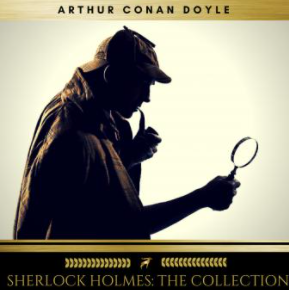 This audiobook collection invites you into the world of Sherlock Holmes, the famous fictional detective created by British author Sir Arthur Conan Doyle. 
As you listen, you will embark on Sherlock's exciting adventures and be presented with the opportunity to learn from his intellectual prowess and skillful use of deductive reasoning. 
This collection includes the following stories:
A Study in Scarlet
The Sign of the Four
The Adventures of Sherlock Holmes
The Memoirs of Sherlock Holmes
The Hound of the Baskervilles
The Return of Sherlock Holmes
The Valley of Fear
His Last Bow
=> Listen to the Sherlock Holmes Collection: get the free audiobook.
Since its publication in 1936, Gone with the Wind has become one of the most popular books ever written, with a million copies sold within its first six months.  
A winner of the Pulitzer Prize, this timeless classic has been heralded by readers worldwide as The Great American Novel. 
Here you'll find the story of Scarlett O'Hara, the spoiled, manipulative daughter of a wealthy plantation owner, who is constantly on the pursuit of that which she cannot have.
In this tale of tangled passion and indomitable will, author Margaret Mitchell brings to life unforgettable characters whose lives and affairs play out against the epic history of the American Civil War and the demise of the Old South.
=> Listen to Gone with the Wind: get the free audiobook here.
The Old Man and the Sea is a tale that remains one of Ernest Hemingway's most enduring works. 
Here we find the story of an old Cuban fisherman and his relentless ordeal with a giant marlin far out in the Gulf Stream - on the water for months without a catch, but refusing to stop trying.
Written and narrated in a heartfelt, contemporary style, this audiobook conveys a powerful lesson on courage and personal triumph for listeners of all ages. 
=> Listen to The Old Man and the Sea: get the free audiobook here.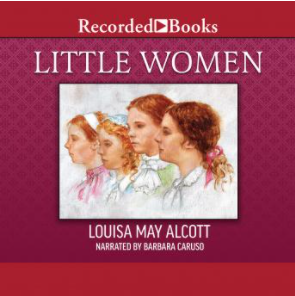 In Little Women, we meet gentle Meg, talented Jo, shy Beth, and sassy Amy.

Together they're the March sisters. Their father is away at war and times are difficult, but the bond between the sisters is strong.
Through their dreams, plays, pranks, letters, illnesses, and courtships, we are presented with a lively portrait of nineteenth-century family life that is loosely based on author Louisa May's own childhood. 
Come laugh and cry with the March Family.
=> Listen to Little Women: get the free audiobook here.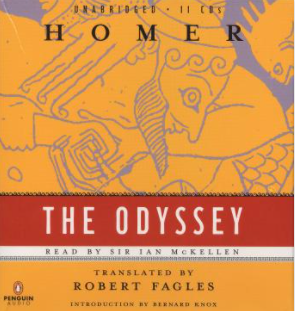 The Odyssey is an epic poem, written by the ancient Greek Philosopher Homer, and is considered to be the second oldest piece of western literature still in existence. 
In this classic audiobook, the energy of Homer's original work is captured with boldness and lyrical mastery, resulting in a gripping account that depicts man's strife-filled journey through life. 
As you listen, you'll follow Greek hero Odysseus on his ten-year journey back home from the Trojan War, where he encounters many obstacles including adverse weather, mythical beasts, and deadly temptations. 
=> Listen to The Odyssey: get the free audiobook here.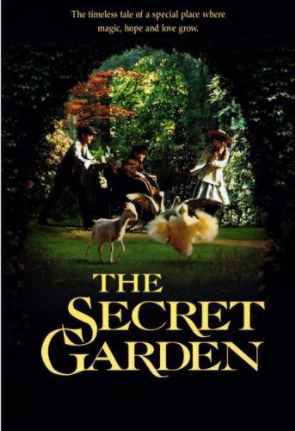 The Secret Garden by Frances Hodgson Burnett is one of the most enduring classics of children's literature, and an engaging audiobook to keep you entertained on road trips. 
When Mary Lennox's parents die from cholera in India, the young orphan is transplanted to Misselthwaite Manor, her uncle's 600-year-old estate on the Yorkshire moors.
At first Mary feels that she is destined for misery in the gloomy surroundings in which her uncle keeps himself locked up. However, when she discovers the manor's long-neglected secret garden, a powerful tale of redemption and regeneration unfolds.
=> Listen to the Secret Garden: get the free audiobook here.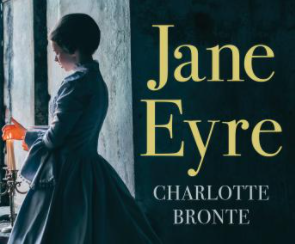 Growing up an unwanted orphan, Jane Eyre has known very little love in her life. 
She has suffered under cruel guardians and a rigid social order - yet she remains a thoughtful, kind, and courageous young woman.
When Jane goes to Thornfield Hall to work as a governess for the moody and mysterious Mr. Rochester, the stage is set for one of literature's great romances.
Jane's and Rochester's apparent differences attract them to each other, but little does Jane know that something far more damaging than social statuses will keep them apart.
=> Listen to Jane Eyre: get the free audiobook here.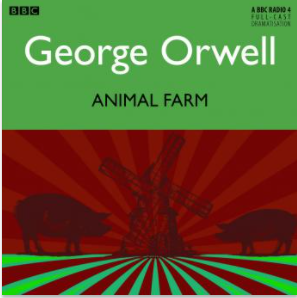 "All animals are equal, but some animals are more equal than others."
George Orwell's Animal Farm is a classic allegorical novel about overworked, mistreated farm animals who set out to create a paradise of progress, justice, and equality. 
One day Mr Jones of Manor Farm is so lazy and drunk that he forgets to feed his livestock. So the animals rebel and take over the farm, under the leadership of the pigs Napoleon and Snowball.
Although the original goal is to eliminate the terrible inequities of the farmyard, as time passes the ideals of the rebellion are corrupted, then forgotten.

=> Listen to Animal Farm: get the free audiobook here.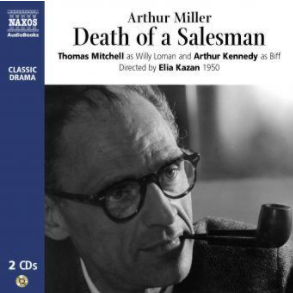 Death of a Salesman is the Pulitzer Prize-winning tragedy of a salesman's deferred American dream.
Ever since it was first performed in 1949, the play has been recognized as a milestone of the American theater.
Willy, is an aging, failing, travelling salesman who relentlessly chases material success. As reality dawns upon him, Willy and his family suffer the tragic cost of his vast and insubstantial ambitions. 
This audiobook depicts the delusional nature of the human condition and expresses the extremes of humour and anguish, promise and loss - all between the four walls of an American living room.

=> Listen to Death of a Salesman: get the free audiobook here.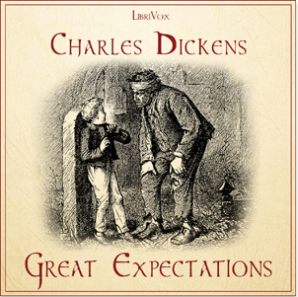 Great Expectations is a classic novel by Charles Dickens that chronicles the life of an orphan named Pip Pirrip, as it is transformed by a vast, mysterious inheritance. 
As he moves from the marshes of Kent to London society, Pip encounters a variety of extraordinary characters: from Magwitch, the escaped convict, to Miss Havisham and her ward, the arrogant and beautiful Estella.

In this fascinating story, Dickens demonstrates the dangers of being driven by a desire for wealth and social status.
Although he initially struggles under the weight of demanding external influences, Pip must eventually chart out his own path and priorities.
=> Listen to Great Expectations: get the free audiobook here. 
Final Thoughts
Thanks for checking out this article on the best classic audiobooks for road trips.
While the above titles are beloved worldwide, they're also known for being longer and a bit more difficult to read than other books.
Therefore, listening to the audio versions while you drive is a great way to consume these literary classics!
Hopefully you've found a few favourites that you can add to the playlist for your next road trip.
=> Get a free classic audiobook of your choice here. 
Enjoy!
Related: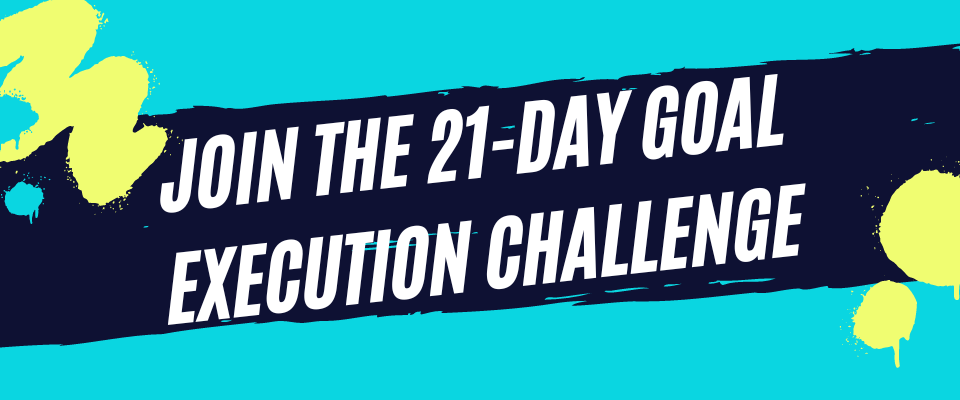 Thanks for reading! If you liked this content, share with a friend:
Dec 09, 23 08:34 PM

Below is a quote from Jhené Aiko's Poetry Book, 2Fish, that is both moving and beautiful. Here's a moment of reflection on the words in the excerpt and the meaning they convey.

Dec 08, 23 08:08 PM

It's an amazing thing to hear a person's life story, read aloud. Here are the best biography audiobooks to give you a peek into different iconic perspectives.

Nov 30, 23 09:41 PM

Would you like to improve your ability to read people? Here are the best body language books that will boost your social intelligence.