Best Design Thinking Courses
7 Best Design Thinking Courses Online to Educate and Inspire You
Here are the best design thinking courses online to educate you on the framework, inspire you to action, and guide you on the path to creating customer value.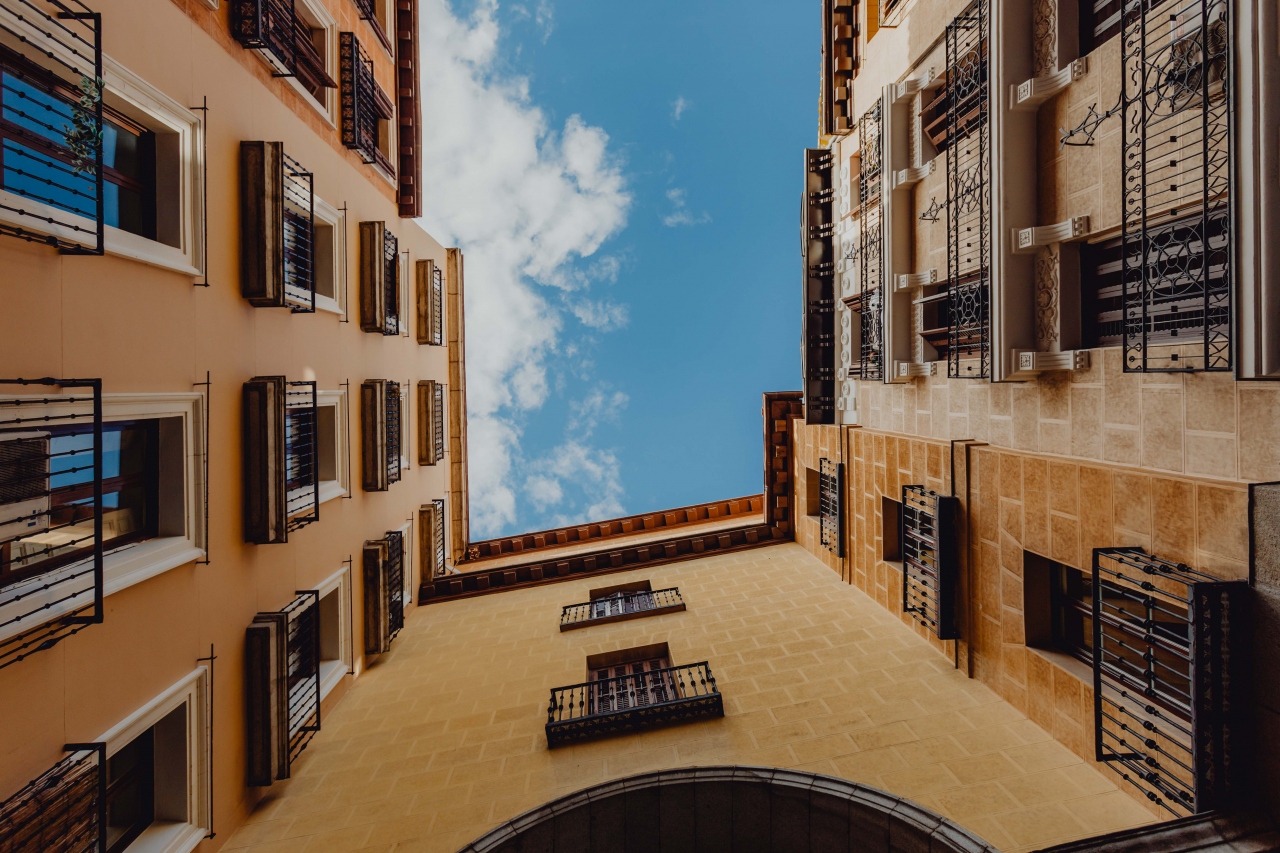 At a very basic level, design thinking is an approach to innovation that's anchored in understanding what the customer really needs, not just what we think they need.
As such, it's a useful methodology that's accessible to anyone and everyone who's willing to dig beyond the surface level and engage in creative problem-solving. 
Here is a list of the best design thinking courses online to support you in implementing this methodology in your business or organization. 
These courses will show you how to draw from the designer's toolkit to create beautiful human-centered solutions, while giving adequate attention to the needs of the business and the constraints of technology throughout the process. 
Ultimately the goal of these courses is to help you become a master chef - not a line cook; so you can take the "design thinking recipe" as a framework, then tweak and iterate as needed.
This post may contain affiliate links. Please read my disclosure for more information.
What are the Best Design Thinking Courses Online? 

Here are the best design thinking courses to enroll in online this year: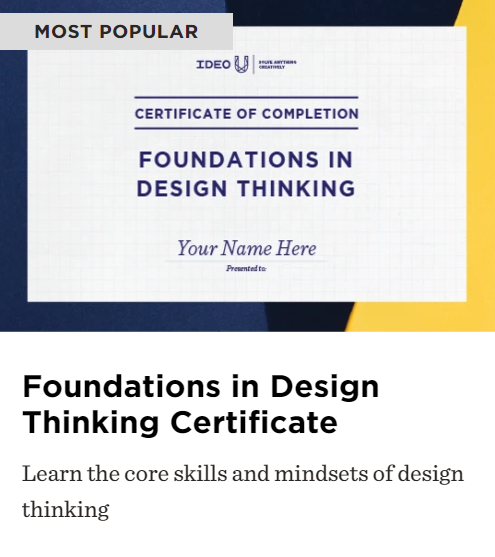 If there's any organization that's qualified to offer a course on design thinking, it's IDEO - the award-winning global design firm that's often credited with inventing the term "design thinking" and its practice.
They've created this Foundations in Design Thinking Certificate to provide learners with a foundational, practical understanding of the essential design thinking skills and mindsets.
The program is composed of two of their popular courses: 
Insights for Innovation (5 weeks)
From Ideas to Action (5 weeks)
You will learn to: 
Understand the social, emotional, and physical needs of your customers
Apply methods that will help you turn your customer needs into human-centered solutions
Use ideation techniques to quickly generate, develop, and test new ideas
De-risk your new ideas by gaining feedback through rapid prototypes
Showcase your new skills through tangible, real-world project challenges, like an insights report or prototypes of products and services.
After completing the two courses, you'll receive your certificate via email as a downloadable PDF within 1-2 weeks, allowing you to share your achievements with your professional network on LinkedIn. 
Key course features: 
100% online  
Format: 2 Cohort Courses
2-3 months 
4 Hours / Week 
=> View the Syllabus for the Foundations in Design Thinking Course.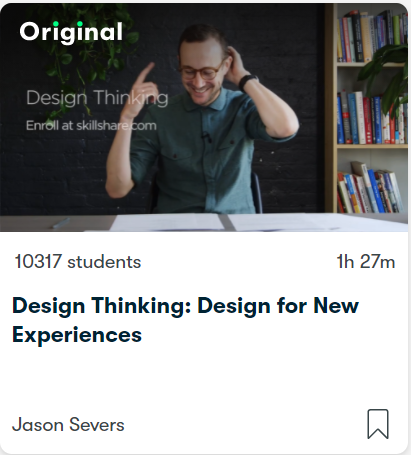 What if you could use design thinking to redesign everything around you?
In this 90-minute class, instructor Jason Severs shows us how to think creatively and purposefully to approach everyday problems from a fresh slate.
As the Executive Creative Director at Frog, a global design consultancy, Jason has led practices such as creative facilitation, information design, and data visualization across the company's diverse portfolio. 
In this class, he covers a range of design thinking topics such as research, ideation, storytelling, and strategy. 
Class Syllabus: 
Trailer
Introduction 
Core Idea: Discovery
Research: Big Ideas and Tactics for Interviews
Research: Observations
Synthesis: Organizing Insights 
Class Project: The Journey Map 
Ideation: Questions and Random Entry 
Ideation: Design and Emotion 
Storytelling: Communicating for Resonance
Conclusion 
Explore Design on Skillshare
As you progress through the class, you'll think deeply about how designers organize, arrange, and systemize things in our world, hinging on the experience of going through a grocery store. 
You'll also learn how to make acute observations about the processes at work around you, and how to capture your thinking in notes, photographs and sketches.
In addition, to help you put everything in practice, you'll be challenged with a special class project: redesigning the grocery store and creating "before" and "after" journey maps that communicate your strategy.
=> Sign up for free and enroll in the Design for New Experiences class.

Design-Led Strategy is a course that's designed for entrepreneurial managers who are looking for tools and techniques to convert high-quality customer insights into innovative products and services.
The course builds on the concept of design thinking and applies it to advanced business strategy and entrepreneurship.
You will learn what "design strategy" is, how it differs from traditional design thinking and business strategy, and how it can be used to improve existing products or services in your business, or introduce breakthrough ideas. 
Course Syllabus: 
Week 1: What is a Design-Led Strategy? 
Week 2: Primary Market Research and Problem Statement Definition
Week 3: Prototyping and Product Ideation
Week 4: Design-led Strategy in Practice: Corporate Case Studies
Interestingly, you'll get to deep-dive into the practical application and impact of design-led strategies by looking into one of Australia's newest, most innovative financial institutions, UBank, and the global reinsurance giant, Swiss Re. 
Through conversations with their senior executive leadership teams, you'll gain useful insights that you can use to inform product design and development for your own start-up, or to extend the product roadmap of an established organization.
Key course features: 
Flexible deadlines
Reset deadlines in accordance with your schedule.
Shareable Certificate
Earn a Certificate upon completion.
100% online
Start instantly and learn at your own schedule.
Intermediate Level
Approx. 20 hours to complete
English
Subtitles: Arabic, French, Portuguese (European), Italian, Vietnamese, German, Russian, English, Spanish.
=> Enroll in the Design-Led Strategy online course here.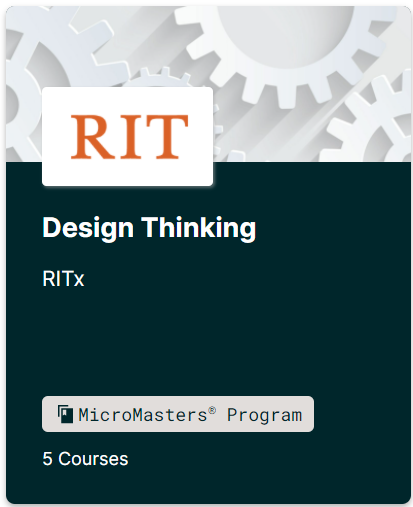 According to a recent report by Burning Glass Technologies, around 239,000 jobs were posted within the last year that mentioned design thinking as a required skill set. 
Why has design thinking become so sought-after in today's job market?
Well, employers in all industries are looking for candidates that have the problem solving, creativity, critical thinking, and analytical skills needed to lead their companies into a successful future. 
This Design Thinking MicroMasters program on Edx is designed to equip you with those exact skills.
Edx MicroMasters programs are a series of graduate level courses from top universities around the globe. They provide deep learning in a specific career field and are recognized by employers for their real job relevance.
In this course, you will learn how to use the design thinking process to solve problems creatively, collaboratively and empathetically.
Program Syllabus: 
Design Thinking Fundamentals 
Empathizing to Understand the Problem 
Ideation, Iteration, and Communication 
Prototyping and User Testing 
Design Thinking Capstone 
This program is estimated to take about 8 months to complete, with about 8-12 hours of effort invested each week.  
=> Enroll in the Edx MicroMasters® Program in Design Thinking here.

Do you work for a nonprofit or in the social sector?
In this course by the University of Virginia, you will discover how design thinking can help you truly understand an issue, generate ideas worth testing, and iterate to find solutions that make a real difference. 

You will learn: 
What design thinking is and when to use it
How to prepare to see and take action when opportunity arises
How to use design thinking to generate innovative ideas


Course Syllabus: 
Week 1: Design Thinking Fundamentals
Week 2: Before You Begin, and Asking "What Is?"
Week 3: A Mindset for Innovation, and Asking "What If?"
Week 4: Asking "What Wows?" and "What Works?"
As you explore stories from areas as diverse as government, health care, and education, you'll familiarize yourself with the strategies needed to implement a human-centered approach to problem solving within your organization, so you can truly meet the needs of the people you serve. 
Key course features: 
Flexible deadlines
Reset deadlines in accordance with your schedule.
Shareable Certificate
Earn a Certificate upon completion
100% online
Start instantly and learn at your own schedule.
Beginner Level
No prior experience needed to participate in and benefit from this course.
Approx. 8 hours to complete
English
Subtitles: Arabic, French, Portuguese (European), Italian, Vietnamese, German, Russian, English, Spanish. 
=> Enroll in the Design Thinking for the Greater Good course here.


Compared with some of the other design thinking courses on this list, this Udemy course is designed for a wide range of professionals and absolute beginners to design thinking. 
Whether you're a business leader wanting to better understand what the designers at your company do, or a generalist wanting to break out of your usual problem solving patterns, this course will help you get there.

You will learn to: 
Apply the design thinking framework to solve problems more creatively
Create prototypes to test your idea early, before making a big investment of time and money
Understand problems from the customer's perspective
Guide groups to effectively brainstorm innovative ideas
Plan and conduct effective design research, including user interviews
Make and use a storyboard to communicate your design ideas
Identify your design research objectives
Make a plan to iterate your idea forward
At the end of the course, you'll practice design thinking on a real-life project that you can add to your portfolio and use to showcase your new skills. 
Key course features: 
1.5 hours on-demand video
15 articles
3 downloadable resources
Full lifetime access
Access on mobile and TV
Certificate of completion
=> Enroll in the Design Thinking in 3 Steps online course here.

If you're looking for a course that offers insights on design thinking within the context of other key business topics, then this four-part specialization on Coursera is for you. 
The course takes a look at the inner workings of a dynamic enterprise and explores a conglomerate of essential skills, ranging from design thinking and digital transformation, to product management and IT.
You will learn how to: 
Utilize the Boston Consulting Group's digital transformation framework as a "how-to" for digitizing your organization


Integrate relevant, actionable analytics into your product program
Analyze the many ideas you generate and determine which ones are likely to produce specific, desired outcomes
Program Syllabus: 
Course 1: Digital Transformation 
Course 2: Design Thinking for Innovation 
Course 3: Digital Product Management: Modern Fundamentals
Course 4: Customer-Centric IT Strategy
Not only will this course help you become a more innovative thinker, it will also help you uncover creative opportunities within various organizational areas that you may not have had a chance to explore before.
For example, you'll learn about the major challenges within corporate IT, and how to address them with the disciplined use of design thinking.
Key course features: 
Shareable Certificate
Earn a Certificate upon completion.
100% online courses
Start instantly and learn at your own schedule.
Flexible Schedule
Set and maintain flexible deadlines.
Beginner Level
No prior experience required.
Approximately 4 months to complete
Suggested pace of 2 hours/week
English
Subtitles: English, Arabic, French, Portuguese (European), Italian, Vietnamese, Korean, German, Russian, Spanish, Chinese (Traditional), Hungarian.
=> Enroll in the Leading the Modern Day Business Specialization here.
Final Thoughts
Thanks for checking out this post on the best design thinking courses online. Of course, the particular course(s) you enroll in will depend on your particular learning objectives and goals. 
Ultimately, as you dive deeper into the world of design thinking, you'll learn to view everyday problems from a creative and unconventional lens, enabling you to discover more of the golden opportunities around you that are hidden in plain sight. 
Happy learning!
Related: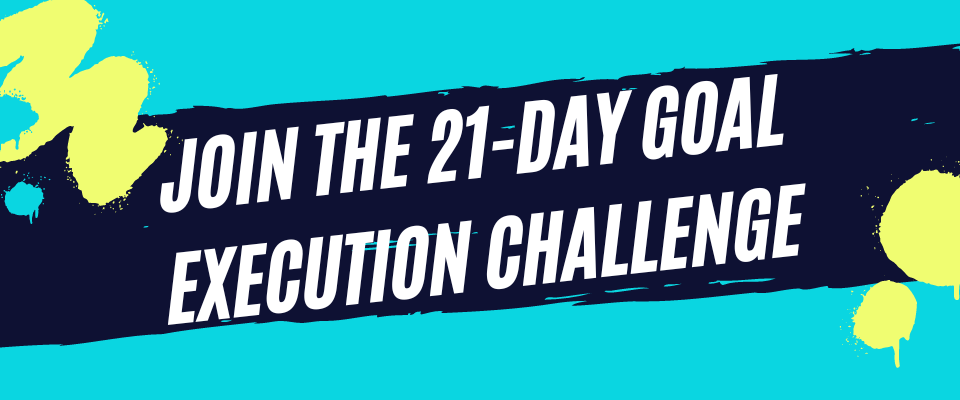 Thanks for reading! If you liked this content, share with a friend:
Dec 09, 23 08:34 PM

Below is a quote from Jhené Aiko's Poetry Book, 2Fish, that is both moving and beautiful. Here's a moment of reflection on the words in the excerpt and the meaning they convey.

Dec 08, 23 08:08 PM

It's an amazing thing to hear a person's life story, read aloud. Here are the best biography audiobooks to give you a peek into different iconic perspectives.

Nov 30, 23 09:41 PM

Would you like to improve your ability to read people? Here are the best body language books that will boost your social intelligence.