7 Best UX Design Courses Online to Transform Your Design Skills (2023)

Here are the best UX design courses to help you master the principles of UX design and gain experience in creating beautiful end user experiences.
UX design skills are incredibly valuable in today's economy.
After all, which organization could survive without designers who are able to create meaningful and functional products that make life easier for customers? 
Below is a list of the best UX design courses to guide individuals who are either looking to start a career in UX design or build on their current skills. 
These courses will deepen your understanding of the entire UX design process through instruction from experienced designers. You'll also have opportunities to engage in fun projects that stretch both your creative and technical abilities, helping you become a better UX designer. 
This post may contain affiliate links. Please read my disclosure for more information.
What Are the Best UX Design Courses Online? 

Here are the best UX design courses to enroll in online this year: 

This popular UX design course on Coursera offers a practical approach to UX Design that's centered on a visual communications perspective, rather than being focused on marketing or programming alone.
Through a sequence of four courses, you will summarize and demonstrate all stages of the UI/UX development process, from user research to defining a project's strategy, scope, and information architecture, to developing sitemaps and wireframes.
You'll also learn current best practices and conventions in UX design and apply them to create effective and compelling screen-based experiences for websites or apps.
Program Syllabus: 
Course 1: Visual Elements of User Interface Design
Course 2: UX Design Fundamentals
Course 3: Web Design: Strategy and Information Architecture
Course 4: Web Design: Wireframes to Prototypes
Key course features: 
Shareable Certificate

Earn a Certificate upon completion.
100% online

Start instantly and learn at your own schedule.
Flexible deadlines
Reset deadlines in accordance with your schedule.
Beginner Level
No prior experience required.
Approx. 4 months to complete
English
Subtitles: English, French, Portuguese (Brazilian), Russian, Spanish
User interface and user experience design is a high-demand field, but the skills and knowledge you will learn in this specialization are applicable to a wide variety of careers, from marketing to web design to human-computer interaction.
=> Enroll in the UI/UX Design Specialization course here.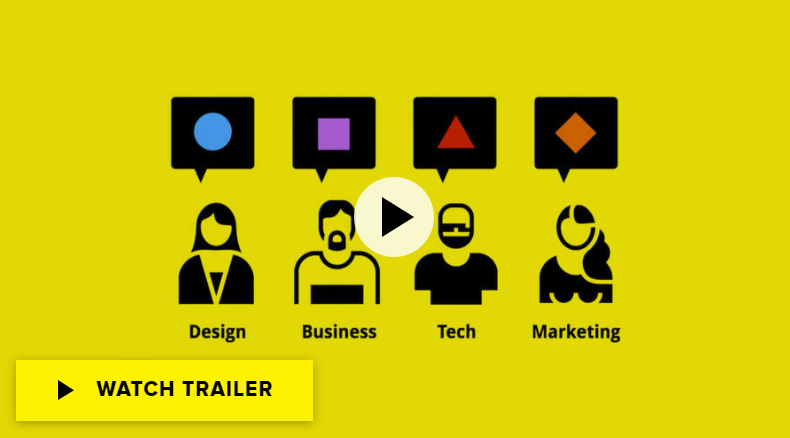 CreativeLive is the world's largest live streaming education company, and they currently offer a UX Design Bundle that includes the following four classes: 
Intro to UX Design
Fast and Effective UX Design: Learn the Process
App Design: Create a Working Prototype
Website Planning and Wireframing
In this beginner class, industry expert Jamal Nichols will explain what UX is and how to incorporate it into your work to create more meaningful experiences.
In this class, Jamal covers:
What UX design is and why it's important
Core principles and methods of UX design
The traits of a good UX designer
Class 2: Fast and Effective UX Design: Learn the Process
Navigating the UX design of a digital project can take weeks and even months - in this course, design veteran Jose Caballer boils it down into just one action-packed session with a real client.
After this class, you'll be able to: 
Create and interpret user profiles

Accurately assess business goals and requirements

Sketch wireframes for a website and mobile app

Facilitate an efficient UX design session with tools that work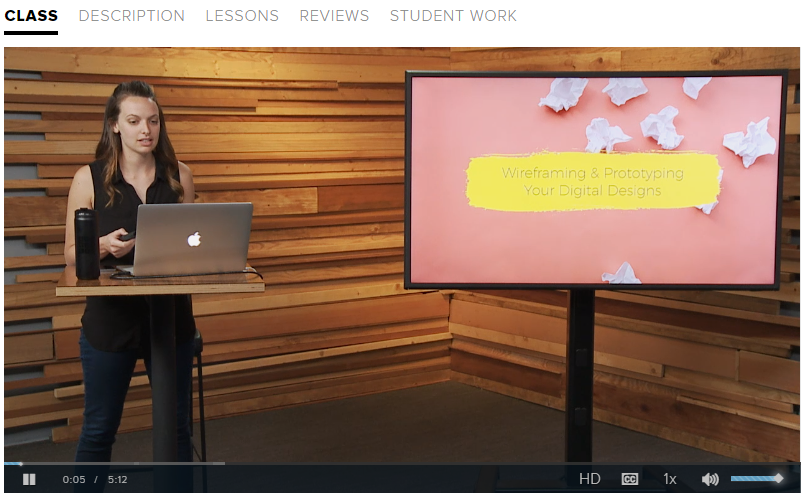 Preview of Introduction to Prototyping Class in UX Design Bundle
Class 3: App Design - Create a Working Prototype
Join expert web/UX designer Alexandra Moran to learn how to use the industry's most effective methods for prototyping your mobile app (no coding required).
In this class, you'll learn:
How to use the software Sketch and InVision for prototyping
How to storyboard your app, working out the product flow before spending resources on coding and building
How to integrate user testing into the prototyping process
Class 4: Website Planning and Wireframing
Wireframing streamlines the process of designing and prototyping by stripping a website or app down to its most practical, feature-based foundations.
In this class, you'll learn: 
The fundamentals of Sketch software
How to separate your site's content from its visual design
How to anticipate the needs of the end user and make a website that will engage them
Of course, the above UX design classes can all be purchased individually, but the bundle is a good way to save money while getting the most out of your learning. 
=> Get the CreativeLive UX Design Bundle here. 
Adobe XD is a popular design tool used by industry professionals to produce high quality & functional mockups. In this course taught by Adobe Certified Instructor Dan Scott, you will learn how to use Adobe XD to produce effective UX and UI designs.
Throughout this course you'll be invited to participate in a real-life freelance project where you design a fresh website and mobile app interface. This will prepare you for dealing with real world projects if you choose to move towards a UX/UI career path.
In this course you will: 
Build a UX project from beginning to end

Learn professional workflow tricks & shortcuts

Create your first UX brief & persona

Build a mobile app prototype that responds to voice command

Send your designs for feedback & commenting

Learn how to send your finished work to other professionals in the correct formats
Key course features: 
13 hours on-demand video

69 downloadable resources

Full lifetime access

Access on mobile and TV

Assignments

Certificate of completion
An important part of maximising your UX Design workflow is being able to utilise other software such as Photoshop and Illustrator. This course will teach you how to make use of both to help boost your XD productivity.
=> Enroll in the User Experience Design Essentials Course here.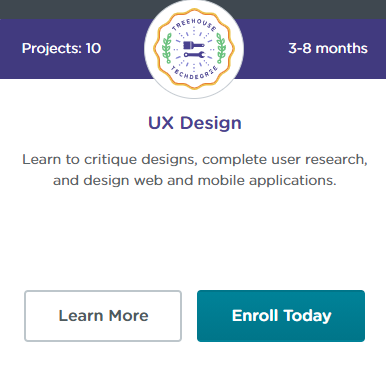 If you're looking for something even more extensive, you could consider enrolling in the UX Techdegree offered by Treehouse.

The UX Techdegree is a bootcamp-tier program that guides you through a full curriculum of UX design courses. In addition, it includes a portfolio of curated projects, workshops, quizzes, and access to the exclusive Treehouse Slack community.
After completing the Techdegree, you'll have a well-rounded portfolio of projects to demonstrate your newly-acquired expertise:
Project 1: Redesign a T-shirt Website
Project 2: Wireframing a T-Shirt Website
Project 3: Mockup a T-Shirt Website
Project 4: Research a Grocery App
Project 5: Prototype a Grocery App
Project 6: Testing a Grocery App
Project 7: Designing a Task Flow
Project 8: Testing a Flow
Project 9: Mockup and Present a Task Flow
Capstone: UX Portfolio
This program is designed to help you build a portfolio, create a network, and become job-ready within a matter of months.
Note:
Apart from the Techdegree, Treehouse also offers three mini-programs (called Tracks) centered around UX design. When you sign up with Treehouse, you gain access to the entire Treehouse course library, so you can go on to learn other tech skills too.
=> Sign up here and get access to 7 days of free learning on the Treehouse platform. 

Great design doesn't come out of nowhere; it is born, nurtured, and grown - all through a systematic, learnable process. 
In this UX course offered by the University of Michigan, you will explore the process of taking a basic concept, grounded in user needs, and developing it into a design that will address those needs.
You will gain hands-on experience with techniques such as sketching, scenario development, storyboarding, and wireframing that will help you transform your understanding of what your users need into a compelling user experience.
Course Syllabus: 
Week 1: Introduction to the Design Process

Week 2: Ideation

Week 3: Design Constraints and Making Choices

Week 4: Building Blocks of User Interaction

Week 5: Low to Hi-Fidelity Prototyping

Week 6: Conceptual Issues in Prototyping and Design
Key course features: 

Shareable Certificate

Earn a Certificate upon completion.
100% online

Start instantly and learn at your own schedule.
Flexible deadlines
Reset deadlines in accordance with your schedule.
Beginner Level
Approx. 14 hours to complete 

English

Subtitles: French, Portuguese (Brazilian), Vietnamese, Russian, English, Spanish
=>
Enroll in the UX Design: From Concept to Prototype course here
. 

This highly-rated course on Udemy will show you how to bake UX into your workflow by following a proven, user centred design framework.
As you take this course, you'll gain hands-on practice in all the key areas of UX -  from interviewing your users through to prototyping and usability testing your designs.
In this course, you will: 
You'll also build a UX portfolio to boost your job prospects as you complete five real-world sample projects, such as:
Gift Giver, a gift recommendation system based on an extremely accurate product recommendation technology.




The Citizen Journalist: a system that will allow ordinary people to film events, take photographs, write a story and create a crowdsourced, online newspaper.




The Digital Postcard, an app that will allow users to create and send their own postcard, either by using a photograph they have taken on their phone, or by selecting a professionally taken image of a local beauty spot.
Additionally, this UX design course covers the comprehensive syllabus for the BCS Foundation Certificate in User Experience. It contains 90 multiple-choice quiz questions to help you test your knowledge and prepare for the exam.
=> Enroll in the Ultimate Guide to UX course here. 
The Product Design Master Course by DesignerUp is a tailored program to learn product (UI/UX) design through original, instructor-led lessons at your own pace.
This course covers everything from user research, typography, to component design, information architecture, business strategy and more. 
Course Syllabus: 
01 - Course Intro 
02 - How to Think and Communicate 
03 - UX Research and Design 
04 - Project and Business Requirements 
05 - Information Architecture and User Interaction Design 
06 - Design Fundamentals and Branding 
07 - Design Principles 
08 - User Interface Design 
09 - Designing the MVP
10 - Optimizing your Workflow
11 - Capstone/Final Project 
This is one of the best UX design courses for personalized support.
There will be 5, 1 hour sessions (or the equivalent thereof) with your instructor through a private chat channel that you can use anytime to discuss your coursework, designs or career.
Key course features:
74+ Lessons 
11 Modules 
Direct instructor access
Interactive lessons
Quizzes
Downloadables and resources
The insights gained in this course are applicable whether you are a beginner to UI/UX or a designer that wants to master product design.
DesignerUp also offers a more affordable, self-guided course called the Product Design Manual. 
The Manual contains the same lessons, quizzes and assignment prompts as the Product Design Master Course, but does not include 1:1 private instruction, assignment feedback, career guidance or certificate of completion.
The manual is self-directed, on-demand content while the master course is more of a bootcamp-style, instructor lead experience.
=> Learn more about these two Product Design UI/UX courses here. 
Final Thoughts 
Thanks for checking out this article on the best UX design courses online. Of course, the course(s) you decide to take will depend on your desired outcome in terms of your personal and professional goals. 
UX design is a very rewarding career because it essentially involves speaking to users, learning how they go about their lives, and creating products that enhance their experience.
By taking a UX course, you'll learn how to navigate the combination of methods and tools that allow designers to solve real problems and craft truly functional, useful, and enjoyable designs.
Related: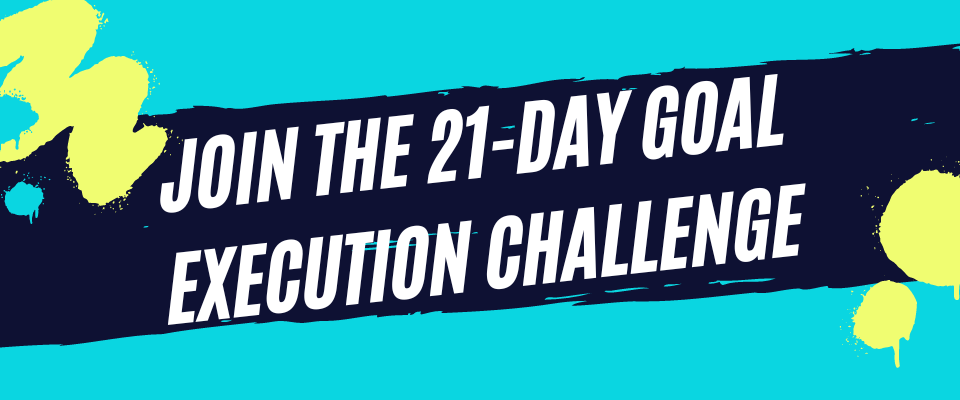 Thanks for reading! If you liked this content, share with a friend:
Dec 09, 23 08:34 PM

Below is a quote from Jhené Aiko's Poetry Book, 2Fish, that is both moving and beautiful. Here's a moment of reflection on the words in the excerpt and the meaning they convey.

Dec 08, 23 08:08 PM

It's an amazing thing to hear a person's life story, read aloud. Here are the best biography audiobooks to give you a peek into different iconic perspectives.

Nov 30, 23 09:41 PM

Would you like to improve your ability to read people? Here are the best body language books that will boost your social intelligence.