5 Best Tony Robbins Audiobooks That Will Get You Motivated (& Free)
Here are the best tony robbins audiobooks that allow you to enter the world and mindset of America's no.1 life and business strategist.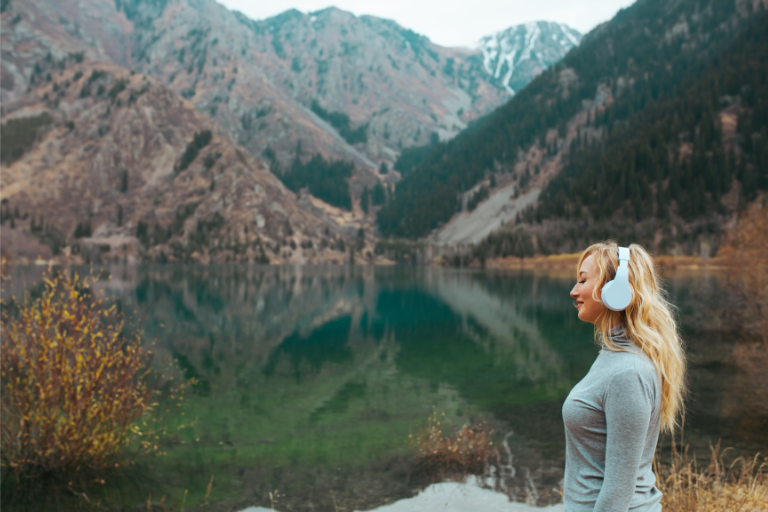 If you're familiar with the personal development space, there's a 99.9% chance that you've heard of Tony Robbins. 
Robbins is a world-renowned author, speaker, and philanthropist known for his high-impact, high-energy, life coaching seminars that quickly sell out stadiums. 
Once upon a time, Robbins started out as a broke janitor who was dealing with the aftermath of a troubled childhood.
Today, however, he is the world's most famous motivational speaker, and has built a business empire that generates over $6 billion in sales annually.
His journey could be described as the epitome of rags-to-riches stories!
Below is a list of the best tony robbins audiobooks that can empower you to reach your own big, audacious goals.
This post may contain affiliate links. Please read my disclosure for more information.
What are the Best Tony Robbins Audiobooks? 

Here are 5 of the best Tony Robbins audiobooks to give you a boost of motivation: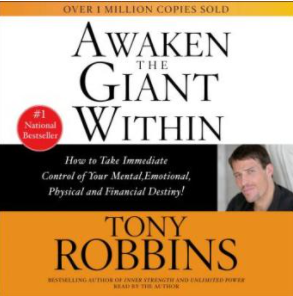 Do you ever feel that a lack of confidence and clarity holds you back from setting and achieving long-term goals?

In Awaken the Giant Within, Robbins shows you how to break down such barriers and move towards a more purposeful life by redefining yourself, your big why, and your identity.
Through a series of fundamental lessons and examples, he provides a step-by-step program for mastering your emotions, body, relationships, finances, and life.
As Robbins explains, when we are willing to take the plunge and make big changes in our lives, our returns will match our effort. 
=> Listen to Awaken the Giant Within: get the free audiobook here.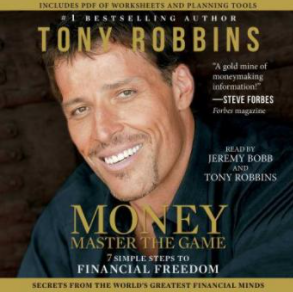 In Money: Master the Game, Tony Robbins addresses a topic that often perplexes us all: How to secure financial freedom for ourselves and for our families.
Based on extensive research and interviews with some of the most legendary investors at work today, Tony Robbins has created a blueprint for transforming your finances.
This audiobook is designed for listeners of every income level and uses metaphors and stories to illustrate even the most complex financial concepts - making them simple and actionable.
By the end, you'll have discovered how to set up a "lifetime income plan" that will enable you to take control of your money matters and become financially free. 
=> Listen to Money: Master the Game: get the free audiobook here.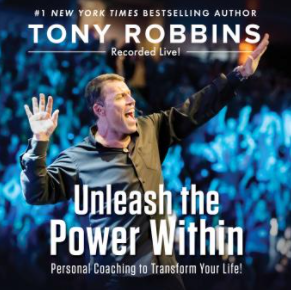 What are you most excited about? What are you grateful for?
How do you really want to live? 
Each of us can accelerate our personal growth by uncovering and seeking to understand our own internal motivations. 
Unleash the Power Within is an exciting live audio seminar by Tony Robbins where you'll discover how to tap into your personal resources, transform your limiting beliefs, and add new meaning to your life. 
You'll learn to:
Break unproductive old patterns 
Become a decisive person who takes massive, intelligent action
Find and develop a strategy of success

Have more confidence and self-esteem
Generate more passion and enthusiasm

Discover what drives you and what holds you back
Develop new communication skills, and much more!
=> Listen to Unleash the Power Within: get the free audiobook here.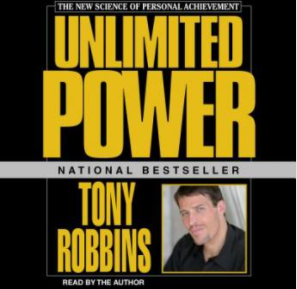 Unlimited Power is an audiobook that eloquently reveals the science of personal achievement. 
As Robbins explains, whatever you think will be, your state of mind determines what you can and can't do, and all successful results can be modeled and duplicated. 
You will learn: 
How to find out what you really want
The Seven Lies of Success
How to reprogram your mind in minutes to eliminate fears and phobias
The secret of creating instant rapport with anyone you meet
How to duplicate the success of others
The Five Keys to Wealth and Happiness

Overall, this mindset audiobook will show you how to perform at your peak while gaining emotional and financial freedom, attaining leadership and self-confidence, and winning the cooperation of others. 
=> Listen to Unlimited Power: get the free audiobook here.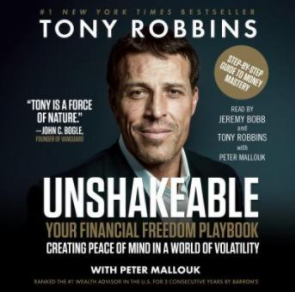 After you've listened to Money: Master the Game, Unshakeable is another popular Tony Robbins audiobook to add to your list. 
In this financial freedom playbook, Tony has teamed up with Peter Mallouk, the only man in history to be ranked the #1 financial advisor in the United States for three consecutive years by Barron's Magazine.
You will learn:
How to put together a simple and actionable financial plan 
Strategies from the world's top investors on how to protect your finances and maximize profit from inevitable market crashes and corrections 
A few simple steps that can bring you a decade or more of additional retirement income 
How to avoid the hidden fees and half truths of Wall Street that big firms use to keep you overpaying for underperformance
By the end, you'll have gained useful insights for becoming unshakeable - someone who can maintain peace of mind and even thrive in a world of economic volatility and unprecedented change, like the current pandemic.
=> Listen to Unshakeable: get the free audiobook here.
Bonus! Other Books That Tony Robbins Recommends:
Looking for more? Here are a couple more audiobooks that Tony Robbins recommends: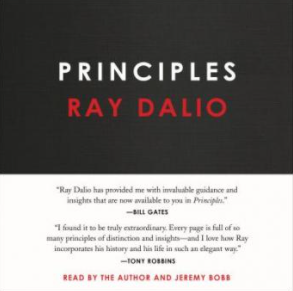 Principles is a book by Ray Dalio, one of the world's most successful investors and a close friend of Tony Robbins. 
Dalio's company, Bridgewater, is the biggest hedge fund in the world, and has grown into the fifth most important private company in the United States, according to Fortune magazine.
In this audiobook, he shares what he's learned over the course of his remarkable career. It is these principles, and not anything special about himself, that Dalio believes are the reason behind his success.
=> Listen to Principles: get the free audiobook here.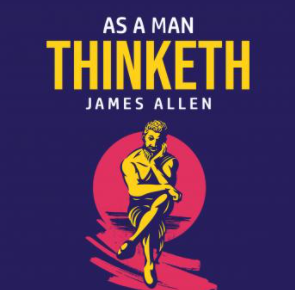 According to Robbins, As a Man Thinketh by James Allen is a book that he has read dozens of times and often gives as a gift because of it's simple yet profound message. 
Originally published in 1903, this classic bestseller reveals a fundamental truth of human nature: "A man is literally what he thinks." 
Allen explains that our character, identity, ability, and success are all determined by our mental state. Instead of finding ourselves victims of the world, each and every one of us has the ability to shape and define our own future. 
=> Listen to As a Man Thinketh: get the free audiobook here.
Final Thoughts
Millions of people have enjoyed the warmth, humour, and transformational power of Robbin's reflections on business and personal development.

By listening to and learning from the lessons in the above Tony Robbins audiobooks, you will discover how to confront your fears, raise your standards, and build the confidence you need to achieve those seemingly impossible goals. 
After all, it all starts with self-belief. 
=> Get a free Tony Robbins audiobook of your choice here.
Happy listening!
Related: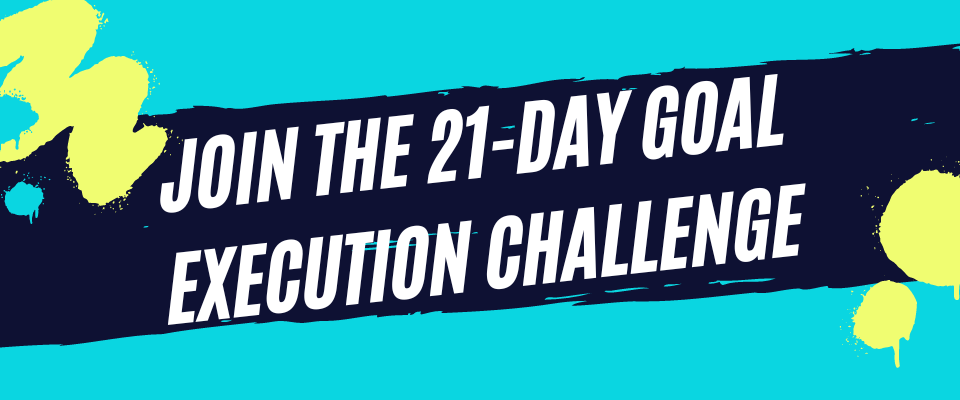 May 26, 23 08:35 PM

Need help configuring and optimizing Zendesk? Here are the best Zendesk consultants and specialists to work with online.

May 24, 23 07:08 PM

Need help creating effective and appealing packaging for your product? Here are the best packaging design consultants and experts to work with online.

May 19, 23 06:41 PM

Looking for a linkedin expert to help you optimize your profile or LinkedIn marketing strategy? Here are the best LinkedIn coaches to work with online.
If you can see this,  please share this post with the buttons below :)