Emotional Intelligence Audiobooks
9 Best Emotional Intelligence Audiobooks to Make You More Resilient 
Here are the best emotional intelligence audiobooks that enable you to absorb empowering reflections and reminders as you go about your day. 
Listening to audiobooks can put you in a better frame of mind when you've had a rough day. 
This is especially true of emotional intelligence audiobooks, which provide valuable reminders to help you gain a clearer perspective on issues that may be stressing you out. 
With this in mind, here is a list of the best emotional intelligence audiobooks that you can listen to during your spare time. 
Not only will these audiobooks help you calm down and relax, they'll also refine your decision-making abilities, so you can effectively manage both your emotions and those of others around you. 
This post may contain affiliate links. Please read my disclosure for more information.

What are the Best Emotional Intelligence Audiobooks?

Here are 9 of the best emotional intelligence audiobooks of all time: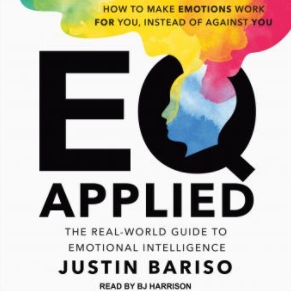 EQ Applied by Justin Bariso brings the concept of emotional intelligence into the real world, combining scientific research with high-profile examples and personal stories.
In this engaging audiobook, you'll discover how to channel your strongest feelings in a way that helps you break down barriers and improve the quality of your relationships.
You'll learn about how thoughts and habits affect emotions, how to replace bad habits with healthier ones, and how to be aware of subtle emotional traps - such as when being empathetic can actually get you into trouble...
As you listen, you'll be guided through a set of practical exercises that will increase your understanding of yourself and your emotional reactions, so you can confidently make emotions work for you, instead of against you. 
=> Listen to EQ Applied: get the free audiobook here.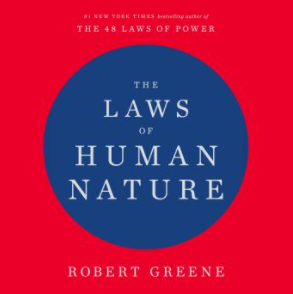 Next, I've listed a popular title that might not necessarily come to mind when you think of emotional intelligence audiobooks - The Laws of Nature by Robert Greene. 
Why did I include it?
Well, a critical aspect of emotional intelligence involves understanding people's drives and motivations, even when they are unconscious of them themselves.
That's what this New York Times bestseller is all about: observing and decoding the behaviour of the people around you. 


Drawing from the ideas and examples of well-known leaders, Greene teaches us how to detach ourselves from our own emotions and master self-control, so we can peek behind the walls that people put up and develop the kind of empathy that leads to insight. 
=> Listen to The Laws of Human Nature: get the free audiobook here.

This audiobook is written and narrated by Daniel Goleman, widely-acclaimed EQ expert and author of the iconic book originally published in 1995: Emotional Intelligence: Why It Can Matter More Than IQ. 
In the Brain and Emotional Intelligence, Goleman shares simple yet fascinating insights on what we now know about the brain basis of emotional intelligence. 
You will learn about:
The answer to the big question that's often asked in academic circles: "Is there such an entity as 'emotional intelligence' that differs from IQ?"
The brain circuitry for drive, persistence, and motivation
The social brain: rapport, resonance, and interpersonal chemistry
Brain 2.0: our brain on the web
The varieties of empathy and key gender differences
The dark side: sociopathy at work
Neural lessons for coaching and enhancing emotional intelligence abilities
While the material in this book is aimed at educators and coaches specializing in the field, it is also very useful for anyone (ie. employees, managers, parents) who wants to learn more about the brain structures underlying emotional intelligence and how to leverage them. 
=> Listen to The Brain and Emotional Intelligence: get the free audiobook here.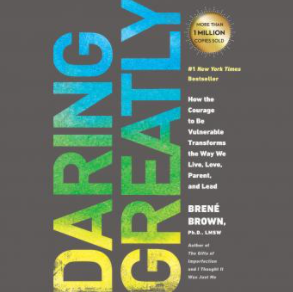 Emotional intelligence is not about suppressing your emotions.
it's about understanding them, embracing them, and using them to brighten up the world around you.
In Daring Greatly, thought leader Dr. Brené Brown dispels the cultural myth that vulnerability is weakness and argues that it is, in truth, our most accurate measure of courage.
Drawing on twelve years of pioneering research, she demonstrates how vulnerability is both the core of difficult emotions like fear, grief, and disappointment, and the birthplace of love, empathy, and innovation.
"When we shut ourselves off from vulnerability, we distance ourselves from the experiences that bring purpose and meaning to our lives."
=> Listen to Daring Greatly: get the free audiobook here.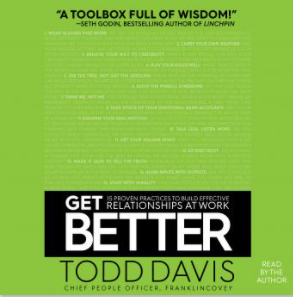 From the business experts behind the The 7 Habits of Highly Effective People, Get Better is a practical guide on how to improve your emotional intelligence and become the ideal team player.
In this audiobook, Chief People Officer Todd Davis explains how relationships enhance employee effectiveness and even create a culture that can become an organization's competitive advantage. 
In addition, he uncovers the most common relationship pitfalls that hurt careers and negatively affect organizational results, so you can avoid them in your own professional journey. 
You will learn how to: 
Behave your way to credibility
Think "we," not "me"
Take stock of your emotional bank account
Examine the real motives of other people
Do less talking and more active listening
Make it safe to tell the truth and have difficult conversations
Start with humility, and much more...
Featuring real-world, relatable stories, Get Better is one of the best emotional intelligence audiobooks for professionals who want to establish strong workplace connections and get better business results.
=> Listen to Get Better: get the free audiobook here.
We often look towards the outside world to find the roots of our problems.
However, most of the time we should be looking inwards. After all, our mind and our emotions determine our state of being.
Control Your Mind and Master Your Feelings is an audiobook that's designed to help you get your feelings in check anytime you feel overwhelmed. 
The book focuses on two skills, how to stop overthinking and how to master your emotions and discover your "emotional map". It takes one emotion at a time, and demonstrates how you can train your mind to be stronger than your feelings in various scenarios. 
=> Listen to Control Your Mind and Master Your Feelings: get the free audiobook here.
How to Win Friends and Influence People is a timeless classic that shows us how to interact with others in a way that meets both their needs and our own. 
It teaches us how to pay attention to the emotions of others, how to learn about what's important to them, how to be the friend and confidant they so desperately need, and even how to be influential...
As you listen to this this personal development audiobook, you will discover: 
Six ways to make people like you
Twelve ways to win people to your way of thinking
Nine ways to change people without arousing resentment
Once you learn and apply these life-changing concepts, they will help you achieve greater success in both your personal and professional endeavours. 
=> Listen to How to Win Friends and Influence People: get the free audiobook here.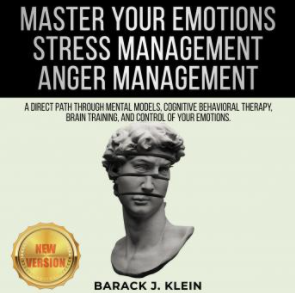 Master Your Emotions is an emotional intelligence audiobook that also branches into related topics such as anger and stress management. 
Harnessing the latest scientific research and proven theories around mental models and psychology, this audiobook will provide you with the tools you need to gain control of your emotions and stop letting them rule your life.
The book is divided into three main sections. 
In part one, you'll discover Mental Models, including:
The Secret To Great Thinking and Decision Making
A Breakdown Of CBT And Why It's So Effective
Rewiring Your Brain and Beating Mental Illness
Using Mental Models To Build a Roadmap To Happiness
10 Signs Of Emotional Intelligence
In part two, you'll learn about beating stress and anxiety, including:
Why Stress Is Such a Destructive Emotion
The Secret To Stopping Panic Attacks In Their Tracks
Simple Yet Highly Effective Ways For Beating Anxiety
How To Stop Negative Thoughts With Mindfulness
Proven Steps For Dealing With Anxiety Without Medication
And in part three, you'll learn how to stop anger and control your emotions, including:
The Impact Anger Has On Your Life
Signs and Symptoms of Anger Issues
A Step-By-Step Guide For Channeling Anger To More Productive Purposes
Tips For Controlling Anger In Relationships (Even When Fighting)
=> Listen to Master Your Emotions: get the free audiobook here.
Are you a parent looking for ways to help your children become more emotionally intelligent? 
If so, this audiobook is for you.
It is written and narrated by Marc Brackett, Ph.D, a professor in Yale University's Child Study Center and the founding director of the Yale Center for Emotional Intelligence. 
In his 25 years as an "emotion scientist," Brackett has developed an effective plan to improve the lives of children and adults, an evidence-based approach to social and emotional learning called RULER, which has already transformed the thousands of schools that have adopted it.
Ultimately, this book provides a blueprint for understanding our emotions and using them wisely so that they help, rather than hinder, our success and well-being.
=> Listen to Permission to Feel: get the free audiobook here.
Final Thoughts
Thanks for checking out this list of the best emotional intelligence audiobooks out there for professionals, parents, educators, and anyone else who is interested in developing this vital skill. 
Knowledge is power, and as you implement the material contained in these popular audiobooks, you'll find yourself equipped with the strategies you need to successfully handle the emotional ups and downs of everyday life. 

=> Get a free emotional intelligence audiobook of your choice here.
Happy listening!
Related: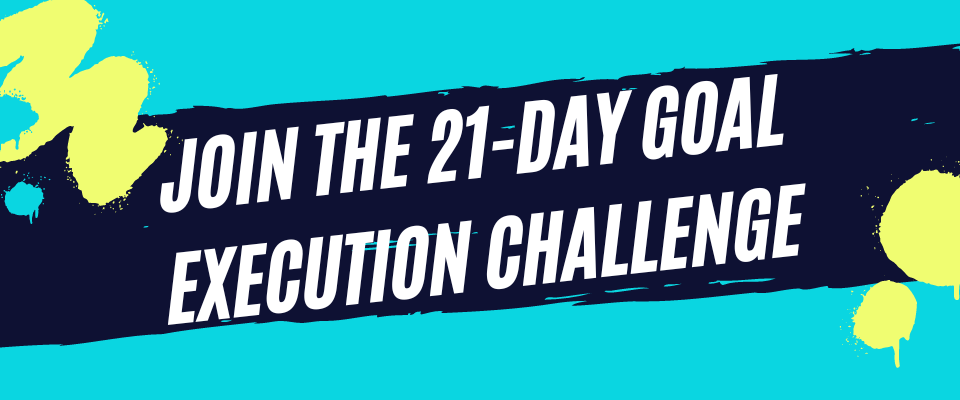 Thanks for reading! If you liked this content, share with a friend:
Dec 09, 23 08:34 PM

Below is a quote from Jhené Aiko's Poetry Book, 2Fish, that is both moving and beautiful. Here's a moment of reflection on the words in the excerpt and the meaning they convey.

Dec 08, 23 08:08 PM

It's an amazing thing to hear a person's life story, read aloud. Here are the best biography audiobooks to give you a peek into different iconic perspectives.

Nov 30, 23 09:41 PM

Would you like to improve your ability to read people? Here are the best body language books that will boost your social intelligence.