BestSelf Icebreaker Deck Review - A Different Kind of Game 
This post may contain affiliate links. Please read my disclosure for more information. 
I recently played the icebreaker game by BestSelf during quarantine. Definitely a unique group/duo game. Here's my review of the BestSelf Icebreaker Deck.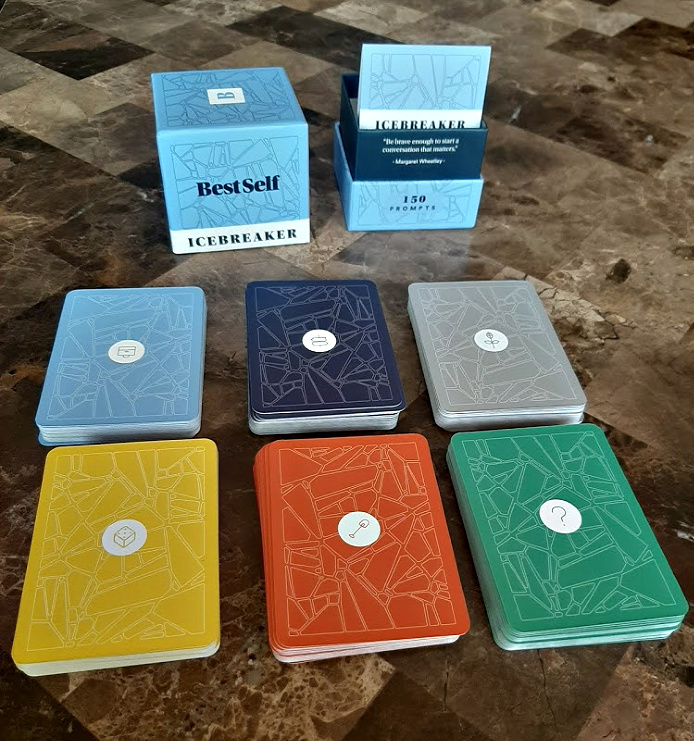 It was another day in quarantine. 
I was looking for a fun activity to play with my friends (one that could work over Zoom) and I came across the Icebreaker Deck by BestSelf. It looked pretty interesting so I purchased it and tried it out with some friends. 
Today I'm sharing my review of the game for anyone else who's looking for something fun and interactive to do with their loved ones. 
How the Icebreaker Deck Works 
So I call it a game, but technically there are no points or anything like that. Maybe the better word for it is a challenge, because it encourages you to think and perhaps be a bit vulnerable. Which also makes it a great way to get to know others better...
The Icebreaker Deck is a set of 150 card prompts with all sorts of intriguing questions. You can play it with one other person or a group of people. The idea is that people take turns to answer the questions on the cards. 
There are 6 categories: Life, Random, Deep, Experiences, If You Could and Would You Rather. 
It's a good mix of questions that actually make very good conversation. They're the type of questions that you want to know but generally wouldn't ask out of the blue. 
I've shared some pictures below so you can get some ideas of how the game works.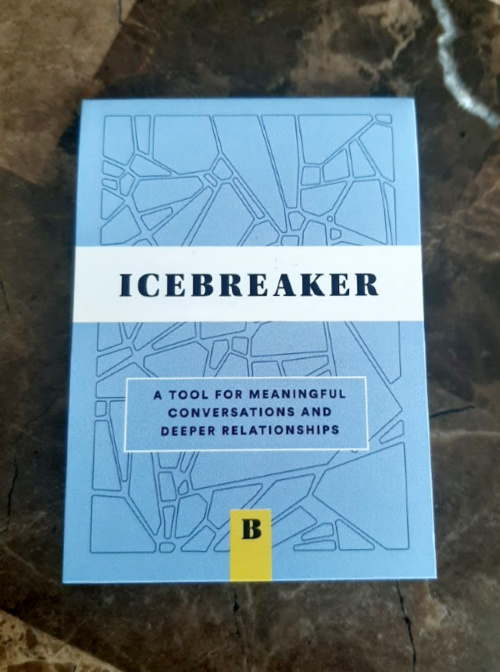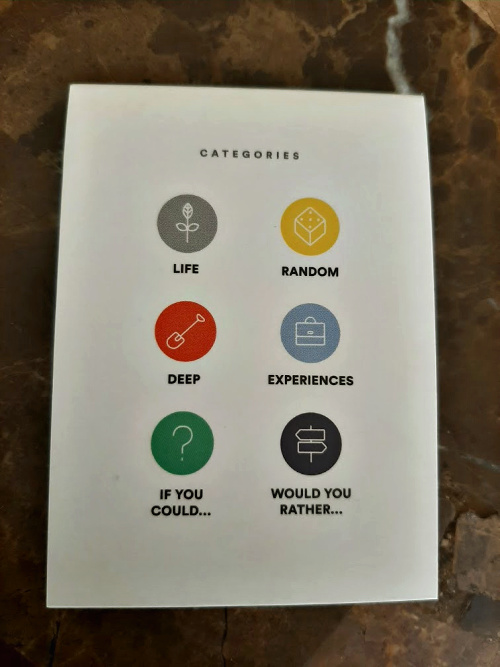 How to Play Icebreaker in a Group (e.g. on Zoom) 
I played the Icebreaker game with a group of six people. I'd say under ten people or even one-on-one is great for this activity. 
Just the way human nature works, the more people you have, the less comfortable people might feel about sharing how they really feel. So that's just something to keep in mind. 
Since we played the game over Zoom, and I had all the cards, for each turn I read what the card said and put it near the camera for everyone else to see. 
To start off, we used wheelofnames.com to decide who would answer and ask the questions for each round. I shared my screen so everyone could see who was picked. We did it so the wheel winner answered the question and the person to the left of them on the wheel picked a question from one of the six categories. 
After that, we just wrote everyone's name in a list in the Zoom chat feature and went in order. E.g. everyone selects a question category for the first person to answer, then the second person, and so forth. We then also just got everyone to pick a question category for whomever they wanted. 
As the person with the cards, all I did was pick (without looking) a question card from the category selected. 
Interesting Results...
I actually really enjoyed playing the game. One of the best parts about it is that you never know what card you're going to pick up. The questions range greatly - from those that just require creative thinking to those that make you get deep and personal. 
I found that there were a few questions that took me a while to answer and a) think about the answer or, b) think about the best way to express my response.
I think my favourite categories were the Would You Rather and the Life categories. For some questions that were quite intriguing, everyone in the group answered the question.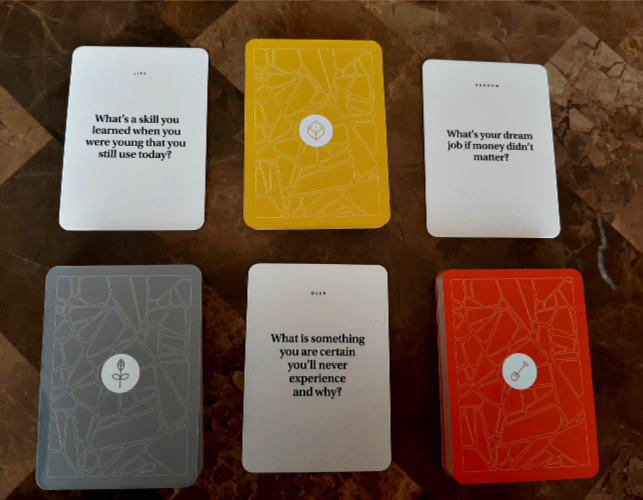 Icebreaker Game Questions from Life, Deep, and Random Categories.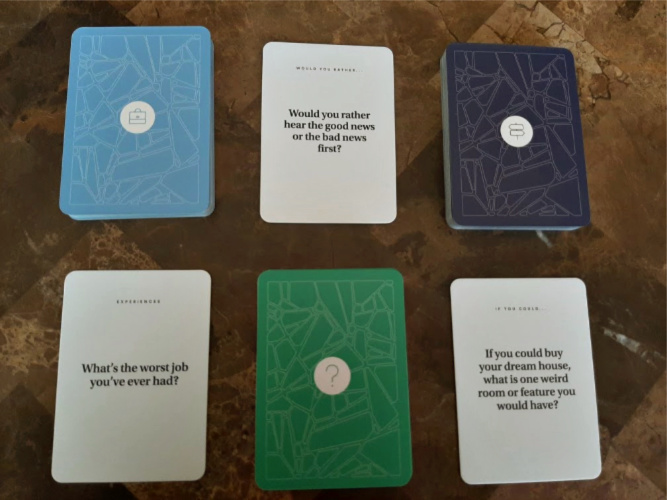 Icebreaker Game Questions From Experiences, Would You Rather and If You Could Categories.
Use the code 'ROLIEDEMA' to get 15% off the Icebreaker Deck and any other products on BestSelf.co.
Seeing People in a Different Light 
The Icebreaker game is a great activity to do both with people you've recently met and those you've known for years. 
It's a good way to move past superficial conversations, and I think it's a great excuse for getting deep (for those of us who like deeper conversations). 
It can help you uncover new dimensions of someone's personality as you hear more about things like their goals in life, their upbringing and their greatest joys or regrets. 
I think activities like this should be used more at gatherings, because even though regular games and boardgames are fun, this helps to create even more meaningful relationships. 
Related: 10 Fun Conversation Games to Play with Others
Tips For Using the Icebreaker Deck 
Here are some tips I'd give on using the icebreaker deck: 

Don't be afraid to be a bit vulnerable - I think one of the best things about the game is that you get closer to people as they just honestly share their opinions. I'm a big fan of showing some vulnerability to others because it makes us realise how we're all in the same boat. If you are willing to open up a bit, you'll see that others do the same and it just creates a warm bond in the room (speaking figuratively in the case of Zoom). 
Listen kindly - Some of the questions are quite deep, so you might find your friends revealing things you've never heard them say before. Listen and respond affirmatively where possible, even commending people for answering tough questions. Listening without judgement will create a refreshing environment that most people don't usually experience. 
Repeat - You'll have a lot of fun as you try more prompts. I'd at least try to go around the group 3 or 4 times so everyone gets a chance to ask and answer questions. This is the kind of game you can play repeatedly, after all there are 150 prompts. I also think it's a good idea to do this activity with different groups of people. 


Conclusion 
So, that's my review on the BestSelf Icebreaker Deck. I really enjoyed these cards and look forward to playing the game more times with new people. 
If you'd like to get a pack yourself, you can get an extra 15% off here using my code 'ROLIEDEMA'. 
Oh, and if you play the game and figure out any possible way of scoring points, let me know, I'm curious!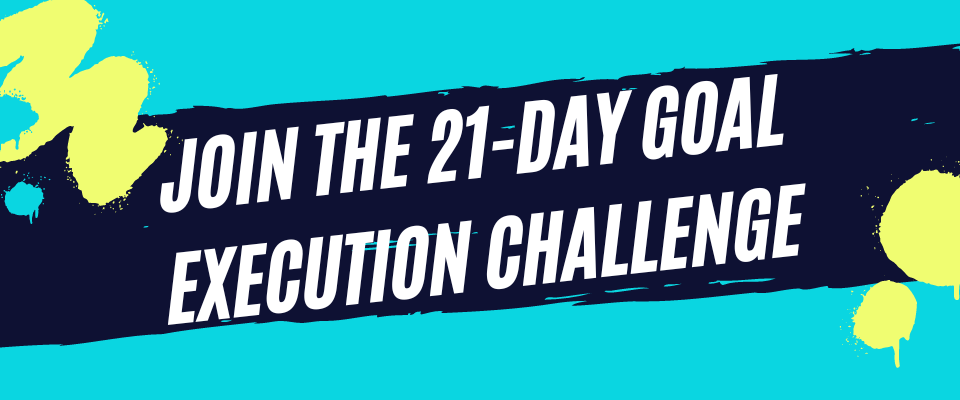 May 26, 23 08:35 PM

Need help configuring and optimizing Zendesk? Here are the best Zendesk consultants and specialists to work with online.

May 24, 23 07:08 PM

Need help creating effective and appealing packaging for your product? Here are the best packaging design consultants and experts to work with online.

May 19, 23 06:41 PM

Looking for a linkedin expert to help you optimize your profile or LinkedIn marketing strategy? Here are the best LinkedIn coaches to work with online.
If you can see this,  please share this post with the buttons below :)