Business Storytelling Courses
5 Best Business Storytelling Courses | Corporate Storytelling Training
Every business has a story to tell. Here are the best business storytelling courses online to help you win over your dream customers.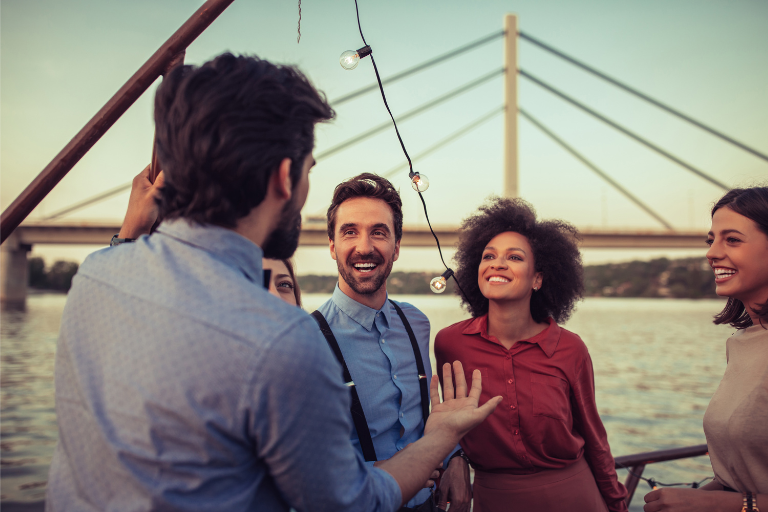 Storytelling might seem like a business buzzword that has been heavily promoted for the past few years.
However, there's a reason for it: it makes all the difference.
Author and marketer Chris Brogan once said: 
"Stories are how we learn best. We absorb numbers and facts and details, but we keep them all glued into our heads with stories." 
How true this is, and how vital storytelling has become in today's information age. 
With this in mind, here is a list of the best business storytelling courses online for organizations of all sizes. 
These courses will show you how to use authentic storytelling to build rapport with your customers and raise the perceived value of your brand. 
You'll explore case studies that demonstrate excellent business storytelling in action, and be left with practical takeaways that you can start implementing right away. 
This post may contain affiliate links. Please read my disclosure for more information.

What are the Best Business Storytelling Courses?
Here are the 5 best business storytelling courses online for corporate storytelling training: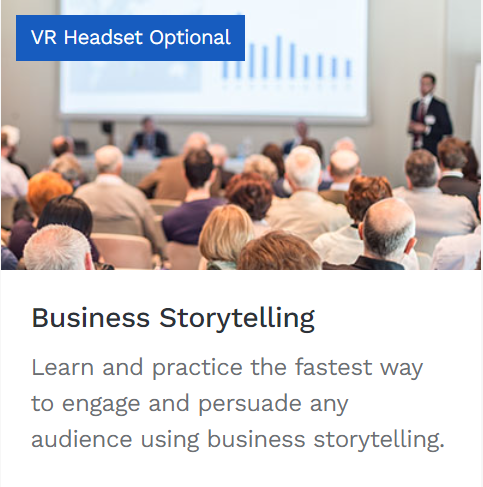 Business Storytelling is a course that's available on Virtual Speech, an award-winning platform for virtual reality soft skills training. 
Note though, that a VR headset is totally optional, and you can also enroll in the course as a regular, non-VR online course.
The course teaches you how to use persuasive storytelling to grab your customers' attention and engage them with your products and services.
It also shows you how to use storytelling internally in business, to boost morale within your team and rally support for your ideas.
You will learn how to:
Streamline content through stories and save time in presentations
Inspire colleagues, unstick resistance to an idea and encourage action
Overcome difficulties with getting your message heard and decisions made
The course instructors are Colin James and Erica Bagshaw, executive coaches with over 20 years of experience collaborating with leading organizations and professionals in the corporate sector.
Their teaching method, The Colin James Method® is a proven communication skills training methodology that teaches you how to create relevant stories that ensure your audience are present in the moment, listening to you, and absorbing your message.
In the course, you'll practice storytelling with engaging exercises, including:
Creating stories 
Presenting a story type
Creating analogies
Putting it together: Telling a Story
Delivering a TEDx talk 
Building impromptu stories
By the end of the course, you'll understand how to build a bank of stories for various contexts within your business, and how to seamlessly weave them into your presentations for greater impact.
Key course features:
7 hours of learning
4 case studies
6 practice exercises
All exercise features
Quizzes and assessment
Earn a digital course certificate
Flexible, self-led format
Access to updated content
=> Enroll in the Business Storytelling course on Virtual Speech here.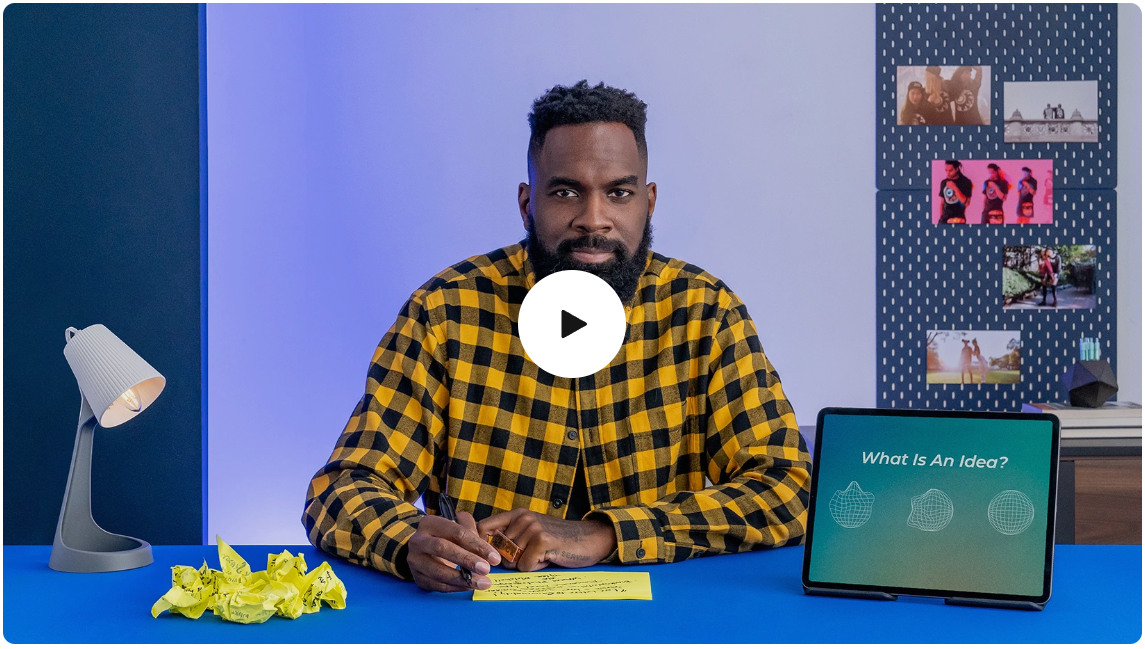 Creative direction is the branch of brand development that deals with the concepts around a brand.
The goal of creative direction is helping brands build a strong emotional connection with their audience.
Creative director and writer Ray Smiling specializes in achieving exactly that, through problem solving and storytelling. He has worked with major brands including Amazon Music, Beats by Dre, and adidas.
In this storytelling for business course on Domestika, Ray teaches you how to go from a blank page to a creative pitch, enabling you to sell powerful ideas to clients and collaborators alike.
Ray begins the course by providing an overview of his career working with global brands and explaining the influences that inspire his projects. 
He then dives right into showing you how to understand an audience in order to generate ideas with them in mind.
Next you'll learn how to create your pitch, by introducing the context of your project and the problem it solves. 
Finally, you'll learn how to present your insight and your vision in a compelling way, and you'll rehearse and condense your presentation until it's perfect. 
Key course features:
22 lessons (4h 59m)
11 additional resources (3 files)
Online and at your own pace
Available on the app
Audio: English
Subtitles: English, Spanish, Portuguese, German, French, Italian, Polish, Dutch
Level: Beginner
Unlimited access forever
=> Enroll in Creative Direction: Use Storytelling to Pitch and Sell Ideas.

Is there any sense in pouring lots of money into advertising if you don't have a story that sticks in the mind of your customers? Not really. 
Stories that resonate are what ultimately convert prospects into customers, so that is where your attention should be. 
This popular business storytelling course on Udemy is for marketers and entrepreneurs who want to extend the reach of their business, cause a ruckus in the market and make their businesses stand out.
In the course, you'll learn how to: 
Effectively pitch the story of your business
Sell the core benefits of your products and services
Leverage the power of word-of-mouth and networking
Understand the influence of emotions on customer behavior
Leverage the social Influence of your customers, employees, fans and supporters
Create valuable content that will drive traffic and interest in your business
Each section in the course is dedicated to helping you sharpen your storytelling skills through projects that challenge you to take action on what you've learned. 
Even if you've previously struggled with pitching your ideas, this course will introduce you to innovative, new approaches and show you how a good story can open doors for you that you never thought existed. 
Key course features: 
2.5 hours on-demand video
1 downloadable resource
Access on mobile and TV
Certificate of completion
=> Enroll in the The Entrepreneur's Guide to Storytelling in Marketing.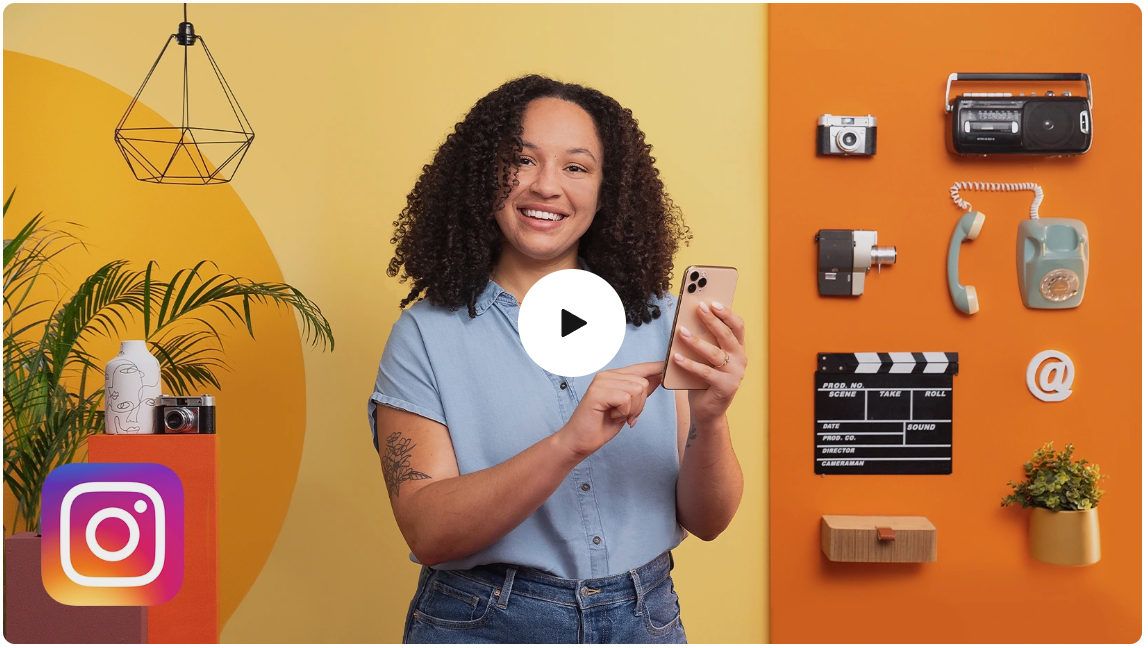 Using video to tell a story is one of the most effective ways to convey a message that inspires and entertains your audience online.
As an Instagram strategist, Natasha Samuels teaches her clients how to use video, along with other marketing tools, to grow their business on Instagram.
In this online course, Natasha shows you how to improve your storytelling on Instagram by creating Reels.
You'll begin the course by getting to know Natasha and how she developed a full-time career helping brands succeed on social media, along with the influences that inspire her and the work she creates.
Then you'll take a look at what Reels are and why they are such an important marketing tool. Natasha will show you how to brainstorm an Instagram strategy for your content and outline your Reel to save time during the production process. 
Next you'll learn how to film your videos, edit your reel, design cover photos for your Reels, and write engaging captions.
To wrap up the course, Natasha shares her advice for publishing your video and analyzing its success using Instagram analytics.
Overall, this is one of the best business storytelling courses for content creators who are looking for practical ways to increase their impact on Instagram. 
Key course feature: 
13 lessons (1h 46m)
14 additional resources (2 files)
Online and at your own pace
Available on the app
Audio: English
Subtitles: English, Spanish, Portuguese, German, French, Italian, Polish, Dutch
Level: Beginner
Unlimited access forever
=> Enroll in the Storytelling Strategies for Instagram Reels course here.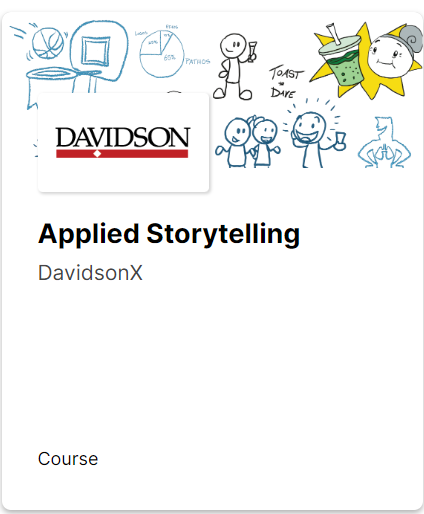 In the 21st century, intentional and impactful storytelling provides one of the most indispensable competitive advantages on the market.
Corporate storytelling training is important because a strategic storyteller inspires, leads, and manages more effectively than someone who dismisses a story purely as a form of entertainment.
In this Applied Storytelling course by Davidson College, you will learn how to integrate this foundational human skill more powerfully into your career and business. 
What you will learn: 
Key elements of a story including defining, ethos, examples, lists, anecdotes, hypotheticals, illustrations, humor and images
Basics of voice and physicality such as how to warm up prior to public speaking
How to get yourself out there to practice storytelling in interviews, pitches and group settings
Ways to use storytelling in day-to-day office environments via powerpoint presentations, team meetings
 How to get stories out of others

If you sign up for the Verified Track for this program, you will gain access to a community of other learners and course staff via Slack chat and Zoom video calls for advice, feedback and accountability.
In addition, you'll receive a 30-minute consultation with the course instructor, Steve Kaliski to discuss your capstone project. In this capstone project, you'll build a slide deck, find your style, rehearse and share your work. 
Key course features:
Length: 4 weeks
Level: Introductory
Effort: 2-4 hours per week
Course Type: Self-paced, progress at your own speed 
Language: English
Video Transcript: English
=> Enroll in the Applied Storytelling course by Davidson College here.
Final Thoughts
Business storytelling is an approach to marketing that taps into the foundational human need to connect with others through narrative. 
The business storytelling courses above will help you transform stale business communication into compelling stories that engage people emotionally and move them to take action.
Whether you're an individual or you represent an organization looking to implement corporate storytelling training, these courses are packed with useful guidance that can be a game-changer for your business. 
Happy learning! 
Related: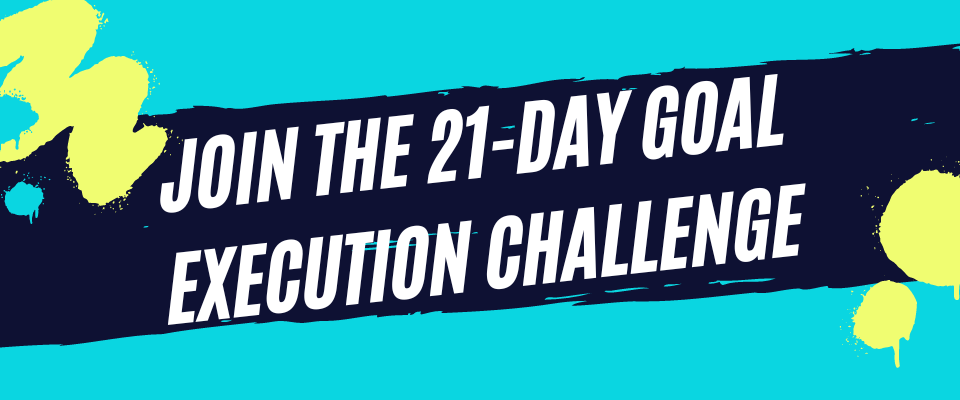 Thanks for reading! If you liked this content, share with a friend:
Dec 09, 23 08:34 PM

Below is a quote from Jhené Aiko's Poetry Book, 2Fish, that is both moving and beautiful. Here's a moment of reflection on the words in the excerpt and the meaning they convey.

Dec 08, 23 08:08 PM

It's an amazing thing to hear a person's life story, read aloud. Here are the best biography audiobooks to give you a peek into different iconic perspectives.

Nov 30, 23 09:41 PM

Would you like to improve your ability to read people? Here are the best body language books that will boost your social intelligence.