7 Best Communication Courses Online to Level Up Your Skills (2023)
Here are the best communication courses online that will help you exchange ideas, thoughts, and opinions with greater clarity and purpose.
It's a widely appreciated fact that communication is a two-way process, an exchange. 

If you're talking too much, you're doing something wrong, but at the same time you don't want to be a lifeless body with a blank face while you're in a conversation.
How do you strike the perfect balance, both as a speaker and a listener?
Here are the best communication courses online for anyone who's looking to level up their skills in both personal and professional settings. 
These courses cover a wide range of communication topics, from active listening, to interview preparation, to public speaking, media training, and even written communications. 
If you're looking for expert instruction to help you communicate with greater impact and gain greater credibility in your field or community, you're in the right place. 
This post may contain affiliate links. Please read my disclosure for more information.
What are the Best Communication Courses?
Here are the best verbal and written communication courses to enroll in online this year: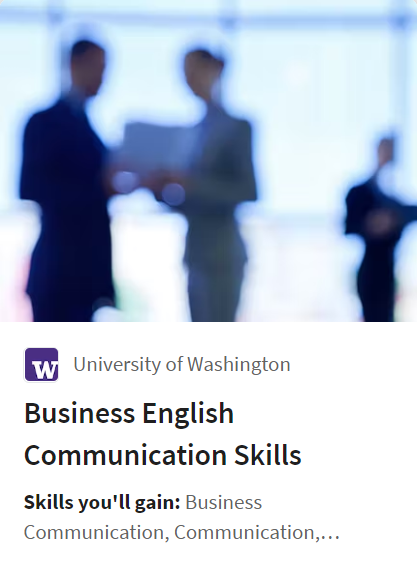 This popular five-course specialization on Coursera is a great place to start if you're looking for training in communication skills. 
The program is presented by the University of Washington and is designed to improve your ability to speak, write, and understand English in both social and professional contexts. 
You'll learn strategies for using persuasive language, negotiating in formal and informal settings, and presenting information in an organized and engaging way.
Even if you're a native English speaker, the specialization will expand your vocabulary and teach you useful skills that you can apply to one-on-one conversations, written reports and professional presentations.
It includes the following five courses:
Course 3: Planning & Negotiating 
Course 4: Making Presentations
Course 5: Capstone Project
In the Capstone Project at the end of the program, you'll demonstrate your competence in English communication by writing and presenting a mini business plan.
Key course features: 
Shareable Certificate
Earn a Certificate upon completion
100% online courses
Start instantly and learn at your own schedule
Flexible Schedule
Set and maintain flexible deadlines
Intermediate Level
Some related experience required
Approximately 6 months to complete
Suggested pace of 5 hours/week
=> Enroll in the Business English Communication Specialization here.
Public speaking is an essential business skill; whether you are talking to one person or a group of people, public speaking is the way you reach potential customers on a personal level.
In this communication class on Dometika, public speaking coach Dasha Dollar-Smirnova teaches the ins and outs of public speaking for business. 
Dasha begins the class by sharing how she went from a career in acting to starting Frog Talk, a company specializing in communication coaching. 
Then she dives into the concept of first impressions and why they matter. Referencing classical theatre techniques, you'll learn about body language and the four different styles of communication. 
Next, you'll learn the fundamentals of storytelling, how to develop an elevator pitch, the principles of active listening, and how to deal with conflict and challenging conversations. 
Course Syllabus: 
Introduction
How Do You Communicate?
First Impressions and Why They Matter
Status on Stage and What to Learn from it
Choosing the Right Form of Communication
What Do You Communicate?
Storytelling: How to Write Your Story
Selling Yourself: Storytelling Preparation for an Interview
Building an Elevator Pitch
The Classical Skills of Rhetoric and How to Apply Them to Modern Life
Prepping on the Day
Why Do You Communicate?
Active Listening and Other Tips for Effective Communication
Financial Negotiations: How to Get Your Worth
Difficult Conversations: How to Deal With Conflict
Final Project
Public Speaking for Business: Pitch and Persuade like a Pro
By the end of this course, you will have a set of communication skills that you can apply to a number of situations, including interviews, negotiations, and challenging client meetings. 
The only material you need for this course is a phone or camera to record your pitch. 
Key course features:
13 lessons (1h 25m)
15 additional resources (7 files)
Online and at your own pace
Available on the Dometika app
Audio: English
Subtitles: English, Spanish, Portuguese, German, French, Italian, Polish, Dutch
Level: Beginner
Unlimited access forever
=> Enroll in the Public Speaking for Business course on Domestika here.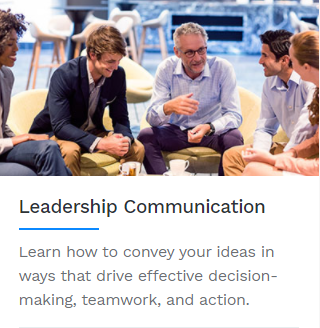 Have you ever practiced your communication skills in virtual reality?
I have, and let me tell you - it's quite an experience. 
VR courses are a great way to practice public speaking, because you get to practice different scenarios in front of a virtual audience. 
This Leadership Communication course by Virtual Speech showcases the tools and techniques used by successful managers all over the world to communicate confidently and drive business success.
From boardroom pitches to networking events, this course will give you a safe space to practice new approaches and communication styles, so you can become more persuasive and influential in a variety of settings.
You will learn to:
Implement best practices for influencing employees, managers, subordinates, customers, and other stakeholders

Effectively handle challenges such as delivering unpopular news, increasing team motivation, and restoring credibility
Deliver powerful messages that lead to action and control emotions when facing resistance
Sell your organization's vision, mission, and values to your team members

A key benefit of this VR communication class is that you'll receive feedback on your performance in the practice exercises.
This feedback will cover areas such as your eye contact, pace of speaking, keywords spoken, hesitation words, listenability, and more.
You'll also be able to practice often as you like and track your progress over time.
Key course features: 
Online
CPD Accredited
43 online lessons
Digital certificate
7 practice exercises
4 hours of learning
=> Enroll in the Virtual Speech Leadership Communication course here.
If you're looking for a course that focuses more on written and visual communications skills, this is the course for you.
In the Effective Communication specialization, you'll learn to write well-organized, clear business documents and design elegant presentation slides, reports, and posters.
You'll also learn how to present and speak with confidence and power.
There are four courses in the specialization: 
Course 1: Business Writing 
Course 3: Successful Presentation 
Course 4: Effective Communication Capstone Project 
In the final course of the specialization, you'll have the opportunity to create a portfolio that represents your mastery of writing, design, and speaking and that expresses your personal brand.
The portfolio includes three elements - a written memo, a slide deck, and a presentation - integrated around a single topic.
With this project, you'll be able to tie all the skills you've learned in the program together and build a portfolio that you can use for a job search and/or professional application. 
Key course features: 
Shareable Certificate

Earn a Certificate upon completion
100% online courses

Start instantly and learn at your own schedule
Flexible Schedule

Set and maintain flexible deadlines.
Beginner Level
Approximately 5 months to complete

Suggested pace of 4 hours/week
English

Subtitles: English, Arabic, French, Portuguese (European), Italian, Vietnamese, German, Russian, Spanish
=> Enroll in the Effective Communication Specialization program here.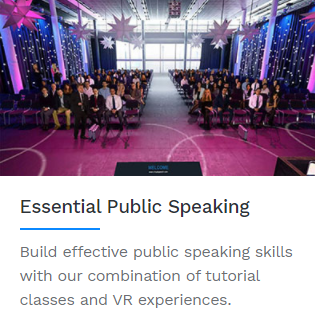 Essential Public Speaking is another useful communications class that's delivered in VR.
The course teaches you the tools and techniques to successfully deliver a presentation, pitch, or speech whenever you want.
You will learn how to: 
Overcome a fear of public speaking and feel comfortable speaking in front of audiences of various sizes
Deliver effective and memorable speeches
Easily design your presentation to engage and persuade your audience
Manage nerves and become a confident public speaker with practice in interactive exercises
Engage and connect with your audience through storytelling
Enhance your message with body language, eye contact, and gestures
Throughout this class, you'll watch real-life video examples of the skills being taught, including how to start a presentation, use your voice effectively, and answer audience questions.

Participants of this course have stated that completing the practice exercises that are included has reduced their anxiety, as they get more familiar with speaking in front of an audience.
Key course features: 
Online
CPD Accredited
65 online lessons
Digital certificate
8 practice exercises
5 hours of learning
=> Enroll in the Essential Public Speaking VR communications course. 
6. The Complete Communication Skills Master Class

This bestselling communication class on Udemy is designed to be a one-stop shop for all your communication skills training needs.
The course covers a vast array of communication needs and scenarios, including how to communicate during a job interview, pitching investors, asking for a raise, delivering a wedding speech, and even giving a eulogy.
In the course, you will learn how to: 
Look comfortable, confident, and relaxed, regardless of whether you are sitting or standing, regardless of audience size.
Communicate so your audience understands you.
Communicate so your audience remembers your messages (this is the hardest part).
Influence people to take the actions you want
The goal of this course is to help you communicate in a memorable and understandable way, even if you find yourself in an unexpected situation. You'll even have the opportunity to communicate with the instructor by posting videos for critiques. 
Key course features:
31 hours on-demand video
3 articles
5 downloadable resources
Access on mobile and TV
Certificate of completion
=> Enroll in the Complete Communication Skills Master Class here.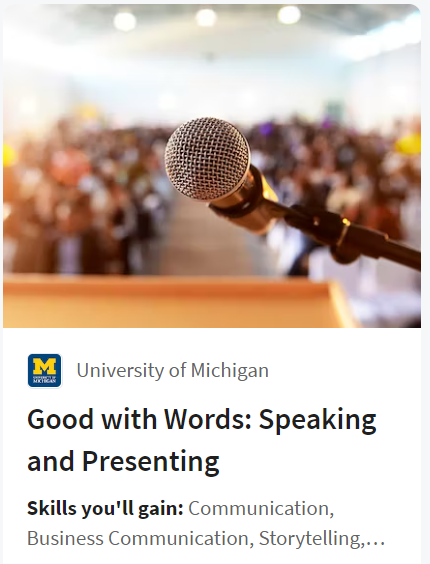 All of us have ideas that are worth sharing.
Why not learn to convey yours in a way that people will appreciate, enjoy, and remember?

This specialization course will show you how to do exactly that.
The specialization is based on an award-winning course and workshop series at the University of Michigan that has been taken by students training to enter a wide range of fields, including law, business, medicine, design, engineering, and many more.
Through practical techniques, such as the "P-R-O-D-U-C-T" framework, you'll learn how to remove the guesswork from figuring out how to communicate clearly and compellingly.

There are four courses in this specialization: 
Course 1: Poise 
Course 2: Pitches and Persuasion
Course 3: Conversation Starters
Course 4: Tact 
By the end of the course, you'll know how to enhance the structure and style of your message in order to give your listener the sense that what they are receiving was especially prepared with their interests and needs in mind.
Key course features:
Shareable Certificate
Earn a Certificate upon completion
100% online courses
Start instantly and learn at your own schedule
Flexible Schedule
Set and maintain flexible deadlines
Beginner Level
Approximately 4 months to complete
Suggested pace of 3 hours/week
English
=> Enroll in the Good with Words: Speaking and Presenting Specialization.
Final Thoughts
With the hundreds of communication courses available online it was somewhat difficult to narrow down a list of the best ones. 
However, I have selected the above courses based on the expertise of the instructors, general feedback from learners, and my own experience. 
I think that no matter where we are in life, we can all benefit from continuous communications training.
Ultimately, those who develop strong communications skills do well in school, secure their dream jobs, and create meaningful relationships with others.
It's well worth the time and effort!
Happy learning :)
Related: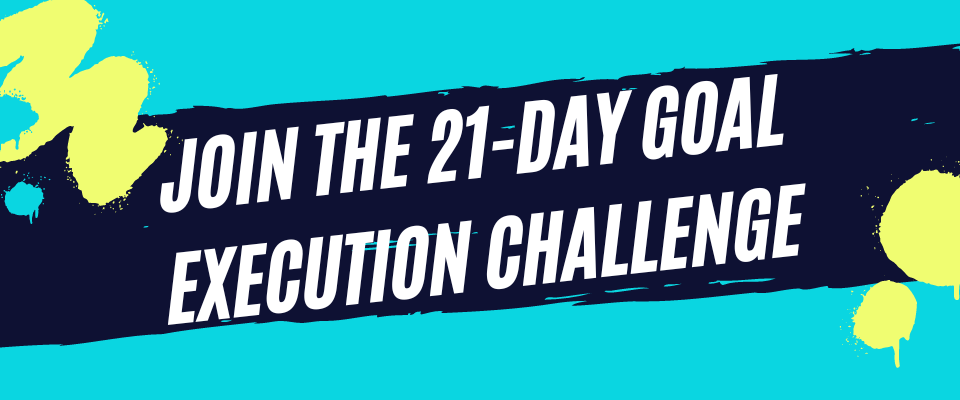 Thanks for reading! If you liked this content, share with a friend:
Dec 09, 23 08:34 PM

Below is a quote from Jhené Aiko's Poetry Book, 2Fish, that is both moving and beautiful. Here's a moment of reflection on the words in the excerpt and the meaning they convey.

Dec 08, 23 08:08 PM

It's an amazing thing to hear a person's life story, read aloud. Here are the best biography audiobooks to give you a peek into different iconic perspectives.

Nov 30, 23 09:41 PM

Would you like to improve your ability to read people? Here are the best body language books that will boost your social intelligence.