The Best LinkedIn Coaches to Help You Level Up Your Profile
Looking for a LinkedIn expert to help you optimize your profile or LinkedIn marketing strategy? Here are the best LinkedIn coaches to work with online.
Looking to build a robust LinkedIn profile that attracts potential employers and/or business opportunities?
Here are the best LinkedIn coaches to work with online. 
These coaches have extensive experience working with professionals in a wide range of industries, and will show you how to leverage LinkedIn as a powerful platform to grow your professional network.
Whether you're looking to optimize your profile or create one from scratch, these LinkedIn experts will help you implement the key elements needed to craft a profile that delivers maximum impact.
This post may contain affiliate links. Please read my disclosure for more information.

Harry E. is a LinkedIn coach who shows you how to leverage the power of search engine optimization, applicant tracking systems, and LinkedIn's algorithm to solve your business problems and deliver the results you need.
Whether your goal is to land a new job, build sales leads, or simply to refine your professional image prior to a critical engagement with a client, RFP, or investing round - Harry can help.
Here's what he'll deliver: 
Attention-grabbing page rewrites including keywords, aesthetics, grammar, and syntaxes
Industry agnostic Search Engine Optimized (SEO) content
Photo assessment based on three key competencies
Strategies to get more views on your posts
Suggestions on how to build an engaging page for your company - Unique strategies to meet your objectives
A clean looking and optimized profile, for web & mobile, that reflects the work you have put into your career
Harry has provided professional development and business consulting on 300+ LinkedIn personal pages, resumes, cover letters, and 100+ company pages from around the world.
In other words, he knows what he's doing. 
Working on an entire team's profiles? Be sure to ask Harry about his group rates.
Comments from previous clients: 
"Harry is great to work with. He is a very logical person who has a plan and strategy in place to help you reach your goal. You may have to put in some work, but trust me it's well worth it. If you are looking to increase the traffic to your LinkedIn profile or need help from an insider's point of view Harry is the person you want on your side. He will tell you the truth and truly has your best interest at heart."

=> Hire Harry E. to audit and optimize your LinkedIn profile here.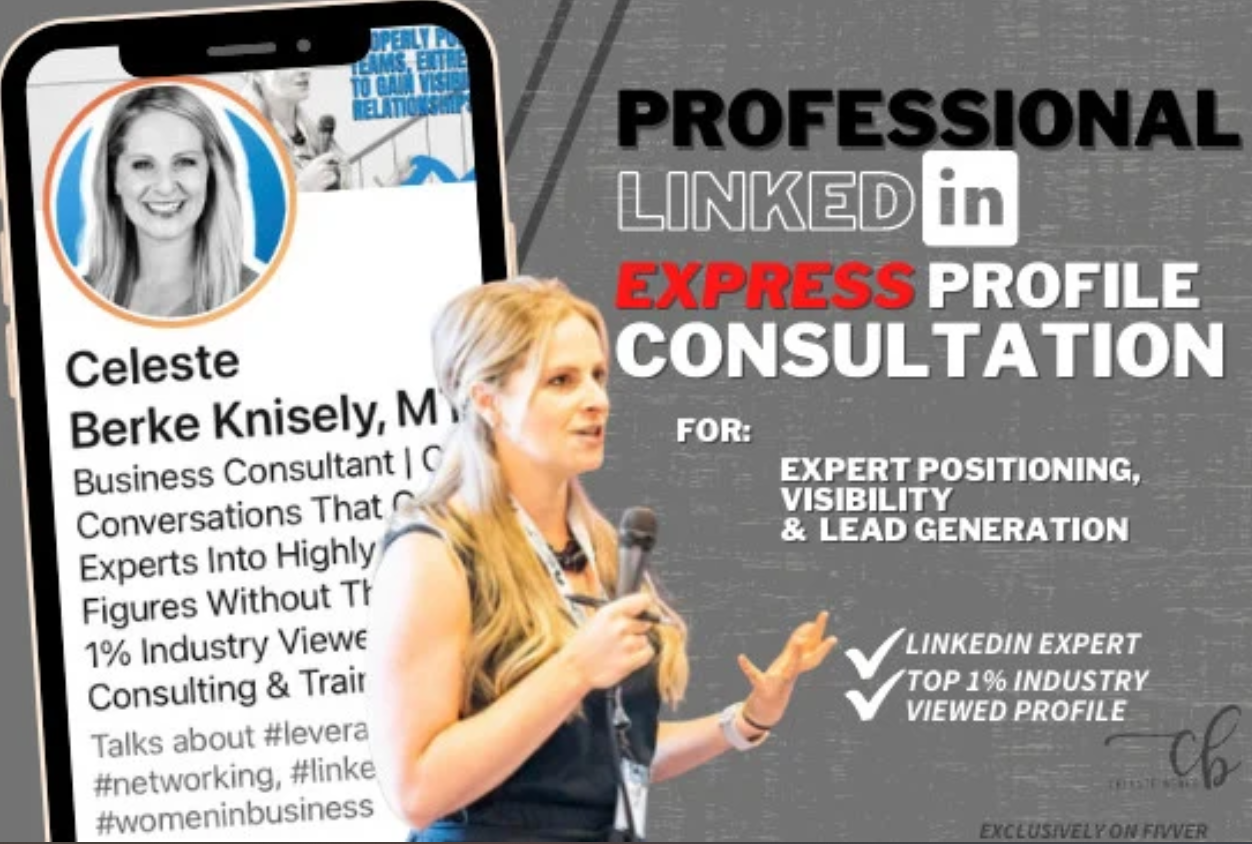 Do you want to be seen as the go-to expert in your field? 
Perhaps you want to do it yourself, but you just need a little guidance...
Celeste B. is a LinkedIn Strategist and Small Business Consultant whose LinkedIn profile is ranked at 1% in her industry. 
Combining her deep understanding of the power of building relationships and her own history of success on LinkedIn, Celeste works with you to drive results by positioning you as an authority.
As Celeste explains, your profile should work for you as a sales page 24/7. She knows what works, and will help you get your profile properly positioned. 
Packages:
Basic
LinkedIn Express Consultation:
 1-50 Minute Consultation Call (review top 4 areas of a profile - photo, banner, headline, and about section and what should be included in each). Includes template for headline.
Deluxe:
 2-50 Minute calls. The second call will focus on going deeper into the profile and your audience (+skills, recommendations, featured). + template for about section
Premium:
3-50 minute calls (2 as listed above) + 3rd call - audience building using groups, events & keywords + content best practices.
Comments from previous clients: 
"Celeste helped me take my Linkedin profile from zero to hero FAST. Not only was she able to help me optimize my linkedin and look like a pro, she provided additional resources that I can use later. Celeste was phenomenal and I will certainly be using her again soon."
=> Hire Celeste B. as a LinkedIn Coach/Strategist here.
Would you benefit from some advanced LinkedIn optimization, LinkedIn marketing strategy, personal branding, digital ghostwriting, or LinkedIn advertising to help achieve your goals?
Brandon F. is a LinkedIn coach who leverages over 10 years of serious LinkedIn experience – including countless hours spent building a solid network, learning strategies for developing business, generating leads, and developing a brand. 
LinkedIn expedited Brandon's career growth in the tech industry, and so he saw an opportunity to help others harness the power of the #1 business networking platform in the world.
Brandon's goal is for every client experience to be very personalized. 
Comments from previous clients: 

"Brandon is very well versed in the nuances of LinkedIn and set up our first campaigns which were successful. We look forward to working with Brandon on future campaigns and highly recommend him for any other company looking to work LinkedIn into their marketing strategy."

=> Hire Brandon as a LinkedIn Marketing Coach here. 
Steven Mostyn is a popular LinkedIn coach on Fiverr Pro. 
For over 15 years, Steven has crafted LinkedIn Profiles for thousands of clients.
From CEO to entry-level positions, his clients have successfully land jobs in dynamic, emerging companies and large enterprises such as Amazon, Marriott, Microsoft, IBM, Wal-Mart and many more.
Steven has also authored two best-selling books: Job Search: Fundamentals of Effective Job Hunting, Resumes and Interviews and Recruiting 101: The Fundamentals of Being a Great Recruiter. 
To help you get the best results with your profile, Steven works with a professional editor and a team of talented career professionals. 
Packages: 
Basic
Standard
Premium
LinkedIn Profile, Custom Resume, Cover Letter and Thank-You Letter. Executive Bio, plus more tools!
Each of the above packages includes: 
Headline & summary
Education, certifications & awards
Professional experience
Targeted hashtags/keywords
Skills & endorsements
Comments from previous clients: 
"Working with Steven to revamp my resume and LinkedIn profile was a fantastic experience. He expertly condensed my 30-year career history into a concise and targeted document that aligned with my job search goals. Steven was very responsive and professional throughout the process, and I would highly recommend him to anyone looking to elevate their job search game."

=> Hire Steven Mostyn as a LinkedIn Profile Coach here. 
Umair A is a career coach and skilled writer who teaches his clients how to "create music with words." 
Whether it's your first resume, mid-career Linkedin Optimization, an executive c-suite job cover letter, or you need some copywriting,  he'll help you craft work that stands out.
Umair's services include: 
Professional ATS compatible Resume / CV for any career level
Cover Letters for any job or admission application (review, edit or write)
LinkedIn Profile Cleanup and optimization
C-Suite Executive Resumes

Interview Preparation

/ Career Coaching
English Proofreading and editing
Statement of purpose (SOP) Review
Personal Statement Review and Guide
Books and ebooks
Email Copy
Business Vision and Mission
Website Content Writing
Comments from previous clients:
"Excellent work revamping my resume and linkedin profile. They look amazing and I am much more confident moving into a career transition knowing my resume accurately and optimally represents my expertise and experience. Would definitely recommend."

=> Hire Umair A. for LinkedIn Profile Optimization here. 
You only have a precious few seconds to make a lasting impression on potential business collaborators, employers, or high-end decision-makers on LinkedIn - and it all starts with your summary.
Also known as a summary, bio, or about me section within the platform, this critical component of your profile is the first thing potential connections see and can make all the difference in the world.
Audrey S. is a LinkedIn expert who'll work with you to create a LinkedIn summary that's strong, impactful, and memorable.
For years, she's been helping clients craft unique, original, powerful, and captivating LinkedIn About sections that drive connections, establish authority, and make a strong impression.
Packages: 
Basic - Teaser Concise 100-word LinkedIn Summary
Up to 100 words
1 page
Competitor research

Standard - Nice to Meet You Stronger 200-word LinkedIn Summary
Up to 200 words
1 page
SEO keywords
SEO Keyword Research
Competitor research
Premium - Full Introduction Complete and robust 300-350 word LinkedIn Summary
Up to 350 words
1 page
SEO keywords
SEO Keyword Research
Competitor research
Comments from previous clients: 
"I totally appreciate her writing and experience, she went over and beyond; from her patience with me getting the requirements, to over-delivering on the content and quality. A true professional."

=> Hire Audrey S. to revamp your LinkedIn summary here. 
Final Thoughts
Is your LinkedIn profile causing you to miss valuable business and professional advancement opportunities?
There's only one way to find out...
Working with one of the LinkedIn coaches above is a great way to discover what's missing and suggestions on how your profile can be improved.
If you're not too familiar with LinkedIn, the platform can seem overwhelming, but when you work with a LinkedIn specialist, they'll be able to  break things down in a logical way and point you in the right direction for growth. 
Happy collaborating!
Related: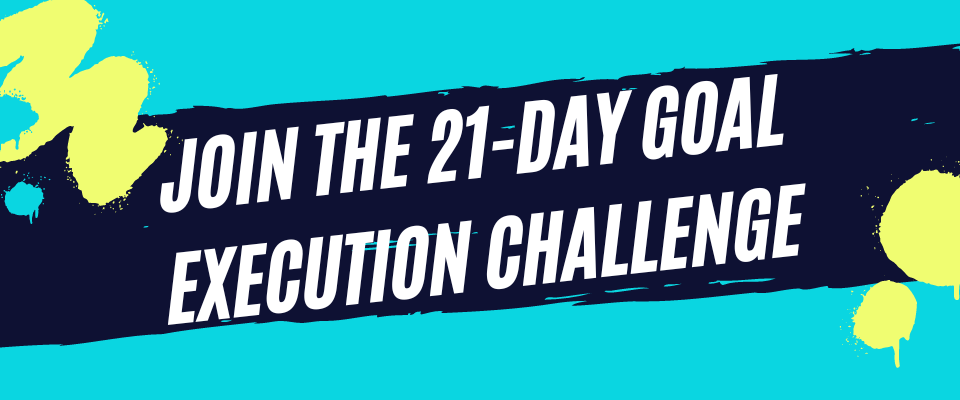 Thanks for reading! If you liked this content, please share below:
Sep 19, 23 07:31 PM

Would you like a stronger mind? Life can be confusing and intense, and that's why training your mind to be stronger than your feelings is crucial.

Sep 18, 23 06:05 PM

Looking for the perfect psychology-themed present for a college student? Here is a roundup of the best gifts for psychology majors.

Sep 16, 23 05:54 PM

Looking for the perfect period table of elements gift? Here are the best periodic table gifts that will spark a reaction from chemistry enthusiasts.