9 Best Books on Confidence to Renew Your Energy and Self-Esteem
We all need a confidence boost every now and then. Here are the best books on confidence to give you the tools you need to succeed. 

Take a few moments, please, to visualize a more confident, charismatic, and daring version of yourself.

How does it feel? 
What difference does it make, in terms of the opportunities and connections it opens up for you?
The good news is that such possibilities can go beyond your imagination. Here are the best books on confidence to empower you to become that person. 
These books will reframe your thinking and help you adopt a healthier perspective of yourself and others, so you can radiate true confidence - inside and out. 
This post may contain affiliate links. Please read my disclosure for more information.
What are the Best Books About Confidence?

Here are the best books on confidence to add to your reading list:
The Confidence Gap is a book that provides a practical roadmap for confronting the fears and doubts that keep holding you back. 
In this book, author Russ Harris offers a surprising solution to low self-confidence, shyness, and insecurity.
Rather than urging us to "get over" our fears, he shows us how to form a new and wiser relationship with them.
Based on his research and expertise in Acceptance and Commitment Therapy (ACT), Harris explains how to:  
Free yourself from common misconceptions about what confidence is and how to build it 
Transform your relationship with fear and anxiety 
Clarify your core values and use them as your inspiration and motivation 
Use mindfulness to effectively handle negative thoughts and feelings.
This book contains various examples and exercises that bring the material to life and enable you to immediately apply what you learn in your personal and professional life.
=> Read this book: get hard copy on amazon
In Awaken the Giant Within, world-renowned performance coach Tony Robbins shares his most effective strategies for mastering your emotions, body, relationships, finances, and your life. 
Many people find that they are not fulfilled because a lack of confidence and clarity prevents them from setting and achieving long-term goals.  
In this book, Robbins shows you how to break down such barriers and move towards a more purposeful life by redefining yourself, your big why, and your identity.
Through a series of fundamental lessons, this book on confidence proves that when we are willing to take the plunge and make big changes in our lives, our returns will match our effort. 
=> Read this book: get hard copy on amazon | get the free audiobook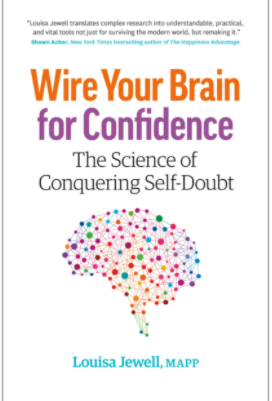 Confidence can be a complicated subject. 
For many of us, there are certain areas in our life where we feel reasonably confident, but then there are other areas where we get plagued by fear and self-doubt. 
How do we build confidence in those critical areas where we lack it? 
In this game-changing guide, positive psychology expert Louisa Jewell explains how you can wire your brain to act courageously, even when you're feeling afraid.
Through stories, reflection questions, and exercises, you'll learn how to adopt a resilient mindset and put yourself on the fast track to flourishing in every area of your life. 
=> Read this book: get hard copy on amazon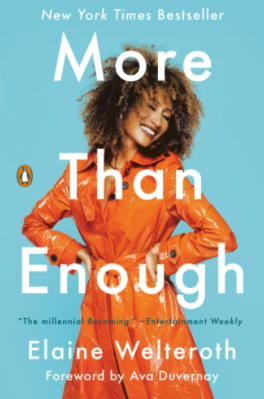 In this inspiring memoir, journalist Elaine Welteroth unpacks key lessons on race, identity, and success that have grounded her as she's climbed the ranks of media and fashion.
In 2016, Welteroth was named editor-in-chief of Teen Vogue, making her the second person of African-American heritage in the history of Condé Nast to hold that title. 
In this book about confidence and determined ambition, Welteroth walks us through her journey, from her experience as the child of an unlikely interracial marriage in small-town California, to the impact she's made during her groundbreaking career.
As you read about her struggles and breakthroughs, you'll be reminded - without a shadow of a doubt - that you're more than enough for the things you want in life.
=> Read this book: get hard copy on amazon | get the free audiobook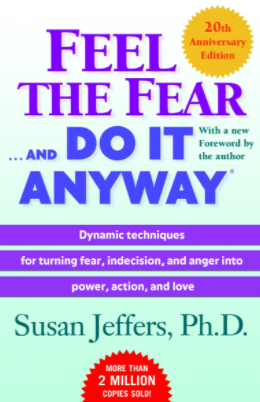 Fear is often a major force that holds us back from being confident.
We fear changing plans, we fear staying stuck. We fear failure, we fear success. 
In this popular book on confidence, Dr. Susan Jeffers shares a range of dynamic techniques that have helped countless people grab hold of their fears and move forward with their lives. 
As you read, you'll discover:
What we are afraid of, and why
How to move from victim to creator
The secret of making no-lose decisions
The vital 10-step process that helps you outtalk the negative chatterbox in your brain
How to create more meaning in your life, and much more...
Whether you're negotiating a salary raise, dealing with a difficult family situation, or planning for the future, this book will give you concrete tools to improve your ability to handle any situation life throws at you. 
=> Read this book: get hard copy on amazon | get the free audiobook
This book by author and therapist Leslie Theriot Herhold is one of the best books about confidence for women that's out there right now.
Drawing on principles from her professional experience, Herhold shares tips that can help you increase your motivation, develop stronger relationships, and enjoy a more positive outlook on life.
First, you'll learn all about how your thoughts and behaviour influence your self-esteem.
Then you'll receive expert advice on changing negative patterns, identifying your strengths and values, and approaching intimidating situations with conviction.
You'll also learn about:
Confidence-building techniques in cognitive behavioral therapy, acceptance and commitment therapy, and exposure therapy.
How to nurture the tangible manifestations of self confidence, such as mindfulness, physical health, and body language.
Anecdotes and case studies that illustrate how you can use these new tools to enact positive change in your own life.
=> Read this book: get hard copy on amazon
Whether we realize it or not, we all talk to ourselves, all the time.
Sadly, sometimes what we say is negative and counterproductive, and could prevent us from enjoying a fulfilled and successful life.
What to Say When You Talk to Your Self is a book that explores the Five Levels of Self-Talk identified by behavioural researcher Shad Helmsetter: 
Negative Acceptance
Recognition and Need to Change
Decision to Change
The Better You
Universal Affirmation
In the book, Helmsetter demonstrates how understanding and applying these five elements can increase your confidence and help you conquer the negative thoughts that often sap people's energy. 


If you are struggling to move forward in your life, especially after some sort of trauma, this book will give you the tools you need to reprogram your thinking and gain victory over your mind. 
=> Read this book: get hard copy on amazon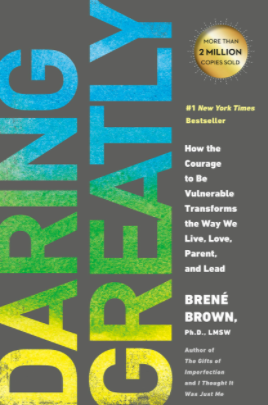 Everyday we deal with uncertainty and engage in activities that define what it means to be vulnerable, or to dare greatly.
In this New York Times bestseller, social scientist Brené Brown dispels the cultural myth that vulnerability is weakness and argues that it is actually our most accurate measure of courage. 
Based on twelve years of pioneering research, Brown explains how vulnerability is both the core of difficult emotions like fear, grief, and disappointment, and the birthplace of love, empathy, and innovation.
She passionately describes how we can build up the confidence to put ourselves out there - even in those moments where we face a greater risk of getting criticized or feeling hurt. 
=> Read this book: get hard copy on amazon | get the free audiobook

If you're holding back from working towards your dreams because you're afraid of a negative outcome, then this is a book that you definitely need to read. 
In Do it Scared, bestselling author Scott Allan highlights an important message: You can do anything you desire by taking consistent action even when you're scared.
You can take action, act confidently, and convert your bad habits into productive action.
This book will show you how to: 
Recognize the distractors keeping you stuck
Control your internal conversation and talk back to your negative voice
Make intentional decisions and take control of your life
Let go of the excuses stopping you from taking action
Turn negative thoughts into positive choices
You'll also discover how to forge amazing relationships with the right people, create an action plan for achieving your goals, and turn a lifetime of regret into a lifestyle of gratitude and self-fulfillment.
=> Read this book: get hard copy on amazon
Final Thoughts

Thanks for reading this post on the best books on confidence to build up your self-esteem and shape you into a stronger person. 
The books mentioned above are designed to remind you of the unique qualities and strengths you possess that enable you to bring massive value to the world. 
As you read these books about confidence, you'll also be able to draw on the insights of subject matter experts and individuals who have been able to overcome their greatest doubts on the road to success. 
You'll surely leave inspired, and ready to tackle your own challenges!
=> Get a free confidence audiobook of your choice here.
Related: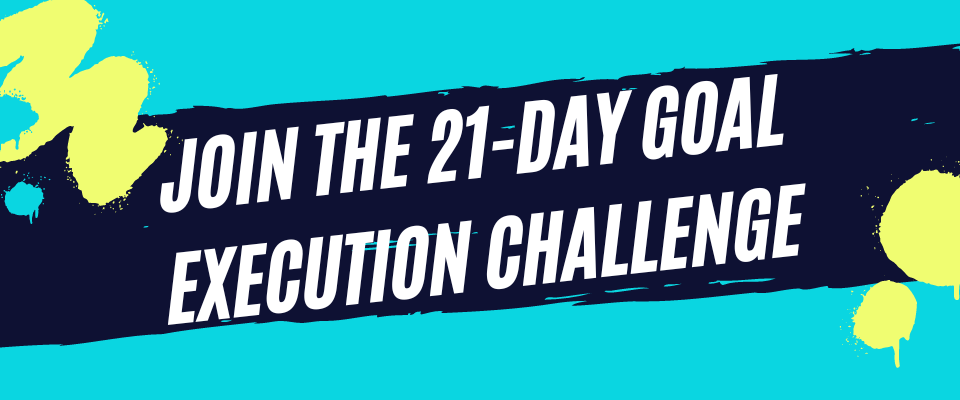 Thanks for reading! If you liked this content, please share below:
May 26, 23 08:35 PM

Need help configuring and optimizing Zendesk? Here are the best Zendesk consultants and specialists to work with online.

May 24, 23 07:08 PM

Need help creating effective and appealing packaging for your product? Here are the best packaging design consultants and experts to work with online.

May 19, 23 06:41 PM

Looking for a linkedin expert to help you optimize your profile or LinkedIn marketing strategy? Here are the best LinkedIn coaches to work with online.