Best Personal Branding Courses
7 Best Personal Branding Courses to Transform Your Life and Business

What are you known for? Here are the best personal branding courses online to help you create an impactful physical and digital presence. 

In today's influencer-focused society, personal branding is everything. 
Through your personal brand, you let people know who you are and how you want to be remembered. It's what sets you apart from every other person on the street - or online platform. 
Here is a list of the best personal branding courses for professionals, entrepreneurs, and anyone else who wants to create a memorable impression in any social interaction. 
These courses will help you figure out what exactly you bring to the table, how to connect authentically, and how to convey your personal or brand message in the most powerful way possible. 
This post may contain affiliate links. Please read my disclosure for more information.
What are the Best Personal Branding Courses?

Here are the best personal branding courses to enroll in online this year: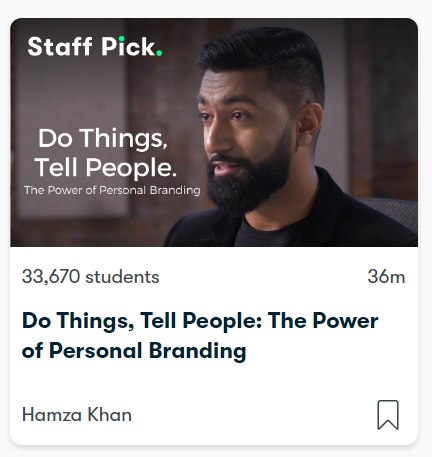 You're doing incredible things. But are you telling people?
Don't leave it up to someone else to tell your story.
Whether you're a student entrepreneur or a seasoned executive, building a strong personal brand is essential to succeeding in the modern economy.
In this popular 36-minute Skillshare class, you will learn how to construct the core elements of your personal brand. 
More specifically, you'll learn how to build and maintain a strong online presence, strategically promote yourself (and your organization) to others, effectively network, and authentically promote yourself without hesitation.
Course Syllabus: 
Introduction 
The Great Exhilarator
Telling Stories Is Human
Action 1: Identify Your Brand Perception
Action 2: Discover Your Reason For Being
Action 3: Articulate Your Value Proposition
Action 4: Select Your Channel Mix
Action 5: Complete Your Social Profiles
Action 6: Create A Personal Website
Action 7: Practice Social Listening
Action 8: Engage Meaningfully
Action 9: Build Thought Leadership
Do Things, Tell People.
Conclusion
This class is mostly for people who want to discover, articulate, express, and build their personal brands online.
But it's just as valuable for those with relatively well-established presences, as it can serve as a refresher with new ideas and practical advice on how to improve.
To complete the class, you'll just need a computer, some paper, and your favourite writing utensil(s).
=> Enroll in the Do Things, Tell People class on Skillshare here.
Are you ready to create, strategize, launch and grow a personal brand? 
In this personal branding class on CreativeLive, instructor Dennis Yu shows you how to build a strong personal brand with content that people believe in, trust and want to consume.
The Chief Technology Officer of BlitzMetrics, Dennis Yu is a published author and an internationally recognized lecturer in Facebook Marketing.
He has spoken in 17 countries, spanning 5 continents including keynotes at L2E, Gultaggen and Marketo Summit.
In this class, he covers both strategies (overall map of how to get something done) and tactics (step-by-step tasks to achieve your goals) to grow your personal brand.
What you will learn:
How to create pillar and derivative content and outsource your content creation.
How to ensure that you maximize your content to resonate with your network.
How to organize your highest authority pieces of content into a topic wheel.
How to use a three-by-three personal goal sheet to establish your "why" and start producing relevant content for the right audience.
How to use mapping to establish quantifiable business goals for your personal brand.
The importance of Googling yourself to assess your content ranking.
How to boost posts for profit and to build authenticity in your field.
Create a Public Figure Page to build trust and authority for your brand.
Use Facebook Ads and boosting to amplify your brand.
This class is for all levels of experience and you can follow even if you don't have a budget or a dedicated team.
Key course features: 
52 Video lessons in HD
4h 34m of class content
Exclusive bonus content
Lifetime access, anywhere, anytime
Streaming access on desktop and mobile browsers
Download and offline access with class purchase
Offline sync with iPhone & iPad apps
100% satisfaction guarantee
=> Enroll in the Personal Branding course by Dennis Yu here.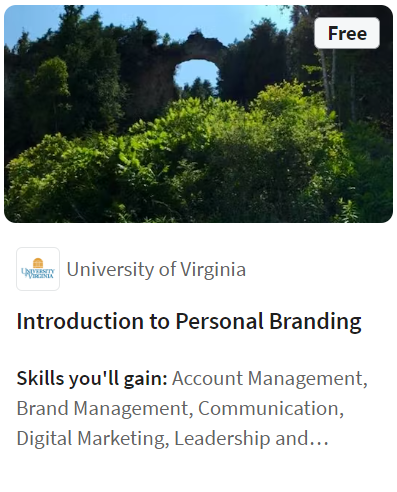 Though the concept of personal branding isn't new, questions remain about how to create one and, more importantly, what it means to maintain and inhabit that brand.
This introductory personal branding course by the University of Virginia answers those questions.
In the course, instructor Kimberley R. Barker provides a warm, supportive atmosphere in which learners are encouraged to intensively explore themselves to identify their values and professional gifts. 
As you progress through the course, you will:
Understand both what personal branding means and what it means to inhabit your brand
Establish yourself on at least three social media platforms
Create a mission statement for your personal brand
Build a board of directors for your brand
Become familiar with the basics of digital security and reputation management
Create a system for on-going brand maintenance 
Course Syllabus:
Module 2: An Overview of Personal Branding
Module 3: Building Your Brand's Infrastructure 
Module 4: Establishing Your Brand's Digital Home: A Guide to Claiming Your Parts of the Web
Module 5: Creating Your Brand's Maintenance Plan
Module 6: Your Online Identity: How Reputation and Digital Privacy Affect Your Brand
Key course features:
Shareable Certificate
Earn a Certificate upon completion.
100% online
Start instantly and learn at your own schedule.
Flexible deadlines
Reset deadlines in accordance with your schedule.
Beginner Level
Approx. 6 hours to complete
Suggested pace: 3 weeks at 2 hours per week
=> Enroll in the Introduction to Personal Branding online course here. 
The Personal Branding Master Course is a course that will teach you how to position yourself as an expert in your niche.
This course is targeted towards aspiring entrepreneurs.
You will start from scratch (brainstorming your business idea) and follow a roadmap that will progressively lead you to your final destination: becoming the Go-To person in your field. 
You will learn how to: 
Find the right business idea
Position your business in the marketplace & in the mind of the consumers
Start a community, build it into a tribe and become the leader of this tribe
Develop a memorable visual identity
Create content that is gold to your audience with your mobile phone
Distribute the right kind of content on all the major platforms
Grow your authority by building social proof (testimonials, reviews, etc.)
Become a micro-influencer & get sponsored by brands
Build meaningful relationships online and develop a healthy network
Key course features: 
8 hours on-demand video
5 articles
Access on mobile and TV
Certificate of completion
=> Enroll in the Personal Branding Master Course on Udemy here.
Branding is typically associated with – and studied within the context of - organizations, products and services.
Personal brands are frequently overlooked or even dismissed, although ultimately it is your personal brand that influences career choices, shapes behaviours and professional practice.
Curate Your Personal Brand is a course on edX that will walk you through the steps you need to create a consistent personal brand, and define how you want to be seen in the digital space and beyond.
Course Syllabus: 
Module 1: What is Branding? 
Module 3: Your Brand Audit
Module 4: Your USP (Unique Selling Proposition) and Topic Wheel
Module 5: Tell Your Brand Story with Authenticity
Module 6: Develop your Brand Strategy
Module 7: Execute Your Personal Brand Strategy
Module 8: Pitfalls and Cautionary Tales

Overall, this course will help you explore and reflect on your values, define your personal archetype, and discuss language that suits your unique brand.
At the end of the course, you will have a tangible strategy they can use to build your personal brand across multiple platforms.
Key course features: 
Length: 10 Weeks
Level: Introductory
Effort: 2-4 hours per week
Course Type: Instructor-led on a course schedule
Shareable certificate available upon completion

=> Enroll in the Curate Your Personal Brand course on edX here.
Over the past decade, Kate has grown her blog Wit & Delight to more than 3 million readers and expanded into a product line, brand consultancy, and more.
What's behind her success?
A thoughtful, strategic approach to personal branding.
In this 65-minute Skillshare class, she explores the evolution of her blog to explain why an authentic personal brand is important — and how to optimize yours for what you want, who you are, and what success means to you.
Course Syllabus: 
Introduction 
What is a Personal Brand?
Defining Your Purpose
Purpose Worksheet
Purpose Worksheet II
Defining Your Character
Character Worksheet
Defining Your Content
Creating Engaging Content
Defining Your Channels
Channels Worksheet
Channels Worksheet II
Conclusion 
What's Next?
Each short lesson in this class is filled with data and experience as well as specific strategies and examples.
This is one of the best personal branding courses for content creators since it places a special focus on social media and keeps everything tactical.
=> Enroll in "Personal Branding: Crafting Your Social Media Presence".
Looking to learn how to position yourself in the market as a creative professional?
This personal branding class on CreativeLive is for you.
The class instructor is Dorie Clark, former presidential campaign spokeswoman and marketing strategy consultant for clients such as Google, Microsoft, Yale University, Fidelity, and the World Bank.

In the course, Dories walks you through the skills you need to build an online and offline brand, presence, and portfolio.
You'll create strategies for connecting with the right people at the right time and learn how to use those connections to nurture and grow your brand.
You'll also discover tips on how to make the most of interviews, introductions, webinars, and more.
Key course features:
20 Video lessons in HD
10h 38m of class content
Exclusive bonus content
Lifetime access, anywhere, anytime
Streaming and offline access on desktop and mobile
Offline sync with iPhone & iPad apps
100% satisfaction guarantee
=> Enroll in "Personal Branding for Creative Professionals" here. 
Final Thoughts
Hopefully this list of the best personal branding courses has helped you discover resources to enhance your personal and professional image.
When you work on developing your personal brand, you'll increase your confidence, strengthen your credibility, and even open up opportunities that you never knew existed before!
Related: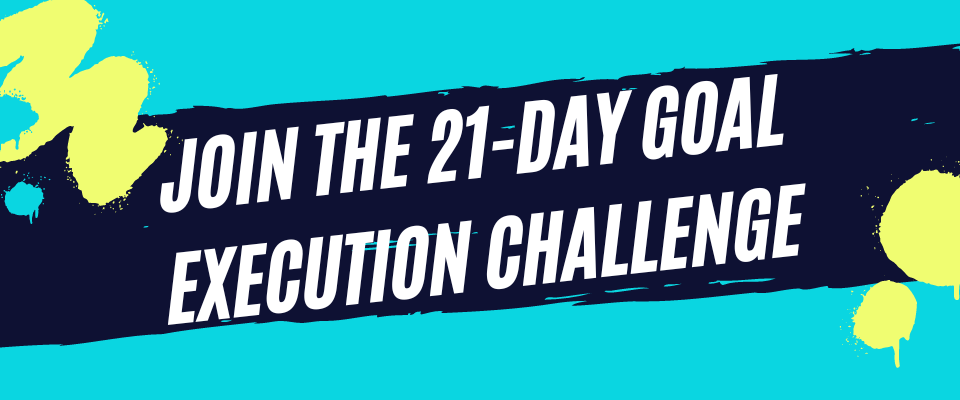 Thanks for reading! If you liked this content, share with a friend:
Dec 09, 23 08:34 PM

Below is a quote from Jhené Aiko's Poetry Book, 2Fish, that is both moving and beautiful. Here's a moment of reflection on the words in the excerpt and the meaning they convey.

Dec 08, 23 08:08 PM

It's an amazing thing to hear a person's life story, read aloud. Here are the best biography audiobooks to give you a peek into different iconic perspectives.

Nov 30, 23 09:41 PM

Would you like to improve your ability to read people? Here are the best body language books that will boost your social intelligence.