How to Give MasterClass as a Gift - A Step-by-Step Guide
Looking for an educational and entertaining present for a loved one? In this guide, I'll be walking you through how to give MasterClass as a gift.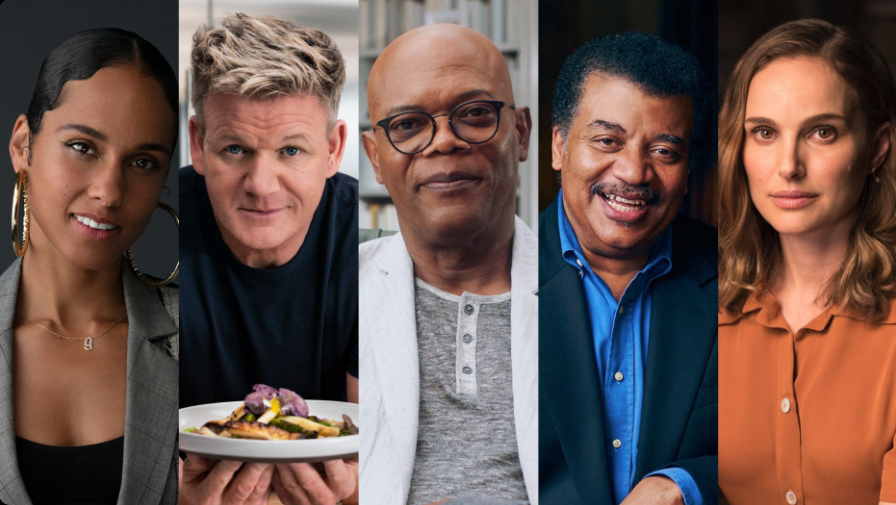 This post may contain affiliate links. Please read my disclosure for more information.

If you're thinking about giving MasterClass as a gift, you're certainly thinking creatively. 
And if the recipient of your gift is a creative person, things get even better. 
By giving MasterClass as a gift, you provide your loved one with an opportunity to explore their passions and take a whole range of interesting classes as a bundle - and it's 100% at their convenience. 
So let's talk about what you need to know and do when gifting Masterclass: 
Can You Give MasterClass as a Gift?
Yes, you can give MasterClass as a gift!
In fact, you have two options: You can either gift individual courses or you can gift an All Access Pass that includes every course on the platform. 
Below, I'll be showing you how to navigate both options. 
How to Give MasterClass as a Gift
*Discount Alert*: If you're looking to gift MasterClass soon, I'd advise you to take advantage of the 2-for-1 deal that's currently available on the website. 
This way, you can get MasterClass for yourself as well as your friend!
Gifting an All Access Pass
Go to https://www.masterclass.com/gift
You should arrive on a page that looks like this: 
(I found that this worked better when I logged out of my account first. If you've already created a MasterClass account and you're having any problems getting to the above page, try logging out). 
Select the pink button that says "Give Annual Membership". 
Next, you'll be prompted to create an account, via Google or Facebook.
Alternatively, you can just enter your email address in the box underneath and select "Continue with Email".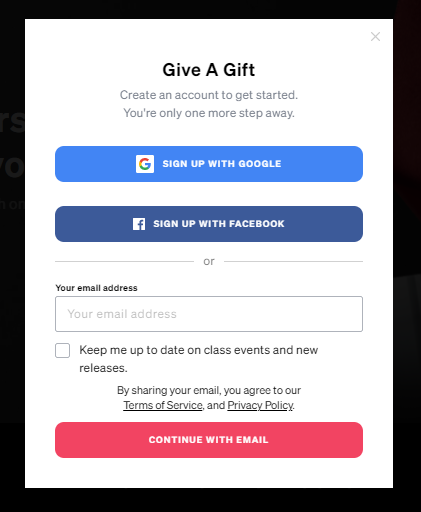 Next, you'll be taken to a page where you can enter the recipient's details and write a personalized message, as shown below: 
The default option is to send the gift immediately, but you also have the option to have it arrive in their inbox at a future date.
Just click "Send on Date" and customize as you like: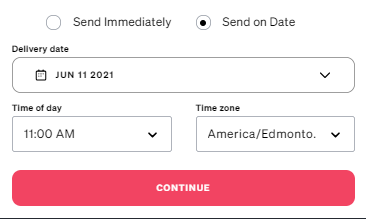 The final step in gifting a MasterClass is entering your credit card information and selecting "Place Secure Order":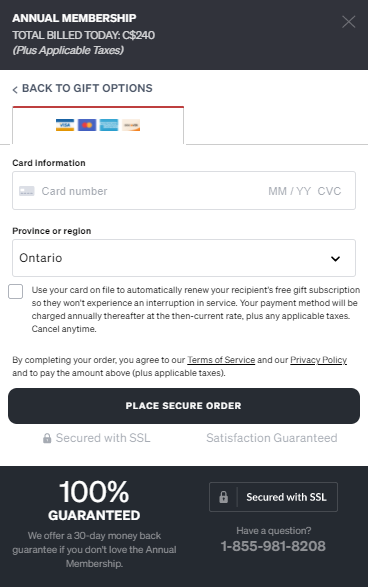 After the purchase has been completed, you will receive a receipt and confirmation email at the email address provided during purchase.
Gifting Individual Classes
Gifting an individual MasterClass follows a similar process to gifting an All Access Pass (see above). 
However, the main difference is that after you arrive on the gifting page (https://www.masterclass.com/gift) you need to scroll further down to where the individual classes are listed. 
Click on the individual class you want to gift. When you do, a trailer of the class will appear on the screen (feel free to watch!) and a pink button that says "Give this Class": 
When you select that button, you'll be taken to the same order page as shown previously. The only difference here is that purchasing an individual MasterClass costs half the price of the full membership. 
However, because it includes everything, the full membership is generally better value for money. 
How Does My Gift Recipient Redeem a Gift?

After you've purchased your MasterClass gift, the gift recipient will receive an email containing a link that says "Activate Gift".
(If they have a Gmail address, they might need to check in their "Promotions" folder.)

When they click that link, they will be brought to MasterClass and prompted to create a new account or log into an existing one. 
Next, they will be greeted with a welcome page confirming that they have activated the gift. Now the learning begins!
A few things to note: 
If you go with the 

2-for-1 MasterClass deal

, you can send the gift anytime within 365 days of purchase, since gifts expire 365 days after you purchase.
If you purchase an annual membership as a gift outside a promotion, you can send the gift whenever you like and your recipient's year of access will begin when they activate their gift. 
Classes that are purchased individually come with unlimited access. 
When redeeming the gift of a free annual membership, the recipient will need to enter a valid credit card for auto-renewal (if you didn't select to renew with your card on file). You can remove the card from the account at any time before it's actually charged. 
How to Edit/Change Your Gift Details
What if you want to change the gift recipient or delivery time for a gift? What if you need to resend the gift? Also, how do you know if your gift has been redeemed? 
Simple! All you need to do is log into your MasterClass account and click the Menu icon in the upper right corner.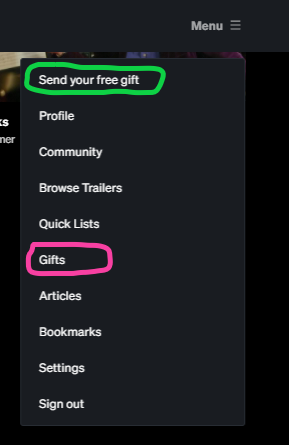 If you bought a 2-for-1 deal but haven't yet sent your gift membership, the first drop-down option you'll see is a link that says "Send your free gift".
If you didn't send the gift immediately and you would like to change the gift recipient or delivery time, click on the "Gifts" Menu option.


This will take you to the gift managing portal.

Find your gift recipient and click "Edit" on the right. Now you can make any necessary changes to the delivery date or recipient's email and click "Save and resend gift" to send your gift.
Within the same box, there is a column titled "Order Status". Once your gift has been activated, this status will change to "Redeemed". 
There's even a section titled "Print" where you can print out a gift tag containing a QR code that links to the MasterClass gift, which you can hand to your recipient directly.
Is MasterClass a Good Gift?
I have a MasterClass membership and I think that it makes a great gift because it's so unique and thoughtful.
I mean, how often do people receive online classes as a gift? 
Moreover, unlike most traditional gifts, MasterClass offers an abundance of choice and flexibility.
Once the recipient activates their membership, they get instant access to an incredible catalog of 100+ classes across a variety of categories, including business and leadership, photography, cooking, writing, acting, music, sports, and more. 
Oh, and we can't forget the fact that the class instructors are all celebrities and world-renowned experts in their fields, meaning that you can learn directly from the likes of Serena Williams, Gordon Ramsay, Anna Wintour, Usher, and many others. 
If you get a MasterClass membership for both yourself and a friend, you can take classes together, compare notes, and share the whole experience with each other.
Because it enriches your knowledge, it's a gift that continues to pay off for many years to come! 
Related: Is MasterClass Worth It?

How to Choose an Individual MasterClass as a Gift
If you decide to purchase an individual masterclass instead of the full membership, it's definitely good to make sure that the class matches your gift recipient's interests. 
Perhaps your friend has already been giving you hints by talking about a specific MasterClass...that certainly makes your job easier ;)
But if not, you can get a sense of what MasterClass to gift by exploring a few general categories. For example: 
If your friend is interested in Business, check out: 
Bob Iger Teaches Business Strategy and Negotiation 
Sara Blakely Teaches Self-Made Entrepreneurship 
If your friend is interested in Food, check out: 
Gordon Ramsay Teaches Cooking (he actually has two classes)
Yotam Ottolenghi Teaches Middle Eastern Cooking 
Niki Nakayama Teaches Modern Japanese Cooking 
If your friend is interested in Design & Style, check out: 
Kelly Wearstler Teaches Interior Design 
Frank Gehry Teaches Design and Architecture 
If your friend is interested in Science and Tech, check out: 
Chris Hadfield Teaches Space Exploration 
Neil deGrasse Tyson Teaches Scientific Thinking and Communication 
Dr. Jane Goodall Teaches Conservation 
If your friend is interested in Writing, check out: 
Margaret Atwood Teaches Creative Writing 
Aaron Sorkin Teaches Screenwriting 
Those are a few suggestions from a couple of categories, but if neither of you can decide on just one class, the best option is definitely to get an all access membership. 
Final Thoughts
Thanks for reading this guide on how to give MasterClass as a gift. Personally, I love enrolling in personal development courses and trying out different digital learning platforms.
I've generally found that online classes are most enjoyable when they're both educational and entertaining, like MasterClass is.
In conclusion - as it says on the website - when you give MasterClass as a gift, you get to inspire the person who inspires you!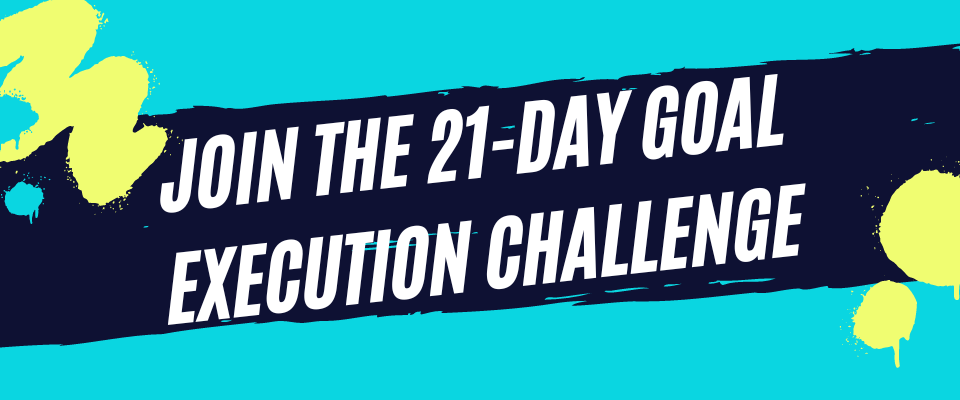 Thanks for reading! If you liked this content, please share below:
May 26, 23 08:35 PM

Need help configuring and optimizing Zendesk? Here are the best Zendesk consultants and specialists to work with online.

May 24, 23 07:08 PM

Need help creating effective and appealing packaging for your product? Here are the best packaging design consultants and experts to work with online.

May 19, 23 06:41 PM

Looking for a linkedin expert to help you optimize your profile or LinkedIn marketing strategy? Here are the best LinkedIn coaches to work with online.