VR Public Speaking Courses
5 Best VR Public Speaking Courses to Build Your Skills and Confidence
Looking to improve your public speaking skills through VR training? Here are the best VR public speaking courses to help you become a more confident speaker.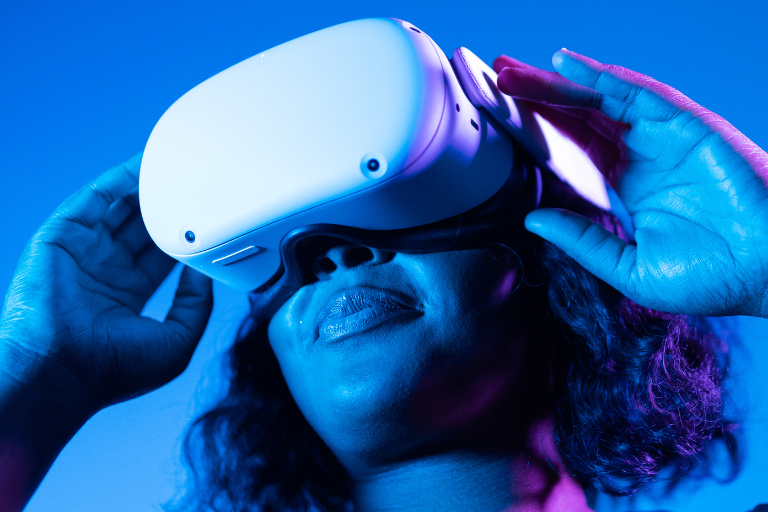 Learning by doing is one of the most effective ways to learn new skills, and this is especially evident when we combine public speaking training with virtual reality. 
Research has shown that VR public speaking training has a statistically significant effect on reducing public speaking anxiety, helping participants develop better eye contact, and improving the quality of speech in terms of gesture control and fluency. 
In this article, we'll explore the best VR public speaking courses for learners who would like to practice their speaking skills in a safe, realistic environment. 
The courses mentioned below are offered by Virtual Speech, an awarding-winning company that specializes in soft skills VR training for organizations and individuals.
These courses will give you the opportunity to apply your learning with interactive practice exercises and receive instant feedback on areas such as eye contact, speaking pace, hesitation words, volume, and other criteria - so you can easily identify areas to improve.
This post may contain affiliate links. Please read my disclosure for more information.
What are the Best VR Public Speaking Courses?
Here are the best VR public speaking courses to enroll in this year. 
Note: For the courses below, be sure to get your hands on a VR headset if you don't already have one. Personally, I'd recommend the Oculus Quest or the Meta Quest 2 headset.
Essential Public Speaking is a popular VR course that teaches the tools and techniques you need to successfully deliver a presentation, pitch, or speech whenever you want.
A unique feature of this course compared to more traditional public speaking courses is that you can practice everything you've learned, either online or in VR. 
As you progress through the course, you'll learn how to: 
Be more comfortable speaking in front of audiences of various sizes
Deliver effective and memorable speeches
Design your presentation to engage and persuade your audience
Manage nerves and become a confident public speaker 
Engage and connect with your audience through storytelling
Enhance your message with body language, eye contact, and gestures
Course Syllabus: 
Welcome and overview
Understanding speech 
Connecting with the audience 
Planning your speech 
Impromptu speeches
Writing and structuring your speech 
Literary techniques 
Coping with nerves and anxiety 
Delivering your speech 
Summary
At key points during the course, you'll be prompted to practice what you've learned in the following exercises: 
Eye contact training
Impromptu speech training
Sound and visual distractions
Giving a TEDx speech
Formal or charity speech
Video-Based Presentation
Lecture hall
Conference presentation
In the course, you'll watch real-life video examples of the skills being taught, including how to start a presentation, use your voice effectively, and answer audience questions.
Course participants have stated that completing the practice exercises has reduced their anxiety, as they get more familiar with speaking in front of an audience.
Key course features:

CPD Accredited
65 online lessons
Digital certificate
8 practice exercises
5 hours of learning
=> Enroll in the Essential Public Speaking VR training course here.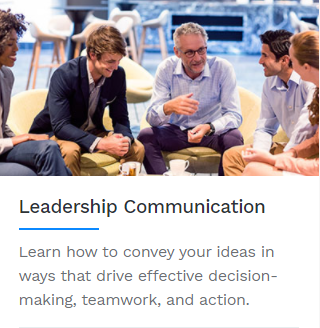 Communication skills are essential for leadership; as your responsibilities grow, your communication skills can either help you or hinder you.
This course will teach you the skills to become more persuasive and influential in a variety of settings, from boardroom pitches to networking events, conference talks, and more. 
You will learn how to: 
Apply leadership and communication techniques to become a more effective leader
Implement best practices for influencing employees, managers, subordinates, customers, and other stakeholders
Effectively handle challenges such as delivering unpopular news, increasing team motivation, and restoring credibility
Navigate a range of speaking environments, from elevator pitches to high stakes presentations
Deliver powerful messages that lead to action 
Course Syllabus: 
Welcome and overview
Fundamentals of leadership communication
Understand and connect with your audience
Nonverbal and verbal communication
Using language to achieve impact
Prepare and deliver effective presentations 
Handling difficult situations 
Different business situations and audiences 
Sell your organization's vision, mission, and values 
The VR practice exercises in this course allow participants to test out new approaches and communication styles in a safe space, without fear of judgment or consequences.
You'll receive instant feedback on your performance and can repeat the exercises as often as needed until you speak with clarity and conviction, and feel comfortable acting on your skills in the real world.
The practice exercises in the course depict the following scenarios:
Pitching a new project
Building rapport while networking 
Media scenarios tour 
Delivering bad news to employees
Giving a TEDx Talk about the company vision

Press statement

Active listening exercises
Key course features: 
Online
CPD Accredited
43 online lessons
Digital certificate
7 practice exercises
4 hours of learning
=> Enroll in the Leadership Communication VR training course here.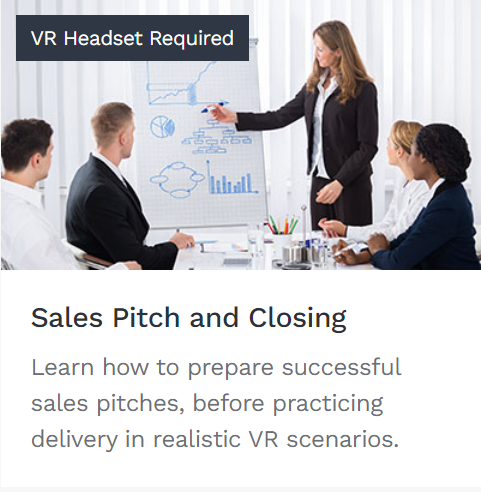 What's the difference between a winning and losing sales pitch? 
This VR course will help you understand and master the mechanics of a successful sales pitch.
You will learn how to: 
Deliver a confident, engaging and effective sales pitch that drives results
Implement techniques that influence and persuade people to purchase
Present yourself with confidence and clarity
Build authentic connections with your prospects
Handle objections with ease and use them to negotiate a winning deal
Course Syllabus: 
Welcome and overview
Connecting with the audience
Your mannerisms
Your appearance
Preparing for the pitch
Delivering the sales pitch 
Handling objections 
Closing the deal 
The course contains the following VR training scenarios: 
Practice sales pitch 
Pitching at a trade show 
Body language and rapport building 
Prospect meeting 
Selling generic products
Elevator pitches
Active listening exercises 
The advantage of taking a VR course like this for sales training is that you'll be able to analyze your pitch and tone using voice analysis.
Tonality is important in sales because a natural and confident tone will reassure the customer that you believe in what you're selling and that it truly works.
However, you'll also want to adjust your pitch for impact - such as using moments of high pitch to express excitement and moments of low pitch to convey a sense of authority and expertise. 
This course will help you monitor your mannerisms, apperance and voice quality, to increase your odds of winning the sale.
Key course features: 
Online with VR
CPD Accredited
41 online lessons
Digital certificate
7 VR scenarios
3 hours of learning
=> Enroll in the Sales Pitch and Closing VR course here.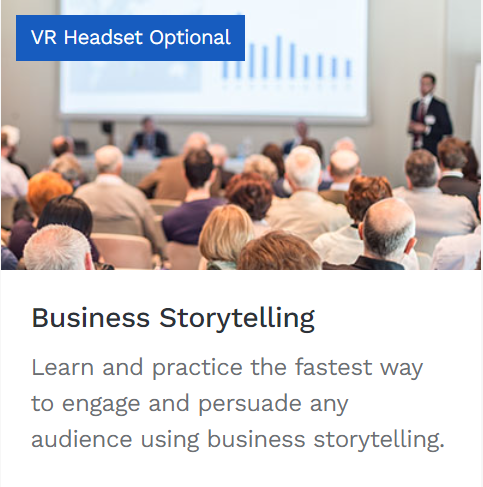 In today's landscape of information overload, facts and figures are no longer the currency for influence.
If you want people to pay attention when you deliver your message, you need to be able to cut through the noise and connect on a human level.
This VR public speaking training course focuses on using the art of storytelling to grab your audience's attention. 
You will learn how to:
Streamline content through stories and save time in presentations
Inspire colleagues, unstick resistance to an idea and encourage action
Overcome difficulties with getting your message heard and decisions made
Course Syllabus: 
Welcome and introduction
Why is storytelling important
Where can you find stories?
How to construct a story for maximum impact
How to deliver a story so it's compelling 
Building a story using a template and guide 
Mastery, making storytelling a business asset 
The course instructors are Colin James and Erica Bagshaw, executive coaches with over 20 years of experience collaborating with leading organizations and professionals in the corporate sector. 
Their teaching method, The Colin James Method® is a proven communication skills training methodology that teaches you how to create relevant stories that ensure your audience are present in the moment, listening to you, and absorbing your message.
Key course features:
Online
CPD Accredited
28 online lessons
Digital certificate
6 practice exercises
7 hours of learning
=> Enroll in the Business Storytelling VR course on Virtual Speech here.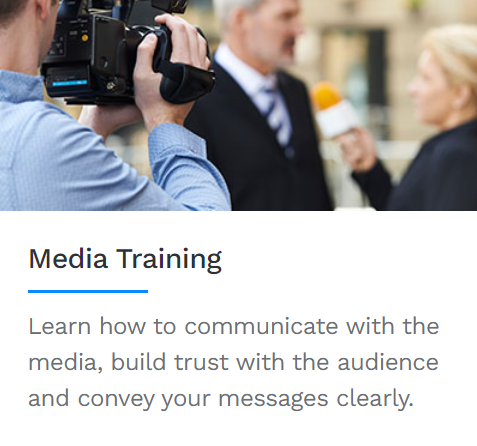 Media training is one of the most underrated yet important types of public speaking training. 
Now more than ever before, brands, organizations, and business leaders are facing constant pressure to rapidly and transparently communicate what they are doing and why.
This VR course is designed for individuals who have to deal directly with the media as part of their job role - for example, senior managers, startup founders, or company spokespeople.
Participants will learn how to: 
Deliver important messages that are memorable and tell a story
Put themselves forward as a spokesperson for their organization
Navigate in the principles of media communication and gain exposure to the media
Effectively deal with journalists
Adapt the message depending on the type of interview
Learners will practice talking with journalists and dealing with the media in a variety of common situations, including the following: 
BBC styled studio interview
Press conference training
Down-the-line interview
Radio or podcast interview
Guided tour
Media ambush
As an element of media training, the course also has a slight focus on crisis communications.
You'll practice navigating specific questions, such as those relating to mergers and acquisitions, a new product launch, and a new leadership position. The end goal of this course is to have you prepared for all eventualities, from breakfast TV to live questioning in a crisis. 
Key course features: 
Online
English
29 online lessons
Digital certificate
6 practice exercises
2 hours of learning
=> Enroll in the Media Training VR course here.
Final Thoughts
While public speaking books are great for learning the principles of great speeches, the best way to take your skills to the next level is to practice in real-world scenarios, such as those presented in public speaking VR courses. 

Hopefully this list has helped you find some VR courses that fit your educational needs, whether you are an individual looking for personal development resources or a manager looking to upskill your team.
Even if you feel like an absolute beginner when it comes to speaking publicly, by practicing in front of a virtual audience and getting your reps in, you'll keep growing your skills until you're confident and ready to hit the stage. 
Happy learning!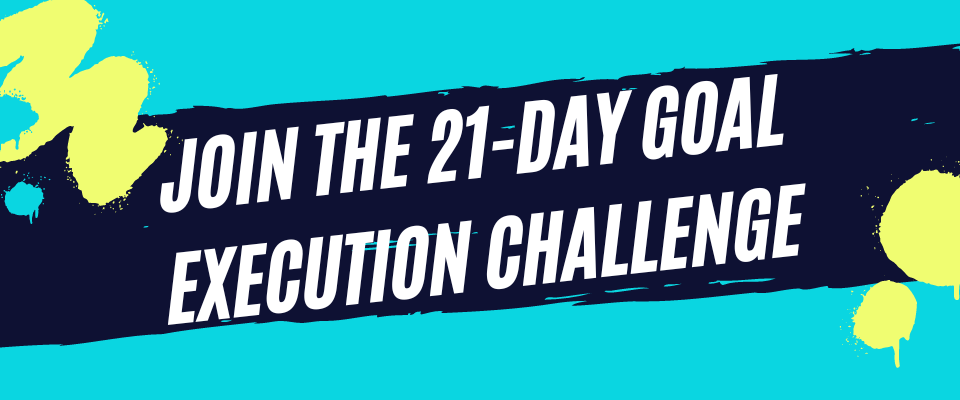 Thanks for reading! If you liked this content, share with a friend:
Dec 09, 23 08:34 PM

Below is a quote from Jhené Aiko's Poetry Book, 2Fish, that is both moving and beautiful. Here's a moment of reflection on the words in the excerpt and the meaning they convey.

Dec 08, 23 08:08 PM

It's an amazing thing to hear a person's life story, read aloud. Here are the best biography audiobooks to give you a peek into different iconic perspectives.

Nov 30, 23 09:41 PM

Would you like to improve your ability to read people? Here are the best body language books that will boost your social intelligence.