Gifts for Content Creators
10 Best Gifts for Content Creators That Will Make Them Adore You 
Looking for a practical gift for a blogger or vlogger? Here's a guide to the best gifts for content creators.
It's always very thoughtful to give people gifts based on what they do for work. 
This is especially true when it comes to content creators and creative freelancers, who always seem to be working round the clock to meet client deadlines. 
With this in mind, here's a roundup of the best gifts for content creators that will make their lives easier. 
Whether the gift recipient is a blogger, YouTuber, influencer, podcaster, or something else - you're sure to find something here that will make them beam with excitement and appreciation. 
This post may contain affiliate links. Please read my disclosure for more information.
What are the Best Gifts for Content Creators? 
Here are some of the best, most useful gifts for content creators in 2023: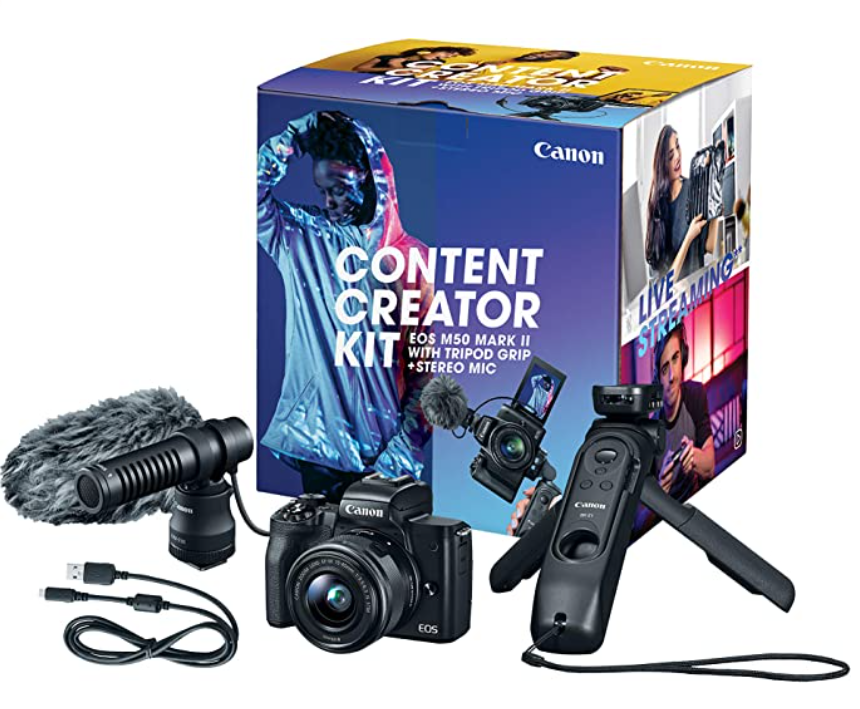 If you're looking to go all out, this Canon EOS M50 Mark II Content Creator Kit is one of the best gifts for content creators who vlog.
The EOS M50 Mark II is a high-performance and portable camera that lets you record breathtaking 4K 24p or HD 120p video, so you can create stunning movies, beautiful time-lapse videos, smooth slow-motion playback and more.
In addition, you're able to live stream directly from the camera to YouTube, so you can share key moments right as they happen - from concerts to behind-the-scenes shots - in cinematic image quality.
Bundled with a stereo microphone and windscreen for crisp audio, as well as a lightweight tripod grip to keep the camera stabilized, this kit will get you set to embark on your next vlogging adventure.

=> Find the Canon EOS M50 Mark II Content Creator Kit on Amazon.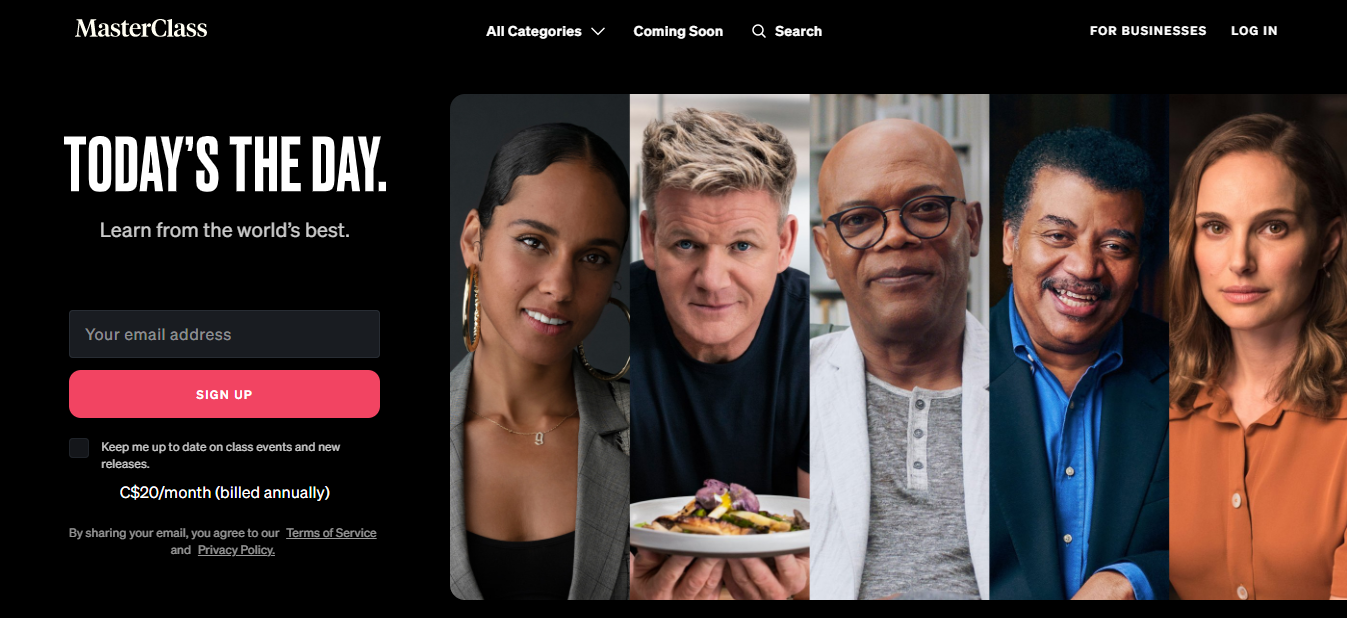 I don't know about you, but I've been slightly obsessed with MasterClass recently. 
From my experience, it's an online learning platform that delivers a classy, cinematic experience.

Moreover, MasterClass is a great way for content creators to improve their craft, because the classes are particularly geared towards creators, i.e. individuals who are interested in photography, cooking, business, interior design, writing, etc. 
Whether you're a lifestyle blogger, makeup maven, or a business coach, there's a good chance you can find a class on the platform that's taught by someone who does what you do, on a larger scale.
For example, here are some popular classes on MasterClass:
Malcolm Gladwell Teaches Writing
Diane von Furstenberg Teaches Building a Fashion Brand
Jimmy Chin Teaches Adventure Photography
Chris Voss Teaches the Art of Negotiation (

see my review here

)
Gordon Ramsay Teaches Cooking 

Kelly Wearstler Teaches Interior Design 
Sara Blakley Teaches Self-Made Entrepreneurship (

see my review here

)

Note: If you're thinking about getting MasterClass soon, be sure to take advantage of their 2-for-deal that allows you to get a membership for both yourself and a friend, so you can be learning buddies!
Related: How to Give MasterClass a Gift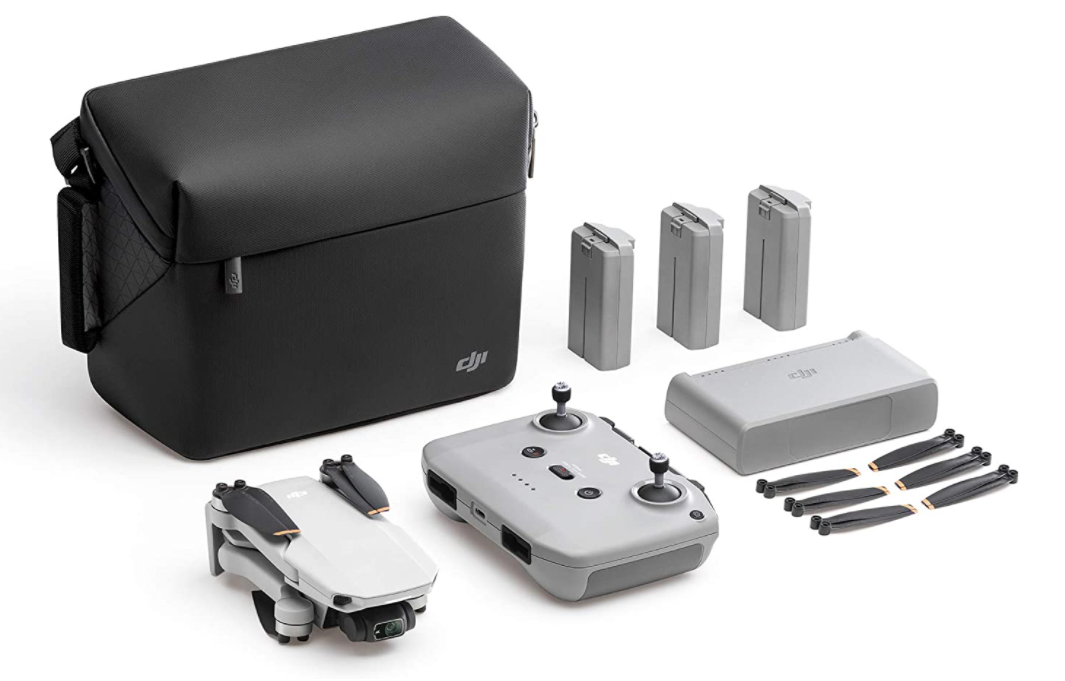 Who can resist a stunning aerial shot? 
The DJI Mini 2 is a powerful yet beginner-friendly drone that's an ideal gift for anyone who loves photography.
With just a few taps, the drone automatically records and shoots professional-level videos that you can share directly on social media or edit with soundtracks and filters on the DJI Fly app.
With a battery life of up to 31 minutes, you'll have the ability to fly farther and see clearer to compose the perfect shot.

In addition, the Mini 2 can resist level 5 winds and take off at a max altitude of 4,000 meters, so your footage is stable even when flying along a windy coastline or high above an alpine forest.
=> Find the DJI Mini 2 Fly More Combo on Amazon here.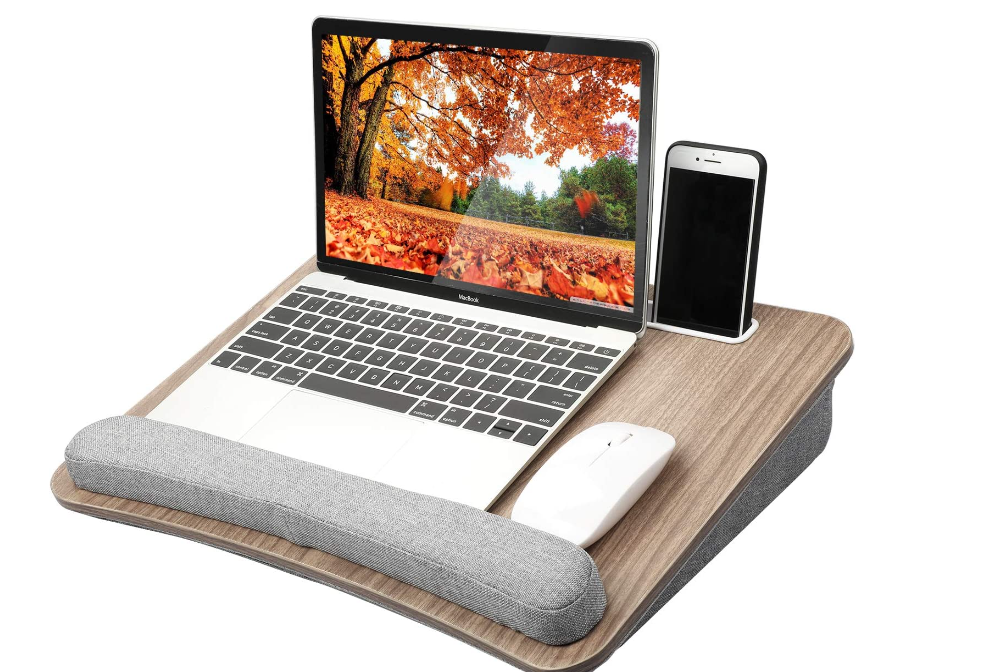 It's no secret that content creators love to work in their pyjamas.
This Lap Desk by HUANUO was designed with everything you need to make working in bed a comfortable experience.
The desk is built with an environmentally friendly wooden panel and dual bolster cushions that keep your laptop at a comfortable angle while you work. 
In addition, it comes with fancy compartments for storing your pens, phone, and tablet (so you can monitor your devices for any incoming messages/calls) and a mouse pad that enhances your work efficiency.
They literally thought of everything.
=> Find the Huanuo Lap Desk on Amazon here.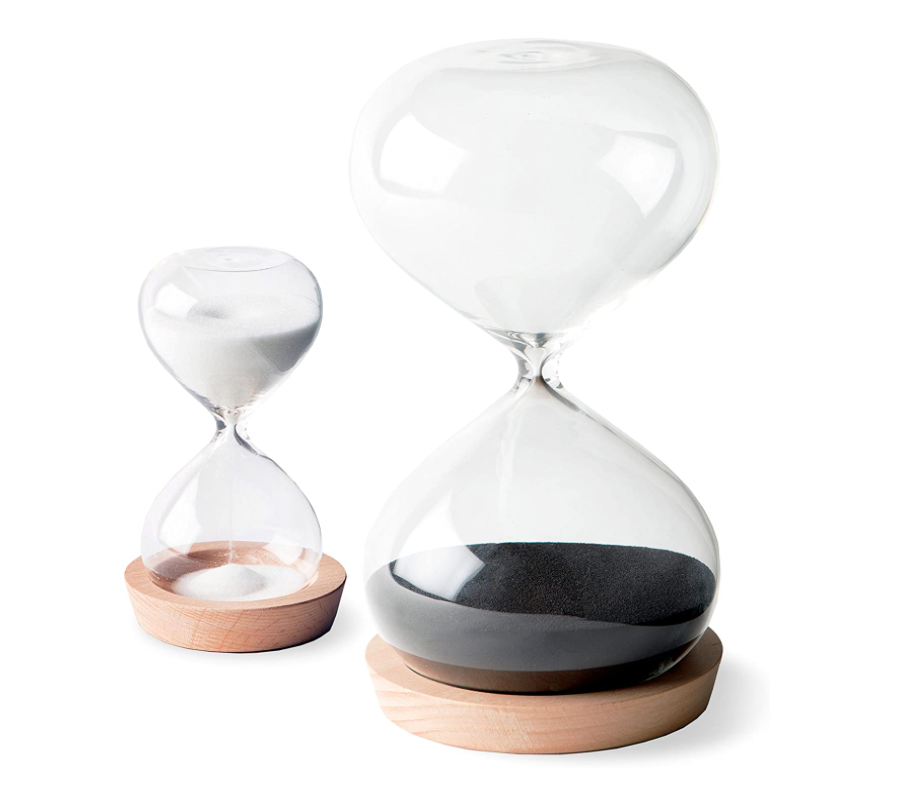 While we're on the topic of productivity, here's another cool gift idea. 
These sturdy, minimalistic sand timers by OrgaNice make it easy to track your work, measure your progress, and prevent burnout with a time out. 
They're also a clear, visible sign to anyone nearby that you are in the middle of a focus session.
Just flip the clock and give yourself 30 minutes of uninterrupted workflow (or a solid 5-minute break) whenever you need it.
=>
Find the OrgaNice Hourglass Sand Timer Set on Amazon here
.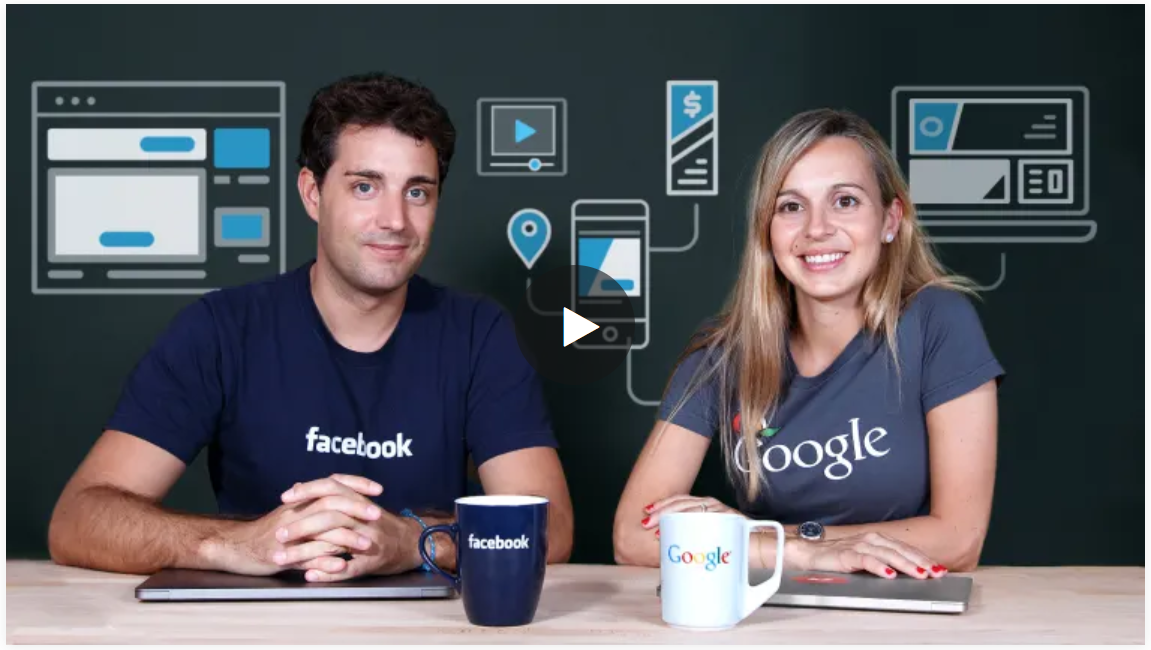 With so much to constantly learn as a content creator, the cost of online courses can rack up pretty quickly. 
Here's a way to help out...
Domestika is a fast-growing creative community where experts share their knowledge and skills through professionally produced online courses.

It all started as a small forum but has developed into a fun, dynamic platform for anyone interested in learning creative skills such as design, illustration, photography and video, digital painting, 3D & animation, marketing, and much more. 
When you gift a subscription to Domestika Pro, your gift recipient will be able to watch two or more free courses every month, and they'll get an additional 20% discount on any other courses they're interested in.
Alternatively, if you know that there's a particular skill your loved one is interested in learning, you can create a gift bundle for them and surprise them with a selection of popular courses on that topic. 
Overall, I think Domestika is probably one of the most helpful and unique gifts for content creators on this list.
When you give a gift like this, it's like saying: "Well done, I'm proud of what you do, and I want to support your continued growth!"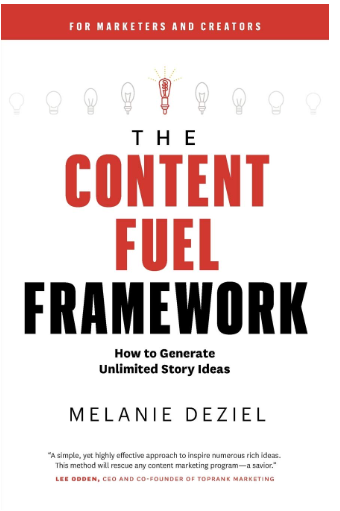 When you're a content creator, ideas are everything. 
Never before have we consumed as much content, in as many forms, and in as many places as we do now.
How do you keep the ideas rolling and avoid creator's block? 
How can you fill all those web pages, social feeds, blogs, and newsletters, every single day?
In The Content Fuel Framework, trained journalist and award-winning content marketer Melanie Deziel shows you how to maximize your creativity by systematizing it.
Instead of asking "what should I post?" or waiting for that "big idea" to show up in its own time, Melanie explains how storytellers from any industry can learn to produce fresh story ideas on demand, any time.
The Content Fuel Framework will challenge you - and enable you - to tell stories in entirely new ways.
It's an adaptable and evergreen guide that makes the perfect gift for a content creator friend! 
=> Get "The Content Fuel Framework" on Amazon here.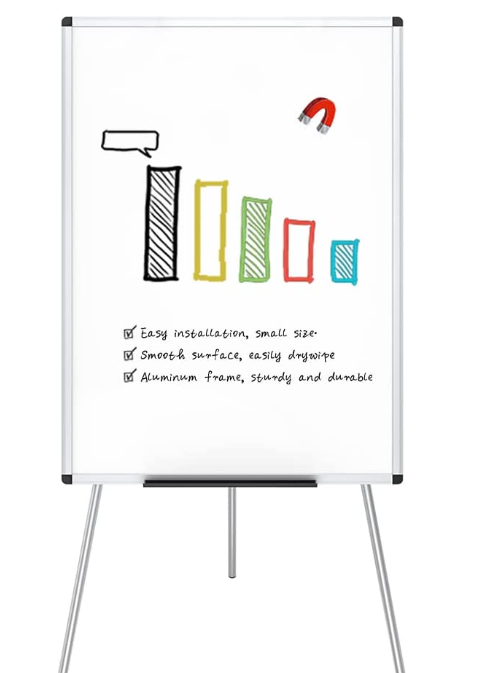 Now that we've got all the ideas, we'll need something to jot them down on...
That's where the Viz Pro Magnetic Portable Dry Erase Whiteboard comes in handy.
This tripod whiteboard is a gift that will regularly get used by content creators. 
It features a smooth and durable magnetic surface that you can easily drywipe with all dry erase markers. 
In addition, it's height adjustable from 46 to 64 inches, so it's versatile and can also be used for teaching, training, presentations, and outdoor activities. 
=> Get the VIZ-PRO Magnetic Dry Erase Whiteboard on Amazon here.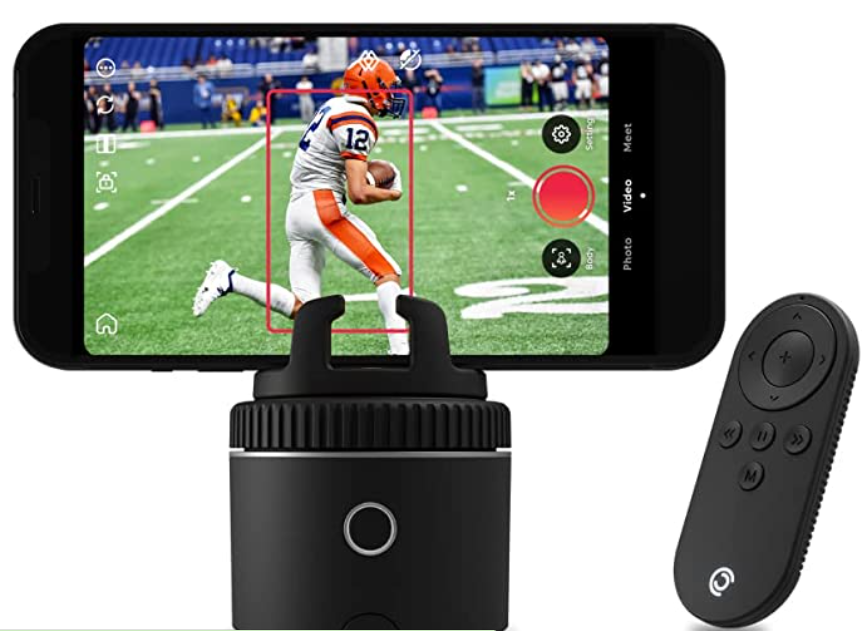 Pivo Pod is a smartphone holder that uses powerful app-driven motion tracking and 360° rotation to capture your every move.
It's a great gift for YouTubers, vloggers, photographers, and other aspiring creators who film alone and need to get the perfect shot. 
With the Pivo Pod, you can switch seamlessly between face tracking and body tracking to create videos that are more dynamic and engaging. 
The device automatically zooms in and out and features auto light adjustment to ensure that you're always in the spotlight.
It also has a Smart Capture feature for when you're on the move - all you have to do is snap your fingers, strike a pose, or say "cheese" to capture the perfect picture. 
=> Get the Pivo Pod AutoTracking Phone Holder on Amazon here.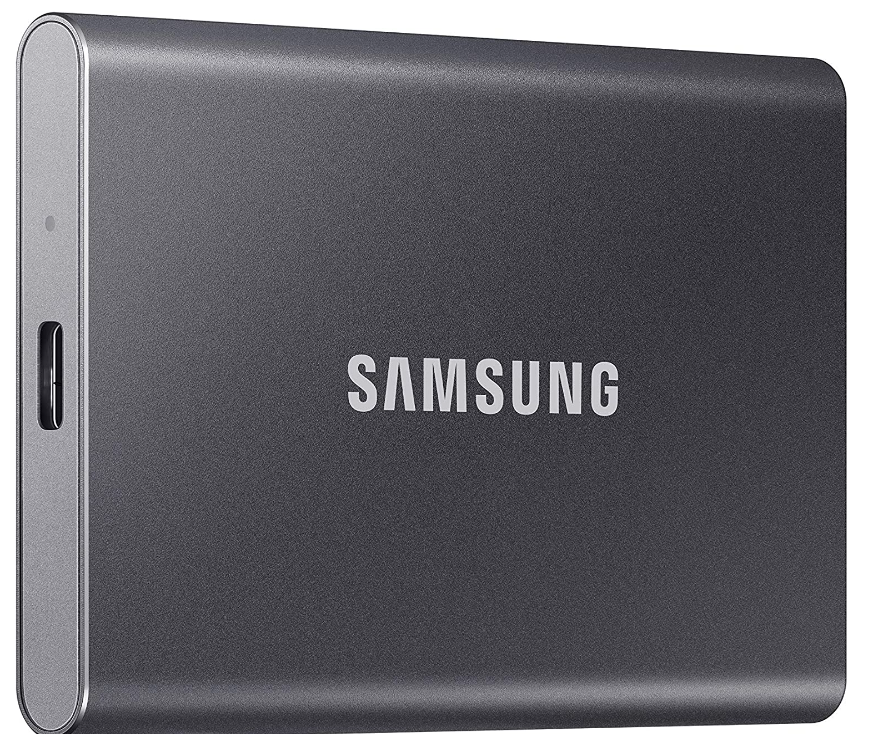 To the average person, this little grey box might not seem to be much, but for a content creator, it's their entire livelihood. 
The Samsung T7 portable SSD provides an instant storage upgrade for content creators who need to take their photos, videos, music and other files with them wherever they go.
The SSD combines speed and durability in a palm-sized package. In addition, unlike HDDs, it has no moving parts, so it's more resistant to shock. 
Specs:
Available in three capacities to suit your needs: 500GB, 1TB, or 2TB
Transfer massive files within seconds with the incredible speed of USB 3.2 Gen 2
Is backed by a 3-year limited warranty
Dynamic Thermal Guard withstands and controls heat, to keep the SSD at an optimal temperature even at fast speeds
Comes embedded with software to help you set up a password to get the latest firmware updates for your PC, Mac, or Android devices
If you're looking for an underrated yet uber-practical gift for content creators, this is it.
=> Find the SAMSUNG T7 Portable External SSD on Amazon here.
Final Thoughts
So - there we have it - a list of some awesome gift ideas that will bring a smile to the face of your content creator friends. 
Of course, the gift(s) you ultimately decide to get should be determined by your knowledge of the person in question and the sort of activities they engage in on a daily basis.
If you need a refresher, just watch their YouTube/TikTok videos, scroll their IG, or read their blog to see what they've been up to recently :)
Hope you found this helpful!
Related: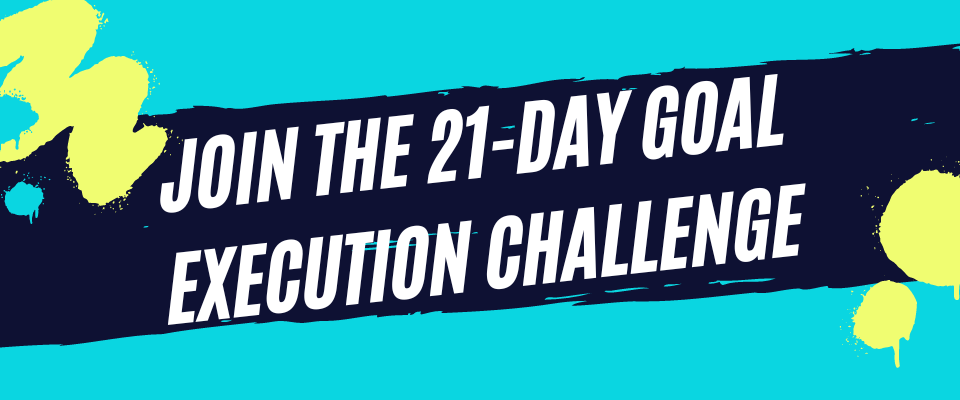 Thanks for reading! If you liked this content, share with a friend:
Dec 09, 23 08:34 PM

Below is a quote from Jhené Aiko's Poetry Book, 2Fish, that is both moving and beautiful. Here's a moment of reflection on the words in the excerpt and the meaning they convey.

Dec 08, 23 08:08 PM

It's an amazing thing to hear a person's life story, read aloud. Here are the best biography audiobooks to give you a peek into different iconic perspectives.

Nov 30, 23 09:41 PM

Would you like to improve your ability to read people? Here are the best body language books that will boost your social intelligence.