7 Best Sleep Science Books of All Time That Everyone Should Read
Would you like to sleep better? Here are the best sleep science books, to boost your knowledge of this bodily function that is essential for human health.
Why do we sleep? What is circadian rhythm? How does your chronotype affect your energy levels throughout the day?

Here is a list of the best sleep science books, to help you answer these questions and more. 
Compiled from decades worth of research into sleep science, these books will expand your understanding of how sleep works. 
Sleep is a fascinating yet commonly misunderstood area of life. These books dispel common sleep myths, and shed light on what exactly is needed to get better quality sleep and improve your results each day.
This post may contain affiliate links. Please read my disclosure for more information.
What are the Best Sleep Science Books?
Here are the best books on sleep science that you should read if you want to get better sleep: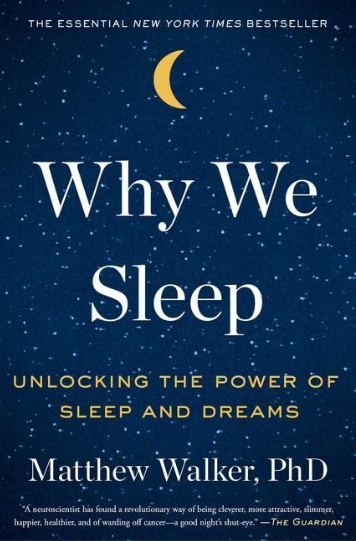 This is a book that I'm excited to recommend because I took the Science of Better Sleep Masterclass by Matthew Walker and thoroughly enjoyed it. 
For many years, in comparison to the other basic drives in life - eating, drinking, and reproducing - the purpose of sleep remained elusive.
However, an explosion of scientific discoveries in the last twenty years has shed new light on this fundamental aspect of our lives.
In Why We Sleep, leading sleep expert and neuroscientist Matthew Walker gives us a new understanding of the vital importance of sleep and dreaming.
Walker answers important questions about sleep, including: 
How do caffeine and alcohol affect sleep?
What really happens during REM sleep?
Why do our sleep patterns change across a lifetime?
How do common sleep aids affect us and can they do long-term damage?
Overall, Why We Sleep is a book on a mission. Walker is in love with sleep and wants us to fall in love with sleep, too.
Read this book: get hard copy on amazon | get the free audiobook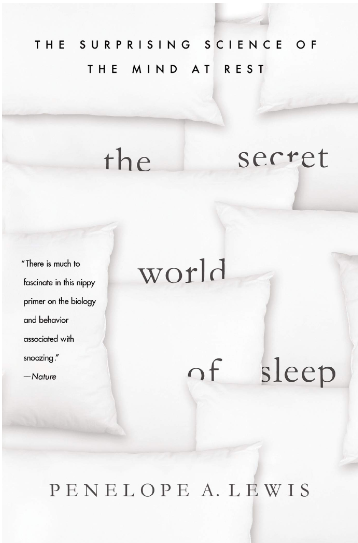 Is there any truth to the popular folk saying to "sleep on a problem"? 
Evidently so, when we look at what science reveals. 
In The Secret World of Sleep, neuroscientist Penny Lewis explores the latest research into the nighttime brain to understand the real benefits of sleep.
She shows how, while our body rests, the brain lessens the impact of traumatic memories, practices tasks it learned during the day, and forges connections between distant concepts.
Most of us have some vague idea of the scientific explanations for sleep, but probably no real idea of why or how these things work. Lewis helps us fill in the gaps in this concise and accessible book.
Read this book: get hard copy on amazon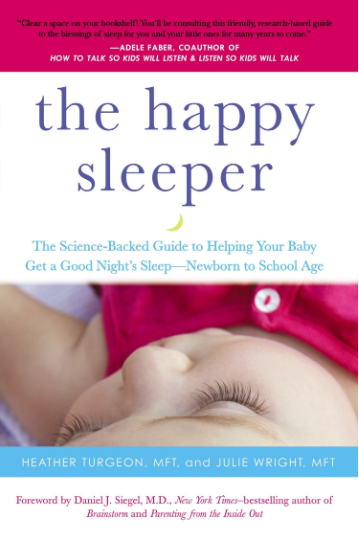 The Happy Sleeper is one of the best sleep science books for parents who are trying to find a solution to their children's sleep issues. 
Many parents spend a lot of time and energy coaxing, negotiating, swinging, and dancing their children to sleep. 
Yet studies show that sleep deprivation among children is rampant. It turns out that over time, all that cajoling and soothing can actually have the opposite effect, keeping kids awake. 
In The Happy Sleeper, child experts Heather Turgeon and Julie Wright  teach parents that babies have an innate capacity to self-soothe, as well as the brain machinery to sleep well.
In addition, they show parents how to help babies and young children access the self-soothing skills they need to:
Fall asleep independently
Grow into natural, optimal sleep patterns for day and night
If you're a parent, this friendly, research-based guide will show you how to give your children the relationship security they need while also providing them the structure they require to sleep well and thrive.
Read this book: get hard copy on amazon | get the free audiobook
Devin Burke is the founder of Sleep Science Academy, an international and TEDx speaker, and one of the world's top health and sleep coaches. 

He helps high achievers and exhausted insomniacs get and stay asleep so they can wake up with more peace, power and presence.
In The Sleep Advantage, Burke presents a roadmap for using sleep to generate effortless energy in our daily lives. 
As you read, you'll discover how to: 
Fall asleep faster & rest deeper
Wake up feeling energized & refreshed
Use sleep supplements to improve your sleep quality
Sleep smarter to stay mentally focused
Master stress & release tension
Support weight-loss & sleep your way to a better body
Achieve a more fulfilling life
This book is full of hyper-practical and easy to implement tips that are backed up with scientific studies.
Burke demonstrates how sleep is the missing link to optimizing your health and performance, and shows you how to sleep better than you likely have in years!
Read this book: get hard copy on amazon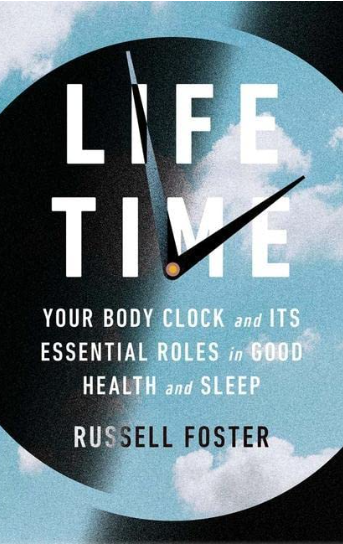 The Life Time is a book by an awarding-winning expert on circadian neuroscience that guides readers on a fascinating journey through our circadian rhythms, sleep, and health. 
In the book author Russel Foster, explains how the realities of 24/7 life - including night-shift work and overbooked calendars - disrupt the body clock, taking a toll on sleep and on mental and physical health.
Packed with cutting-edge science, Foster dismantles long-standing sleep myths and empowers readers by showing how we can get back into rhythm and live healthier, sharper lives.
Essentially, this sleep science book is a comprehensive manifesto for living in harmony with our body clocks, penned by someone who has devoted his career to studying them.
Read this book: get hard copy on amazon | get the free audiobook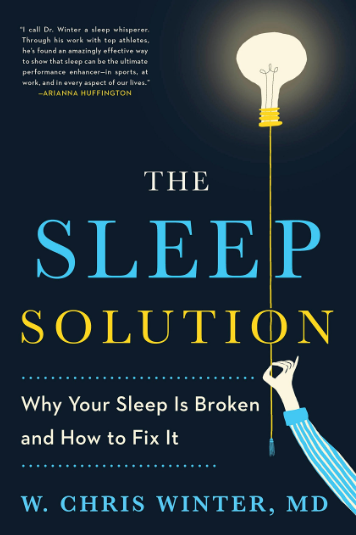 The Sleep Solution is an exciting read that will help you design custom sleep solutions for your situation.
Drawing on his twenty-four years of experience within the field, neurologist and sleep expert W. Chris Winter will help you…
Understand how sleep works and the ways in which food, light, and other activities act to help or hurt the process
 Learn why sleeping pills are so often misunderstood and used incorrectly - and how you can achieve your best sleep without them
Wade through the ever-changing sea of sleep technology and understand its value as it relates to your own sleep struggles
Whether you're a busy professional, shift worker, student, or parent, this book will show you how to incorporate sleep and napping into your life, so you can get the energy boost you need to conquer the day. 
You'll also gain a new perspective on treating a multitude of conditions, from insomnia to sleep apnea to restless leg syndrome and circadian sleep disorders. 
Read this book: get hard copy on amazon | get the free audiobook
Questions on the origins and meaning of dreams are as old as humankind, and as confounding and exciting today as when scientists first attempted to answer them. 
Why do we dream? Do dreams hold psychological meaning or are they merely the reflection of random brain activity? What purpose do dreams serve?
In this book, Antonio Zadra and Robert Stickgold, two world-renowned sleep and dream researchers, bring together state-of-the-art neuroscientific ideas to address these age-old questions about the mysteries of sleep.
The authors use their findings to propose a new and innovative model of dream function called NEXTUP - Network Exploration to Understand Possibilities.
By detailing this model's workings, they help readers understand key features of several types of dreams and explain how dreams can facilitate creativity and be a source of personal insight.
Read this book: get hard copy on amazon | get the free audiobook
Final Thoughts
Hopefully this article has whet your appetite for discovering more about the fascinating world of sleep. 
Sleep is not just an interesting subject to learn about; it's an area that has very real implications on the quality of your everyday life.
By reading and studying books on sleep science, you'll do more than grow your theoretical knowledge - you'll also equip yourself with practical tips to boost your performance and productivity and help your loved ones get better sleep.
Even though the majority of the world is sleeping on the benefits and advantages of this basic human need - you don't have to!
=> Get a free sleep science audiobook here. 
Happy learning! 
Related: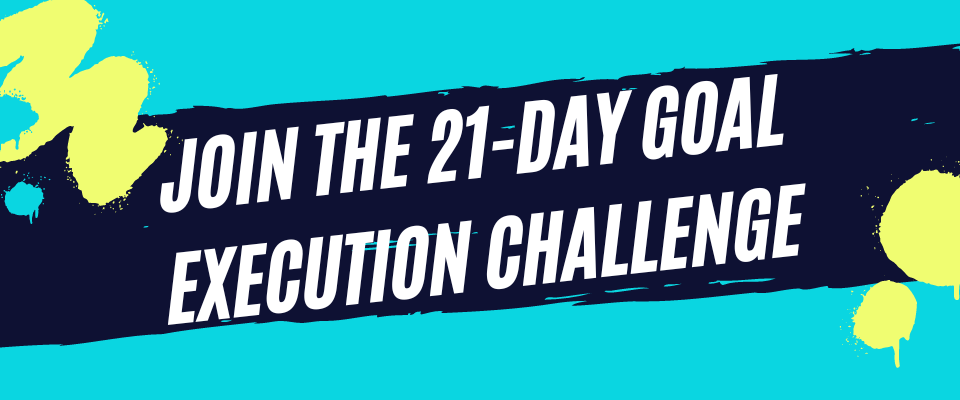 Thanks for reading! If you liked this content, share with a friend:
Dec 09, 23 08:34 PM

Below is a quote from Jhené Aiko's Poetry Book, 2Fish, that is both moving and beautiful. Here's a moment of reflection on the words in the excerpt and the meaning they convey.

Dec 08, 23 08:08 PM

It's an amazing thing to hear a person's life story, read aloud. Here are the best biography audiobooks to give you a peek into different iconic perspectives.

Nov 30, 23 09:41 PM

Would you like to improve your ability to read people? Here are the best body language books that will boost your social intelligence.
Your second block of text...