10 Best Books for Bloggers - Master The Craft and Make More Money
The type of content you consume has a direct impact on your success as a blogger. Here are the best books for bloggers who want to reach their full potential. 
Whether you're starting out your blogging journey, or have been going at it for a while, it's always helpful to learn from other professional bloggers and entrepreneurs. I decided to put together this list of the best books for bloggers for anyone who is looking for inspiration and practical advice from individuals who have successfully built a profitable blog or related business.
Reading books about blogging is useful for at least two reasons:
You learn about specific ways to improve and grow your blog

You discover countless case studies that prove that is it very possible to make a living as a blogger 
I believe in continuously feeding your mind with relevant content as you grow your blog. It helps you build a wealth of knowledge in this field and substantially speeds up your growth, especially when you're a beginner. 
While I read both books and articles about blogging, I find that books go into more detail and provide perspectives and stories that the author may not have shared elsewhere. Today I still remember and benefit from blogging and business tips I read in books many years ago.
So without further ado, here are my top picks for books that can help you improve your content, master your branding, build your audience, and generate revenue from your blog.
This post may contain affiliate links. Please read my disclosure for more information.
The 10 Best Books for Bloggers who are Ready and Hungry to Grow 
Are you ready to grow your blog? Here are some of the best books for bloggers that you can read and start implementing right away: 
1. Influencer: Building Your Personal Brand in the Age of Social Media

This popular book by social media expert Brittany Henessey is your guide to personal branding across your blog and social media platforms. 
Brittany Hennessy is the co-founder & Chief Relationship Officer at Carbon August, an influencer development platform serving creators, performers, and entrepreneurs. She has seen the role of influencers evolve over the years and has many valuable insights to share.
This book will teach you how to:
Build an audience and keep them engaged

Package your brand and pitch your favorite companies

Monetize your influence and figure out how much to charge
This book is especially useful for social media influencers who want to elevate their profile, get discovered by their favourite brands, and work their way up to being part of bigger campaigns. 
Read this book: get hard copy on amazon | get free audiobook 
2. They Ask, You Answer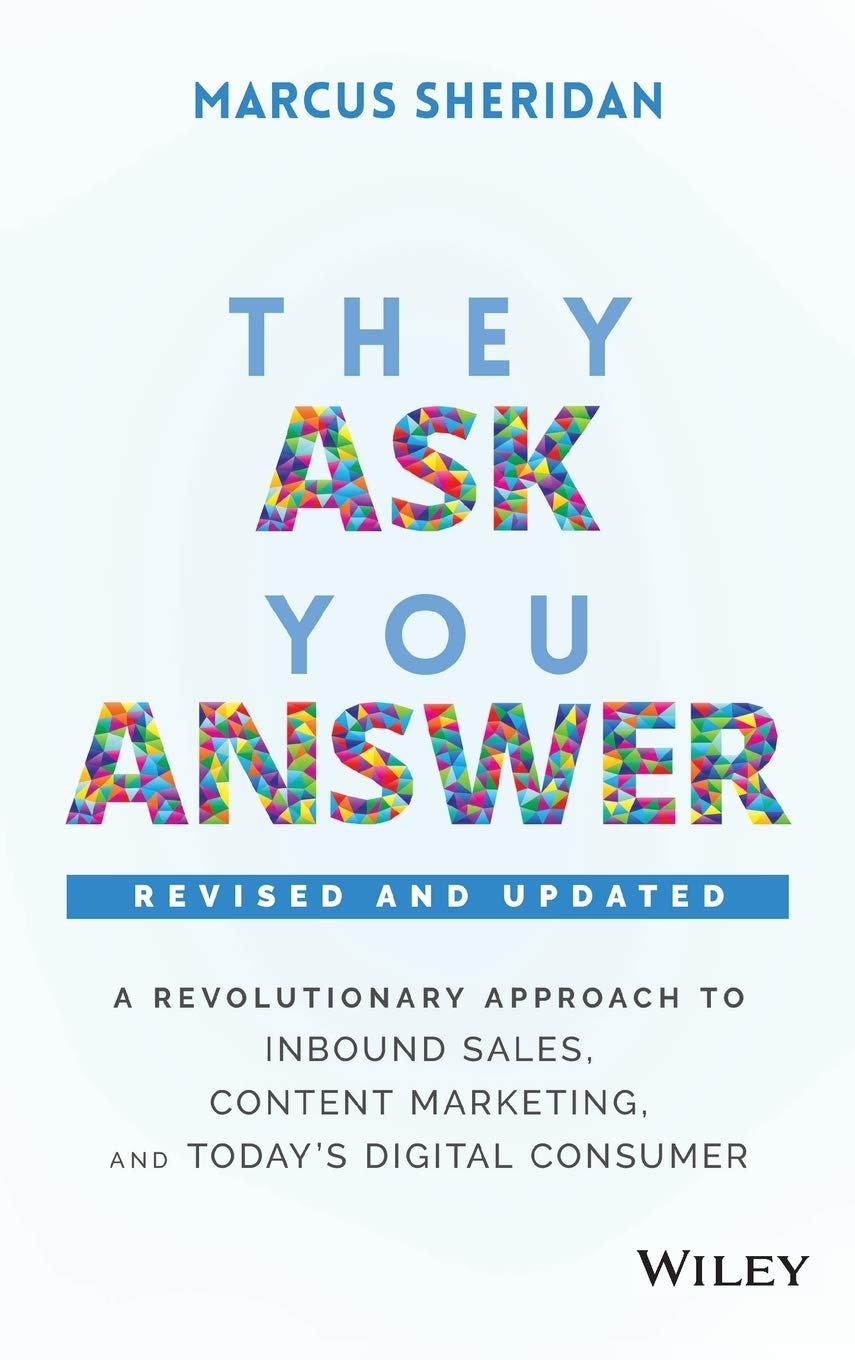 Gone are the days where we could just publish random posts about what we had for breakfast and expect to get website traffic. 
Blogging today is about strategically delivering useful content that answers people's questions. 
Every day, buyers turn to search engines to ask billions of questions. Having the answers they need can attract thousands of visitors to your blog ―but only if your content strategy puts your answers at the top of those search results. 
They Ask, You Answer is a practical guide to inbound sales, content marketing, and today's digital consumer. The book contains the principles that author Marcus Sheridan used to bring his struggling pool company from the bleak depths of the housing crash of 2008 to become one of the largest pool installers in the United States.
This book is a must-have resource that can help bloggers transform their marketing strategy and achieve exceptional growth.
Read this book: get hard copy on amazon | get free audiobook 
3. The Essential Habits Of 6-Figure Bloggers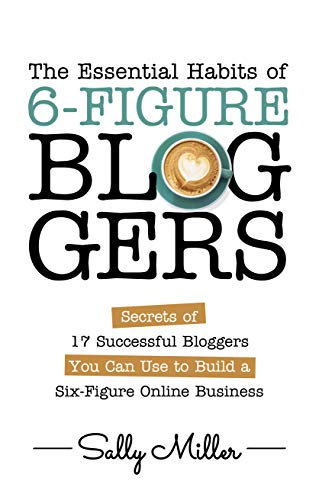 Are you struggling to gain traction with an online audience? Have you been putting in long hours on your blog while seeing no financial return? Is the possibility of blogging full-time beginning to feel like a dream?
If so, this might be just the book for you. 
Seasoned business analyst, MBA, and web expert Sally Miller interviewed seventeen top bloggers who gross over $100,000 every year.
This book shares authoritative insights, personalized exercises, and organized frameworks that show you how they turned their passions into a financially and emotionally rewarding career, and how you can too. 
In The Essential Habits of 6-Figure Bloggers, you'll discover:
By implementing the advice and key principles in this book, you'll discover how to turn your personal message into a fulfilling way to make money from anywhere in the world.
Read this book:
get hard copy on amazon 
4. The One Thing 
The One Thing by Gary Keller and Jay Papasan is one of my favourite books of all time. It's a book that can help you narrow your focus and make the best use of your time as a blogger. 
To find success as a blogger, you must have a clear sense of purpose. Why?
Our purpose sets our priority and our priority determines the productivity our actions produce. 
Without having clear goals in mind, it's so easy to get distracted by other activities we could be pursuing or what others may be doing. Moreover, blogging is a long game that requires patience and dedication. 
In The ONE Thing, you'll learn to 
Cut through the clutter 

Achieve better results in less time 




Dial down the stress 




Build momentum toward your goal
This book helped me get into business mode by encouraging me to always ask the focusing question: What's the ONE thing I can do such that by doing it everything else will be easier or unnecessary?
The principles in this book are simple, but they make a world of difference. 
Read this book: get hard copy on amazon
5. ProBlogger: Secrets for Blogging Your Way to a Six-Figure Income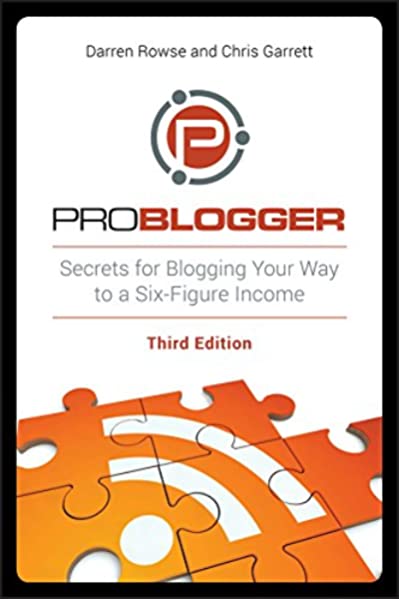 This bestselling blogging book is written by two leading authorities on the business of blogging  - Darren Rowse and Chris Garrett. 
ProBlogger lays out the steps to creating and marketing a blog with the potential for generating a six-figure income. 
You'll learn how to:
Choose the right blog tools and platforms
Find your niche so you can excel
Create content that attracts visitors

Evaluate your blog's success
Implement strategies to generate revenue 
From choosing a topic and publishing your first post to promoting your site using social media and receiving your first check, you'll find out what really works.
Read this book:
get hard copy on amazon
|
get free audiobook 
6. How to be an Overnight Success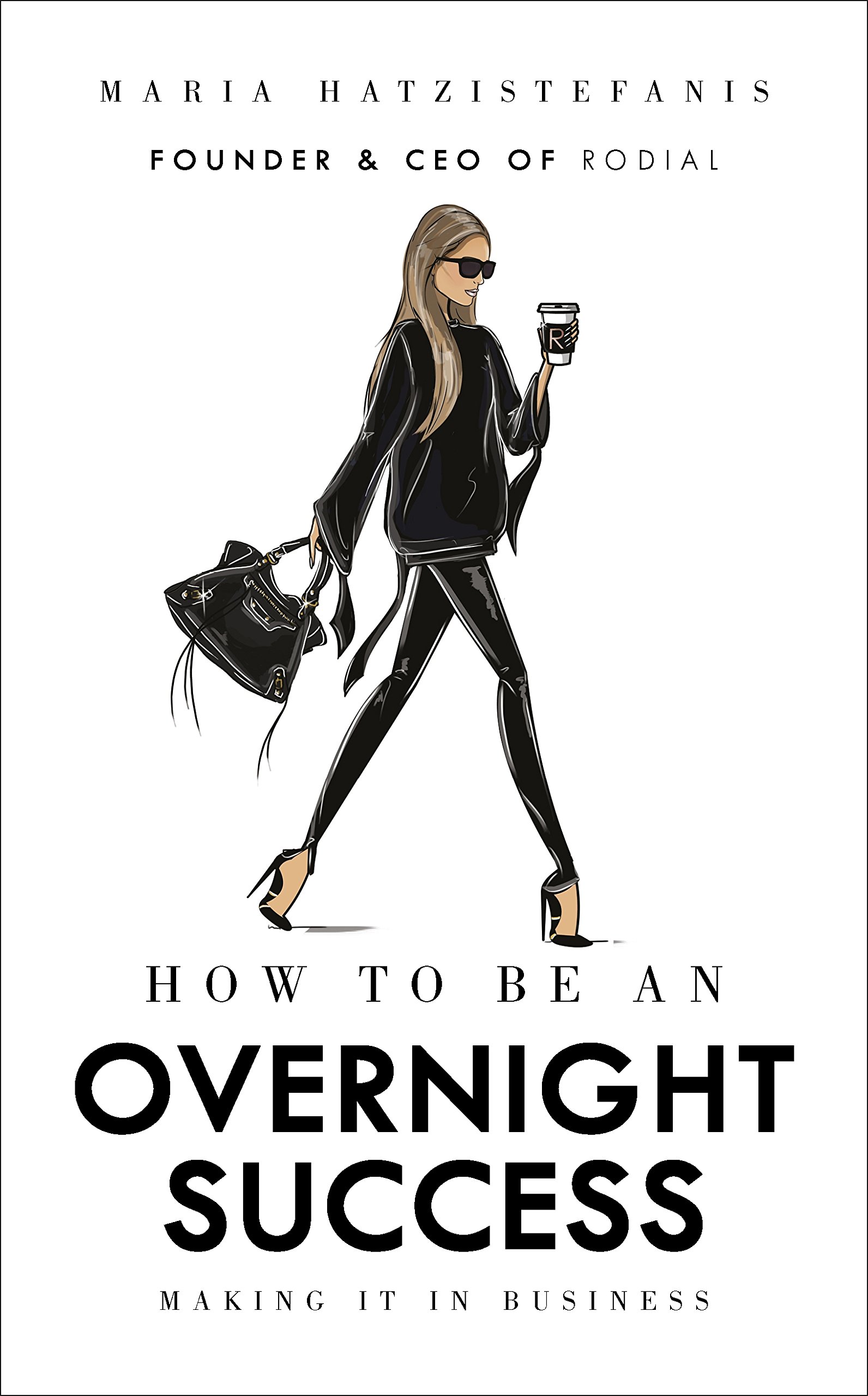 As you read the stories of successful bloggers, you may sometimes feel as though many of them achieved success overnight. In fact, this can seem to be the case across many online business models, when you're on the outside looking in. 
How to Be an Overnight Success by Maria Hatzistefanis - is a book that proves otherwise - and is a great read for women in business. 
Maria is a London-based beauty entrepreneur who found success in business through sheer hard work and patience - toiling away for years while building her skincare company Rodial from scratch in her bedroom. 
Despite not excelling at school, and being fired from her first job - Maria has been able to create a hugely successful company and personal brand, which is now a favourite with high-profile models and media personalities including Poppy Delevingne, Daisy Lowe and Kylie Jenner.
While this book is not directly about blogging, it contains practical advice and inspiration that can help you stay motivated on your entrepreneurial journey. 
Read this book: get hard copy on amazon | get free audiobook
7. Profit from Your Podcast: Proven Strategies to Turn Listeners Into a Livelihood

This is a recommended read for any blogger who hopes to diversify and generate additional streams of income through a podcast. 

The author, Dave Jackson, is a member of the Podcasters Hall of Fame and has more than 15 years in the podcasting field. His show "The School of Podcasting" has 2 million downloads, and his School of Podcasting (launched in 2005) has helped hundreds of people launch a successful podcast. 
Profit from Your Podcast guides you through the whole process of podcast monetization, with chapters that cover such topics as: 
How to Grow Your Audience

How to Set Your Pricing

Understanding Advertising Jargon

How to Find Sponsors

Best Strategies for Making Money as an Affiliate

Master Strategies for Crowdfunding

Harnessing the Power of Webinars and Events

The Top Tools to Make Your Job Easy
This book provides you with tools to help you understand your audience, deliver value, and build an engaged audience, so you can create a profitable podcast. 
Read this book: get hard copy on amazon
8. Crushing It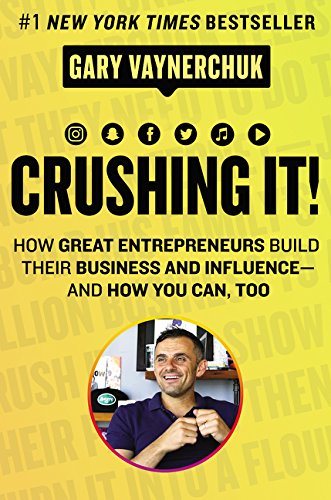 Crushing It! is a book by Gary Vaynerchuk that teaches you how to create a personal brand and thriving business by utilizing social media.
Vaynerchuk speaks on a number of different social media platforms and gives advice on how to stand out and connect with your audience on each one. 
Additionally, the book contains the experiences of dozens of influencers, bloggers, and entrepreneurs who have made their dreams come true and achieved financial success by creating online communities.

I think one of the greatest benefits of reading this book is tapping into Gary's insight into timeless principles that are always relevant, regardless of what online platform is currently in vogue. 

Read this book: get hard copy on amazon | get free audiobook

9. The 4-Hour Work Week 

The 4-Hour Work Week is an incredibly famous book that you've probably heard a lot about, and for good reason.
In the book, Tim Ferriss explains how he went from working eighty hours per week for $40,000 per year to earning $40,000 per month in just four hours per week, allowing him to travel the world and fulfill his dreams—and how you can, too.
This book is great for bloggers because it's a detailed blueprint on how to escape the 9-5 and become financially independent for life. As you discover numerous case studies of people who have doubled their income through self-employment, you'll discover ideas that can help you map out a plan to make a living as a blogger. 
This new edition of the 4-Hour Work Week has been expanded with new tools for designing a lifestyle that allows to live more and work less, even in unpredictable economic times.
Read this book: get hard copy on amazon | get free audiobook 
10. One Million Followers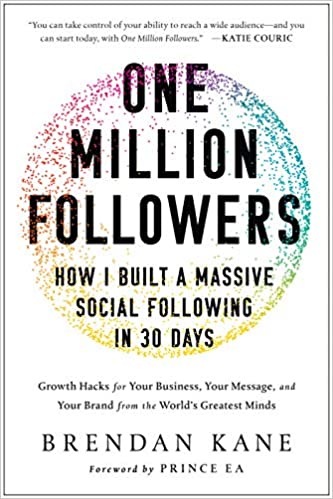 In this book, digital strategist and "growth hacker" Brendan Kane shows you how to make a significant impact in the digital world - in 30 days or less.
A wizard of the social media sphere, Kane has built online platforms for A-listers including Taylor Swift and Rihanna. He's advised brands such as MTV, Skechers, Vice and IKEA on how to establish and grow their digital audience and engagement.
One Million Followers will teach you how to:
Gain an authentic, dedicated, and diverse online following from scratch
Create personal, unique, and valuable content that will engage your core audience
Build a multi-media brand through platforms like Facebook, Instagram, YouTube, Snapchat, and LinkedIn 
Through in-depth interviews and expert strategies, you'll learn how to unlock all the benefits social media has to offer and gain massive exposure for your content. 
Read this book: get hard copy on amazon 
Top Blogging Books By Category
Based on the above list and other recommendations, here are my top picks on the best books for bloggers by category:
Final Thoughts 
Hopefully this list has helped you identify the best books to take your blog to the next level. As you work on your blog, try to make time to read books on business and blogging, even if you're really busy. By doing so, you'll increase your knowledge, confidence and motivation, enabling you to build a successful blog and make money on your own terms. 
Which of these books have you read or are planning to read next? Comment below!
Related Articles: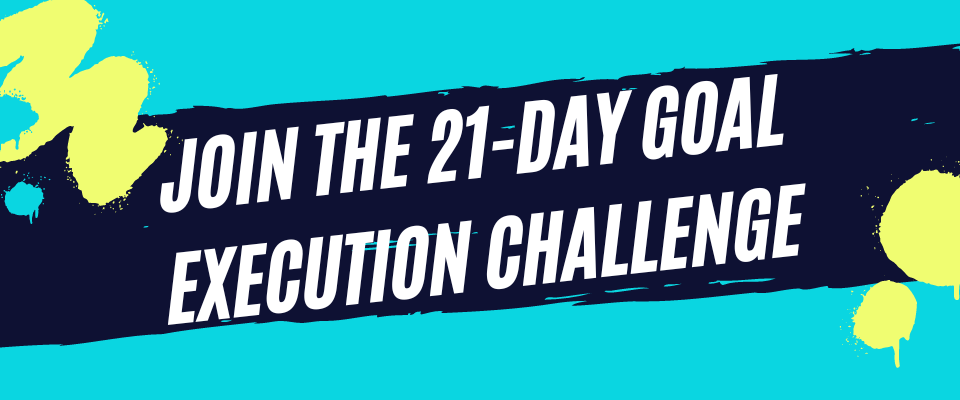 Thanks for reading! If you liked this content, share with a friend:
Dec 09, 23 08:34 PM

Below is a quote from Jhené Aiko's Poetry Book, 2Fish, that is both moving and beautiful. Here's a moment of reflection on the words in the excerpt and the meaning they convey.

Dec 08, 23 08:08 PM

It's an amazing thing to hear a person's life story, read aloud. Here are the best biography audiobooks to give you a peek into different iconic perspectives.

Nov 30, 23 09:41 PM

Would you like to improve your ability to read people? Here are the best body language books that will boost your social intelligence.